The Year Without Pants by Scott Berkun – Book Review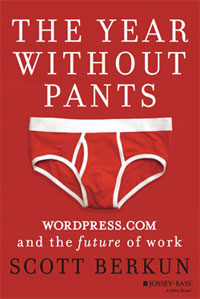 What would happen if Scott Berkun (author of 'Making Things Happen: Mastering Project Management', 'The Myths of Innovation' and 'Mindfire: Big Ideas for Curious Minds') – a man who describes himself as someone who 'explores ideas and how they work' – were to set about applying his mind to exploring how ideas work at such an unconventional-yet-extremely-successful company as Automattic?! Well, there's really no need to wonder, because from 2010 to 2012, that's exactly what he set about doing. How? By taking up an offer from Matt Mullenweg to work there. The result? A highly enjoyable, thought provoking book that delves into the heart of how the company behind WordPress functions – a book so bold that it fearlessly displays a bright red pair of underpants on its front cover…
What's it about?
More than being simply a book about what it's like to work at WordPress (which in itself is quite an eye-opener: everyone works from anywhere in the world they wish, barely anyone uses email, etc, etc), The Year Without Pants is all about debunking various out-dated or erroneous ideas of conventional management, leadership and productivity: by taking readers on a candid, heartfelt account of what it's like to spend almost two years working for a highly successful* company that does things entirely differently.
Is it any good?
Expertly written, highly thought-provoking and genuinely funny: what's not to like? If you're at all interested in either WordPress and/or managing underpants, sorry: productivity, you'll almost certainly find it a good read.
Who should read it?
People interested in management, leadership, productivity, and creativity in the modern age – read: entrepreneurs everywhere – oh, and of course: anybody interested in learning more about how the team behind WordPress actually operates!
Conclusion:
There's no doubt about it, Berkun is an expert story teller; couple this with the idea of a former Microsoft employee entering a company where everyone works remotely and with no schedules, few meetings and fewer rules (yet dozens of new features/improvements launch to customers on a daily basis) and you've got a book that not only draws you in but takes you on a ride so entertaining and insightful that you're left wondering why companies everywhere don't start doing things the Automattic way!
*WordPress now powers over 20% of the entire web!
***note: for books on learning WordPress in general, check out the WinningWP Bookshelf***
Bought it? Enjoyed it? Thoughts?
All comments are held for moderation. We'll only publish comments that are on topic and adhere to our Commenting Policy.