Media Temple's Managed WordPress Hosting vs WP Engine – which is faster out of the box?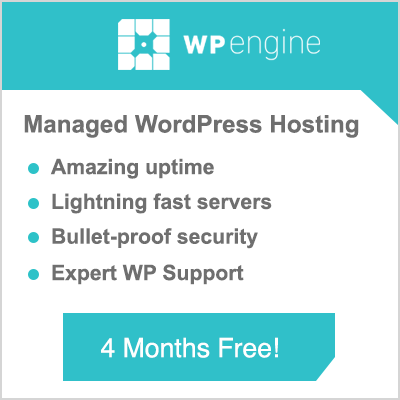 Largely inspired by a reply to a comment* I left on a recent post published on the official Media Temple blog (regarding the launch of their new Premium WordPress Hosting), I thought it might be fun to conduct a quick speed-comparison test: between their brand new managed WordPress hosting service and WP Engine's already relatively-well-established managed WordPress hosting platform.
What's more, rather than just write about my own personal findings, I thought I'd leave the sites used in the tests (one running on Media Temple and one on WP Engine) live on the web for a while (update: sites now offline) so people can double check my findings and maybe even run some of their own tests (test sites listed below).
The idea
The idea here is pretty simple: to open brand-new, entirely-standard accounts with both Media Temple and WP Engine, create an entirely standard WordPress installation (running only a default theme with no additional plugins to any that come pre-installed) on each and then run a series of speed tests using freely-available online testing tools to try and establish which of the services provides the fastest hosting.
About the test sites
The two sites:
WebHostingSpeedChecks-MTMWH

(update: site now offline) on Media Temple's Managed WordPress Hosting (priced at $29p/m)

WebHostingSpeedChecks WPEMWH

(update: site now offline) on WP Engine's basic plan (similarly priced at $29p/m).
Both sites are on US-based servers and each site is entirely standard – running the default TwentyTwelve theme with no extra plugins and content other than that which comes with each installation as default – with just one setting alteration changed on each: I've turned all comments and pingbacks off.
About the domains
The domains were bought entirely for the purposes of running these tests and both registered with DreamHost (thereby remaining independent from each hosting service) – then redirected via DNS to each service according to each hosting provider's standard instructions.
About the tests
As anyone who's tried before will know, testing sites for speed can often be a bit of a minefield; not only do different tools often give different results (as you'd expect since each tool will have different settings) but each tool will often give varying results each time it's run (for various complicated reasons we'll not go into here) – for this reason I've chosen to use two of the most-trusted, best-known online tools (GTMetrix and Pingdom), spaced out my tests over two days and taken an average result from ten tests with each tool (using exactly the same settings for each of the ten tests).
Findings
Using default speed-tool settings:
Using the default settings on each tool, both sites performed extremely well:
Media Temple Results:
WebHostingSpeedChecks MTMWH loaded in between 0.4s and 0.8s with an average load time of of 0.5s on GTMetrix and between 0.6s and 1.2s with an average load time of 0.73s on Pingdom**.

– Page Speed grade = 96%
WP Engine Results:
WebHostingSpeedChecks WPEMWH loaded in between 0.5s and 0.7s with an average load time of of 0.6s on GTMetrix and between 0.3s and 1.1s with an average load time of 0.6s on Pingdom**.

– Page Speed grade = 97%
Around the world:
As interesting as the above results are, the unavoidable discrepancies in using online site-speed testing tools appear to be a bit larger than I initially thought they would be. What's more, whereabouts in the world a user is viewing a website from can obviously make a huge difference to load times, which is why such online tools usually give different regional options for simulating what things will look like if users are from different areas of the world. GTMetrix gives seven locations from which to simulate a test from: Vancouver (default), Dallas, Hong Kong, London, Mumbai, Sydney and Sao Paulo. Running the same tests again then, from three of these locations (London, Dallas and Hong Kong) gave average simulated load times of 1.8s in London, 1.5s in Dallas and 2.2s in Hong Kong for the Media Temple powered site and average load times of 1.6s in London, 0.9s in Dallas (WP Engine's headquarters are actually not far from Dallas, in Austin Texas) and 2.7s in Hong Kong for the WP Engine powered site – all of which, more than anything, surprised me by showing just how much of a difference the testing location makes!

How do these results stack up to say, a WordPress site running on a regular VPS?
For a bit of extra comparison (just for extra interest really): WinningWP is currently hosted on a DreamHost VPS set to use up to 596MB of memory (which it rarely goes over) – for which I pay $30 a month. So naturally the above tests sparked my curiosity as to how an entirely-standard WordPress install on a newly-setup DreamHost VPS with the same memory settings to this very website would stack up. Introducing an additional test site: WebHostingSpeedChecks DHVPS (update: site now offline) – which, like the others is entirely as out-of-the-box, i.e. it has no additional plugins installed, uses the same default theme and hasn't had any of its default settings tweaked.
Extra results
Surprisingly (for me at least), this additional test site didn't seem to fare too well in the comparison:
DreamHost VPS Results:
With default speed-testing tool settings, WebHostingSpeedChecks WPEMWH loaded in between 2.3s and 3.4s with an average load time of of 2.7s on GTMetrix and between 2.2s and 3.9s with an average load time of 2.8s on Pingdom**. Worse still, looking at simulated load times from around the world gave average load times of 3.4s in London, 3.0s in Dallas and 5.9s in Hong Kong.
– Page Speed grade = 73%
Oh, and I also tested WinningWP… don't even ask how long it takes to load this site in Hong Kong (despite that fact that we run W3 Total Cache combined with MaxCDN)… …let's just say I now feel kind of sorry for any WinningWP readers living in China…
Conclusion
As it turns out, due to online site-speed testing tool inconsistencies (see the detailed test results above to see all the variations), this small-scale study hasn't proved particularly conclusive (in my humble opinion): all that I can really say for sure is BOTH services appear pretty darn fast – both displaying load times down to as low as approximately half a second for certain testing criteria! Although if I had to call it, I'd probably sway towards suggesting that, apart from for users in Texas (where WP Engine-powered sites obviously loads faster – remembering that WP Engine is actually located in Texas), perhaps Media Temple's service currently has the edge?! However, the location from which you test from has proved to be such a decisive factor in these tests that it seems to somewhat outweigh any small speed-differences between the two services – perhaps server location and the implementation of a content delivery networks are more important factors in determining site speed rather than which of these two services you're hosted with? What's especially interesting however, for me at least, is how much faster the two sites on WP Engine and Media Temple load in comparison to the site running on a $30 dollar a month DH VPS, which often took a good two (sometimes even three) seconds longer to load – especially in Hong Kong!
Note: Test sites live until April 1st (update: sites now offline)
In case anybody's interested in doing some testing of their own I'll be leaving all three test sites live until at least April 1st so people can have a play around for themselves. By all means, go ahead and run a few of your own tests – change a few of the settings (such as the default testing location or browser etc) in GTMetrix (or in any other tools you fancy) and see if you can determine which seems to be the faster hosting service: let us know in the comments if you get any good results!
In case you missed it, you can read more about our first impressions of Media Temple's new managed WordPress hosting service here.
*See how the idea for this post originally came about by checking out the comments at the bottom of this blog post.
**note: when used with default settings, Pingdom tests are randomly conducted from their three dedicated servers: located in Dallas, TX, Amsterdam, Netherlands and New York, NY – making them a little less accurate (i.e. more random) than tests performed using GTMetrix.
Was this post of any interest? It's kind of a drag to go through so much work just for one blog post, however if this kind of thing is of interest to people I'd be willing to try and delve into similar hosting/site-speed-related content again at some point in the future, perhaps in a bit more depth next time…
(update – 19th March – since writing this post Media Temple have been in touch and kindly provided us with a special offer discount code entitling WinningWP readers to a pretty handsome 30% off on all Media Temple hosting plans, including the aforementioned new managed WordPress hosting plan – view coupon)
All comments are held for moderation. We'll only publish comments that are on topic and adhere to our Commenting Policy.
Our commenting form also supports the use of Markdown.