WinningWP content is free to all. If you make a purchase through referral links on our site, we earn a commission (
learn more
).
WP Engine Deal for Black Friday/Cyber Monday (2013)!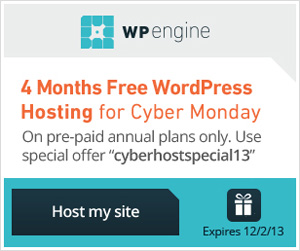 We're genuinely rather happy with our DreamHost web hosting, however, were we to change today, we'd almost certainly go with WP Engine – a company that's all about managed, high-performance and super-reliable servers! In fact, about the only 'problem' with them we can see is the fact that they're a bit pricey! Which is why it's always nice to share the newest WP Engine Deals:.
Is a WP Engine deal of 4-months free hosting when you sign up for an annual plan enough to tempt you to change this Cyber Monday/Black Friday? If so, simply enter:
…on signup: valid from November 29th through to December 2nd 2013!
***note: offer runs from 11/29/2013 to 12/02/2013***
See more Winning WordPress Deals
Enjoy!
All comments are held for moderation. We'll only publish comments that are on topic and adhere to our Commenting Policy.