WinningWP content is free to all. If you make a purchase through referral links on our site, we earn a commission (
learn more
).
WP Engine's "New Year, New Host" Deal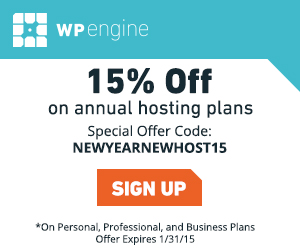 Need a better web host for 2015? Maybe things went well for your online endeavors in 2014 and as a consequence you can now justify that upgrade from a standard shared-hosting plan you've been considering? …an upgrade to something faster, more scalable, more secure and generally more reliable! Or maybe you'd like to spend more time writing all those great content ideas of yours and less time generally managing the technicalities of your own server? If you're thinking it's about time to upgrade your hosting, one company you'll definitely want to check out is WP Engine — whom, in addition to their usual sixty-day trial period and two-months-free-hosting-when-you-prepay-for-a-year deal, are currently offering a further 15% off the regular price of all annual subscriptions to their Personal, Professional and Business hosting plans!
Tempted to take WP Engine for a spin at a 15% discounted rate for 2015? If so, simply enter:
…on signup before January 31st!
***note: offer runs from now until 31/01/2015***
See more Winning WordPress Deals
Enjoy!
All comments are held for moderation. We'll only publish comments that are on topic and adhere to our Commenting Policy.