WinningWP content is free to all. If you make a purchase through referral links on our site, we earn a commission (
learn more
).
WP Engine – 4th Anniversary Deal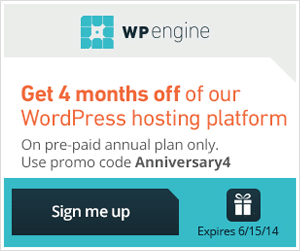 It's hard to believe WP Engine have been around for only four years – during which they've been adopted by heaps of leading WordPress blogs and forced many of the leading hosting providers to completely rethink their best WordPress hosting packages in order to remain competitive – thereby changing the face of WordPress hosting for the better! If you're interested in lightning-fast managed-WordPress hosting and thinking of giving WP Engine a shot there's never been a better time than now since, in line with their 4th-year anniversary celebrations, they're currently offering a special deal (see below) entitling new customers to a massive four months free hosting when you sign up for an annual pre-pay self sign-up hosting plan!
To take advantage of this superb offer simply enter the following:
…on signup between now and midnight (central time) on June 15th 2014!
***note: offer runs from now until 15/06/2014***
See more Winning WordPress Deals
Enjoy!
All comments are held for moderation. We'll only publish comments that are on topic and adhere to our Commenting Policy.