Some interesting WordPress statistics — Infographic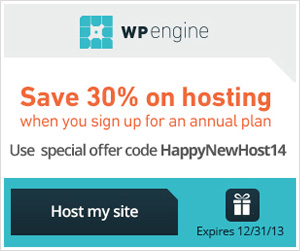 There's no doubt about it: since its creation back in 2003, the growth of WordPress has been phenomenal. Not only does it now power over 20% of the web (there are now almost 75 million active WordPress sites in the world), but you've only got to look at some of the official WordPress statistics – such as the the number of posts published by WordPress.com users and the number of pageviews on WordPress-powered blogs – to see the increasing rate at which WordPress is being used to generate (and view) content across the web!
Just how quickly is WordPress growing? In an attempt to answer this very question, the peeps over at WP Engine conducted a little research… their answer: WordPress is "Growing Like Wildfire"!
WordPress Adoption Infographic
Enjoy:

– infographic by WP Engine
WP Engine New Year Deal: save 30%!
Incidentally, the people who created this infographic, WP Engine (a company who offer some of the best WordPress web hosting around), are currently offering a pretty tempting 30% off the price of their annual hosting plans; if you're looking for new hosting/interested in taking advantage of this pretty sweet offer, simply head on over to their site and enter the following when prompted:
…valid from now until to Tuesday December 31st 2013.
See more Winning WordPress Deals
Happy New Year!
All comments are held for moderation. We'll only publish comments that are on topic and adhere to our Commenting Policy.
Our commenting form also supports the use of Markdown.