WooThemes vs Elegant Themes: A Comparison of Two Leading WordPress Theme Shops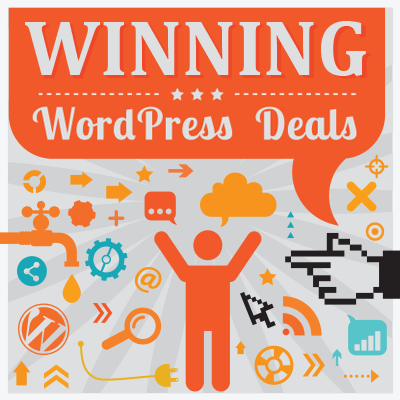 Over the past few years, the WordPress platform has gone from strength to strength. If we believe the latest figures published by Wired, WordPress now powers close to a quarter of all websites, which is no mean feat.
It isn't hard to work out why: WordPress is the most user-friendly CMS around; is free to download and install; and lets you build beautiful, functional websites courtesy of its vast collection of themes and plugins. All you need to do is install a theme and add a few plugins for extra functionality, and you're good to go. Easy-peasy!
Well, easy-peasy on paper, anyway. After all, the sheer quantity of themes available makes choosing the right one an ordeal in itself.
But just why is choosing a theme so important? The answer is simple: not all WordPress themes are created equally, and there are monumental differences in the code quality, design, and functionality they support.
If you don't know where to begin your theme-hunt, my advice is to go with one of the top names in the WordPress world. Those names don't come much bigger than WooThemes and Elegant Themes (update – 16th July: WooThemes.com is now under the umbrella of WooCommerce.com, with their themes available at https://woocommerce.com/product-category/themes/) — two of the leading players in the WordPress theme industry, and both very trustworthy brands.
To help you decide which you should go with, I'll be taking a closer look at their main differences below.
History
Let's start by looking at the history of the two businesses and their rise to prominence.
The WooThemes Story

The history of Woo is well-documented. Launched in 2008, Woo started life as an online collaboration between Mark Forrester, Magnus Jepson and Adii Pienaar. Over the past eight years, WooThemes has grown into a WordPress powerhouse, with the company now valued in the region of $30 million.
But how did it get there?
In the early days, Woo released a staggering number of themes, reaching the 100-theme milestone by August 2011. The key date in Woo's history occurred just one month later, however, as WooThemes launched its flagship product: the mammoth eCommerce plugin, WooCommerce.
Since then, WooCommerce has been downloaded a staggering 9 million times, the Woo team has grown to 55-strong, and the company has joined the Automattic family in the highest-profile WordPress acquisition to date.
The Elegant Themes Story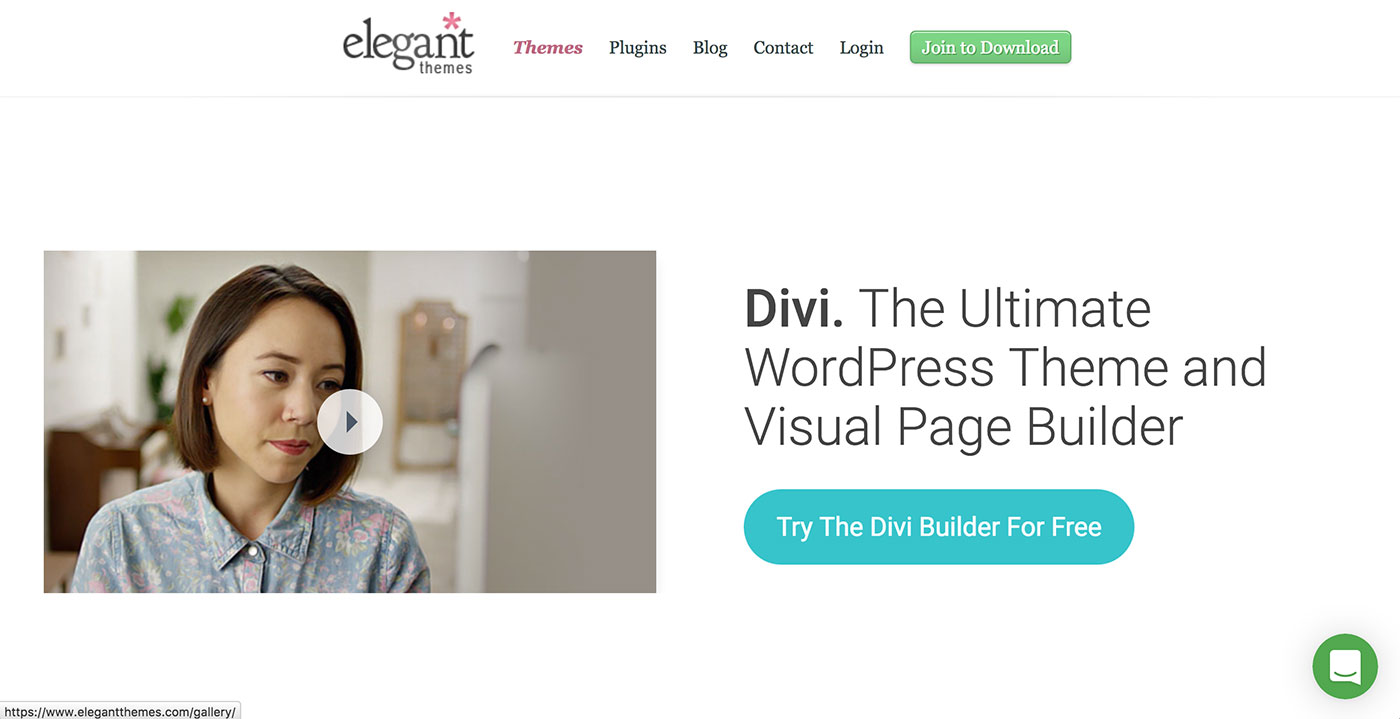 Like Woo, Elegant Themes also came into existence in 2008. Unlike Woo's collaborative approach, however, Elegant Themes started life as a one-man operation headed by its founder and CEO, Nick Roach, from his college dorm room. Despite these humble beginnings, Elegant Themes has gone on to establish itself as one of the major players in the WordPress world.
In the early days, Elegant went about producing large numbers of simple, niche themes. It was the release of its flagship WordPress theme, Divi, in late 2013 that really put Elegant Themes on the map, though. The success of Divi has redefined the entire business and reshaped the direction of all future development — the focus is now on creating small numbers of top-quality products.
This new philosophy has served it well: today, Elegant Themes has just shy of 300,000 customers, and a team of 33 scattered across the globe.
Business Models
Before we explore the two companies' products, let's take a quick look at how they operate.
WooThemes: A Relatively Diverse Business Model
Of the two, Woo has the more complicated business model — this is because of the way Woo segregates the different parts of its business.
Focusing on the themes, you can buy individual Woo themes for between $39 and $99, and there is also a handful of free themes available from the WordPress repository. For agencies and freelancers looking for a better value package, WooThemes also offers all 63 of its themes as a collection, available for $399 a year.
By far, Woo's biggest money-spinner, however, is WooCommerce. The core WooCommerce plugin is available for free, which has allowed it to attract millions of users. WooCommerce is then monetised via premium extensions — to date, there are 349 extensions, costing anywhere from $29 to $399.
Elegant Themes: A Straightforward WordPress Club
Elegant Themes operates a far more direct business model — it's a WordPress club.
For just $69 a year, you can access Elegant's 87 WordPress themes — including best-selling Divi; for $89 a year, you can access its five highly regarded premium plugins too. If you dislike annual fees, Elegant Themes also offers lifetime access for a one-off $249.
The Product
Knowing a little about a business's history and model is nice, but the primary consideration is, of course, the product.
We can split the Woo and Elegant products into two broad categories: themes and plugins. In this section, I want to cover both.
The WooThemes Theme Collection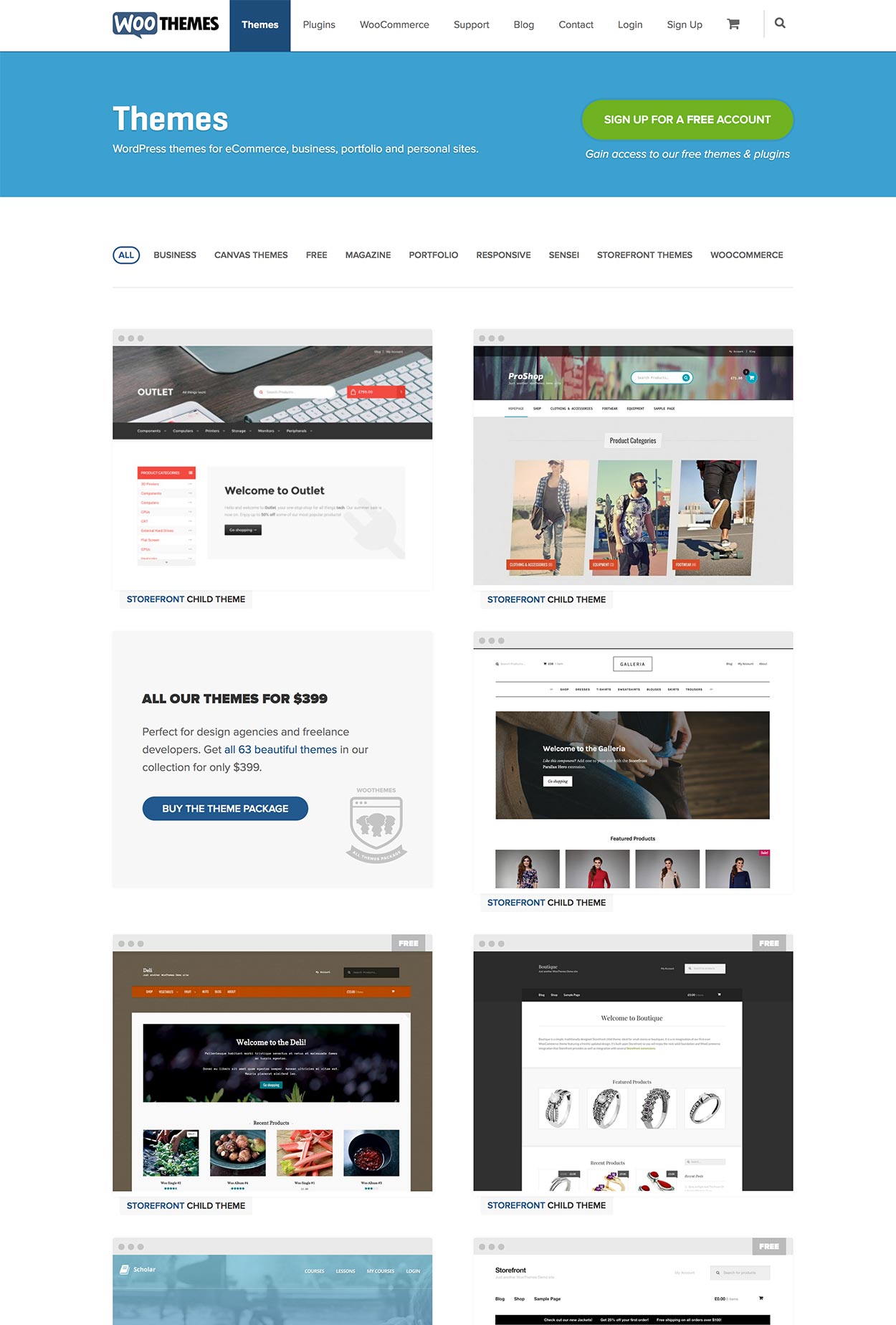 Let's start by delving into the Woo-developed themes. Having stopped updating some of its less-popular options, Woo now has a collection of 63 themes.
The acclaimed WooFramework underpins all of its themes — one of the key reasons for its success. This framework is beautifully coded, giving all of Woo's themes a solid and stable foundation. Despite the name, it's not a framework in the traditional sense — not like the Genesis Framework, for example — but rather the driving force behind all of Woo's themes.
This is because the WooFramework has lots of features and functionality, as well as an underlying usability. For those new to WordPress, an intuitive settings screen makes it easy to configure your website, upload a logo, and install a tracking code.
The framework also has plenty of built-in shortcodes, page templates (including WooCommerce-compatible product pages, as you'd expect), and customisation options. It has also been tested extensively for cross-browser compatibility, and it comes with several translations to ensure maximum usability.
The most popular theme in the collection is Canvas, a theme that was released in 2012 and costs just $99. Its popularity has a lot to do with the sheer volume of customisation options, making it versatile enough for use in most niches. These customisation options include flexible dimensions, a comprehensive layout manager, integration with hundreds of Google fonts, several purpose-built templates, and custom widgets. The theme is also fully responsive and supports tight integration with WooCommerce.
Because of Canvas theme's popularity, WooThemes has since released six Canvas child themes.
The Elegant Themes Theme Collection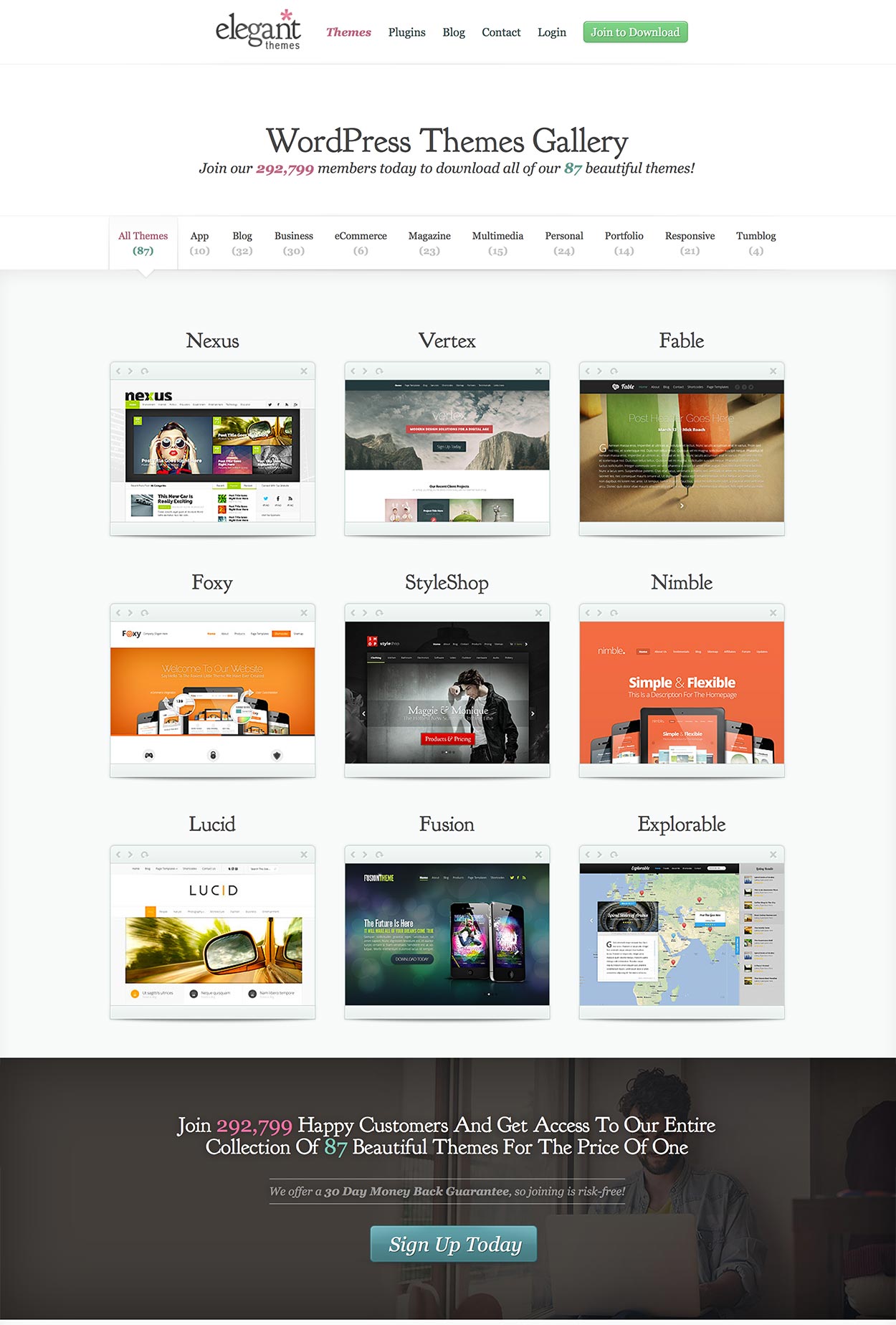 Now for Elegant Themes, which has developed 87 purpose-built themes for use in a variety of niches. The range and depth of its collection — with dedicated blogging, business, eCommerce, magazine, and portfolio themes — drew users to Elegant in the early days.
Like WooThemes, Elegant Themes can also boast impressive usability — in Elegant's case, courtesy of its intuitive ePanel Theme Options screen. All Elegant Themes support ePanel, which is effectively a custom interface that opens within the WordPress dashboard. Through ePanel, users can quickly and easily configure general settings, adjust layouts, customise colours, and control advertising banners.
Each theme in the Elegant collection was also designed to be usable straight out of the box: all themes support a healthy collection of shortcodes and page layouts to get you up and running without ever touching a line of code. These shortcodes include buttons, content tabs, and image sliders, while page layouts include image galleries, contact forms and advanced search pages.
The WooThemes Plugin Collection
In addition to themes, both companies have developed a number of quality WordPress plugins. Let's begin by looking at Woo.
To date, Woo has released five free plugins (not including the WooCommerce core). These are:
These plugins have been well-received by the WordPress community, and give you the opportunity to enhance your site's credibility using Woo-developed plugins.
The Woo collection also includes two premium plugins:
WooSlider (from $49): build beautiful, minimalist image sliders with plenty of settings to configure.
Sensei (from $129): a cool, innovative plugin targeted at course providers. Lets you add course modules, create tests for students, and also charge for course access.
Of course, all plugins in the Woo collection are overshadowed by one particular plugin: WooCommerce (more on this soon).
The Elegant Themes Plugin Collection
It wasn't until relatively recently that Elegant Themes entered the plugin market, but, since then, it has gone on to create some of the most popular premium plugins in their respective categories.
All plugins use Elegant's stylish custom control panel, providing users with an easy way to configure their plugins' huge list of settings.
To date, Elegant Themes has published six plugins, which are accessible to all club members with a developer license. These plugins include a drag-and-drop page builder, maintenance mode, mobile site builder, and a plugin offering all of Elegant's shortcodes in plugin form.
The big plugins in the Elegant collection are undoubtedly these two, though:
Bloom: an extensive, market-leading email opt-in plugin. Bloom comes with six types of pop-up, and lots of features and beautiful designs. (We covered Bloom in more detail here.)
Monarch: a beautiful, stylish social media plugin. Supports some of the best-looking social buttons you'll find, integrates with more than 20 social networks and is also one of the quickest social media plugins.
The Game Changers
It's impossible to discuss WooThemes and Elegant Themes without discussing their two most popular products: WooCommerce and Divi, the crown jewels in their respective collections.
WooCommerce: The World's Favourite eCommerce Solution

WooCommerce is the world's most popular eCommerce solution; with nearly 10 million downloads to date, it's estimated that WooCommerce powers a staggering 30% of all online storefronts.
If you want to launch an online shop, WooCommerce is the go-to solution for WordPress users. Featuring seamless integration with the vast majority of themes, WooCommerce makes it easy to add all of the important eCommerce functionality your website needs — product pages, shopping baskets, and checkout procedures for starters.
The core plugin is available from the WordPress repository for free, but can be fully extended by installing any of the premium extensions Woo has released. With 349 published to date, they cover all of the functionality an online store owner could possibly need, such as variable shipping rates, integration with popular accounting software, subscriptions for repeat payments and integration with all the popular payment gateways, to name but a few.
Most speculators believe that Automattic's $30 million acquisition of WooThemes was driven primarily by the immense popularity and potential of the WooCommerce brand — that's quite the endorsement!
Divi: Elegant Theme's Flagship Theme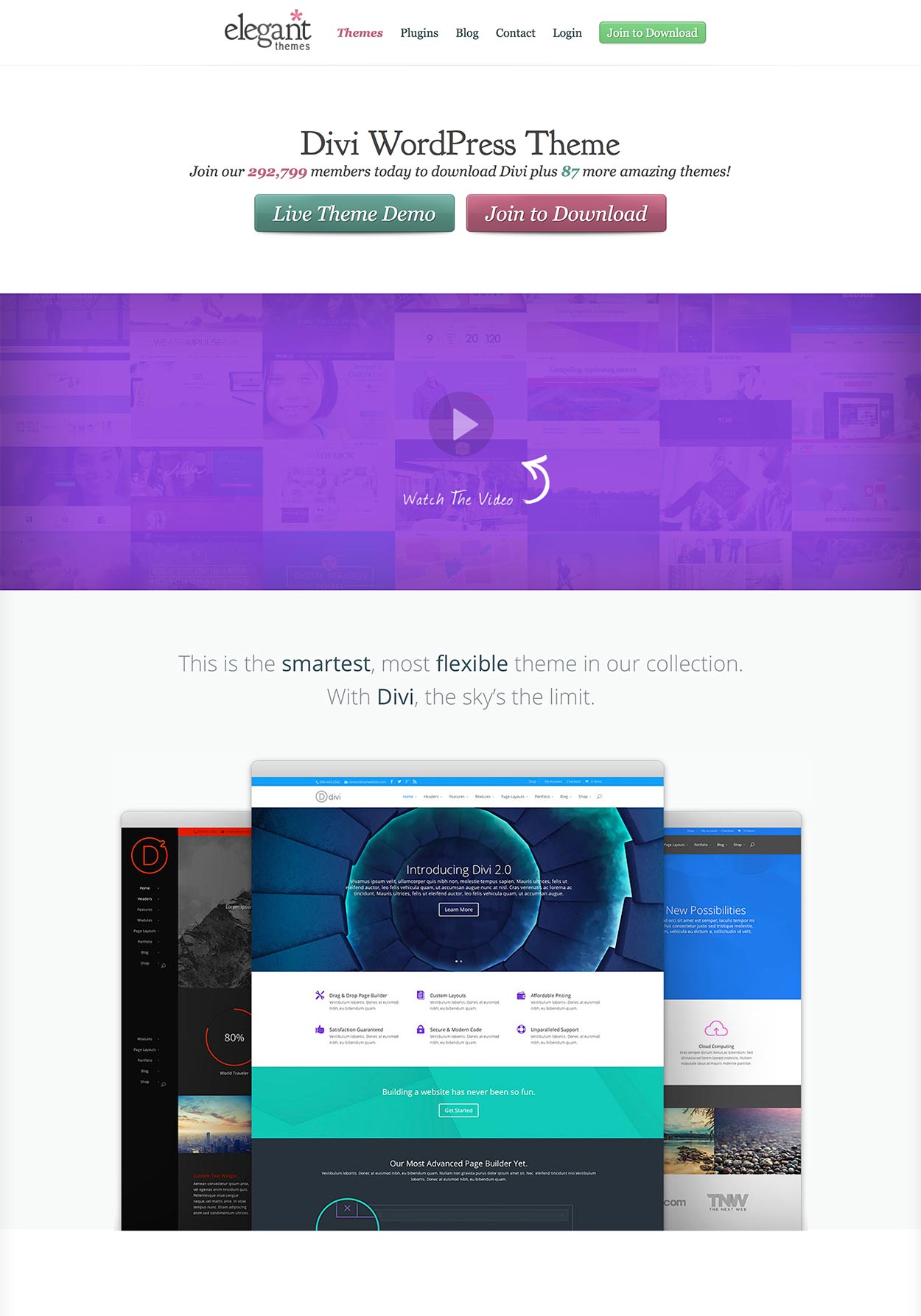 Although Elegant was already a popular theme club, the release of the Divi theme in 2013 took it to the next level. Now on version 2.5, Divi has gone on to define the Elegant brand and completely reshape its approach to releasing themes and plugins.
For those of you who are new to WordPress, Divi is a powerful, feature-rich, multipurpose WordPress theme. With 18 fully customisable pre-made layouts, Divi offers the perfect foundations for websites in any niche. For those looking for more control, it ships with user-friendly page builder functionality — complete with 40 modules — meaning users of all skill levels can craft beautiful, custom layouts without ever needing to touch the code.
If you want to see the types of designs Divi is capable of producing, we've already featured 75 stunning examples of Divi in the wild — I strongly recommend that you check them out! We've also published an in-depth guide comparing Divi with another popular WordPress theme, the Genesis Framework.
Final Thoughts
In the world of WordPress, brands don't come much bigger than WooThemes and Elegant Themes.
If you're just starting out and looking for a great theme or plugin, both companies will put you in good stead — pick either, and you won't go far wrong.
Which is better? Well, that's impossible to say, as both teams produce high-quality products with their own strengths and weaknesses. The two businesses are not mutually exclusive; you can integrate any one of Elegant's Themes alongside Woo's market-leading eCommerce plugin, WooCommerce. If I were to launch an online store, this is the setup I'd probably end up using.
Your choice may differ, of course, so view the demos for yourself and pick a favourite. You can install plugins from both businesses on top of your chosen theme, and, whichever of the two you choose, know this: you're in good hands.
So, Elegant or Woo? And, more importantly, why? Thoughts?
All comments are held for moderation. We'll only publish comments that are on topic and adhere to our Commenting Policy.
Our commenting form also supports the use of Markdown.