Where to find the latest WordPress-industry news?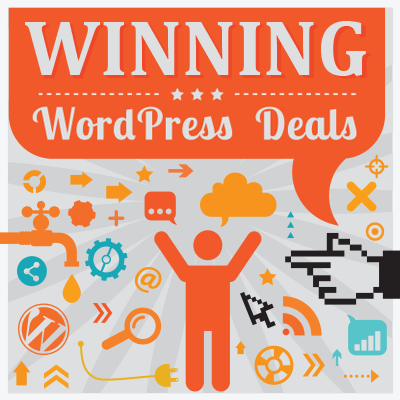 If you're making money with WordPress – or just happen to be someone with more than a passing interest in the platform – you'll no doubt be interested in keeping up to date with the latest WordPress-industry news. But how? Where? Is there a single website/service to subscribe to in order to get all the latest WordPress news in one place? Well, sadly, there's no "this is it!" one-size-fits-all solution – presumably because writing about/curating everything that's going on in the ever-changing world of WordPress is just too bigger task for any one single website to handle… There are, however, a few websites that do an outstanding job of covering many of the more important/newsworthy WordPress-industry-related topics/stories/issues that crop up. Let's take a look at some of the best – listed in no particular order:
Post Status
Written and curated by Brian Krogsgard (one of the nicest guys in the WordPress community?), Post Status is a simple (design-wise), easy-to-read and expertly written WordPress-news resource (one I personally love – does it show? lol) that seems to cover exactly the type of WordPress news I for one find endlessly fascinating: such as news on new services/platforms, core changes, industry takeovers, security flaws/holes, personal interviews with leading WordPress-industry figures and a whole heap of other interesting bits and bobs. Best of all, Brian isn't afraid to include his own – usually very insightful – thoughts and opinions on things: something that not only makes for a little extra interest in his posts, but also helps get my own brain (and therefore presumably just about anybody's) into gear!
If you haven't already, go and take a look – IMMEDIATELY!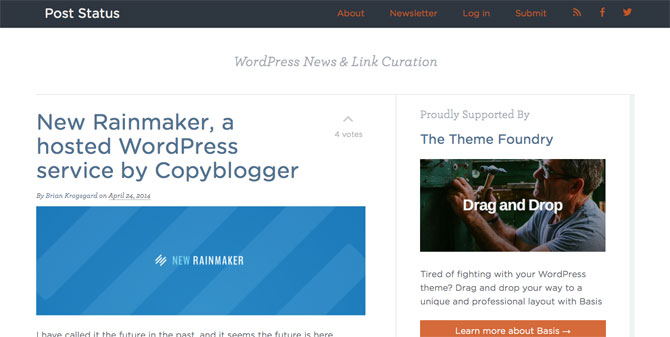 Often the first to report on new happenings, heaven knows where Brian gets HIS news (not to mention his time) from? Presumably through a wealth of personal connections, user submissions and Twitter…
Visit Post Status
Subscribe to Post Status by RSS
WPTavern
One of the oldest* (and possibly best-known) WordPress-news resources around, WPTavern (written almost entirely by Jeff Chandler and Sarah Gooding – another two particularly friendly WordPress-industry experts) is another fantastic WordPress-news resource – often featuring as many as four or five new posts a day! What's more, with so many new posts, you'd think the quality would have to give, but no – not at all… if anything, the posts seem to be getting better and better (i.e. more and more relevant/interesting) the older the site gets! Like Post Status (mentioned above), WPTavern is highly-focused on what's going on in the world of WordPress (covering much the same topics as those listed above), beautifully designed and very, very readable (nice big fonts etc). What's more, in addition to the main WPTavern blog, they also offer a very insightful weekly podcast – recorded every Friday afternoon at 3PM EST.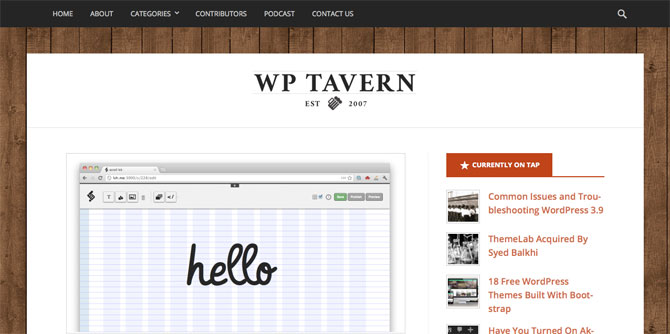 Visit WPTavern
Subscribe to WPTavern by RSS
Torque
Written by a number of different authors/contributors, Torque is a highly informative WordPress-news oriented blog (their tagline even reads: 'The WordPress News Core') – made particularly interesting for a variety of reasons, two slightly-out-of-the-ordinary of which being its almost-instant rise to popularity thanks to the fact that it took over all of the content and readership of WPDaily (a former WordPress-news blog written almost single-handedly by the ever-fascinating Mr @Saddington – who sold WPDaily to its new owners (mentioned in the second half of this sentence) before moving on to create Pressgram), and 2) the fact that it's owned by expert managed-WordPress-hosts WP Engine: something that many at the time of the WPDaily takeover suspected could very well turn it into more of a sales/marketing tool rather than an unbiased, informative WordPress-news site – something that, I'm happy to say, doesn't seem to have come to pass at all!
Again, if you haven't already – go and have a proper look now.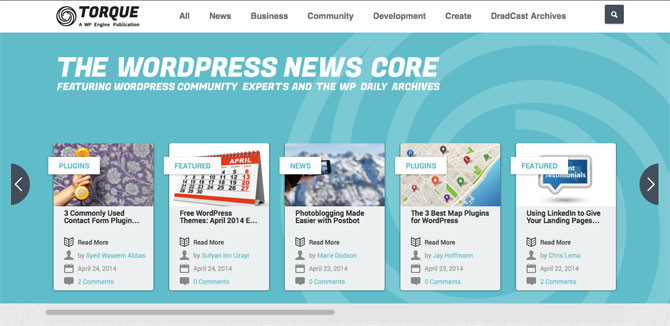 Visit Torque
Subscribe to Torque by RSS
Honorable Mention: ManageWP.org
ManageWP.org (created and managed by the people behind ManageWP.com), is another excellent resource from which to glean some of the latest WordPress news. However, unlike the others listed above, this particular resource is entirely community driven/curated (rather than specifically written) – making it quite a bit more all-encompassing/random than the those listed above. What's more, in addition to news-related articles/posts, anybody who's registered with the site can also freely submit articles/posts on just about any WordPress-related topic (such as how to's/tutorials and 'the 10 best blah blah….'-type posts etc), which, although nonetheless valuable, makes this a slightly different animal – kind of like a community-driven WordPress-article-focused Twitter feed?!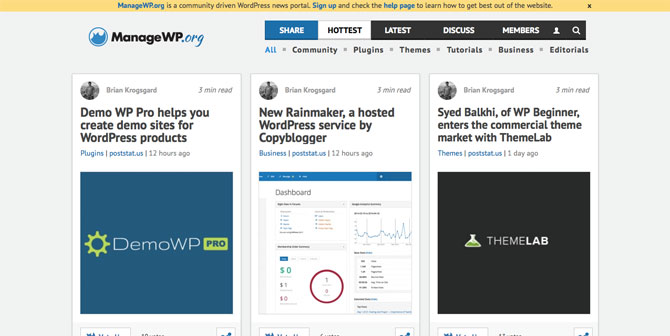 Visit ManageWP.org
Subscribe to ManageWP.org by RSS
Others
Other WordPress-newsy websites/resources well worth a mention include: the official Make WordPress Core Blog (a site that's aimed almost solely at developers), Matt Mullenweg's official blog (where Matt usually shares his own – somewhat intermittent – opinions on a diverse range of different WordPress/Automattic-related topics) and last but not least: the outstanding wpMail.me weekly newsletter – curated by Cristian Antohe and Bianca Petroiu.
*launched in January 2009.
Know of any other outstanding 'WordPress News' focused sites/resources? Feel free to mention them in the comments!
All comments are held for moderation. We'll only publish comments that are on topic and adhere to our Commenting Policy.
Our commenting form also supports the use of Markdown.