Top WordPress Theme Marketplaces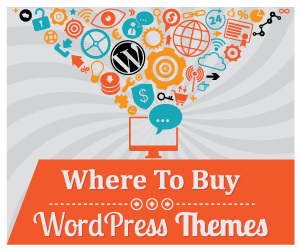 One of the best things about WordPress is that you don't have to develop your website completely from scratch — you can use one of countless, ready-made themes to provide the basic design and functionality for your site.
There are literally thousands of different free themes to choose from — if you haven't already, head on over to the official WordPress repository for a choice of over 3,000 free themes!
However, not all free-themes are created equally, and while the official WordPress repository themes will all be of a high quality, the quality of many 'free' themes you'll find elsewhere can be inconsistent (sometimes even appalling). And then there's functionality: many have few customization options and are more than a little limiting when compared with the vast majority of premium themes. This is perfectly fine for hobbyists, or anyone looking to test out the WordPress platform, but if you want to take your website central to your business, a premium theme is almost definitely the way to go!
The good news is that there are plenty of high-quality specialist premium themes providers around, and the vast majority of them offer themes that are competitively priced — generally between somewhere in the region of $30 to $75.
One of the most popular (if not the most popular) means of shopping for premium themes though is on theme marketplaces — places that often have huge audiences that regularly come to see the latest offerings from lesser known (and sometimes even very well-known) designers and developers. To make your search for the perfect theme easier on such marketplaces, here's a detailed look at three of the best (and biggest) marketplaces currently out there:
ThemeForest
ThemeForest is undoubtedly the King of the theme marketplaces. With over an incredible 10,000 themes available to date, ThemeForest is actually part of the Envato family, which also includes CodeCanyon, another HUGE marketplace and a personal favorite of mine when looking for premium WordPress plugins.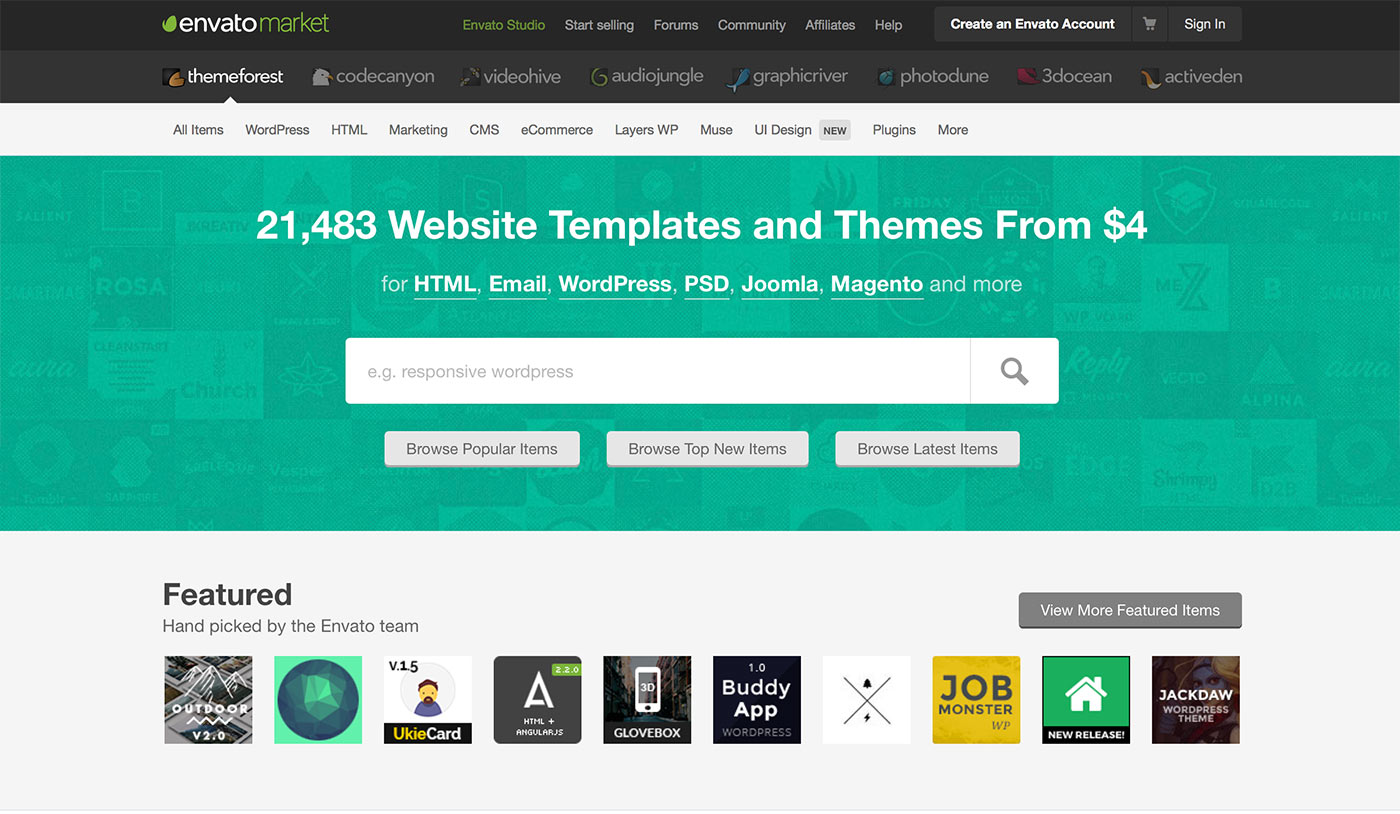 The ThemeForest prices are competitive, with WordPress themes starting at $28 and reaching as high as $63. Most of the better themes are in this upper range, however, usually priced between about $40 and $60.
With so many themes available, there really is something for everyone: there are versatile eCommerce, blogging, or corporate themes, but you can also pick up laser-focused niche themes to enable you to build, for example, soccer, church, or nightclub-themed websites.
Each theme is conveniently organized under a number of headings, making it easy to find the type of theme you are looking for. You can sort the themes based on price, release date, rating, total downloads, or trending items — depending on your preference. This is an essential feature, as a WordPress-geek like myself can easily get lost in there with so many themes to look at!
When you've narrowed it down to a few that you like, each theme includes a Live Preview, which lets you see it in action. Most of these preview modes let you test out the theme's customization options, allowing you to check out color-combinations and layout options on a live site.
If you have any problems with a theme, the author will usually provide after-sale support — although the author isn't actually under any obligation to do so (although it does, of course, make good business sense for all their authors to provide as much support as the can). Many of these support threads play out in the comments section, which allows you to browse through to see if the author responds to user problems, and to check whether your specific problem has already been resolved.
Of course, the big thing you want from a theme marketplace is quality. And truth be told, ThemeForest has a reputation for selling great looking themes that are, unfortunately, occasionally poorly coded. Without doubt, the majority of themes have impressive functionality, and you'll often find a premium plugin bundled in with the theme (something that in itself can sometimes lead to issues further down the line when it comes to updating said bundled premium plugin). They are also compatible, for the most part, with eCommerce plugins (like WooCommerce), BuddyPress and email marketing services. However, all the cool stuff is effectively redundant if the code is so bloated and inefficient that your website is barely usable — although don't let this put you off looking because there are also many superbly coded offerings too!
Unfortunately, there's no perfect way for spotting the duds — the review system and live previewer are a good place to start though. You can also scan the comments left by other users for recurring problems, and check the total number of downloads: if a theme has had tens of thousands of downloads, you would expect the author to have the necessary incentive to fix any problems that crop up — although, of course, this isn't always the case.
Despite a wide range of authors on the site, there is a strong emphasis towards customization. Most themes will include a number of different colors, fonts, and layout options, and will provide a number of ways to display your featured images (including sliders, galleries, and carousels), so you can usually get the look and feel of your website exactly to your liking.
In fact, my personal favorites are the highly versatile, multi-purpose themes, with an almost limitless number of customization capabilities — test them out in the live previewer to see what I mean. Many of these themes are so versatile you could conceivably get by without ever needing another theme — with so many customization options, you can create vastly different websites, fit for any purpose.
Top-Selling Themes On ThemeForest:
Find themes on ThemeForest
MOJO Themes
Despite being one of the biggest theme marketplaces, MOJO Themes is still dwarfed by ThemeForest, making it look rather small in comparison.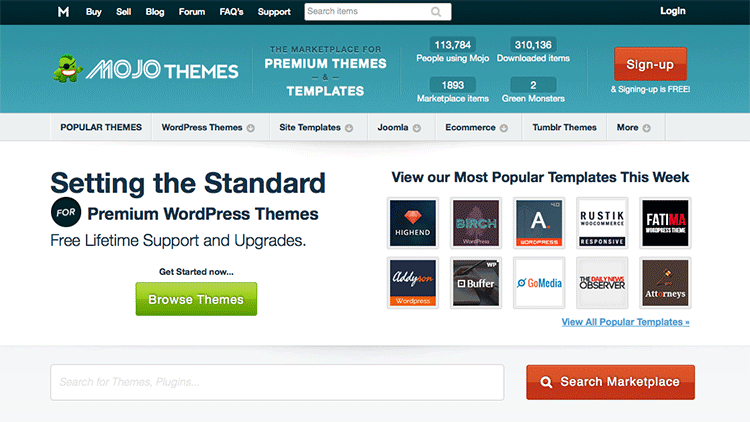 However, with over 1,000 themes, it does possess an impressive number of themes in its own right. You can also download a handful of premium plugins from MOJO, with 33 currently available.
As with ThemeForest, there are a number of headings to organize the themes and help you choose — including real estate, landing page, and restaurant themes. You can also sort the themes by release date, sales, and price.
When comparing the quality of the two marketplaces, there is little to choose between them. The standard at the top end is high, and I would say that there are fewer low-quality themes available on MOJO when compared with ThemeForest.
However, having previewed — and, in some cases also tested — the top sellers on both marketplaces, I personally thought the very best that ThemeForest had to offer was far better than the very best from MOJO. This is perhaps unsurprising considering ThemeForest has a much larger audience, and commissions are presumably larger (for both author and theme marketplace) when a theme is offered exclusively on just one platform.
All MOJO themes include the same live preview options, which allows you to check out the theme's appearance on a live website. You can try out the theme's customization capabilities within this previewer, making tweaks to the color scheme and layout to get a feel for how your own website might look when using a certain theme.
Unlike ThemeForest, the authors at MOJO Themes are required to provide ongoing after-sales support free of charge. You are able to look through the comments left by users to see how helpful a certain author is, and how quickly they respond. This does vary, but, generally speaking, the authors of the top themes provide excellent customer service.
Themes at MOJO start from as little as $16, ranging up to $58, meaning they are in the same ballpark as ThemeForest — the majority of good themes on MOJO cost approximately $49.
In addition to themes, for newer WordPress users who might struggle to get their theme up and running, MOJO also offer an installation service: $49 for the theme, and $99 for the theme and WordPress. If you are concerned you won't be able to get your theme to look anything like the demo, these services could perhaps prove invaluable.
Top-Selling Themes On MOJO Themes:
Find themes on MOJO Themes
Creative Market
Finally, we have Creative Market, a lesser-known but very much up-and-coming marketplace for independent creatives. Creative Market allows anyone to set up their own shop in the marketplace, where they are able to sell a range of different digital design content. This means you'll see photos, graphics, fonts, and, of course, WordPress themes.
Despite being relatively unfamiliar to most WordPress users, Creative Market has built up an impressive portfolio of themes: at the time of writing there were 1,388 themes available: 30% more than MOJO themes. It has a largely different "feel" to a marketplace like ThemeForest, as Creative Market is primarily a platform for creative individuals to show off their design skills, rather than simply a mechanism to sell as many themes as possible — if you favor the more personal touch, you'll perhaps prefer things here.
However, despite possessing a wide range of beautiful themes, I found Creative Market less user-friendly to use — there is a bit too much going on on the page, with five different thumbnail areas in the WordPress section for you to figure out. The themes are organized under fewer headings than on ThemeForest and MOJO, and you're only able to sort themes by most popular and most recent. This makes it harder to navigate and to pick out a theme that you're interested in.
The quality of themes on Creative Market is high, and there are a number of niche themes available — including wedding, non-profit, and sports — as well as the usual range of broad, versatile themes.
As you'd expect, you are able to test out each theme using a live preview button. However, I actually found the Creative Market previewer to be nicer to use, as it didn't include the Buy Me Now frame seen on the other marketplaces — without the sales pitch at the top, I felt free to test out the features at my own pace. If a theme has customization options, you can test the options out using this feature.
Authors are encouraged to provide after-sales support, but similarly to on ThemeForest, they're under no obligation to do so. Most of the top theme providers here will also provide a link to their own external website, and if you want to check out how the author interacts with customers, you can browse the comments left on each theme — the footfall on Creative Market is much lower though, so there are very few comments left, even on some of the more popular themes…
The theme prices on Creative Market vary significantly, with most priced at the higher end of the scale when compared with the other theme marketplaces. That said, there are also over 50 themes available for under $10, and some as low as $2 — far cheaper than you'd find elsewhere! However, at the top end some themes were priced at a whopping $199, with seemingly little to justify this price tag.
Top-Selling Themes on Creative Market:
Also noteworthy is the fact that you can find a number of themes offered by Automattic (the official company behind WordPress.com) for sale on this particular marketplace — here's a link to their official directory page on Creative Market.
Find themes on Creative Market
Final Thoughts
With over 7,000 themes in these three marketplaces alone, it would be impossible to tell you which theme is best. However, by looking at some of the most popular themes on each platform, it isn't too difficult to find a great looking theme that fits your needs.
View the ratings left by other users, check out the comments, test it out in the live previewer, and soon enough you'll have the perfect theme to start building your website!
Any good — or bad — experiences with any of the above? Thoughts?
All comments are held for moderation. We'll only publish comments that are on topic and adhere to our Commenting Policy.
Our commenting form also supports the use of Markdown.