The Most Useful Jetpack For WordPress Modules – For Almost Every WordPress-Powered Website!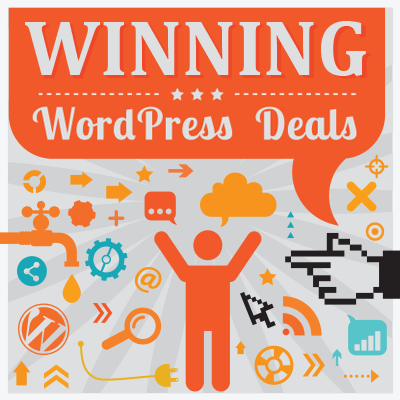 The Jetpack WordPress plugin, created by Automattic (the company behind WordPress.com), contains a raft of features and functionality. Most of these are unrelated — to the point that many consider Jetpack to be not just one plugin, but many plugins bunched together, making it a source of controversy within the community.
On one hand, you have those who say Jetpack crams too many, often unwanted, features ('Jetpack Modules', of which there are 36) into one plugin, making it a heavyweight accessory that does little more than enhance Automattic's already overwhelming dominance within the WordPress ecosystem at the expense of your site's page load times.
On the other hand, a great many websites (such as this one) like, use, and heartily recommend Jetpack. And since Jetpack now boasts well over a million active installs (proof then, that a huge number of people find it useful), and is regularly updated and improved upon by an extremely active team of developers, it's a plugin that's absolutely set to continue to thrive and grow.
For those who argue Jetpack causes slow load times, let's take this very website (which uses a number of Jetpack modules) as an example: Running the homepage through Pingdom yields a result of around 1.5 seconds and performance score of 90/100 — not too shabby!

Regardless of whether it will or won't add weight to your website, Jetpack comes with some very useful modules indeed. The benefits of these will almost certainly offset any slight decreases in load time that may (or may not) come as a result. (Note: Even more so when compared with some of the poorly made alternative plugins offering the same kinds of features.)
In this post, we'll separate the wheat from the chaff by highlighting the top 15 Jetpack modules — modules we think you'd be silly not to at least consider enabling.
1. Monitor
(Used on WinningWP)
The first feature you should almost certainly activate is Monitor.
As the name implies, this module monitors your website. More specifically, it monitors your website's downtime.
With Monitor enabled, Jetpack will check your site every five minutes to see if it's still up, and the moment it detects downtime you'll be sent an email notification. Simple!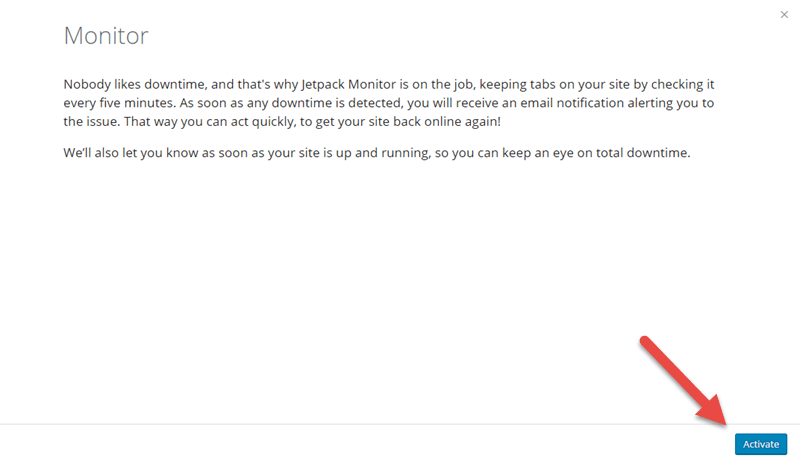 How to activate: Navigate to Jetpack > Settings > Monitor and click Activate.
2. Protect
(Used on WinningWP)
The Protect module is one of Jetpack's built-in security features, and is based on BruteProtect, which Automattic acquired in 2016.
As implied by its predecessor's name, Protect helps to secure your website against brute force attacks. It does so by taking information from a cloud base, where WordPress monitors any IP addresses that have unsuccessfully tried to log into a Jetpack-connected WordPress installation too many times.
It then blocks any IP address that has too many login attempts on all Jetpack-enabled websites for a set amount of time. This amount of time is not constant, but is based on several factors.
If you've enabled Jetpack's Stats module, then you can view the number of malicious attacks Jetpack has protected against in the Stats page.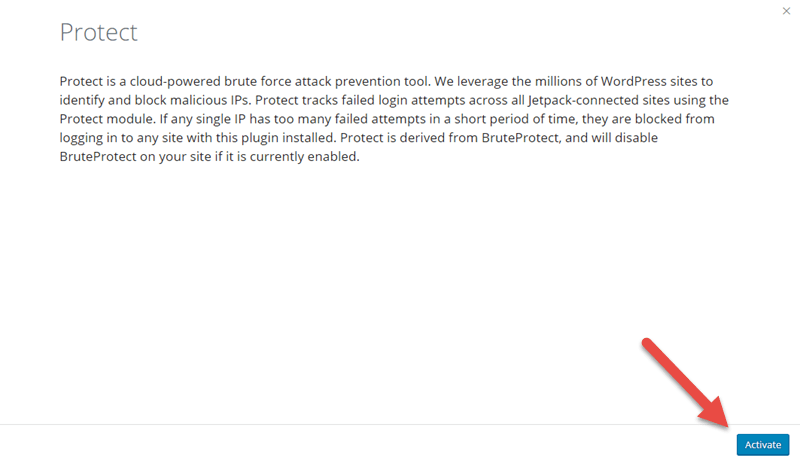 How to activate: Navigate to Jetpack > Settings > Protect and click Activate.
The module also comes with a configuration option that allows you to whitelist a specific IP address.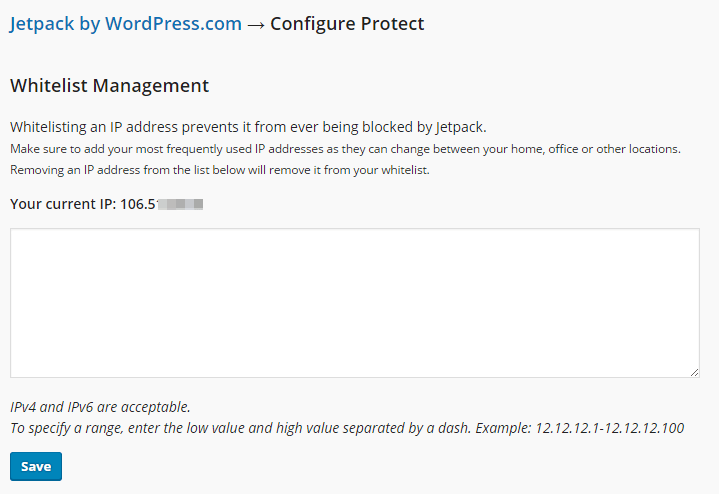 This is a useful tool to ensure you're never locked out of your own website.
3. Related Posts
(Used on WinningWP)
Adding a related posts display beneath each of your new posts is a great way to boost visitor engagement and decrease bounce rate by ensuring readers have somewhere else to go on your website after reading one of your blog posts.
This Jetpack module will create a simple related posts display beneath each of your posts.
Here's an example of what Jetpack's Related Posts module looks like on one of our recent posts reviewing three popular landing page builders.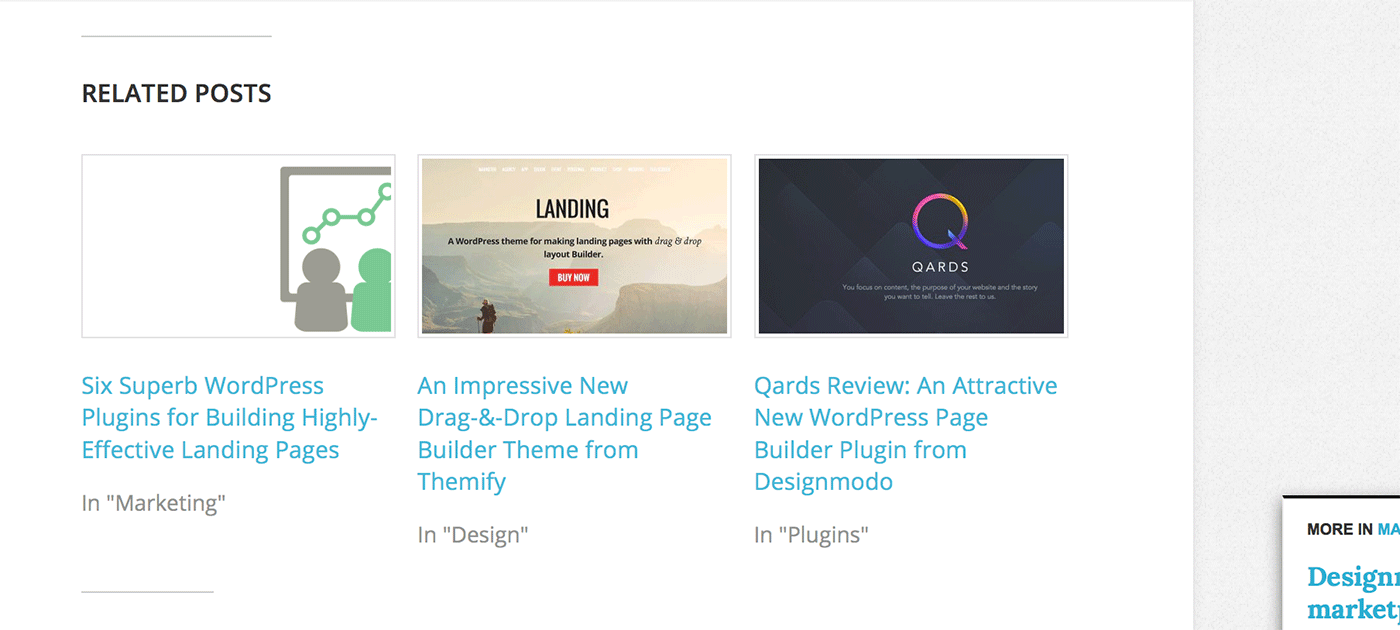 As you can see, the module accurately judges the content of the post and links to three other posts centered on either landing page and/or page builder themes.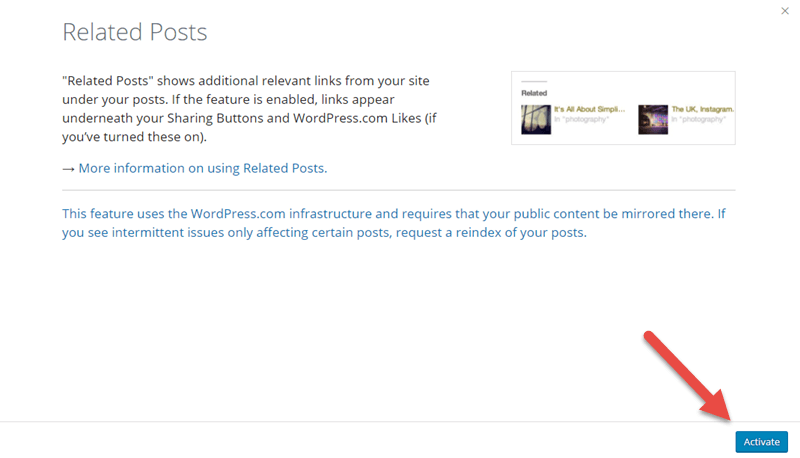 How to activate: Navigate to Jetpack > Settings > Related Posts and click Activate.
You also have a couple of configuration options, found in your Settings > Reading page.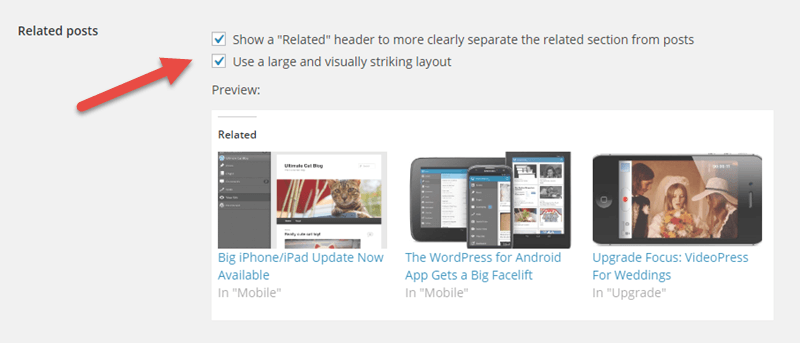 You can choose to turn off the Related header and/or turn off display of each of the posts' featured images above the link.
4. Enhanced Distribution
(Used on WinningWP)
The Enhanced Distribution Jetpack module helps to promote your content and build its reach in two ways:
Submitting your posts to search engines and other third-party services, including those not included in Ping-o-Matic.
Submitting your posts to the WordPress.com Firehose.
If you're unfamiliar with Firehose (I was too until I started on this post), you can find out more at WordPress.com here.
The basic rundown is that Firehose is a stream of posts (that can get more than 1 million a day) published on WordPress.com websites.
Some people use Firehose to find great content to display on their own websites. When these people use Firehose to display your content on their websites, they link back to your original post, sharing their audience with you.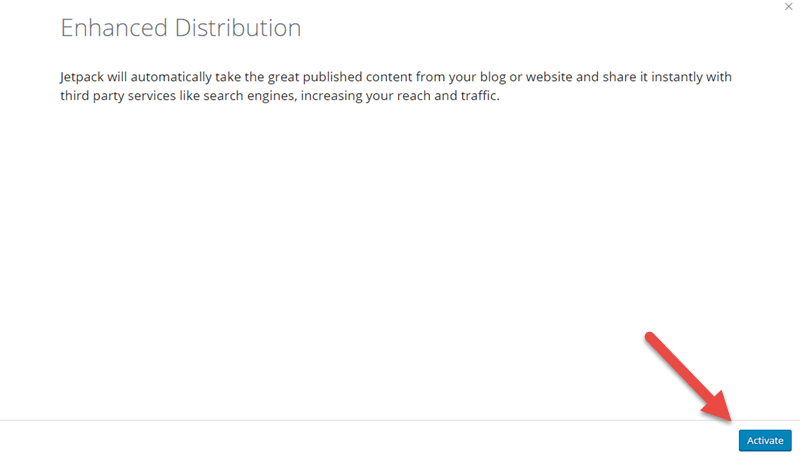 How to activate: Navigate to Jetpack > Settings > Enhanced Distribution and click Activate.
5. Spelling and Grammar
(Used on WinningWP)
The Spelling and Grammar module uses a proofreading service from After the Deadline to review your content.
If you look at After the Deadline's homepage, you'll see that the service claims to come with the following:
Contextual spell checking
Advanced style checking
Intelligent grammar checking
Once you activate the module, you'll have a new review icon in the toolbar on the visual view of the post editor. After you've finished writing your post, click on the icon to highlight any misspelled words/grammar errors.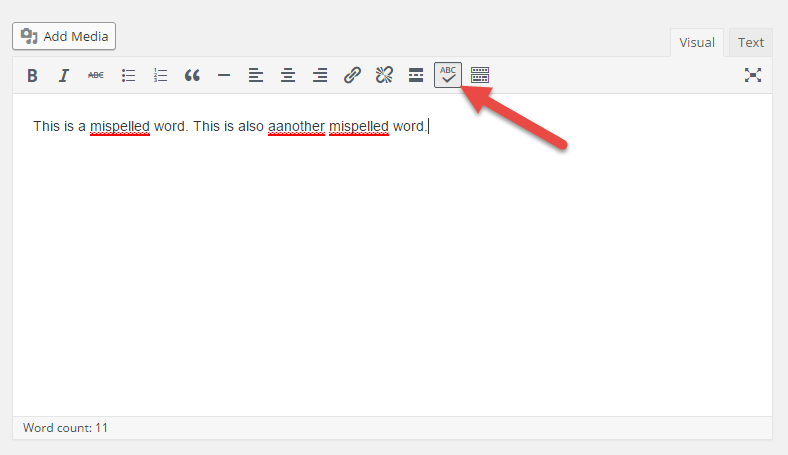 Clicking on each highlighted word will reveal a list of fixes (as well as ignore once and ignore always functions).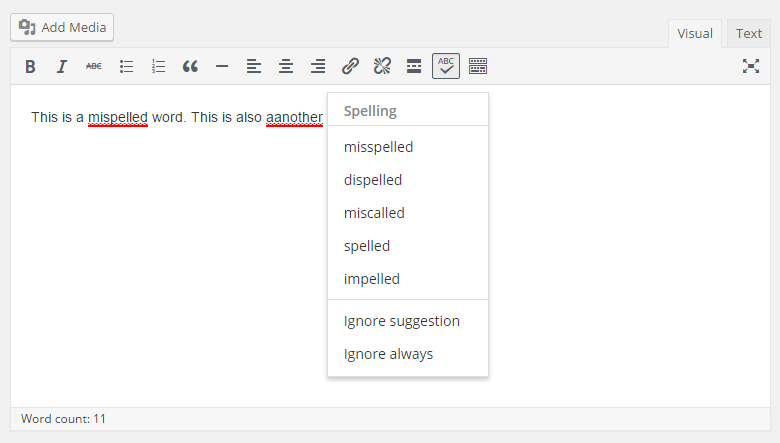 Spelling and Grammar supports the following five languages:
English
French
German
Portuguese
Spanish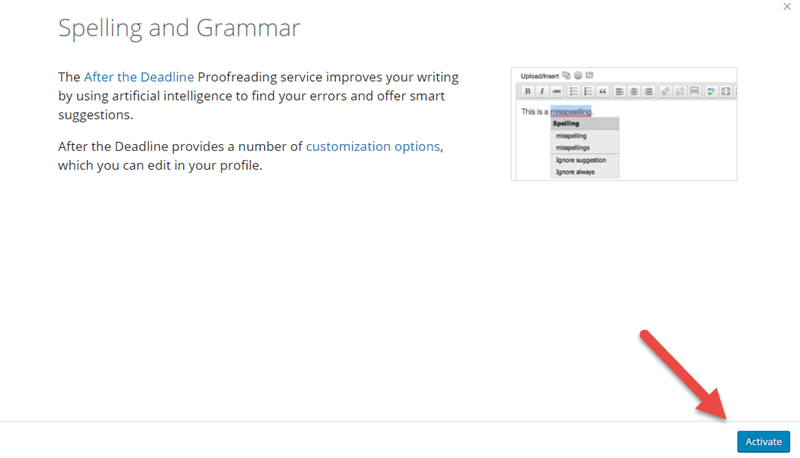 How to activate: Navigate to Jetpack > Settings > Spelling and Grammar and click Activate.
The module also comes with numerous powerful configuration options that you can customize in the Users > Your Profile page. This means you can set different grammar rules for different users, which is a nice touch for websites with users from multiple countries.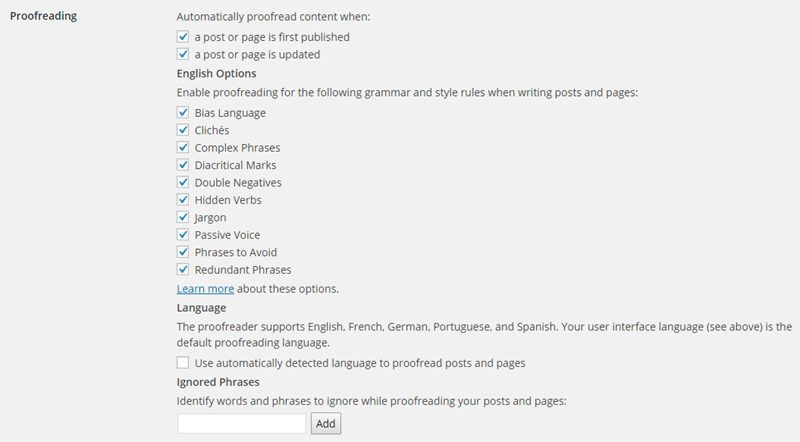 You have several style rules you can configure, and you can even add specific words or phrases for the proofreader to ignore.
6. Photon
Another highly useful Jetpack module is Photon.
Photon is essentially WordPress.com's own CDN (content delivery network –- click here to learn more), which can host your website's images and deliver them to your visitors based on their geographic location. Typically, setting up a CDN can reduce page load times by a significant margin.
But does Photon actually boost page load speeds?
As it turns out, yes.
I have a WordPress installation that I use to test all of the plugins/themes that I review. Like all of the other modules I tested, I activated Photon on the installation.
This was my page load time before Photon (keep in mind that this installation has very little content, which is why the load time was already pretty low).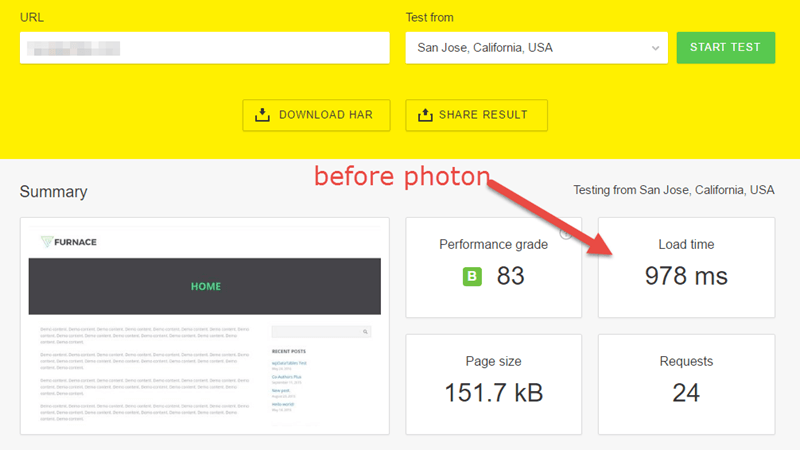 This is my load time after Photon.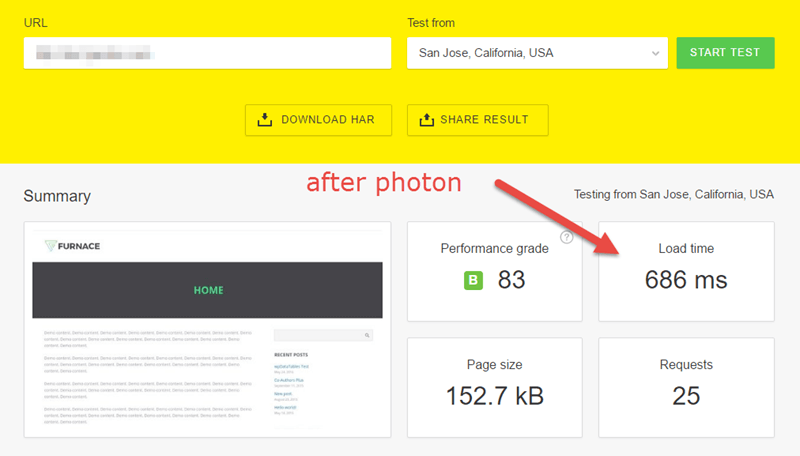 As you can see, there's a definite decrease of about ~300ms, give or take.
Furthermore, this result was not inconsistent. I ran my website several times through Pingdom from the four available testing centers and consistently got lower website speeds than before I activated Photon.
I'm also not alone in my results — Jacco from Sitepoint also observed ~20% increases in site speed after testing Photon on his website as well.
How to activate: Navigate to Jetpack > Settings > Photon, and click Activate.
(Editor's note: Our top pick alternative, as used on WinningWP: MaxCDN.)
7. Sitemaps
This simple module eliminates any need for creating and uploading your own sitemap to your website via a file manager, or using another external plugin such as Google XML Sitemaps.
Just activate this module, and Jetpack will automatically create two sitemaps on your website at the following addresses:
http://example.com/sitemap.xml (for all search engines)
http://example.com/news-sitemap.xml (tailored for Google News)
Here's what the sitemap at mywebsite.com/sitemap.xml looks like.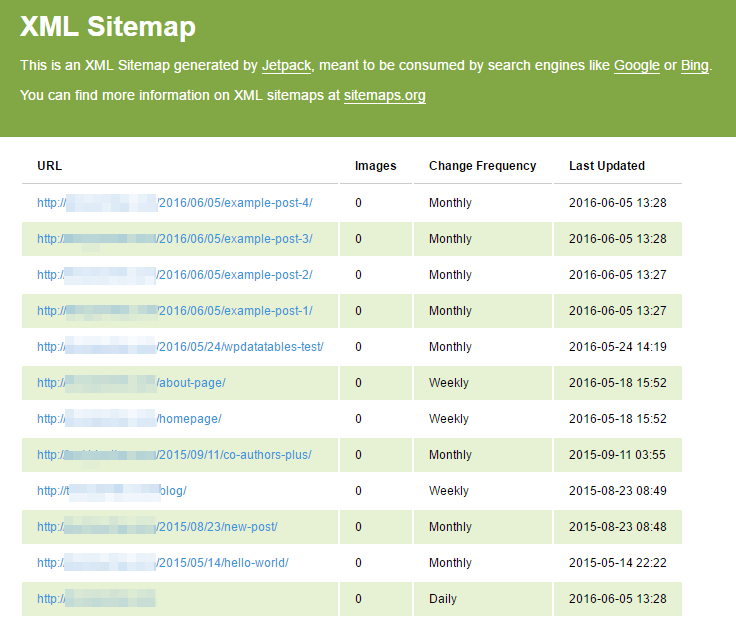 Note the blurb at the top that advertises that the sitemap is a Jetpack functionality. I can't say I like that blurb, but it doesn't really affect much.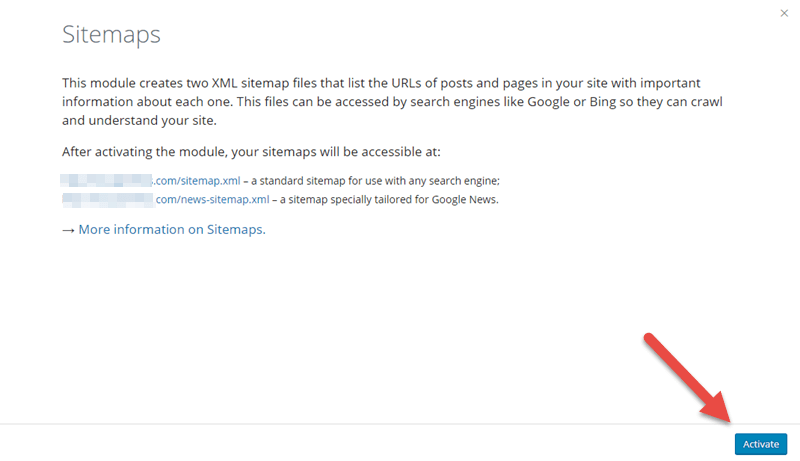 How to activate: Navigate to Jetpack > Settings > Sitemaps and click Activate.
(Editor's note: Our top pick alternative: Google XML Sitemaps.)
8. Contact Forms
If you don't have the budget to go for a premium contact form plugins such as Gravity Forms or Ninja Forms, then you really can't go wrong with Jetpack's built-in contact form.
As you can see in the gif below, the UI is quite simple and easy to use. And although the customization options are quite limited, the fact of the matter is that the functionality is more than enough to service a great deal (perhaps even the majority) of WordPress users who simply don't always need all the bells and whistles.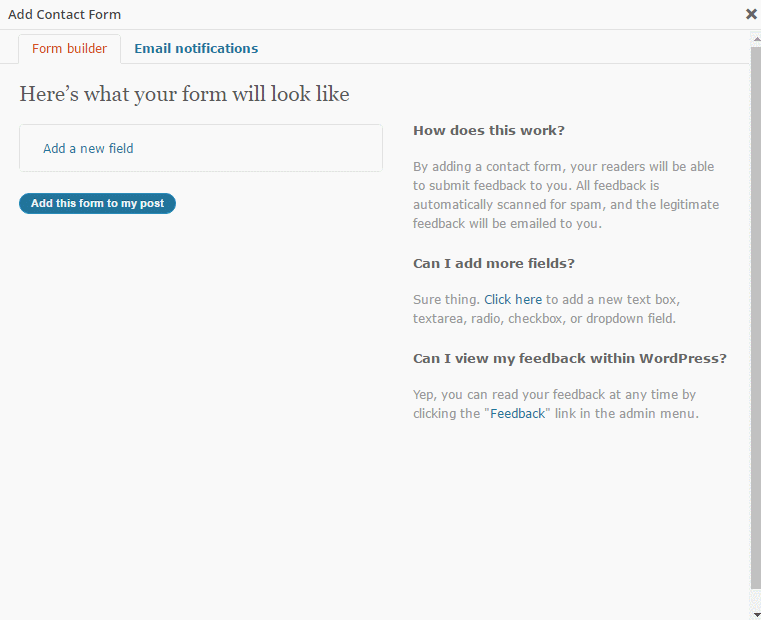 Here's what a sample contact form looks like on my front end.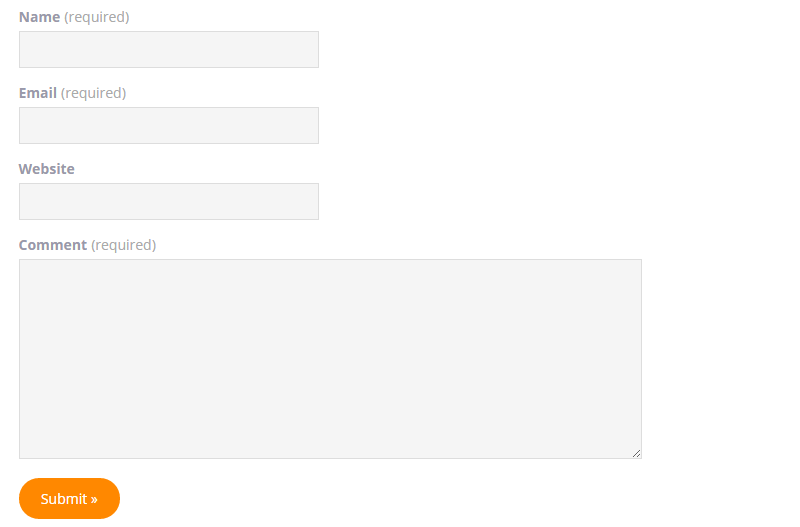 The design may be basic, but you certainly couldn't call it bad.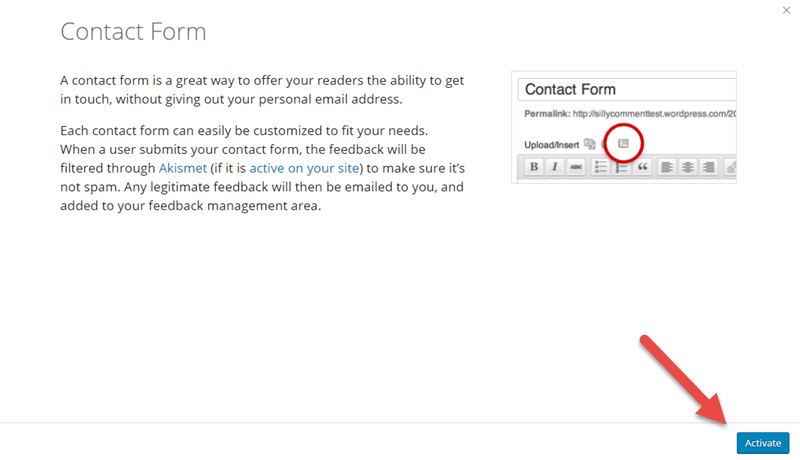 How to activate: Navigate to Jetpack > Settings > Contact Form and click Activate.
(Editor's note: Our top pick alternative, as used on WinningWP: Gravity Forms.)
9. Custom CSS
Jetpack's Custom CSS module is a simple one that enables CSS editing on your website.
Once you've activated the module, you can go to the URL example.com/wp-admin/themes.php?page=editcss and add a custom stylesheet to your theme.
The editing page also allows you to change the stylesheet's mode (either add to or completely replace your theme's stylesheet), add a preprocessor (LESS or Sass), and limit media widths to a specific size.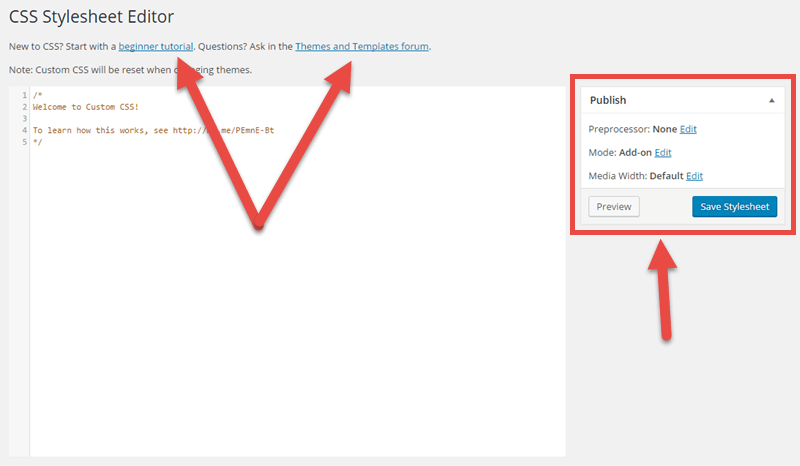 The page includes quick links to a beginner tutorial on WordPress.com and the themes and templates forum on WordPress.org.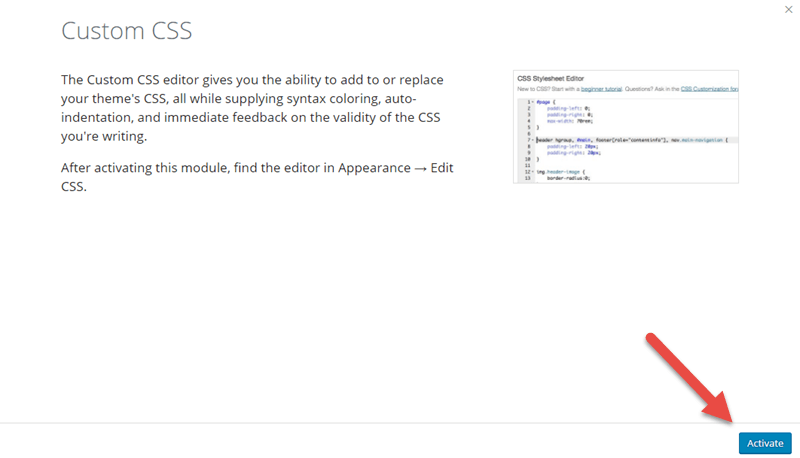 How to activate: Navigate to Jetpack > Settings > Custom CSS and click Activate.
10. Markdown
The Markdown module, as you can probably guess, allows you to create new content in WordPress using markdown syntax.
Markdown is a very lightweight, stripped-down markup language that allows you to add simple text formatting. The emphasis is on simplicity and readability.
Considering that today's design trends prize minimalism, as well as the popularity of blogging platforms such as Ghost (which exclusively uses markdown for text formatting), this module really isn't a bad idea.
Personally, I still stick to the visual editor's toolbar while formatting my text, but there certainly are quite a few people who find Markdown an easier way to write.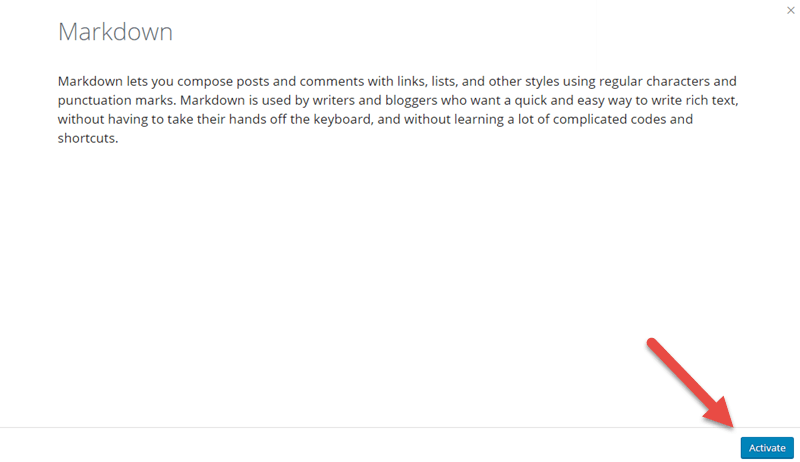 How to activate: Navigate to Jetpack > Settings > Markdown and click Activate.
11. Omnisearch
The Omnisearch module is another part of Jetpack with a very simple purpose: It allows you to search posts, pages, media, comment, and plugins on your website with one click.
Once you've activated Omnisearch, just navigate to Jetpack > Omnisearch, type in your keyword and hit enter.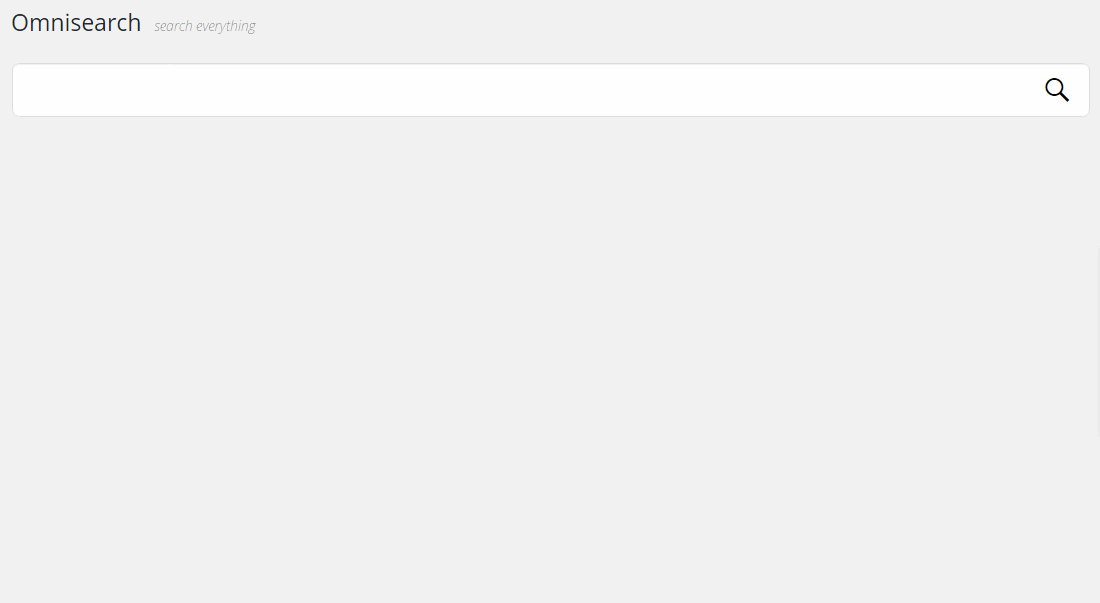 Results load pretty quickly, and all on one page.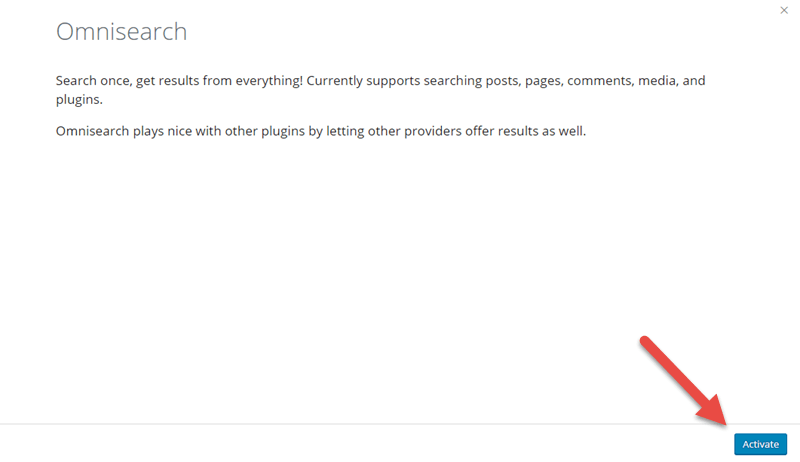 How to activate: Navigate to Jetpack > Settings > Omnisearch and click Activate.
(Editor's note: Our top pick alternative, as used on WinningWP: Relevanssi.)
12. Publicize
Publicize is another Jetpack module that helps to promote your posts and get you some early traffic soon after publishing.
This nifty feature kills six birds with one stone by automatically sharing your new posts to six of your social media accounts (Facebook, Twitter, G+, Path, Tumblr and LinkedIn are currently supported).
You can also decide whether to allow each user to publish their new posts to the same social media accounts.
Once the module is configured, you can start using it in the new post editor.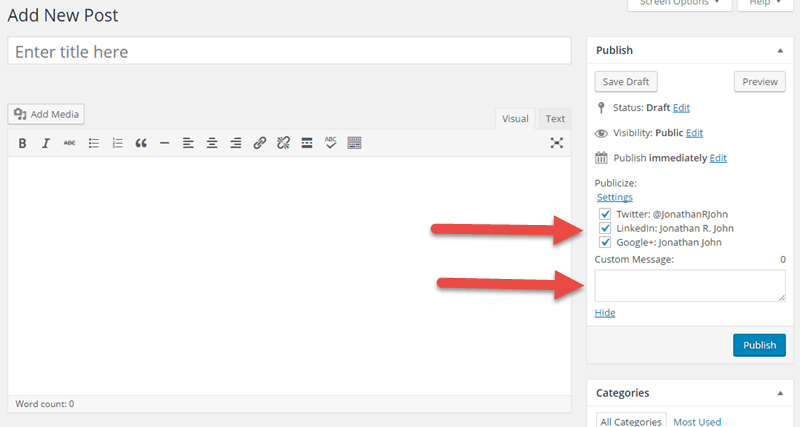 For each new post, you can select which connected networks to use the auto-share feature on and include a custom message.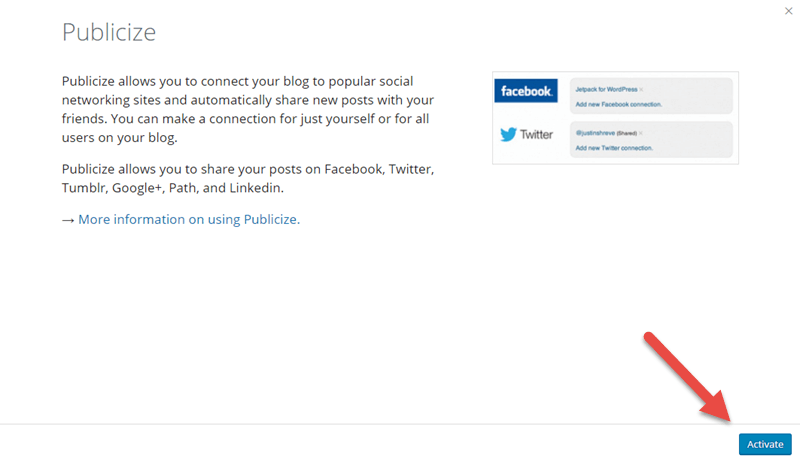 How to activate: Navigate to Jetpack > Settings > Publicize and click Activate.

Once the module is activated, you'll have to connect your social media accounts, which you can do in the Settings > Sharing page. Each connection takes only two to three clicks.
13. Wp.me Shortlinks
Wp.me shortlinks is yet another useful module. This one enables wp.me shortlinks for your posts and pages.

Not only do these shortlinks look better than the more spammy-seeming bit.ly and goo.gl shortlinks, but they can also be created with just one click right from the post editor, as seen above.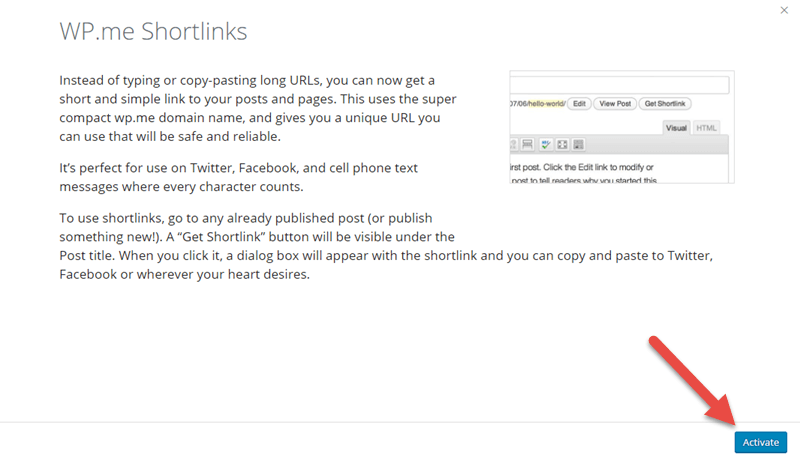 How to activate: Navigate to Jetpack > Settings > Wp.me Shortlinks and click Activate.
(Editor's note: Our top pick alternative: WP Bitly.)
14. Site Verification
If you've ever used the likes of Google Analytics, you'll know there's a verification step in the setup process where you're required to add a bit of code in one of your PHP files.
This module makes that setup much easier, enabling you to quickly and easily verify your site for Google, Bing, and Pinterest services.
Once the module is activated, all you have to do is add the required code to a dedicated text area under your Tools > Available Tools page.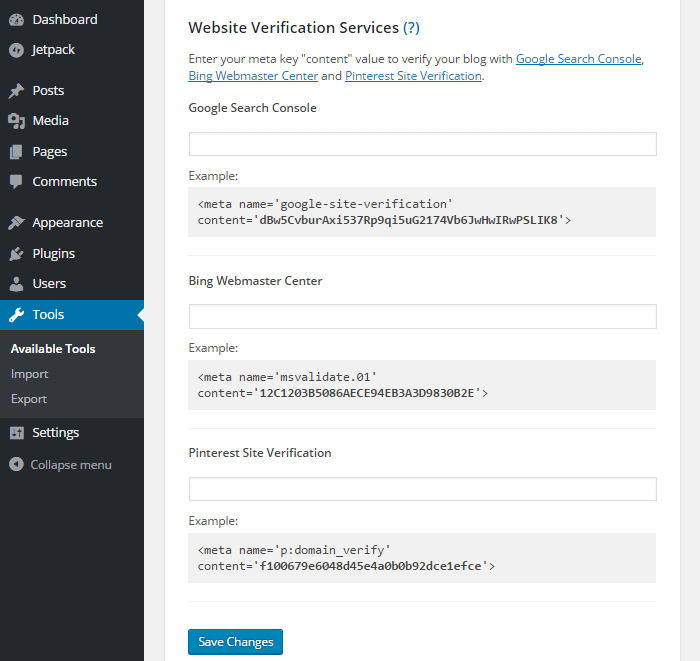 No more tinkering around in the theme editor.
How to activate: Navigate to Jetpack > Site Verification and click Activate.
15. Widget Visibility
The final module on this list, Widget Visibility, is definitely one of my favorites.
The module allows you to restrict visibility of each of your site's widgets: For example, you could choose to display a search widget on your sidebar only on a 404 error page.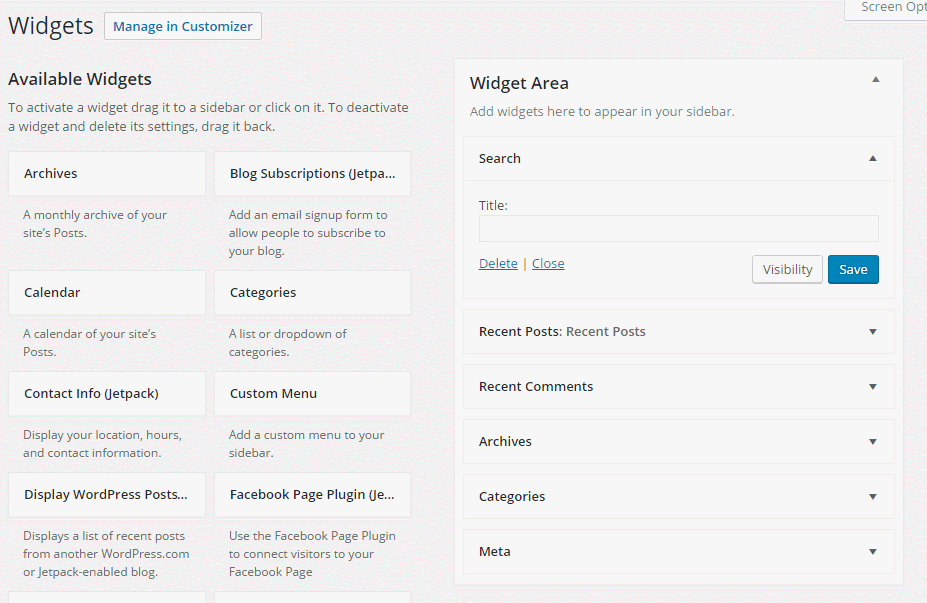 Here's that visibility limited widget in action.

Neat, huh?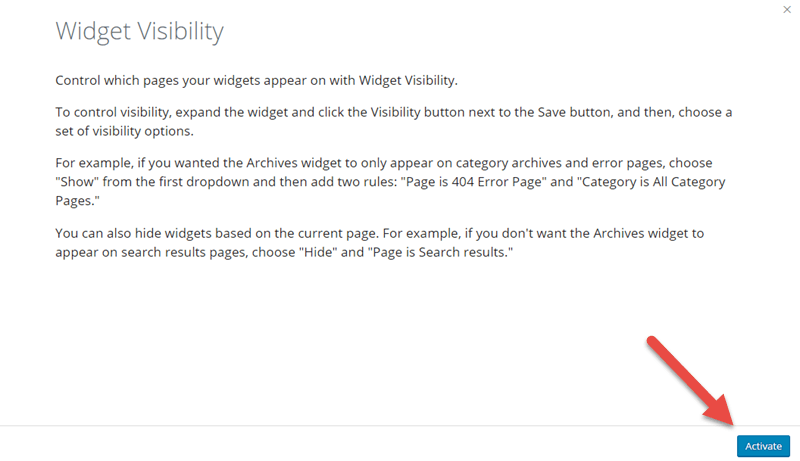 How to activate: Navigate to Jetpack > Widget Visibility and click Activate.
(Editor's note: Our top pick alternative, as used on WinningWP: WooSidebars.)
Final thoughts
Many people tend to discount Jetpack simply because they either vastly overestimate the speed impact (which really is pretty minimal) or think the additional complexity just isn't worth the added functionality.
The truth is, however, that for many users, Jetpack is an absolute godsend — enabling them to access a wealth of different features (see above) that will significantly improve their site/sites, all neatly packaged within one, extremely well-supported plugin.
If you aren't already using Jetpack, now's the time to give it some serious consideration!
Do you use Jetpack? If so, what other modules/features do you think are worth considering?
All comments are held for moderation. We'll only publish comments that are on topic and adhere to our Commenting Policy.
Our commenting form also supports the use of Markdown.