A Collection of the Best WordPress Review Themes for 2017 and Beyond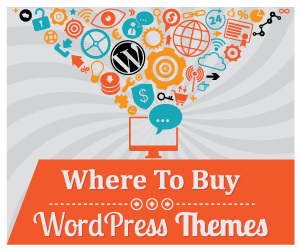 Before buying a product, most consumers head online to research their potential purchase. Interestingly, many would admit to being swayed by impartial reviews when assessing a product's merits (and weaknesses).
This behavior means review websites are big business these days. Whether you want to promote your own items or earn affiliate commissions by recommending others' products, there's an opportunity to make good money.
The profitability of online reviews has seen many webmasters equipping their websites with review functionality. WordPress users, in particular, are spoiled for choice: They can add reviews to their website using a myriad of quality themes or plugins. (Note: We've already covered some of the best WordPress review plugins available in an earlier post).
In this post, we're focusing on WordPress themes. As I'm sure you're aware, themes are primarily designed to style your website. However, most top themes also have some useful built-in functionalities, and all themes included today support stylish reviews.
So, without further ado, and in no particular order, I present to you some of the very best WordPress review themes available to date:
Gauge
Let's kick things off with Gauge — a powerful, multi-purpose review theme. Although versatile enough to be used by most niches, Gauge's eye-catching design is best-suited to tech, movie, and gaming websites.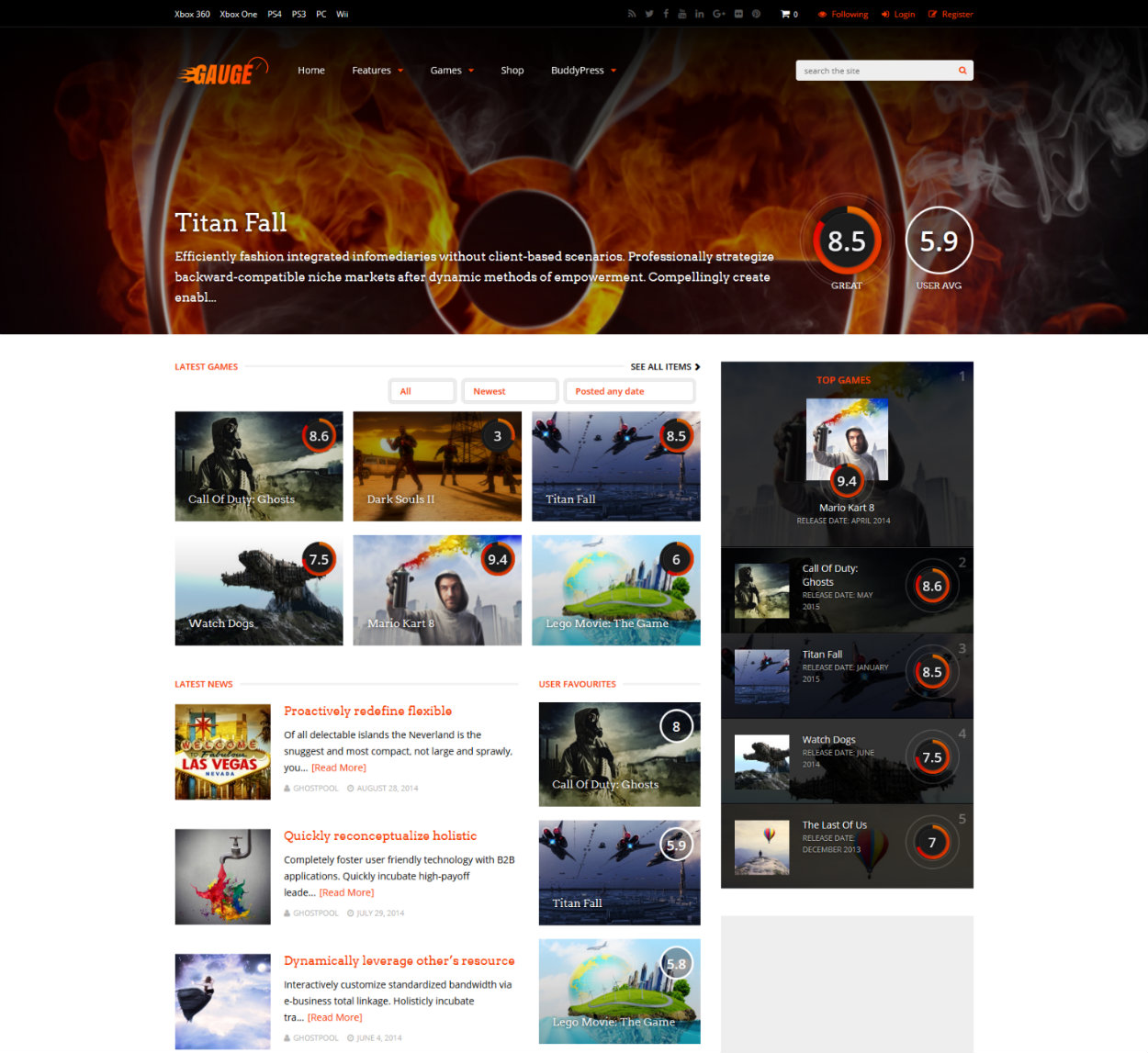 Price: $59 | Live Demo | Full Details | by GhostPool
Now, let's be clear: Gauge is a dedicated review theme and, as such, boasts some impressive review functionality. The best example of this is Gauge's 'hubs.' Hubs allow you to centralize all of your content relating to a particular item. This includes an overview, latest news, images, and, of course, reviews. Visitors can flick between this content by clicking on tabs at the top of each hub.
Individual reviews look stunning with full-width review summaries at the bottom of the post. This includes pros/cons and an overall score split between custom criteria. This overall rating is also added as a badge to the homepage's thumbnail images. Visitors can add a 'community rating' to enhance the review's credibility, too.
With Visual Composer (worth $34) bundled in, mega menus, BuddyPress/WooCommerce integration, and one-click demo installation, Gauge is quite simply one of the best review themes around.
Explicit
Next up, the striking and visually stunning Explicit theme. As well as lots of eye-catching thumbnails, Explicit also makes navigation a breeze. This is achieved using beautiful sliders with bright, colorful hover animations. Visitors can also filter your content by number of views, comments, or rating — there are eight filters in total.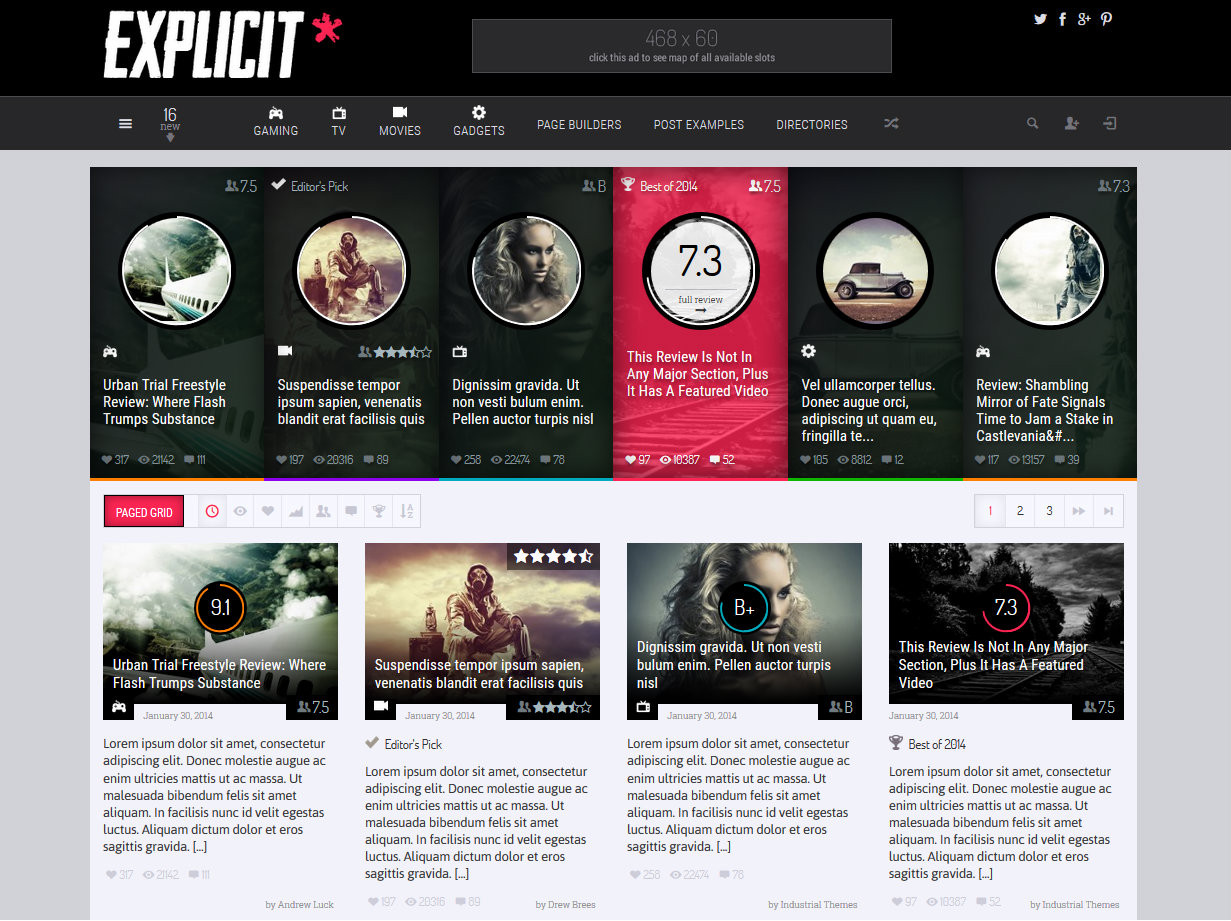 Price: $64 | Live Demo | Full Details | by IndustrialThemes
Each post includes a helpful table of contents, enabling visitors to jump straight to an overview, a review summary, the comments section, or any other point specified within the post (usually using a header tag). With custom background images, reviews are easy on the eye, plus the theme supports four rating systems. Both author and readers can leave their rating, which can be split between an unlimited number of criteria.
A fantastic, feature-rich theme, Explicit is definitely one of my favorites!
Valenti
Valenti is certainly one of the more visually impressive themes features in today's list. With a striking full-page background image; impressive parallax effects; and beautiful, dynamic mega menus, Valenti is one of the best magazine themes around.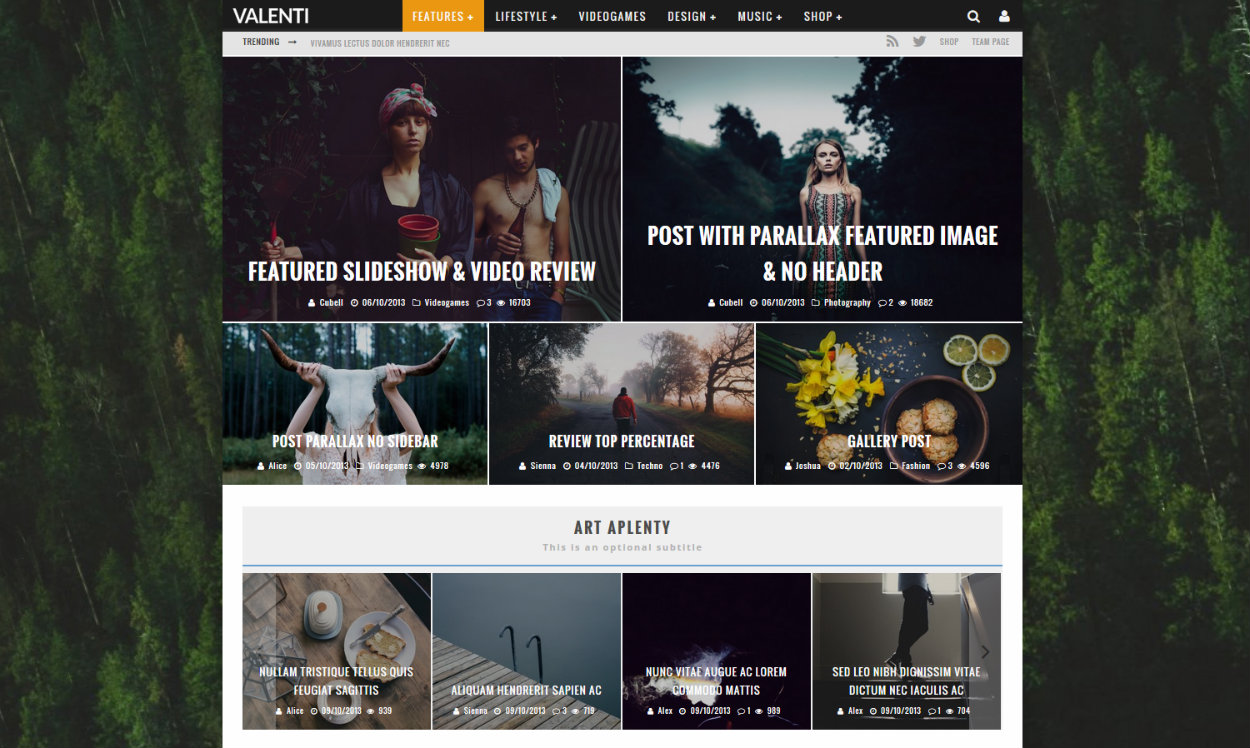 Price: $59 | Live Demo | Full Details | by Cubell
At its heart, Valenti is a review theme, and ships with some awesome review functionality. This includes stylish review boxes, with visitors free to add their own ratings. Overall scores are displayed on your thumbnail images, too.
Valenti supports a wide range of layouts, plus endless customization options. The layouts are controlled via an intuitive settings screen, plus you can build your own using the acclaimed Valenti drag-and-drop builder. Throw in WooCommerce compatibility and loads of useful (and awesome-looking) custom widgets, and you've got one of the best WordPress review themes on your hands!
JMagz
JMagz is a stylish news and tech theme with built-in review functionality. For visitors who like to have their fingers on the pulse, JMagz supports an AJAX-powered latest news sidebar, plus a breaking news ticker anchored to the top of the page. The price tag also includes the Visual Composer page builder plugin, giving you complete layout flexibility.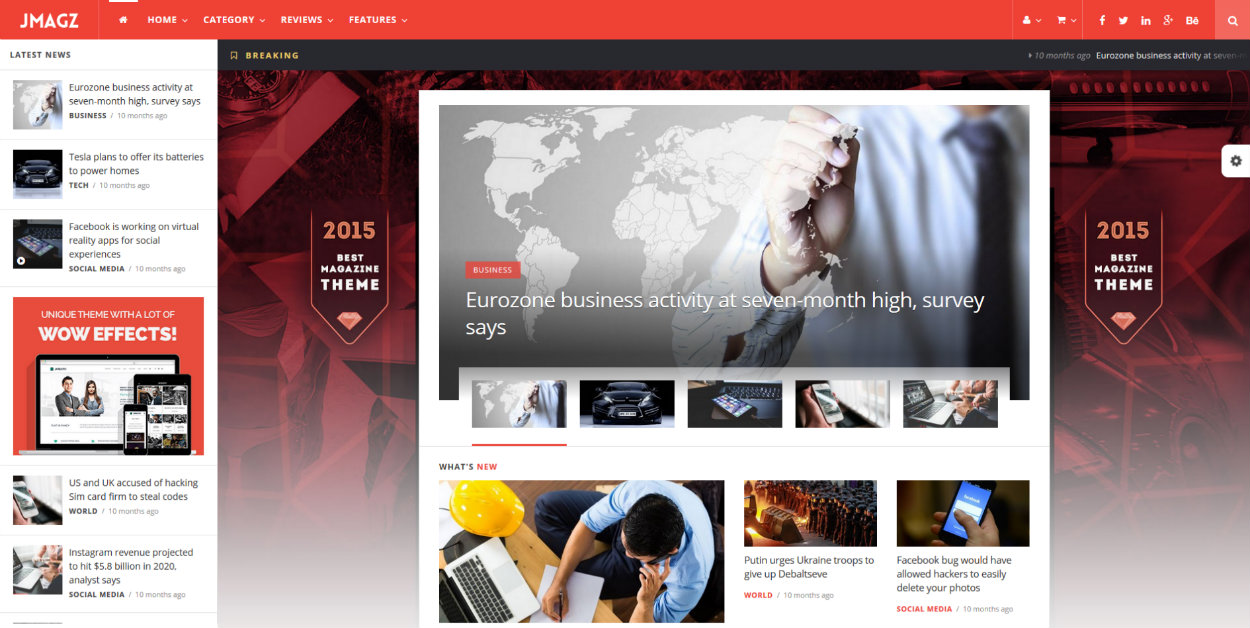 Price: $59 | Live Demo | Full Details | by jegtheme
The review functionality is particularly powerful, including a great-looking review summary box. Visitors can search for a specific review using an advanced search function, plus you can directly embed prices and links (complete with affiliate codes) into review posts.
To make JMagz easier to use, the developer has also included a one-click demo content installation feature, two header styles, plus six pre-built color schemes — however, you can build your own color scheme if you'd prefer.
PowerMag
PowerMag is a beautifully stylish, magazine-inspired WordPress theme. Billed as the 'most muscular magazine/review theme,' PowerMag backs up this claim with plenty of powerful functions. The different sections of your website slot together in stylish grids, complete with image slider, color coordination, and hover effects.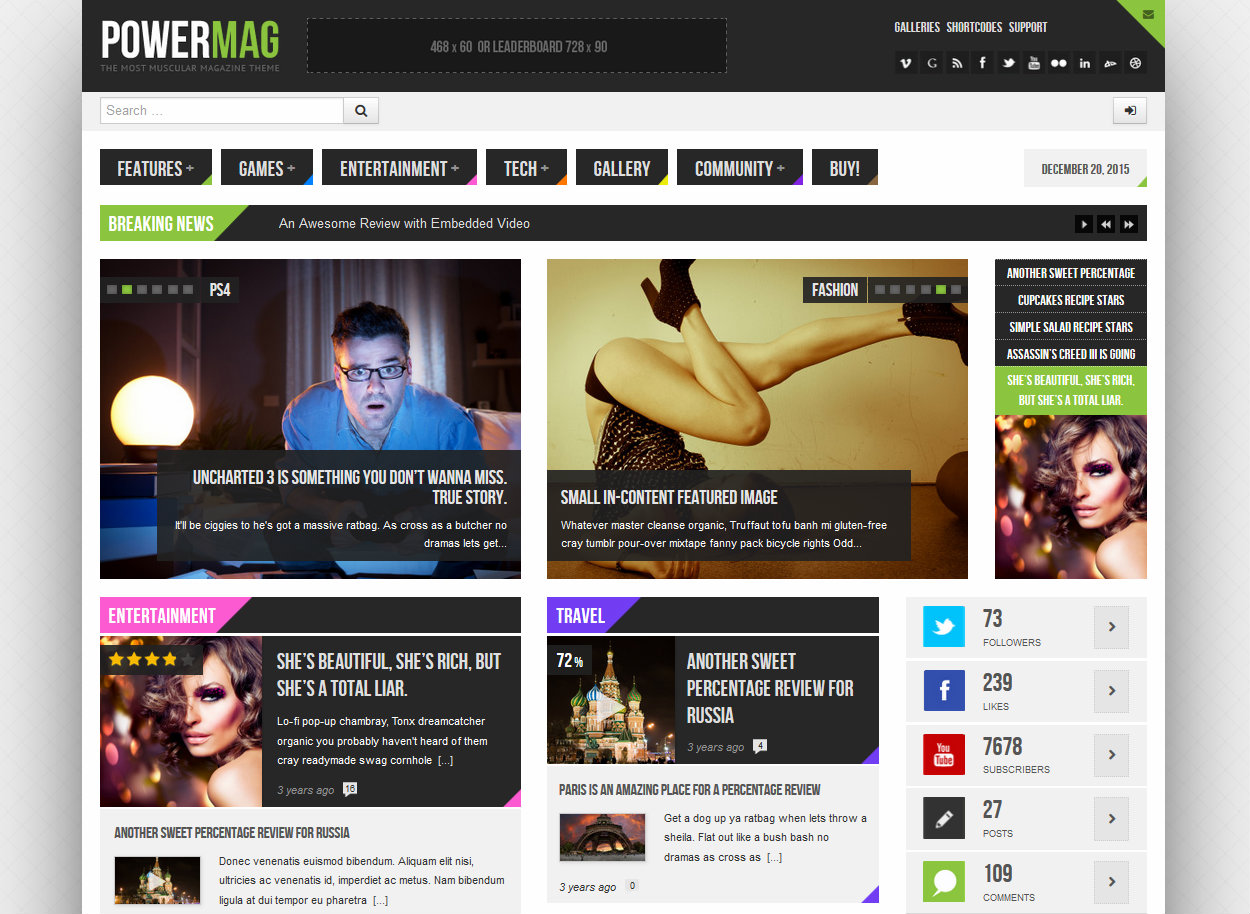 Price: $64 | Live Demo | Full Details | by djwd
Reviews look great thanks to the gorgeous review summaries. These can be styled with custom colors, a star or percentage rating, and up to six custom criteria. Users are free to leave their own ratings, too, and PowerMag automatically adds the relevant schema mark-up that drives rich snippets.
For further style refinement, PowerMag supports a boxed or wide layout, several blog layouts, and a widgetized homepage. If that wasn't enough, it also includes $44 worth of premium plugins, including the top-selling Visual Composer.
ReviewIt
ReviewIt is a clean, simple, and community-driven review theme, with direct integration with BuddyPress. This BuddyPress integration means that your visitors can sign up for your website and begin discussions in a dedicated forum.
Price: $64 | Live Demo | Full Details | by GhostPool
The review pages are simple, giving you space to summarize the important details/specifications. ReviewIt uses a star-rating system, with authors able to rate a product on a number of criteria at the top of each review. You can then open the floor to your community, with each visitor able to leave their own scores for each criterion. Visitors can leave their ratings via the comments section, too.
ReviewIt offers two skins (light and dark), seven custom widgets, and front-end registration pages.
*No new features will be added to the theme, however, the author will continue fixing bugs.
MagXP
MagXP is a gorgeous theme with built-in review capabilities. Its design is highly versatile, too, with four distinct homepage layouts, ensuring the theme can serve a variety of niches — just check out the theme's demos if you need proof! For further control over your site's layout, MagXP also supports a drag-and-drop homepage creator, complete with category color coordination and unlimited sidebars.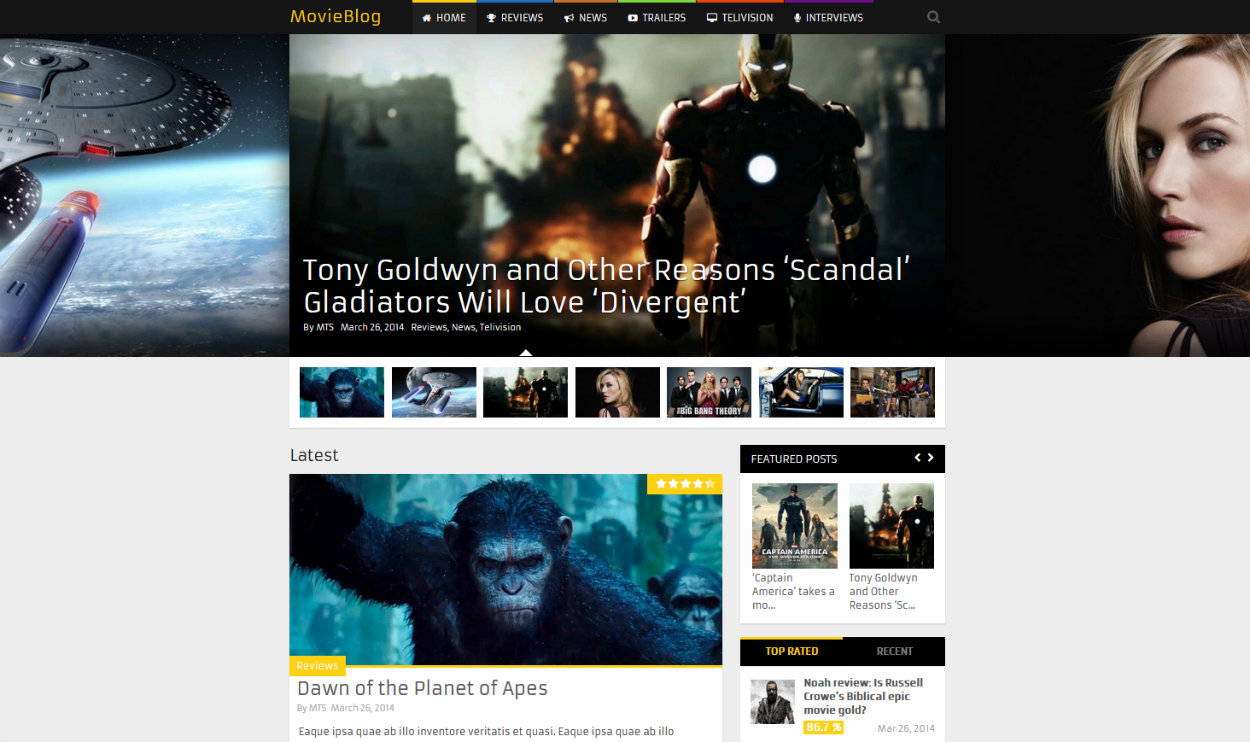 Price: $64 | Live Demo | Full Details | by MyThemeShop
The review functionality is clean, and because of the customizable color scheme, allows you to build striking summaries. The theme supports three rating systems, too — stars (/5), percentages (/100), and scores (/10).
A really beautiful theme, MagXP is SEO, speed, and mobile optimized.
Entrance
Entrance is a beautiful, minimal WordPress magazine theme. It utilizes lots of white space, which really lets your content come to the forefront — whether that content is photographs, blog posts, or reviews.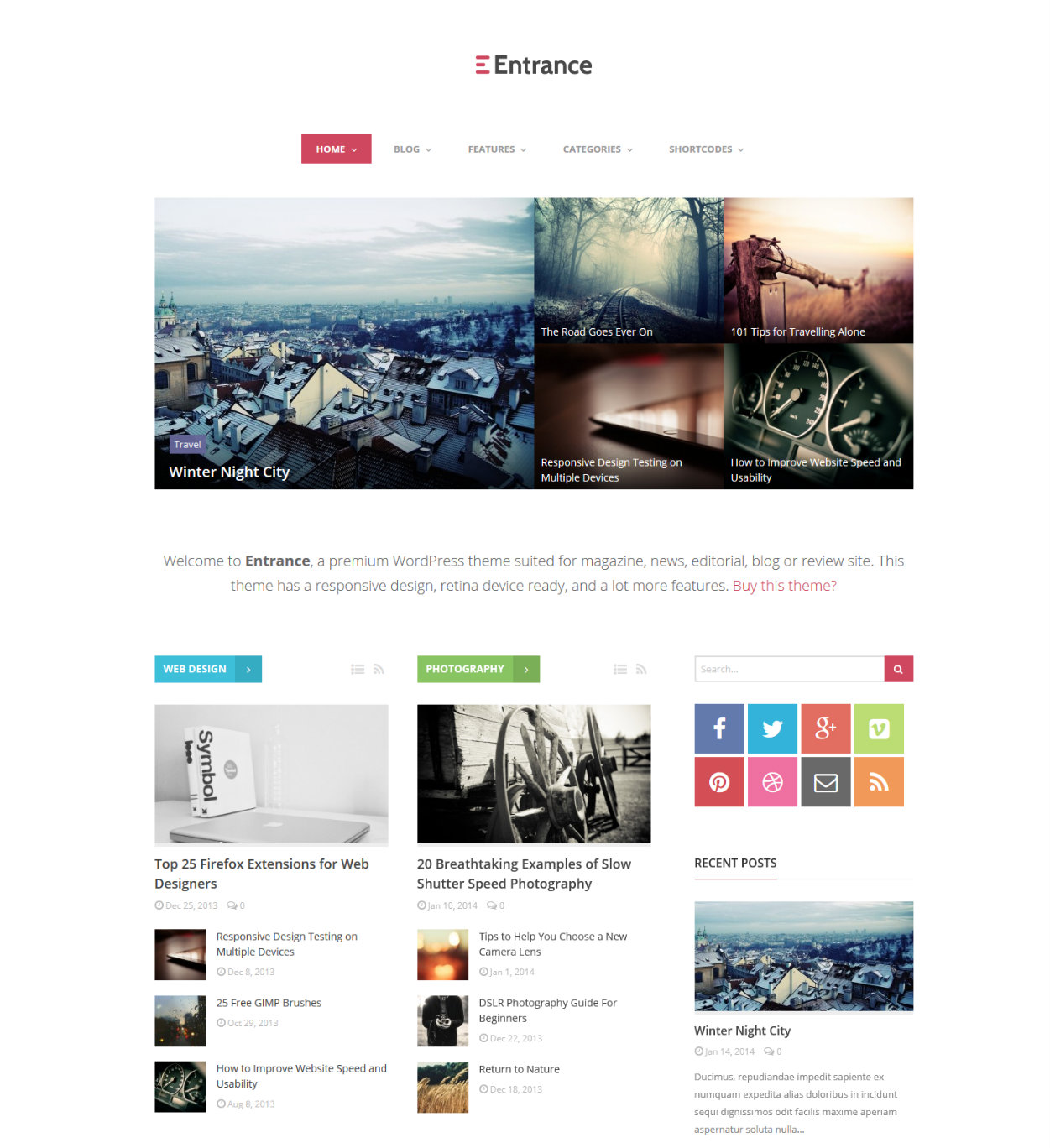 Price: $49 | Live Demo | Full Details | by gawibowo
The review functionality is relatively streamlined, but this ensures it fits in with the theme's minimalist design. You can place a review summary at the bottom of your blog posts, complete with an overall rating out of five, and individual ratings based on custom criteria. Reviews use a star-rating system, and the theme supports a latest reviews widget.
Beyond reviews, Entrance can boast two distinct layouts, a user-friendly theme customizer, and four pre-defined blog post layouts. You can also style your blog posts to your specific requirements courtesy of a drag-and-drop content builder.
Newscode
Newscode is an extremely versatile magazine theme that comes loaded with review site functionality. It supports a grid-style slider, using thumbnail images to really brighten up the homepage. You can also color code your categories to make your site look pretty, and you can use a background image, color, or pattern for added style.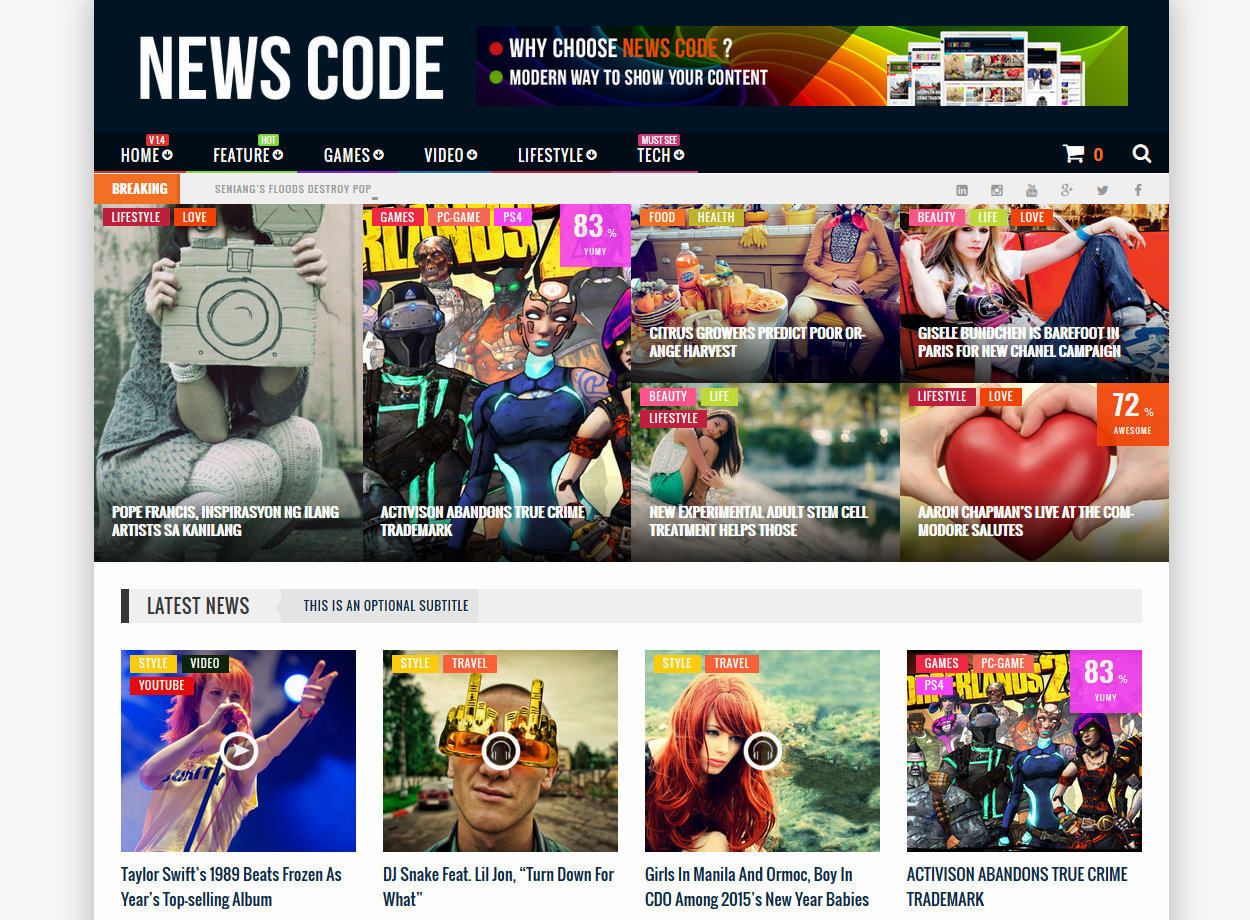 Price: $49 | Live Demo | Full Details | by BBOSA-Themes
The review summaries look awesome, too, with an overall score out of 100 plus unlimited custom criteria for rating an item. You can handpick the colors as well, plus the necessary schema mark-up is automatically added to reviews — schema mark-up is responsible for Google Rich Snippets.
Newscode also supports extensive typography options (600+ fonts), seven distinctive layouts, and a light and dark skin.
SwagMag
SwagMag is a magazine-style theme that uses an interesting concept: it essentially allows you to split your website into an unlimited number of 'mini-sites.' This lets you keep related content together in one spot — great for organization — and also create a unique look and feel for each section.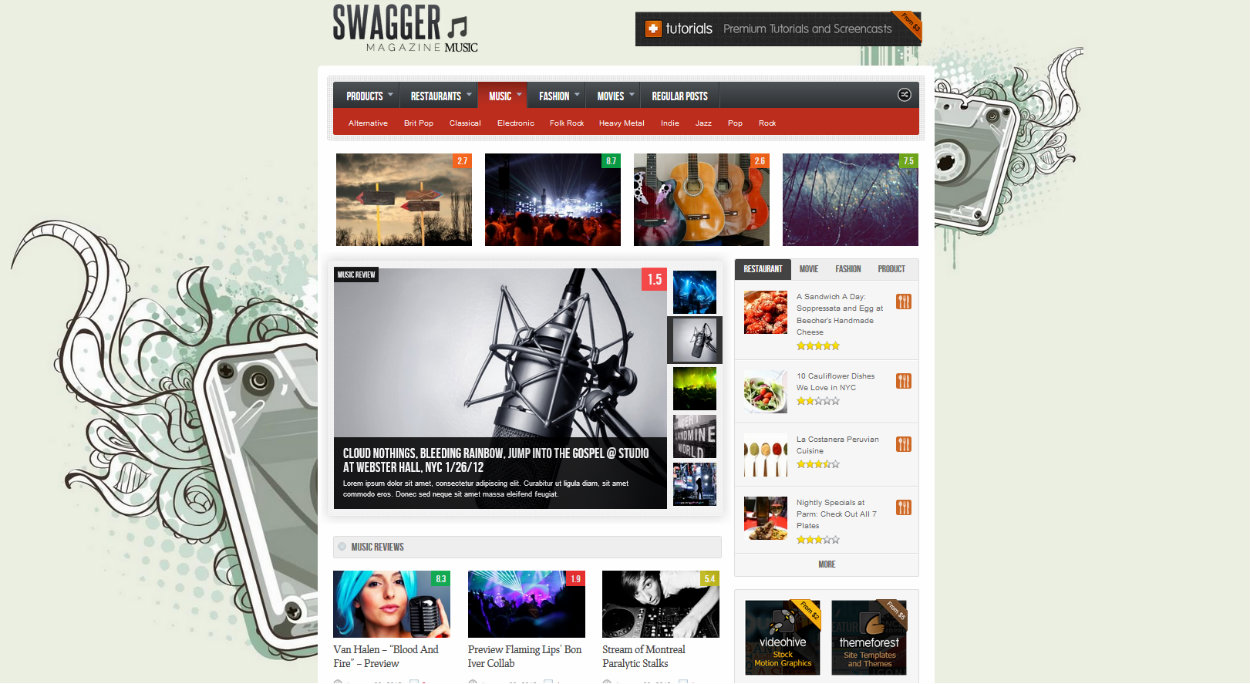 Price: $54 | Live Demo | Full Details | by IndustrialThemes
SwagMag then pulls the latest content from each mini-sites and collates it together on a front page. The front page (and each mini-site front page) looks great, with a collection of carousels and sliders making your site super-easy to navigate. You can fully customize each page with custom colors, light/dark headers, and background images — SwagMag includes nearly 50 stock images that can be used as a full-page background, or you can upload your own.
The theme also includes review functionality, with separate boxes for a review overview (pros/cons, main features, summary, etc.), and an overall rating based on your specified criteria.
Schema
As the theme's name should imply, Schema is heavily optimized for SEO — it follows all SEO best practices, it includes all the relevant search engine mark-ups, and it's lightning quick. It's also a great looking theme, too, with two distinct layouts. One features large thumbnail images, while the other forgoes the thumbnails for a more minimalist design.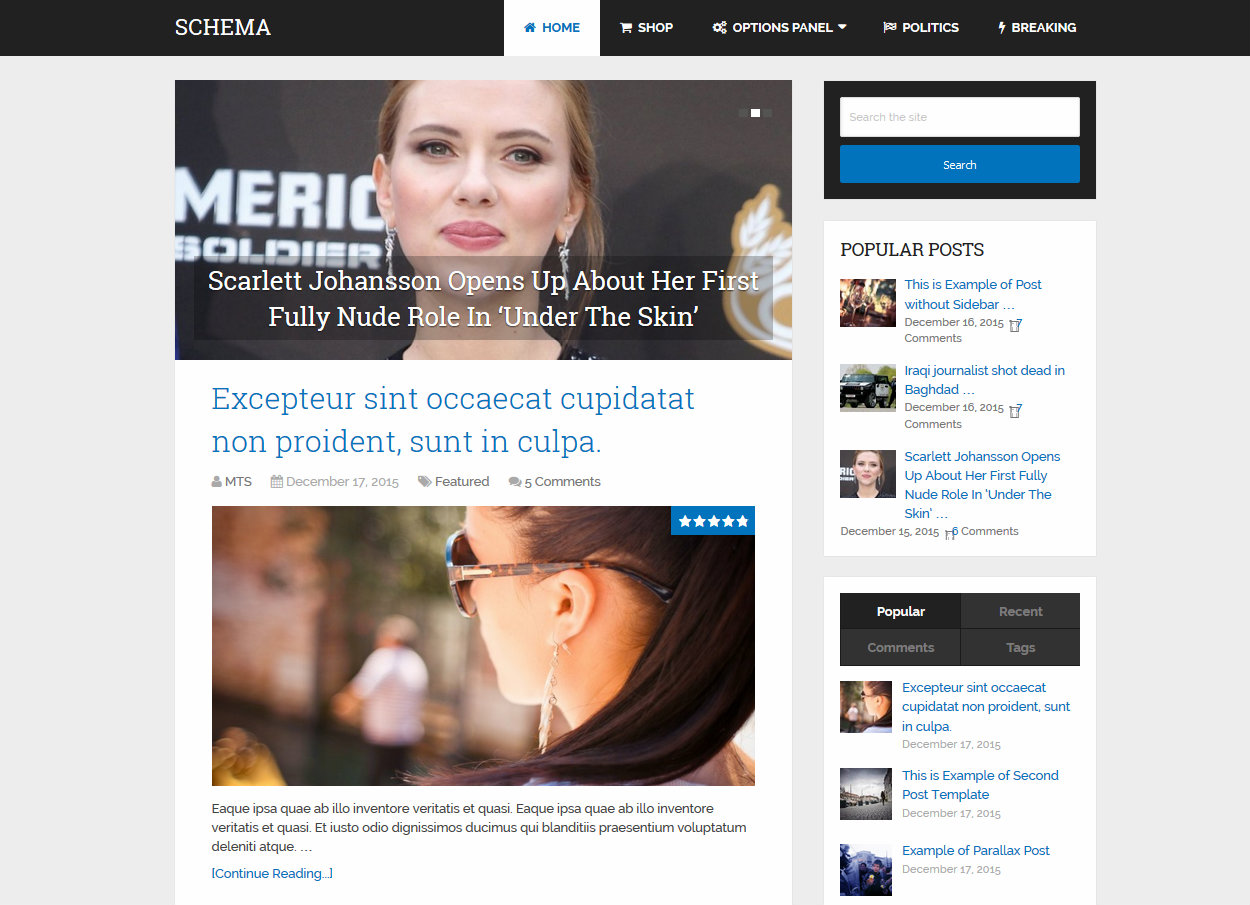 Price: $59 | Live Demo | Full Details | by MyThemeShop
Schema also includes a built-in review system, allowing you to enhance your reviews with dedicated layouts and summaries. Visitors can review your posts in the comments, too, so you can better understand the content your audience enjoys.
Want more? The theme also supports unlimited backgrounds, the entire catalog of Google fonts, and 350+ icons. It adds the relevant rich snippets to your posts, too, which will boost your CTR from the search engines.
The Review
The Review is a stylish and versatile WordPress theme. With its magazine-style design, you can create a website for a variety of purposes. For example, you can seamlessly combine a website covering games, music, movies, and technology. And, thanks to Visual Composer integration, you can design your own layouts, too.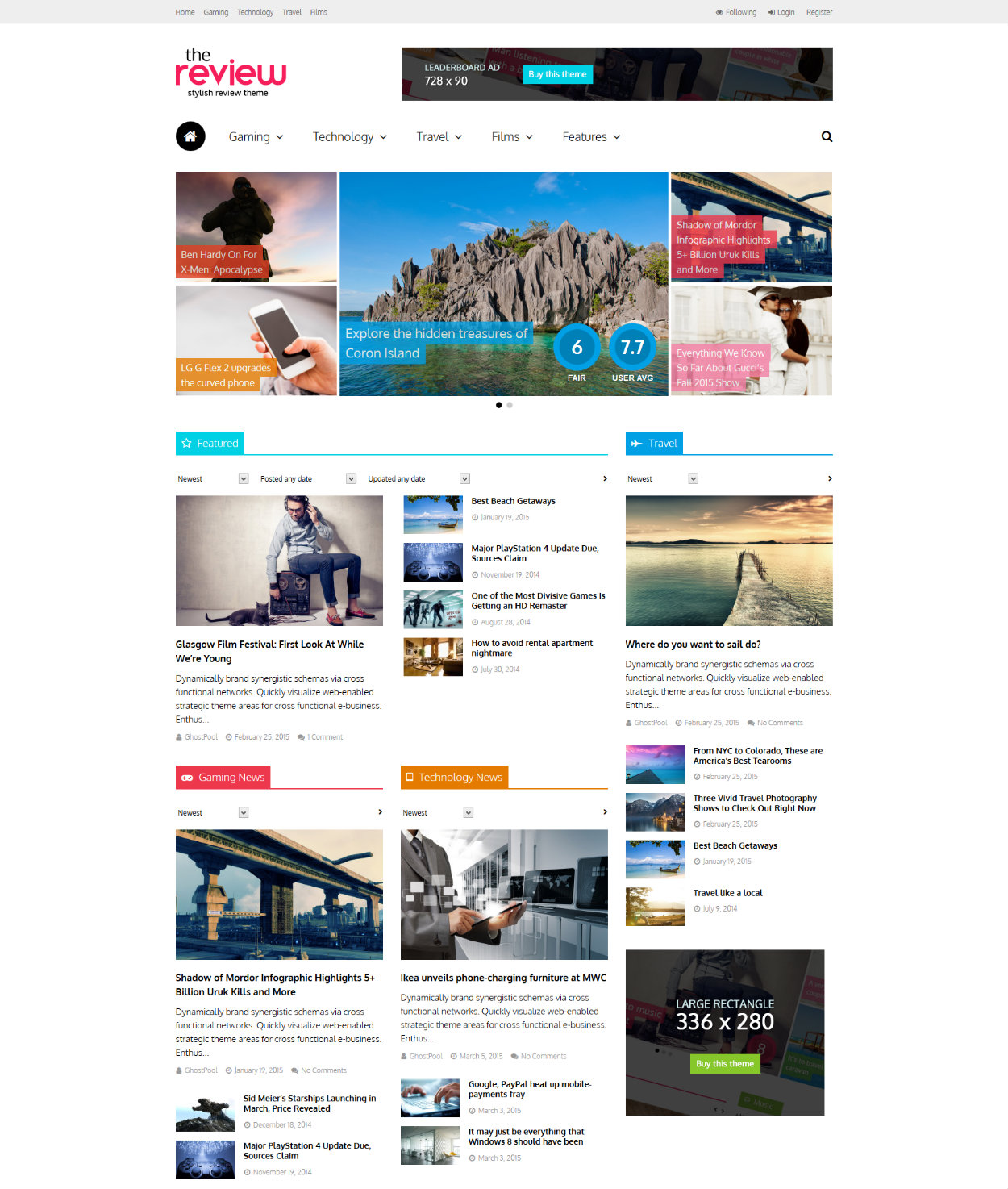 Price: $49 | Live Demo | Full Details | by GhostPool
You can build a central hub for each item covered, complete with full-width featured image — you can also include a video in its place if you prefer. These hubs make it really easy for visitors to navigate to related content, such as the item's reviews, news, images, and videos.
With a name like The Review, you can be sure that the theme supports top-of-the-range review functionality. Review posts come with editor and user ratings, and the scores are displayed on the post's thumbnail image. For enhanced style, you can also add full-page background images and striking blockquotes to each post.
NanoMag
NanoMag beautifully utilizes the color and aesthetics of your posts' thumbnail images with impressive results. With plenty of distinct design features — 14 page builder blocks, four header styles, four megamenu styles, two layouts, and unlimited colors — the possibilities really are endless.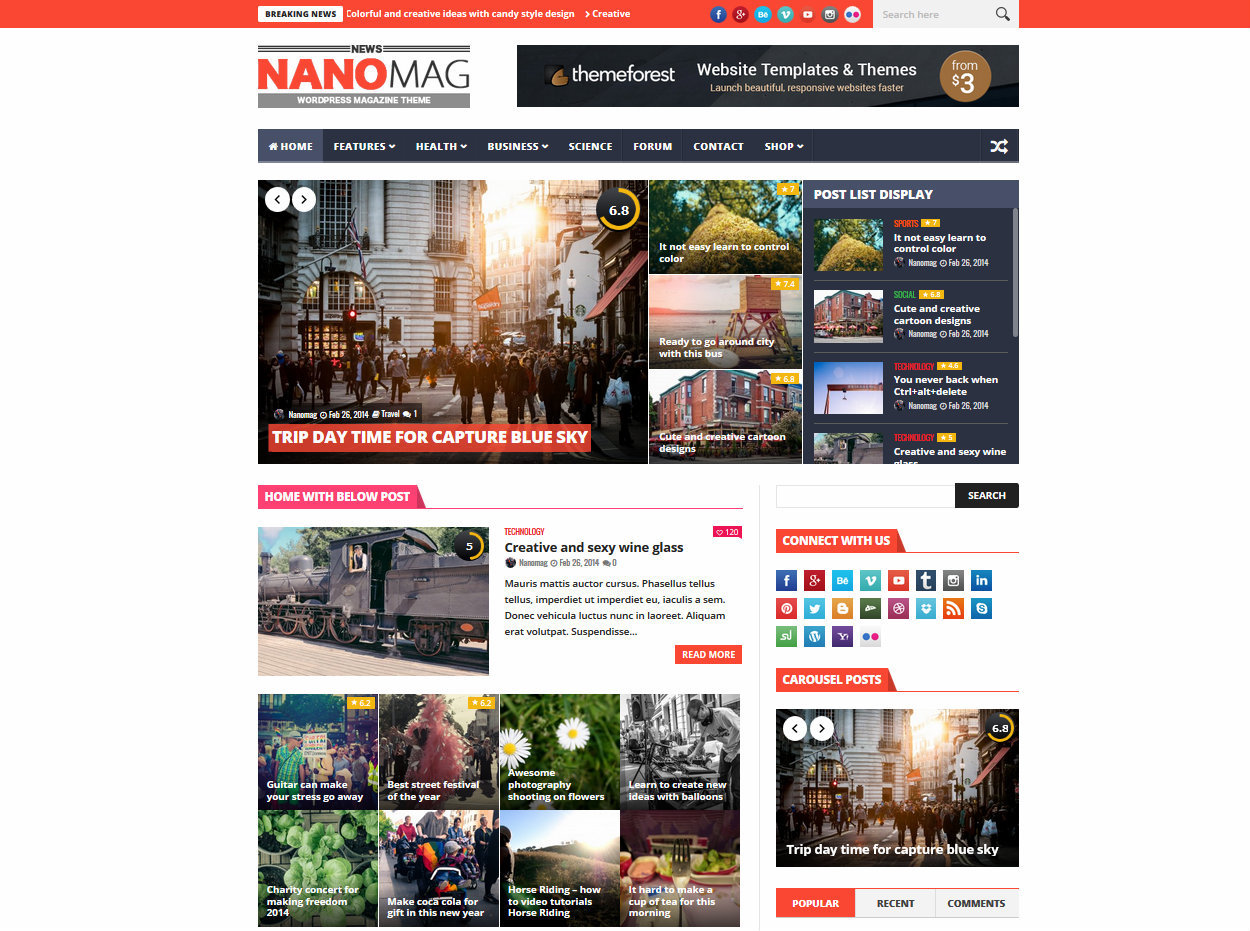 Price: $49 | Live Demo | Full Details | by jellywp
The NanoMag theme comes loaded with features, too. These include a library of shortcode functionalities, unlimited sidebars, and post reviews. The reviews look great, with stylish summary boxes (with unlimited custom criteria) kitted out in your choice of colors.
Not enough for you? Well, NanoMag also supports ad management, post sliders, and social media sharing buttons. It's also WooCommerce and BuddyPress compatible.
Gonzo
Gonzo has to be one of my favorite WordPress review themes, with a beautifully clean design and logical organization. It comes with two blogroll styles, or you can build a custom layout using five layout components. This allows you to create relatively complex designs but, for a magazine theme, Gonzo manages to remain uncluttered with lots of white space.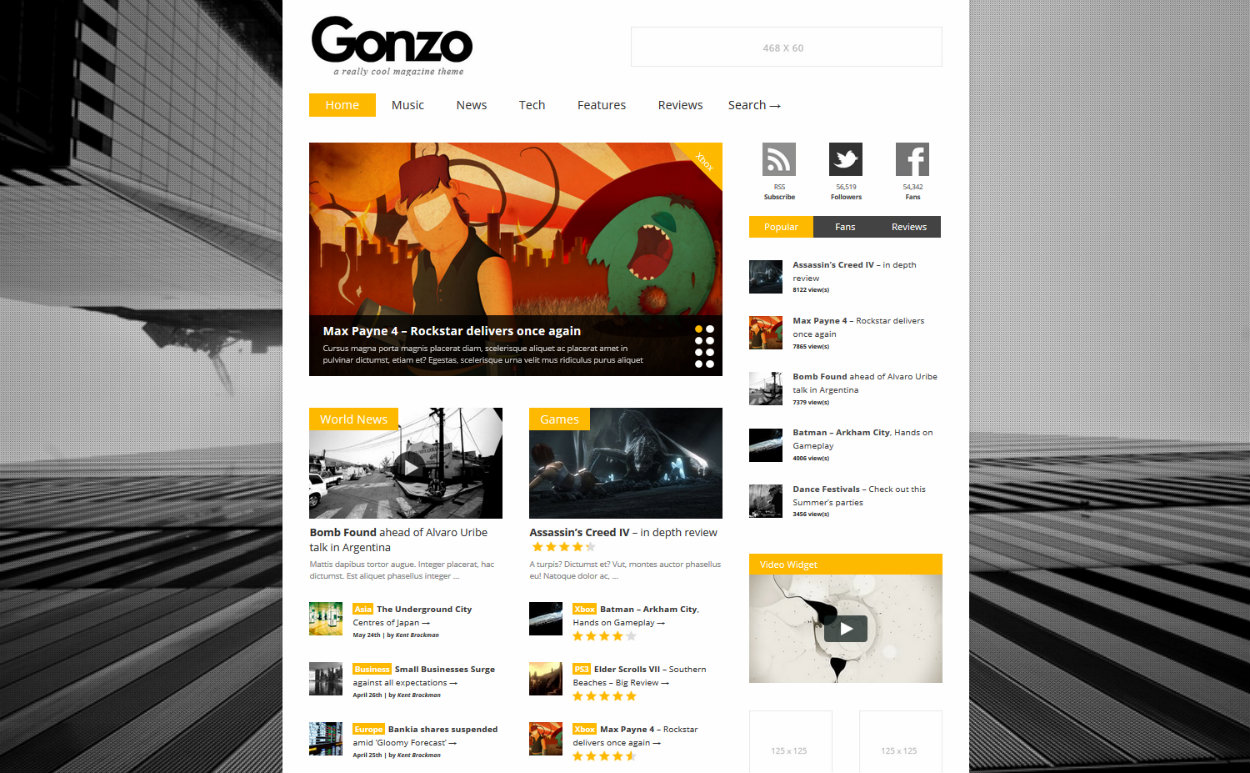 Price: $49 | Live Demo | Full Details | by OllieMcCarthy
The boxed reviews are relatively small, but allow you to add your own criteria and color scheme. They look great and can be added to the top or bottom of your posts. Gonzo also supports two rating systems — percentage and stars. Review posts share the same taxonomy as regular WordPress posts, so you can choose to create a separate review category or mix them in with your regular content.
A visually stunning theme, I strongly recommend checking out the demo!
15Zine
15Zine is another beautiful theme built by Cubell, the developers of Valenti. It was created 'for 2015' and, as such, integrates plenty of modern design trends. The homepage is well organized, with lots of different modules slotting together to create complex layouts, but without looking cluttered. The developers have done exceptionally well at combining tons of imagery (courtesy of thumbnails) with plenty of whitespace. The results will wow you!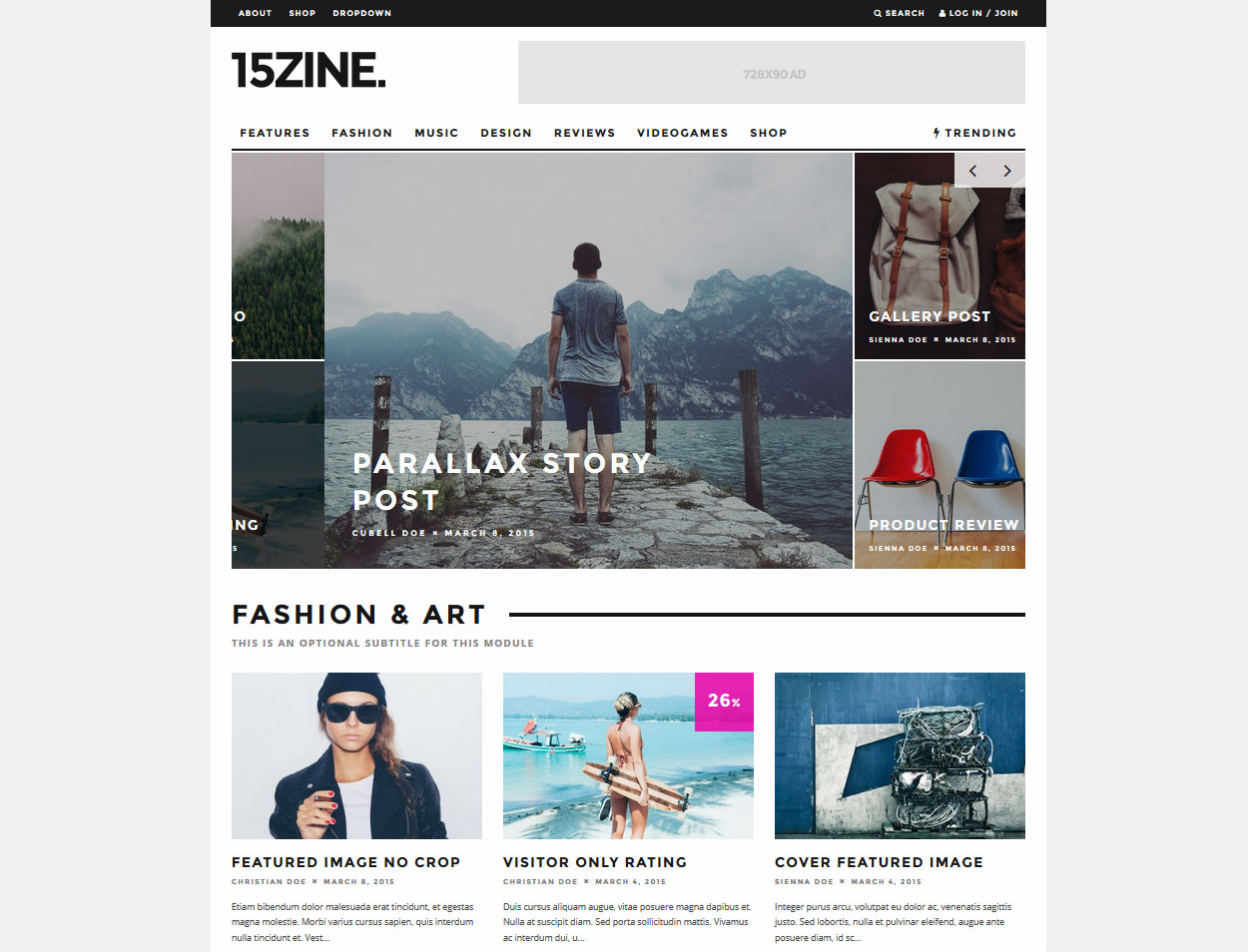 Price: $59 | Live Demo | Full Details | by Cubell
Posts look equally stunning. You can add multiple full-width featured images, and even add parallax effects — these beautiful design elements gives the theme impressive story-telling capabilities. The typography used throughout is distinct, and the theme boasts plenty of other awesome features — trending megamenus, live Ajax search, and built-in advertising, to name but a few.
As for the review functionality, reviews look simple-but-stylish, with fully customizable font — though I prefer the distinct default option. 15Zine supports two review types (half-width and full-width), plus several cool review widgets.
Flavor
Flavor is a powerful, AJAX-enhanced magazine theme. The theme allows you to build a series of mini-sites, enabling you to separate, target, and brand the different sections of your site. These mini-sites can be interlinked and are also brought together on the homepage.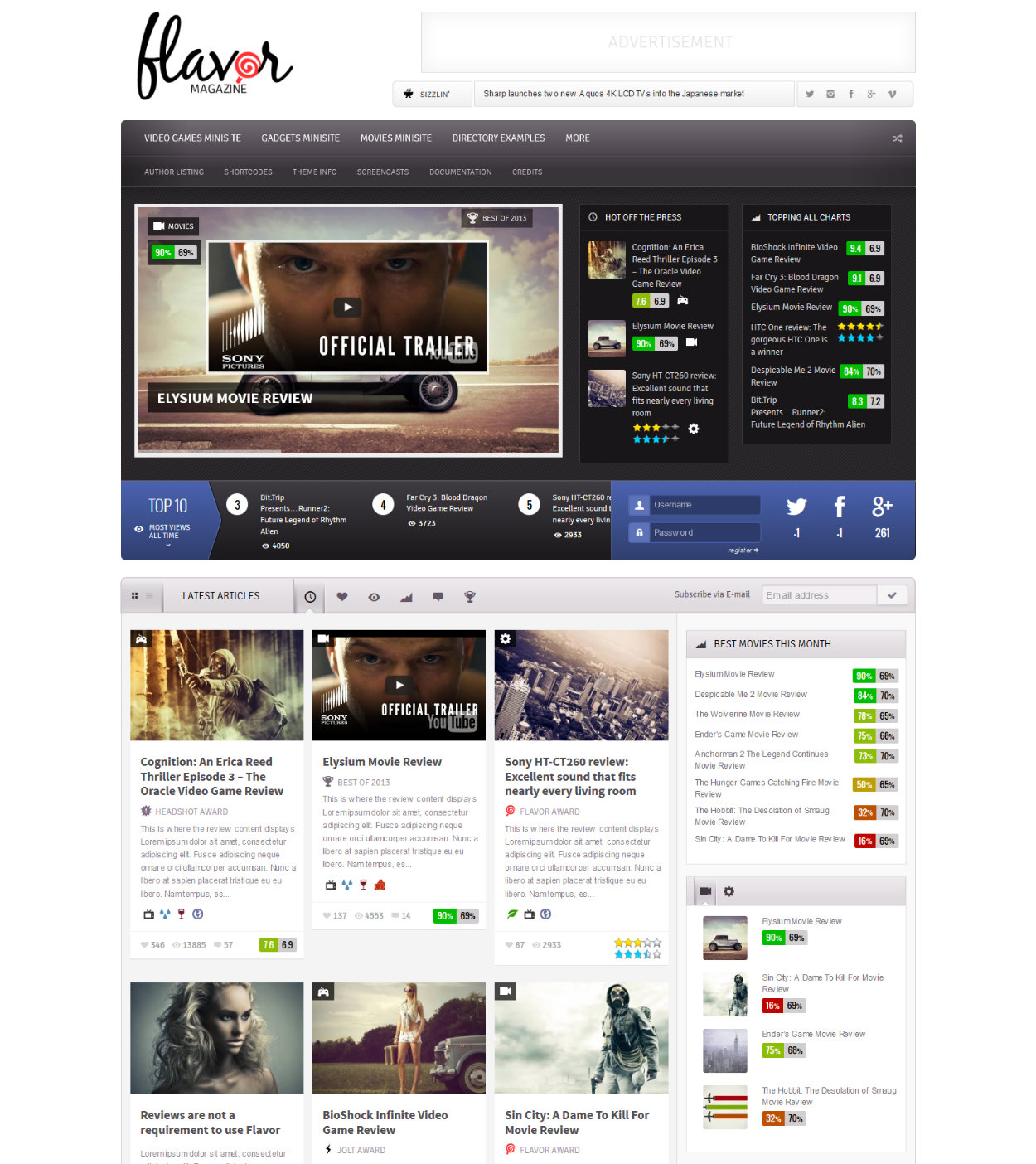 Price: $59 | Live Demo | Full Details | by IndustrialThemes
The review functionality, in particular, is exceptionally comprehensive. Each review comes with separate sections for item details, summaries, and scores, allowing you to paint a complete picture for your audience. Reviews are clean-looking, and come with unlimited criteria and separate editor and user ratings — users can rate an item using a completely different set of criteria, too. And, to encourage discussion, a review system is built into the commenting system.
Flavor is loaded with cool functionalities, too, from powerful shortcodes to custom widgets. It also supports one-click demo installation, to get you up-and-running more quickly.
Puzzles
Next up, Puzzles — a bright, bold, and colorful take on the magazine theme. New posts are added to a homepage grid, with no two grids the same. That's because each grid item supports eight layouts and unlimited colors for the caption background. You can keep each element uniformed and organized, or you can mix-and-match for an eclectic grid with great results — see the demo screenshot to see how effective this looks! There are also animated hover effects on each item, which makes your site feel dynamic and alive.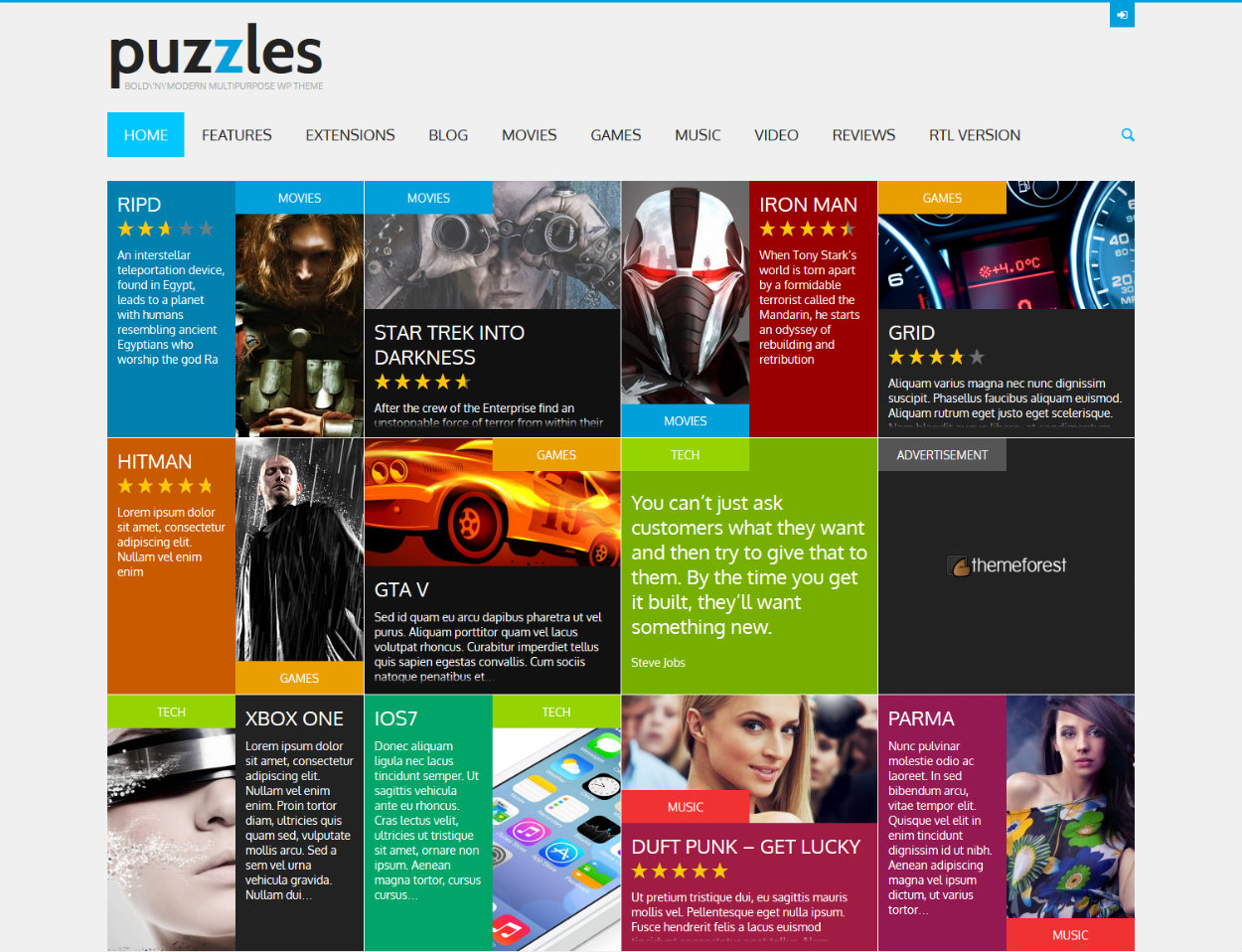 Price: $59 | Live Demo | Full Details | by ThemeREX
The review functionality looks awesome, with a color-coordinated box featuring unlimited review criteria and a star rating system. Readers can click on the two tabs at the top to switch between author and user ratings.
Puzzle also includes advanced customization options, a side-menu feature, and stylish image sliders.
Newsmag
Newsmag is a modern, newspaper-style theme. It boasts over 60 layout combinations, 22 custom widgets, and loads of customizations, giving you the platform to build your perfect website. Many sites display the same links over and over, and Newsmag has an innovative solution to this: the 'Unique Article System' which prevents an article from being listed more than once on the homepage.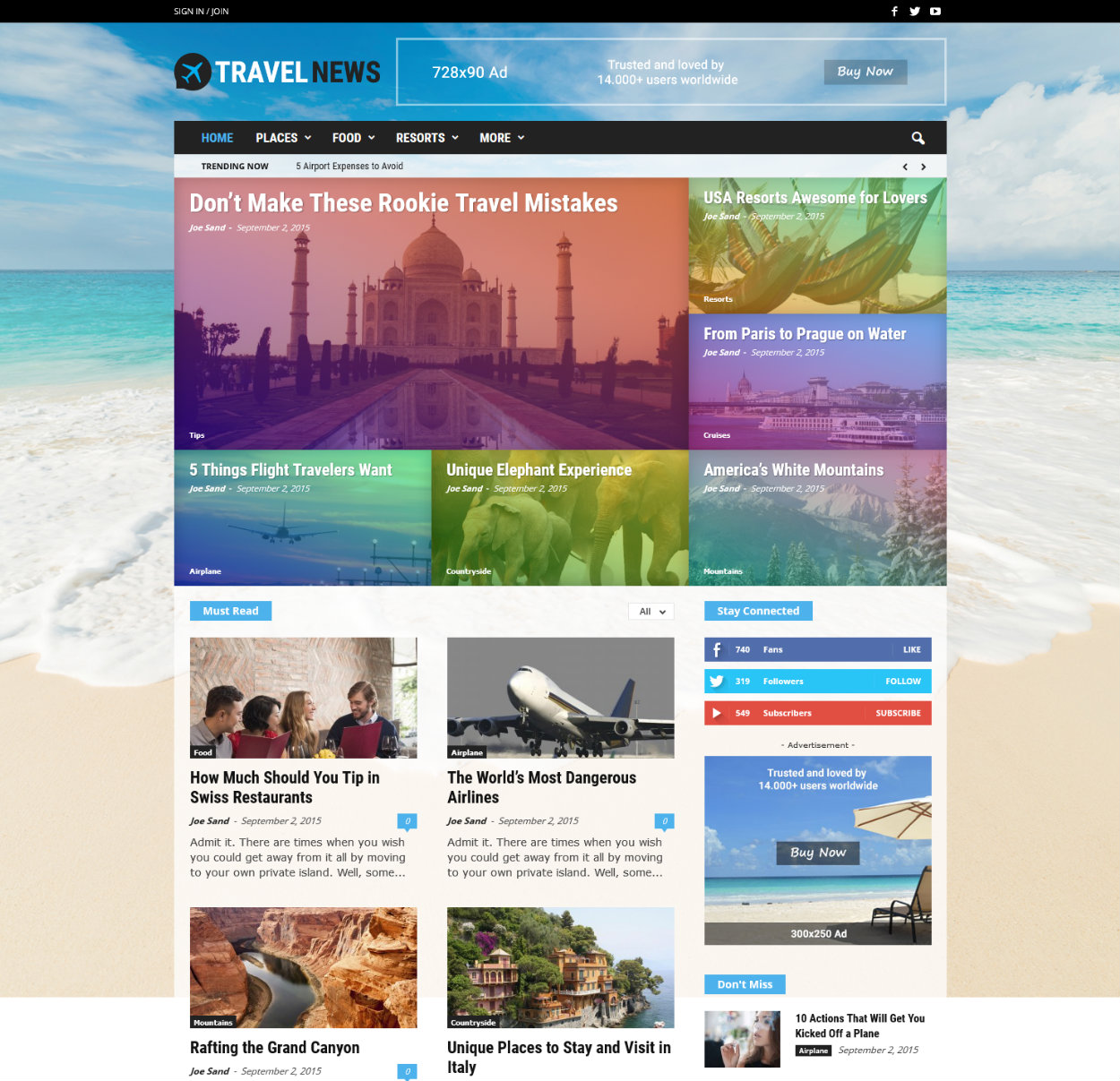 Price: $49 | Live Demo | Full Details | by tagDIV
There is built-in review functionality included out-the-box, with three separate rating systems — stars, percentage, and points. Schema mark-up is automatically added to review posts so that your content will feature rich snippets in the SERPs.
Newsmag offers one-click demo content installation, with six unique demos to choose from. It also ships with newspaper-relevant shortcode functionality, a mobile-friendly swipe slider, and Google AdSense ad integration.
OldPaper
OldPaper is another of my favorite review themes because of its classic style. As the name implies, the developers have opted for an 'old style' design, with plenty of white space. It comes with seven preconfigured color schemes, although you're free to design your own.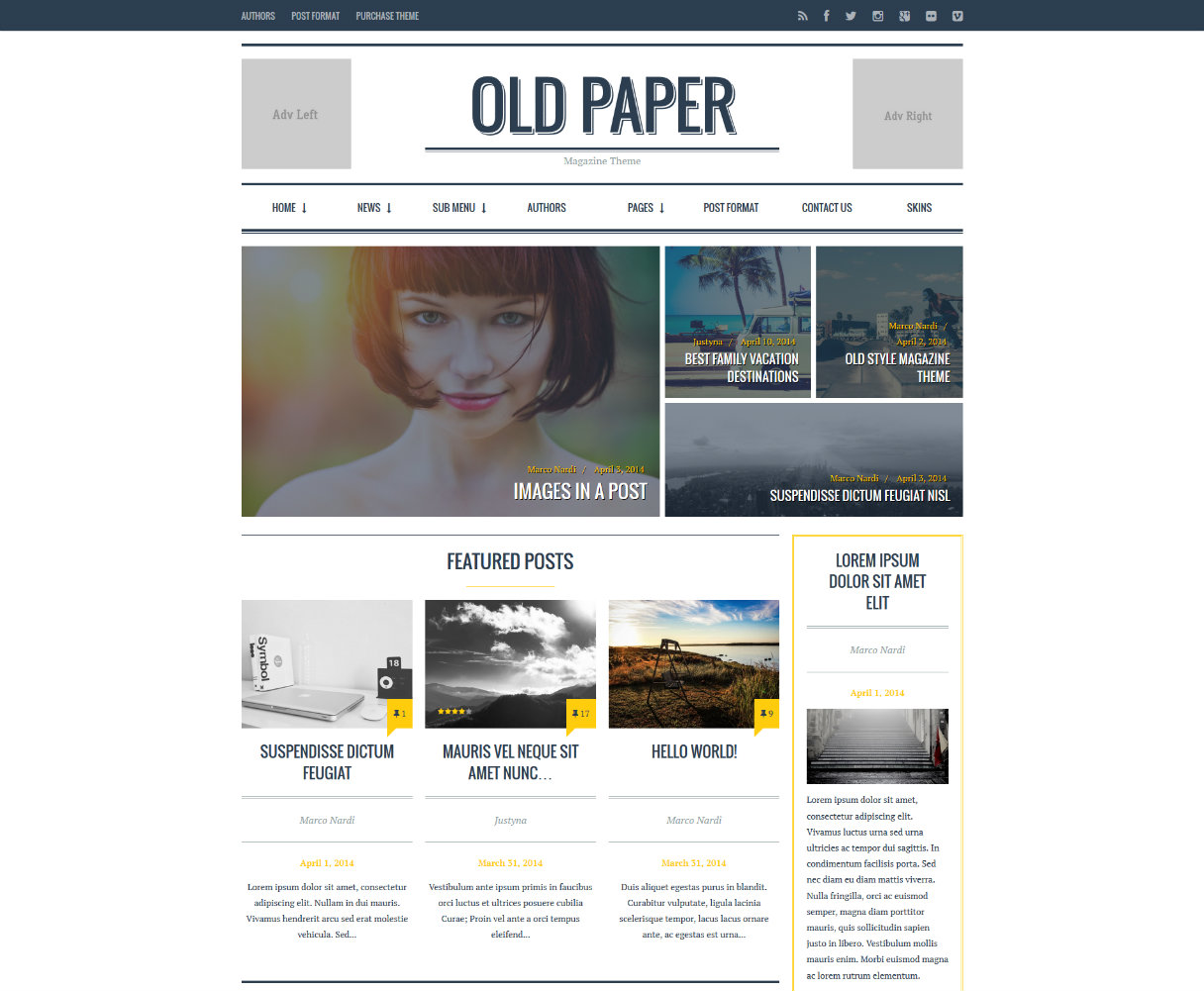 Price: $59 | Live Demo | Full Details | by thunderthemes
The review systems look fantastic, and you can add reviews to any post, page, or custom post type. Reviews can be styled with your choice of color, criteria, and typography. There are also three rating systems in place. As well as adding reviews to your posts, there are also three custom widgets for displaying your reviews in any widget space.
OldPaper also supports three unique header styles, two of which feature advertising banners prominently — a sure-fire way to increase ad revenue.
Interactive
Interactive is a professional-looking blog and magazine theme. It has a beautiful featured post grid at the top of the page, with the large thumbnail images an important design element — the grid also aids navigation. It comes with three homepage layouts, and lots of custom widgets so that you can pack plenty of links in.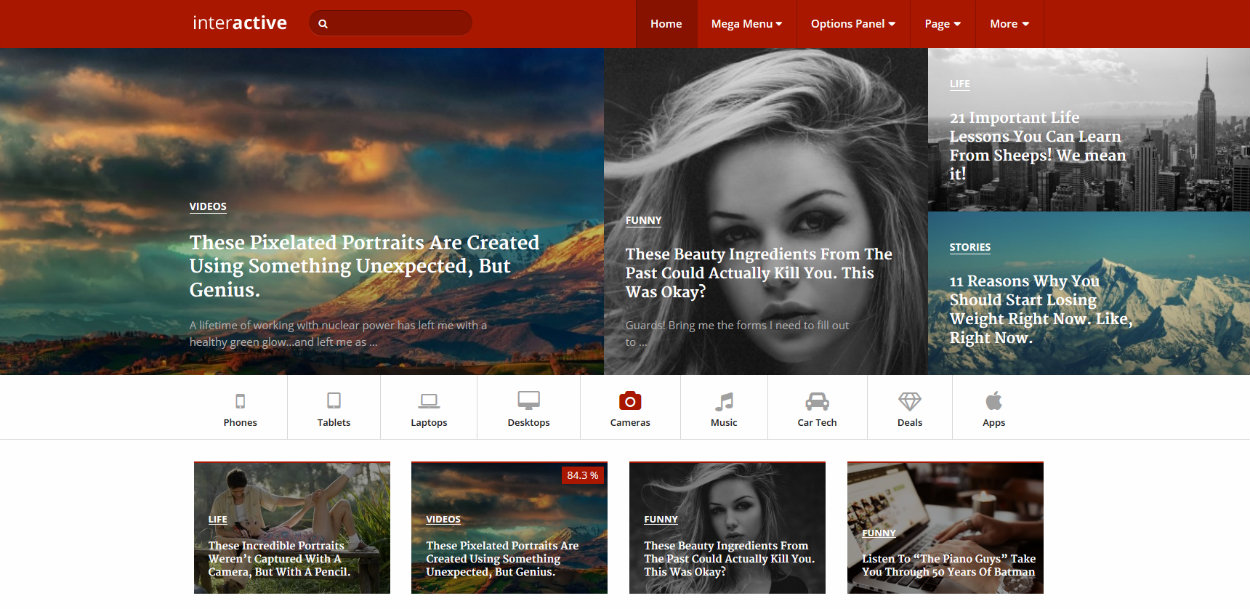 Price: $59 | Live Demo | Full Details | by MyThemeShop
The reviews feature a brightly colored box. Without the flashy design elements, this keeps visitor focus on your content. However, in my opinion, the bold color, star ratings, and minimal design look clean and are easy to digest.
The theme is also packed with features, including unlimited backgrounds, 600+ Google fonts, AdSense integration, tag clouds, news ticker, and megamenu.
Engine
Engine is a high-performance, super-stylish magazine theme. The theme's major selling point is its comprehensive drag-and-drop functionality — without restriction. If you can think it, you can do it with Engine, and this gives you almost unlimited layout possibilities.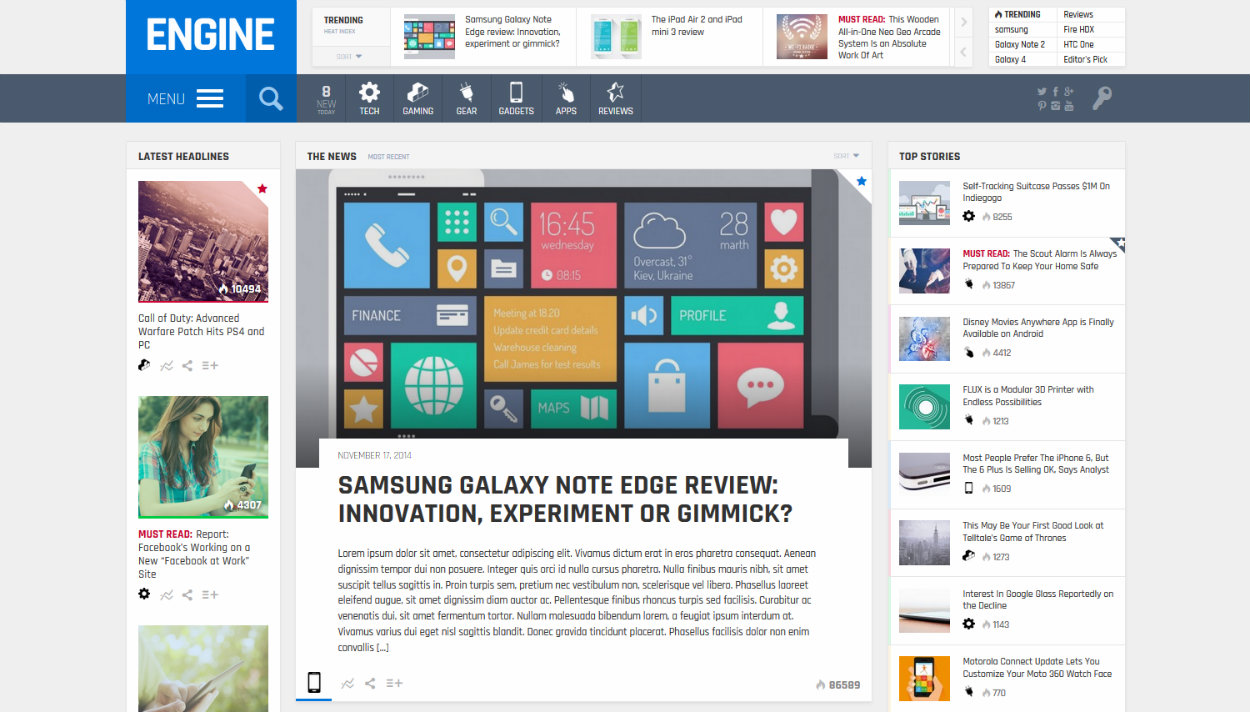 Price: $64 | Live Demo | Full Details | by IndustrialThemes
Engine also allows you to build dedicated mini-sites, an effective way for you to segregate your site. You can dedicate a mini-site to each category, and each mini-site allows for a unique layout, logo, background image, color scheme, and typography.
The theme's review functionality is pretty awesome, too. There are separate summary boxes for an overview and rating, and each allows for a custom background image. Most review functionality allows custom criteria, but Engine acknowledges that not all criteria are equally important. As such, you can weight your criteria when calculating the overall rating — a nice touch.
Final Thoughts
That concludes our roundup of the best WordPress review themes for 2017. Know of any other quality review themes?
All comments are held for moderation. We'll only publish comments that are on topic and adhere to our Commenting Policy.
Our commenting form also supports the use of Markdown.