TemplateMonster Review: A WordPress Theme for Every Project?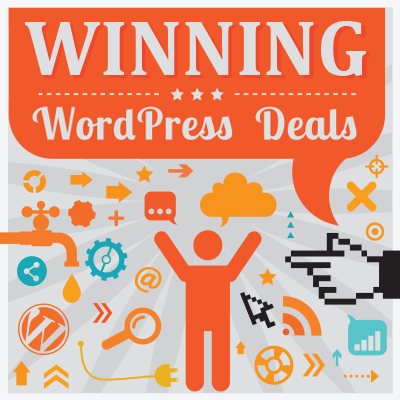 You can find more than 1,400 WordPress themes at TemplateMonster. That's an impressive amount of themes, but are they any good? In this TemplateMonster review, we'll look at some of their best WordPress themes, the other services they offer, and whether they represent good value for money.
If you're looking for a new WordPress theme, then this review will help you decide whether browsing TemplateMonster's large library is worth your time, or whether you should focus your attention elsewhere instead.
Let's get started…
About TemplateMonster
TemplateMonster launched in 2002, and have since become one of the largest website template marketplaces in the business. WordPress themes were added to the marketplace in 2006, and there are now more than 1,400 of them. Each is available exclusively from TemplateMonster, and has been created by a team of in-house designers. You won't find these themes anywhere else.
We'll look at the pricing details in more depth later on in this review, but their most popular WordPress themes are available for purchase on an individual basis for around $75. Optional upgrades are available for each theme purchase, including theme installation and web hosting. At the time of writing, TemplateMonster didn't offer a membership option or theme club that would give you access to all of their products for one price.
As well as the standard licenses, TemplateMonster do offer a buyout license that lets you take a theme off the market and ensure you're the last person to download it — something you may want to consider if you're looking for a unique design for your WordPress website.
TemplateMonster Key Details
Here's some key information about TemplateMonster:
Launched in 2002.
Offers 1,422 WordPress themes (plus more than 25,000 templates for other platforms).
Themes span multiple categories, including blogs, portfolios, business websites, ecommerce stores, and more.
Offers a small collection of WordPress plugins.
WordPress themes are typically priced at $75.
Extra services, including theme installation, plugin packages, website and theme customization, and stock photos, are available, as well as web hosting offered through a partnership with InMotion Hosting.
Typical TemplateMonster WordPress Theme Features
With so many themes available, it's difficult to generalize when describing the TemplateMonster WordPress themes. However, their latest themes do share some similarities. Typically, a modern theme from TemplateMonster will include:
the PowerBuilder drag-and-drop WordPress page builder tool
support for the WordPress Customizer, allowing you to personalize many aspects of your website
licensing under GPLv3, allowing you to use the theme on any number of projects belonging to either you or your clients with no limitations
24/7 customer support.
a full set of online documentation for each theme
try-before-you-buy online admin demos for themes and plugins.
Although the TemplateMonster WordPress themes are created by a team of in-house designers, their appearances vary and cover a wide range of styles.
The above information on what to expect from a TemplateMonster theme should be used as a general guide only. The exact details can vary from product to product, so it's highly recommended that you check exactly what a particular theme includes before making a purchase.
Best WordPress Themes from TemplateMonster
To help you find the best TemplateMonster WordPress themes, here are a few of the most impressive options available today.
Monstroid 2 Multipurpose WordPress Theme
Monstroid 2 is the upgraded and improved version of the original Monstroid flagship theme from TemplateMonster. Like its predecessor, it's certainly a popular choice that has received favorable reviews from blogs covering the WordPress community, as well as customers who've purchased the theme.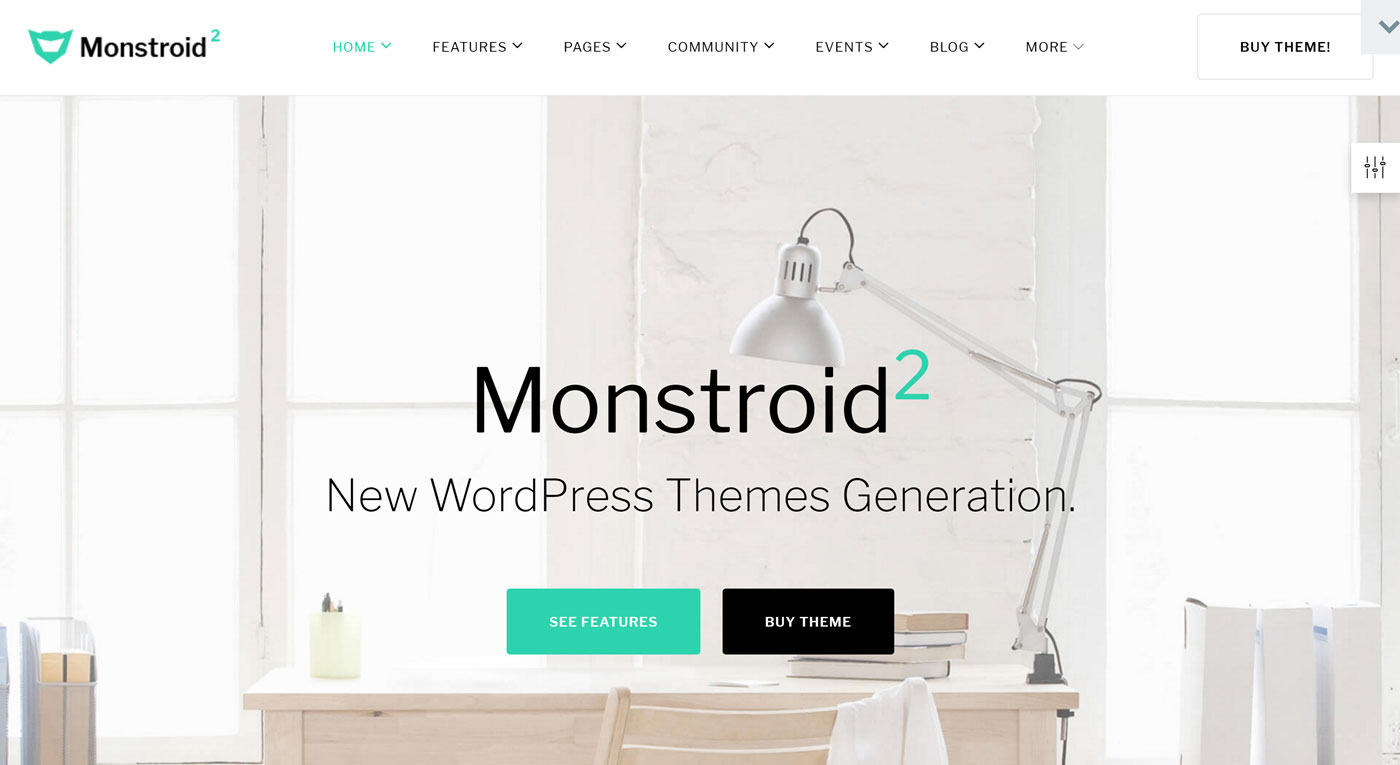 Monstroid 2 builds upon the features that made the original Monstroid theme a success. If you choose this theme, you'll get access to a growing library of child themes that have been built for creating specific types of websites, and there's also a selection of plugins included in the package, adding useful functionality to your WordPress website. Full customization options are on offer, too — including a page builder tool.
Other highlights of Monstroid 2 include:
a theme installation wizard
29 child themes for a range of different websites
multiple homepage demos
a large library of inner page templates and layouts
full ecommerce support for selling products and services online.
Monstroid should be able to help you create almost any type of website with WordPress. However, if you're looking for a more focused, purpose-built theme, there are plenty more options to choose from in the TemplateMonster library.
Price: From $75
Magic Multipurpose Creative WordPress Theme
Built for creative projects, Magic will help you launch a WordPress website for your personal blog, online portfolio, design agency, or photo gallery. Thanks to the full ecommerce support, no matter which Magic demo you choose, you'll have the option of selling products and services from your website.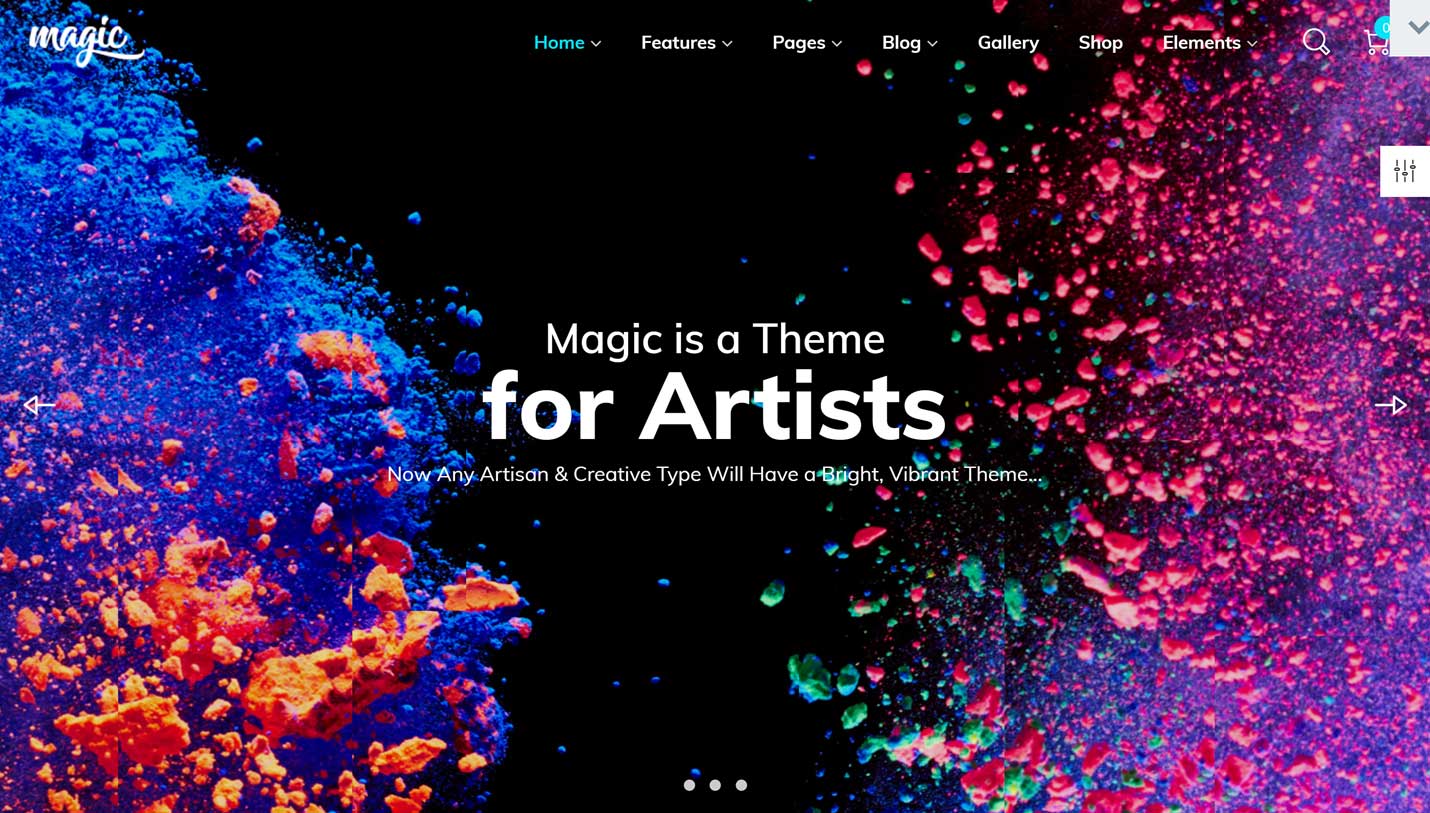 The Magic website demos make good use of sliders, full-screen layouts, and eye-catching color combinations. However, as this theme is packed with customization options, you shouldn't have any trouble adjusting the design to match your vision.
Other highlights of Magic include:
seven distinct homepage designs and four color skins
a drag-and-drop page builder tool
the Slider Revolution slideshow builder plugin
detailed customization options and settings
the theme installation wizard.
While Magic is a multipurpose theme, it has a strong focus on creative websites, thanks to its library of templates and its colorful and vibrant design.
Price: From $75
Ascendio Corporate and Business WordPress Theme
Need a serious, no-nonsense website for your business? Ascendio can help. The default homepage layout and design has everything you need to get your message across to your visitors, and, hopefully, persuade them to take action and get in touch. From the core services list and the completed projects showcase section to the testimonials and company profile, your homepage can answer all the questions your audience may have upon arriving at your site.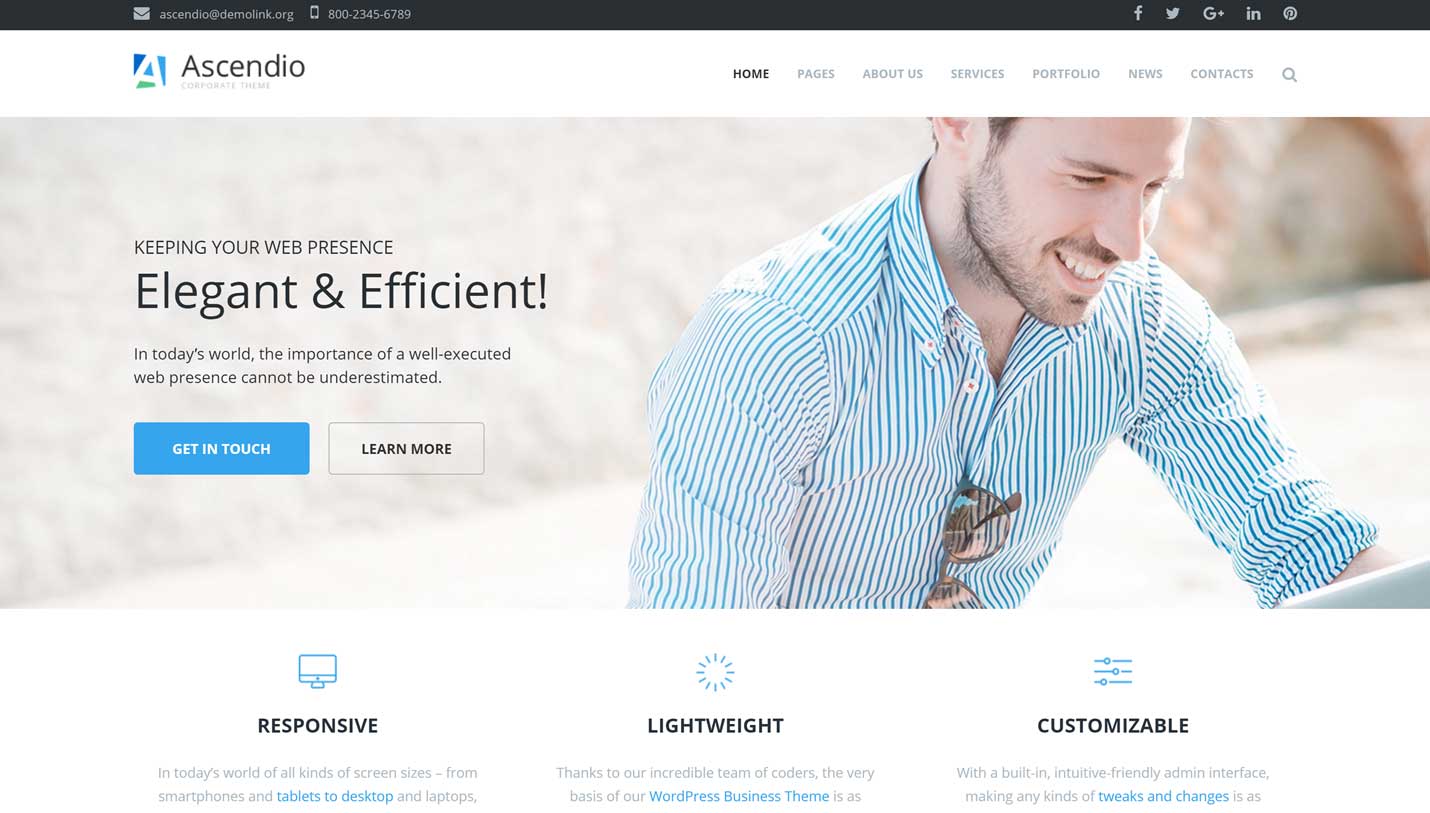 Everything is customizable with Ascendio. Whether you're happy to redesign the content layouts with the drag-and-drop page builder tool, or simply change the color scheme, you should be able to get your website looking the way you want with Ascendio.
Other highlights of Ascendio include:
an assortment of prebuilt templates for your site's essential pages
a library of content modules to enhance your pages
a selection of custom widgets for your site's sidebars
a wealth of theme customization options and settings
blog and portfolio sections for sharing news and completed projects.
With just one website demo, Ascendio can be imported into your WordPress site and ready for use in just a few clicks.
Price: From $75
Gusto Café and Restaurant WordPress Theme
Gusto was built to enable you to create a café or restaurant website with WordPress. To achieve this, Gusto has all the templates needed to publish multiple food and drink menus on your website, plus all the other important pages a good café or restaurant website needs.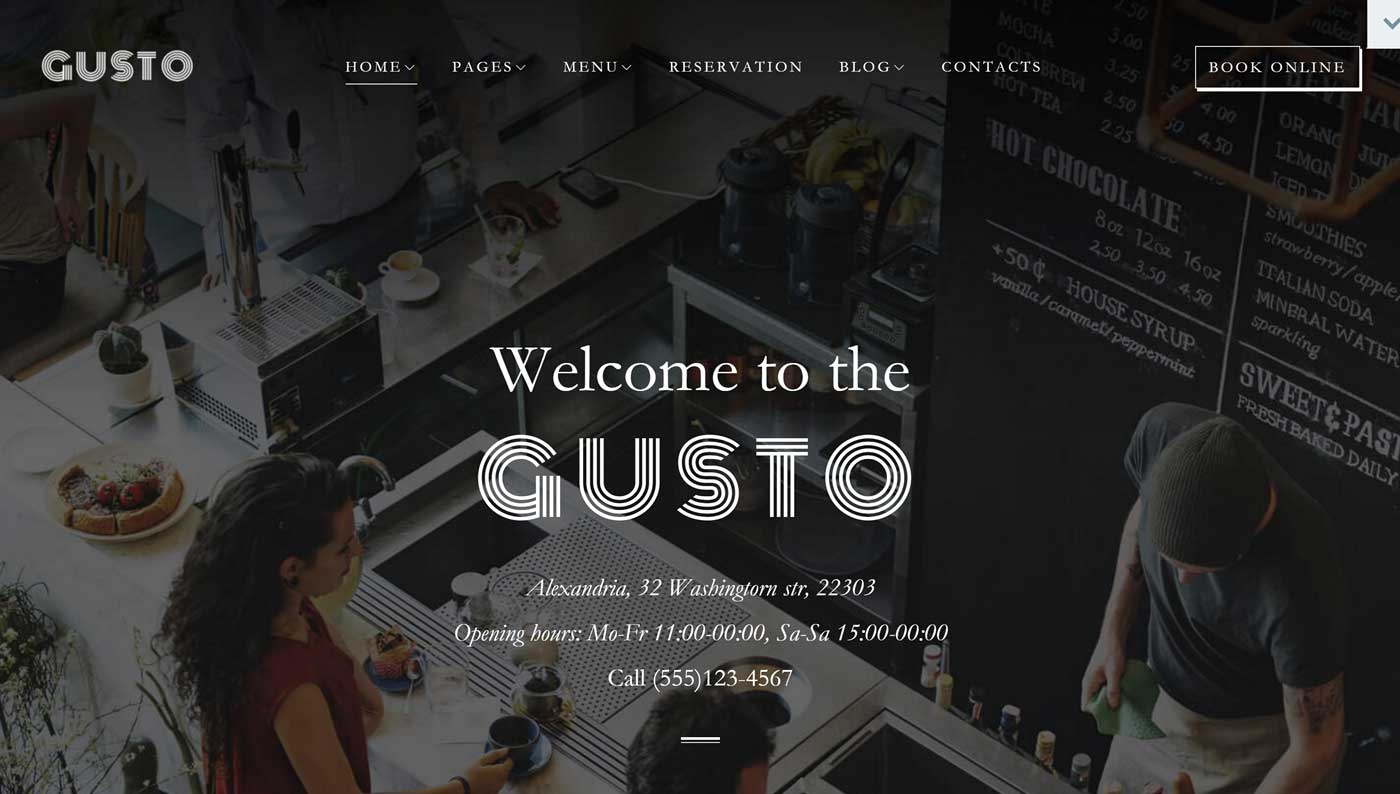 Gusto even has the ability to accept reservations online if you'd like to offer that service. You also get a good selection of prebuilt website elements to work with, allowing you to mix and match them to create the right design for your site.
Other highlights of Gusto include:
seven different header layouts
a drag-and-drop page editor
a full set of website customization options
custom widgets for displaying interactive content
an online appointment and bookings management tool.
Gusto should be able to help any café or restaurant owner launch a stylish and useful website for their business.
Price: From $75
Trendomania Lifestyle and Fashion Blog WordPress Theme
If you want to give your blog a makeover or ensure it has a stylish design from the outset, the Trendomania theme could be a good option. The overall design is minimal, although the feature list certainly isn't. Custom widgets and a varied set of theme options give you a good amount of control over the appearance of your site.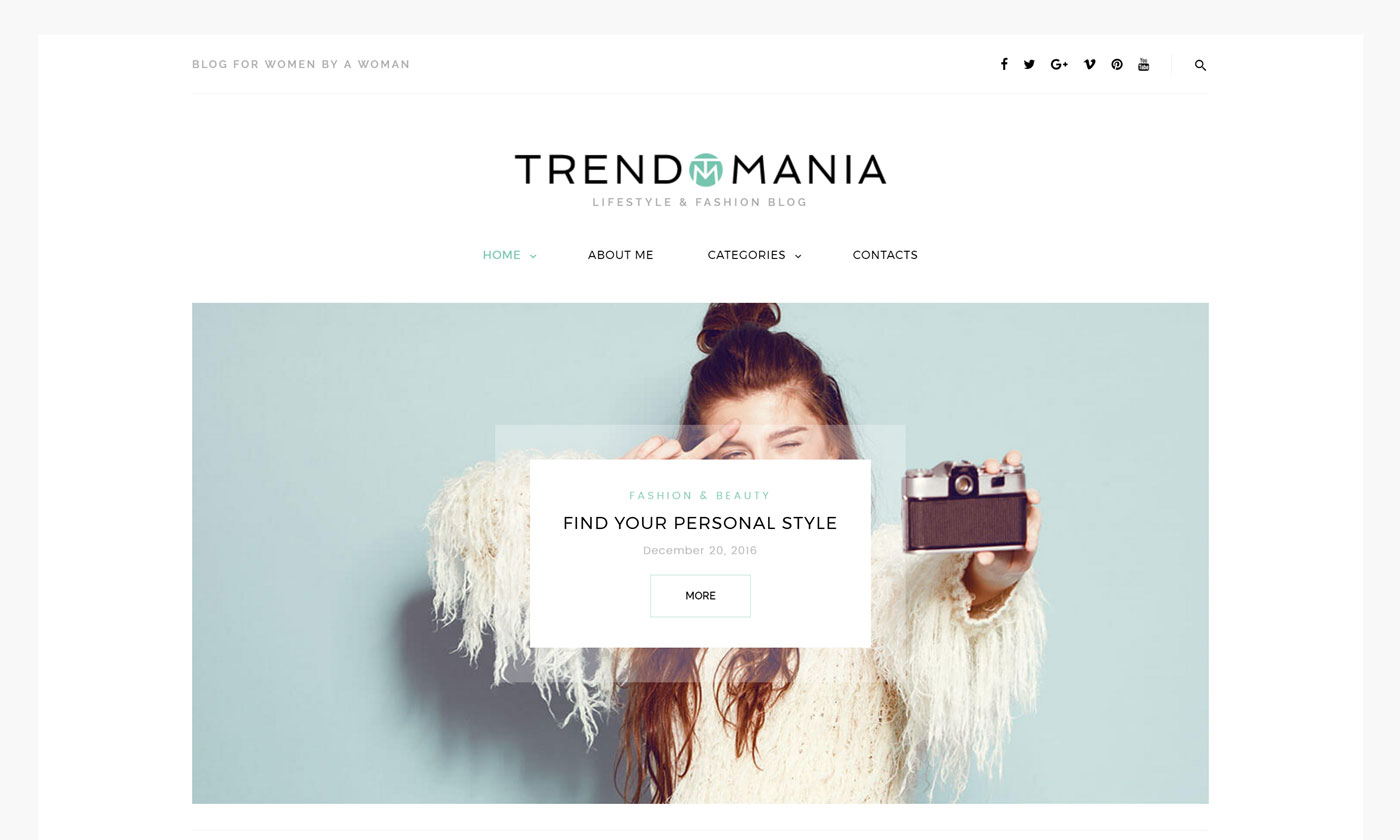 Depending on how you configure the theme, your blog could feature a mobile-friendly content slider on the homepage, followed by excerpts from your most popular posts. Alternatively, you could simply use a more traditional blog layout and display your latest posts on the homepage. Trendomania is a flexible theme.
Other highlights of Trendomania include:
six website header layouts
detailed theme customization controls
a multiple sidebar management tool
a newsletter subscription form
a library of post formats and blog layouts.
Trendomania should help you create a stylish blog that has all the necessary features to keep your visitors on site for as long as possible.
Price: From $45
Laraway SEO & Digital Marketing Agency WordPress Theme
The Laraway theme demo has been set up to help you create an SEO and digital marketing agency website with WordPress. However, any business or individual offering services online should be able to make good use of Laraway.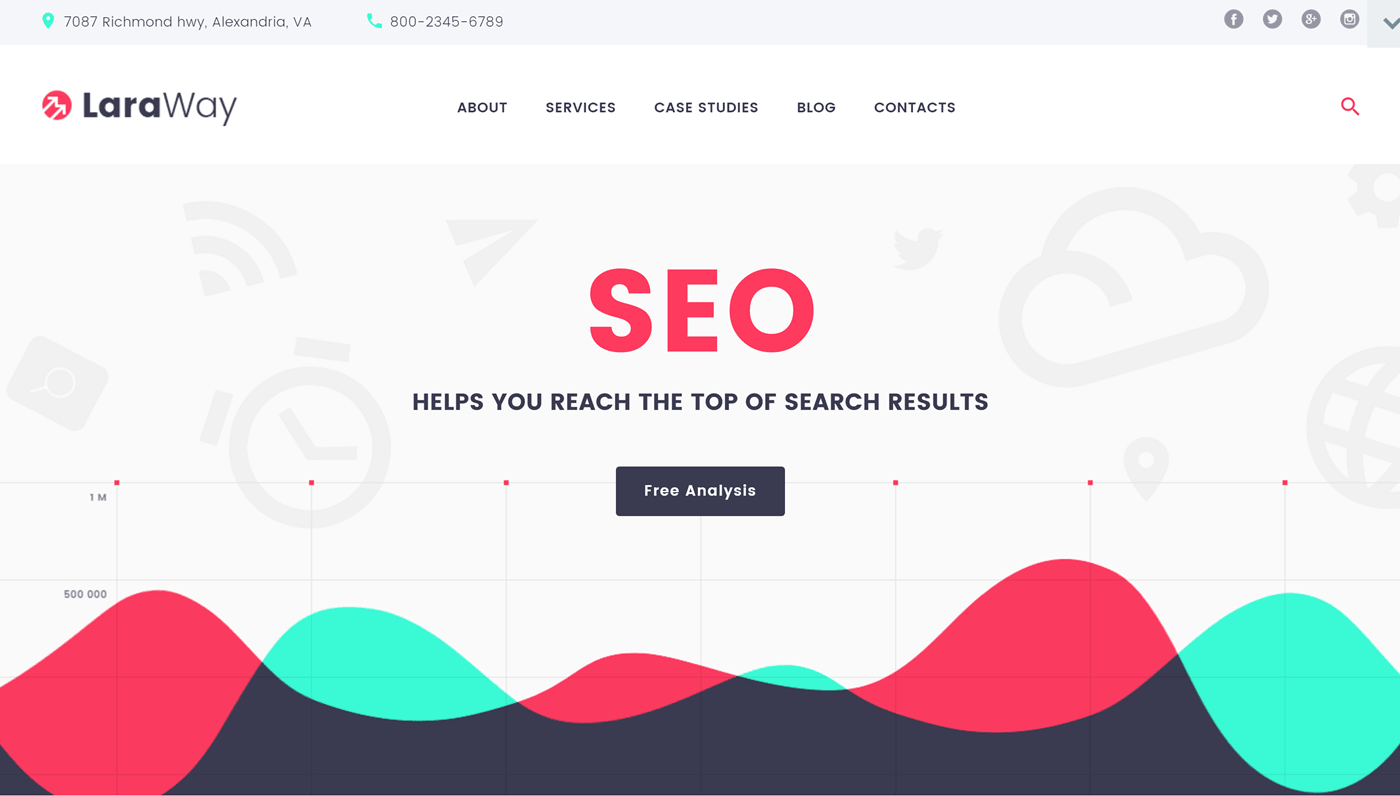 Laraway makes it easy to display information about clients you've worked with and projects you've completed. You can also use the blog templates to share the latest news from your business.
Other highlights of Laraway include:
a drag-and-drop page builder tool
a full set of customization options
a team member profile publisher
project showcase templates for publishing case studies
a library of templates for important pages and blog posts.
Laraway has all of the prebuilt content and customization features you'll need to create a unique website for your business.
Price: From $75
TemplateMonster WordPress Plugins
As well as themes, TemplateMonster also offers a small number of WordPress plugins. Among the options, you'll find the MotoPress Content Editor, a front-end drag-and-drop page builder that upgrades the standard WordPress Editor to a point-and-click, WYSIWYG website designer tool.
You can buy the MotoPress Content Editor plugin on its own for $29, or choose it as a paid add-on when purchasing select themes from TemplateMonster. However, many of the latest WordPress themes from TemplateMonster already include their in-house PowerBuilder backend page builder tool, which offers similar functionality.
Although some TemplateMonster themes include a basic slideshow tool, they also sell the premium MotoPress Slider plugin. For $19 you can start adding animated, multi-layer slideshows to your website using the drag-and-drop interface of this plugin.
Another premium plugin is the Hotel Booking Engine tool, which can be used to accept reservations from your hotel, guesthouse, or other similar types of websites.
TemplateMonster Pricing Information
The TemplateMonster WordPress themes are available for purchase individually. While prices vary, most of their latest themes are listed for around $75. When purchasing a theme, you can add optional upgrades such as a package of recommended plugins, theme installation and customization, stock images, and web hosting through the TemplateMonster partnership with InMotion Hosting.
As mentioned earlier, TemplateMonster also offer a buyout option for some of their themes. Therefore, if you find a theme with zero downloads or one that has only been purchased a few times, you could pay the extra fee and secure a theme that will no longer be on sale.
Prices vary for the buyout license depending on the theme — $5,000 appears to be a common amount for themes with zero downloads — but it's something to consider if you're looking for a unique design for your website.
Final Thoughts
The best-selling WordPress themes from TemplateMonster should check all the boxes on most people's list of requirements when it comes to choosing a new theme. They also offer a good selection of niche themes, so, if you're looking for a theme for your barbershop or lawn care business, you're likely to find one at TemplateMonster.
The TemplateMonster upgrade options can certainly help make launching a WordPress website easier. Letting TemplateMonster take care of the theme installation, website customizations, and hosting removes much of the friction that can prevent you from ending up with a working website you're happy with.
However, there are many other WordPress themes out there that can compete with the best products from TemplateMonster. Divi from Elegant Themes is an impressive multipurpose option that's constantly improving and can be used to create any type of website with WordPress. StudioPress Sites and Envato Hosted are just two other services that can provide you with everything you need to get your WordPress website online, including a high-quality theme, support, and hosting.
If you like what you see, there's no reason not to choose a WordPress theme from TemplateMonster. However, as there are so many other places to find top-quality WordPress themes, you may want to shop around a bit before making a final decision.
Using/used a theme from TemplateMonster? Thoughts?
All comments are held for moderation. We'll only publish comments that are on topic and adhere to our Commenting Policy.
Our commenting form also supports the use of Markdown.