Two Innovative New Responsive Social-Sharing-Button Options Created Specifically for Mobiles – by AddThis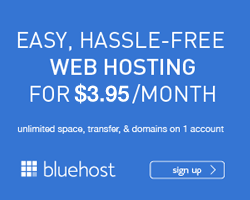 Like it or not, mobile use is now dramatically on the rise – which means that, likely as not, more and more people will be viewing your blog/website on all kinds of different size screens. Put simply: if your site looks anywhere near kind of rubbish on mobile devices, you're going to start (if you aren't already) losing out more and more! If you're using a responsive theme then you're already off to a solid start, but what about those social buttons you're currently using? Are THEY responsive? Or do they get crammed together, doubled up, or perhaps even simply disappear altogether (maybe for the best?!) when viewed on mobile phones and tablets etc? If so, perhaps it's time for a social media button rethink…
But where to start? Well, granted there's a heap of different social-media-button-displaying plugins, widgets and just plain-old-html+javascript options available, however, there's perhaps no more elegant, easier-to-set-up* (assuming you're happy to edit a template file or two) mobile-specific social media sharing options out there than those offered by the largest** social sharing button provider to date: AddThis – who, incidentally, have got to be about the only social sharing button providers to offer an option that, when enabled (which it is by default as it happens), personalizes which social sharing buttons display to each individual visitor depending on which social sharing platforms that particularly visitor generally uses – genius!
Right, enough waffle… Let's take a quick look at two superb (and really quite innovative) new social sharing button toolbars (one premium, one free) offered by this astonishingly-popular social sharing button provider:
1. Mobile Sharing Toolbar (premium)
Unlike the majority of their more traditional social-sharing-button widgets, this particular set of buttons displays not above of below the main content on posts/pages, but rather, right at the bottom (or the top if you so prefer) of any screen that's less than a predefined width of your choice (default 979px) and displays the AddThis insertion code (which you're free to place wherever on your site you choose of course), as shown in the following picture: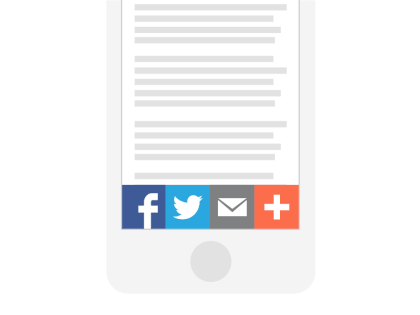 When a user taps one of the large (finger-tip size) icons in the toolbar, the sharing option/s shoot up from the bottom (or down from the top) of the screen…
Even more interestingly, by default, according to AddThis, exactly which social sharing buttons get displayed with this particular toolbar depend on that particular users own sharing preferences… amazing! Alternatively, if that's a little bit too undefined/magical for you, there's also the option to override this and actually choose your own set of social sharing buttons yourself.
2. Mobile Toolbar (free)
Much like its premium brother (above), the AddThis 'Mobile Toolbar' sits at the bottom (or top) of the screen, however, unlike it's premium brother, it displays a choice of two slightly more subtle options ('follow' and 'share' – plus one more to the right that, when tapped, minimizes the whole toolbar)…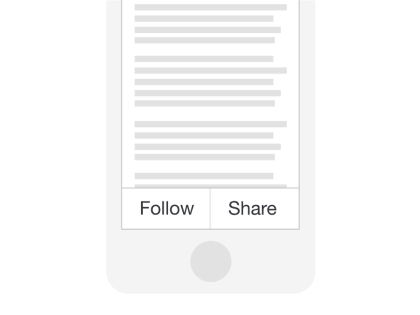 When a user taps either 'Follow' or 'Share', the corresponding social media options fill the screen:
Pretty darn neat huh?!
Learn more about both toolbars on the official AddThis Website.
Also worth a quick mention – the standard AddThis WordPress Plugin:
Although not created specifically with mobiles devices in mind, the standard AddThis WordPress plugin (which has been downloaded a staggering 1.9 million times already!) buttons don't look at all bad on small screens and could be just the thing if you're looking for a slightly less innovative, more standard (and completely free) install-and-go set of social sharing buttons for your site – available here.
*here's a quick summary of what's involved: signup for an AddThis account, add one single line of code (available via the 'Grab the Code' link at the top right of the AddThis dashboard 'Tool Gallery') to your site (in a WordPress php template – such as header.php – or even in a text widget will do – such that the code loads on whichever pages you want your mobile toolbar to display on), add your website's URL to the 'Manage Domains' list – located at the top right of the main dashboard's 'Summary' section) and then, lastly, choose your preferred mobile toolbar widget (free or premium) from the 'Tool Gallery' – simple!
**whose various different widgets are now used on over 14 million websites – wowzers!
Using either of these two new AddThis toolbars yet? Impressed?
All comments are held for moderation. We'll only publish comments that are on topic and adhere to our Commenting Policy.
Our commenting form also supports the use of Markdown.