The Top Ways to Make a Living with WordPress – Explained!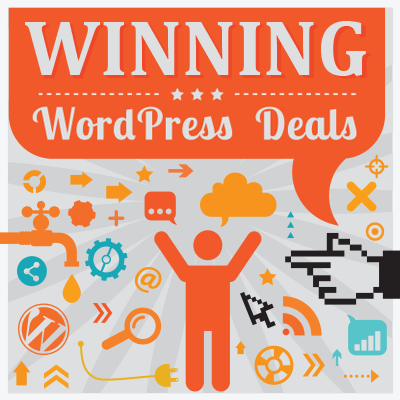 I regularly meet people who are either starting out on a career with WordPress or thinking of making the leap to one.
These normally come under one of two headings: people who've been using WordPress as a hobby for a while and want to use their skills to earn a living, and people coming to WordPress from another specialism who can see the potential of the platform.
So if you're one of those people who'd like to build a career with the world's most popular Content Management System, what are the options available to you? In this article, I'll look at some of the career opportunities on offer (including some you've likely not already considered).
These come under five main headings:
Developers
Designers
Content creators
Educators
Marketers (including SEO).
As you can see from this list, you don't need to be technically minded to make a living with WordPress. In fact, there are plenty of people doing so who aren't.
So let's take a look at each category in turn.
Developers
There are plenty of opportunities for developers to forge a career with WordPress, but these aren't restricted to PHP developers. WordPress can also be a great fit for front end developers.
PHP Developers
If you're a PHP developer, or you've learned PHP skills from working with WordPress, there will be career options you can pursue including:
Writing themes for agencies or clients, based on a provided design
Writing plugins for agencies or clients. Specialist WordPress agencies will often have developers whose focus is on advanced plugin development.
Writing plugins and/or themes for sale via a marketplace (or even via your own website). If your code is of high quality and the plugins and themes you create fulfill a potentially-lucrative need, then you can make a very healthy living from this.
Front End Developers
But WordPress careers aren't just restricted to backend developers. With the increasing role of the WP-REST API, there will be more need for JavaScript developers to work with WordPress, as well as the continuing requirement for HTML and CSS developers who can turn designs into WordPress themes.
Opportunities include:
Writing themes for clients or agencies. Clients with precise and innovative design requirements will need skilled CSS developers to turn these designs into code.
Selling themes via a marketplace. You'll need to augment your front end skills with PHP skills to be able to write working themes, but if you can use your CSS skills to create beautiful themes, then there will be a market for them.
Writing plugins (or contributing to them) using JavaScript. As a JavaScript developer, you could be part of a team which also includes PHP developers, or you might work alone on a plugin that's predominantly JavaScript based.
Creating (or contributing to) themes with extensive use of JavaScript. This is no longer limited to using JavaScript in the traditional ways (e.g. animations and effects), but with the WP-REST API, there will be opportunities for JavaScript developers to write code that fetches and handles data from the database. You might do this for an agency or write themes for sale via a marketplace.
I think it's safe to say that the biggest growth here will be for JavaScript developers. JavaScript is becoming more integrated into WordPress, and more WordPress agencies will need JavaScript developers as things develop.
Designers
A successful career with WordPress isn't just limited to developers. All of those websites they're going to code will need to be designed, and that's not just the visual design but the design of interfaces and interactions too.
Here are some of the options:
Visual designers are needed to design sites for clients and provide designs for themes. Some agencies include designers on their staff who do this (possibly as well as branding and graphic design), while others work with external designers, maybe on a freelance basis.
Designers who can code HTML and CSS are important to agencies as they can provide working mockups of website designs. More and more designers are learning to do this, and it's a skill worth adding to your repertoire.
User experience (UX) and User Interface (UI) designers are increasingly in demand to design the interfaces in WordPress sites and themes. For example, Automattic is currently hiring User Interface Designers as well as Excellence Wranglers with responsibility for user testing.
Accessibility experts often work freelance or for agencies on WordPress sites and have an important role in ensuring that accessibility is factored in. Accessibility consultants are sometimes hired by clients to review and improve their WordPress site.
Jonny Allbut
Jonny Allbut is an excellent example of someone making a living from WordPress as a designer. He started working with WordPress because of its flexibility and the ease with which a non-specialist can start getting to grips with it. "What led me to WordPress (and theme design) was how logical the theme system was. Even if you don't really know PHP and are just used to design, you might be surprised how quickly you can modify one of the default themes to make it your own."
Content Creators
WordPress is all about publishing. Its raison-d'etre is to democratize publishing and make it possible for anyone to publish their content online.
This means that WordPress offers a wide range of career opportunities for writers and content creators, such as:
Managing your own blog. This isn't an easy thing to make a living at but if you work hard at it and have quality content that people want to keep coming back for, it can be a successful career option.
Writing for other WordPress-powered sites. If you're a journalist or writer looking for a career in online publishing, then having WordPress skills is going to be very beneficial. More and more news sites and blogs are powered by WordPress and being able to work with the platform will give you an added edge along with the quality of your writing.
Publishing video and photography. While sites like YouTube and Flickr are hugely important places for people to share video and photography online, using your own WordPress site gives you the flexibility to add any content type easily and the control to do it in the way you want. It also gives you complete ownership of everything you publish as well as control over aspects such as monetization and advertising.
Providing copy for business sites such as online stores and business blogs. The largest platform for online stores is now WooCommerce, and there are store owners who need writers to create engaging content that will help them sell products. If you can work with WordPress (and plugins like WooCommerce), you'll get a head start.
Educators
WordPress is a great platform for educators and learners. If you're an educator looking to launch an online education service or business, or to support your students online, then there's probably a WordPress service or plugin for you. For example, edublogs can be used to create a blog for yourself and/or your students, while a range of quality WordPress plugins let you publish educational content online.
There are opportunities to advance your career with WordPress for:
Teachers who want to support student learning by providing online resources.
Teachers who want to create their own blog to share their skills and connect with other teachers, or let their students create blogs.
Educational businesses and trainers who want to publish learning material online, reaching a wider audience than through more traditional training methods.
Marketers
You might think a marketing career has no relation to technical skills but with the dominance of SEO, that's changed. There are plenty of marketing companies out there using WordPress as a platform to sell goods and services and help their clients do the same.
Specialisms include:
E-commerce. E-commerce specialists are highly valued by clients as their skills will include more than just creating an online store but also include optimizing that store for sales and customer retention. With WooCommerce now more popular than third-party e-commerce services, WordPress skills are very valuable to e-commerce specialists.
SEO. You can either sell SEO skills directly to clients and implement them on their WordPress sites or provide training and guidance for clients to follow themselves. SEO experts such as Andy Kinsey provide consultancy services for clients and run an SEO blog using WordPress.
Social media. Clients will often want to integrate social media into their site and if you're a social media specialist, being able to integrate this into a WordPress site will help you attract more clients. Many marketing companies and brands employ social media experts, and more of these are using WordPress.
Website conversion. SEO will bring visitors to your site, but conversion will turn them into paying customers. WordPress helps with this by making it easy for you to create a 'sales funnel' through your site, and if you can help your clients gain more customers by doing this, then they'll come back for more.
Dave Pullig
Dave Pullig is another great example of someone making a living with WordPress. Dave specializes in SEO and WordPress development and runs WordPress meetup groups in the North of England. "My career with WordPress started when I was running an online restaurant guide that we switched from our own custom written code. It transformed the site and the way we published content. I now run an agency and love seeing how other businesses can benefit from the flexibility and ease of use of WordPress."
Summary
WordPress is big, and it's growing: you don't need me to tell you that. But as WordPress grows, its user base will become more diverse, and the range of skills needed by WordPress professionals will increase.
Whether you're a developer, designer, content creator, educator or marketer, there are plenty of opportunities for those wishing to work with WordPress. If you can combine more than one of the above (for example by coding a quality social media plugin or building accessible themes) then even better.
Do you have a WordPress career in one of the areas I've covered? Or perhaps you've managed to find a way to make a living with WordPress in some other way?
All comments are held for moderation. We'll only publish comments that are on topic and adhere to our Commenting Policy.
Our commenting form also supports the use of Markdown.