How to add an official Google+ icon/badge to a WordPress sidebar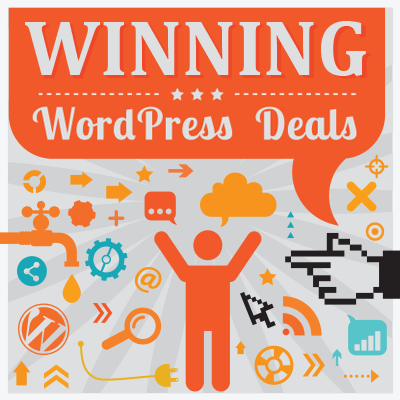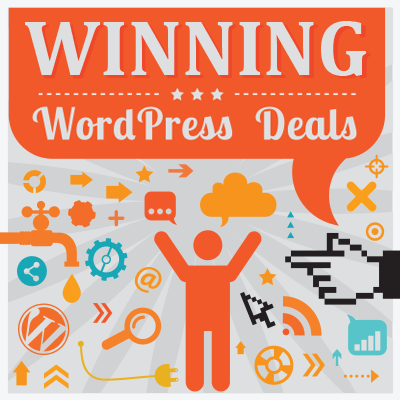 Two of the factors Google takes into account when deciding where to place your webpages in its search results are the number of followers and Google +1s your site's Google+ page has – however, getting more of these two key metrics isn't easy. You can of course try your luck connecting with others on Google+ through joining relevant Google+ groups, participating in Google+ Circles, mentions (mentioning other users with a '+' symbol in front of their name), comments and +1ing other people's content in the hope they'll notice/follow you, however, in our experience, this takes a huge amount of time and effort… An easier way to get the ball rolling (especially if you already have a reasonable amount of traffic to your site) is to simply add a nice big official Google+ icon/badge (much like the one shown towards the bottom of the sidebar of this very site) in your site's sidebar. Here's how:
Step 1. Create a Google+ Badge
Sign in to your Google account with the same account you've used to set up your site's Google+ page and then head on over to the official Google+ Badge Page. You should then be presented with a screen that looks a bit like this: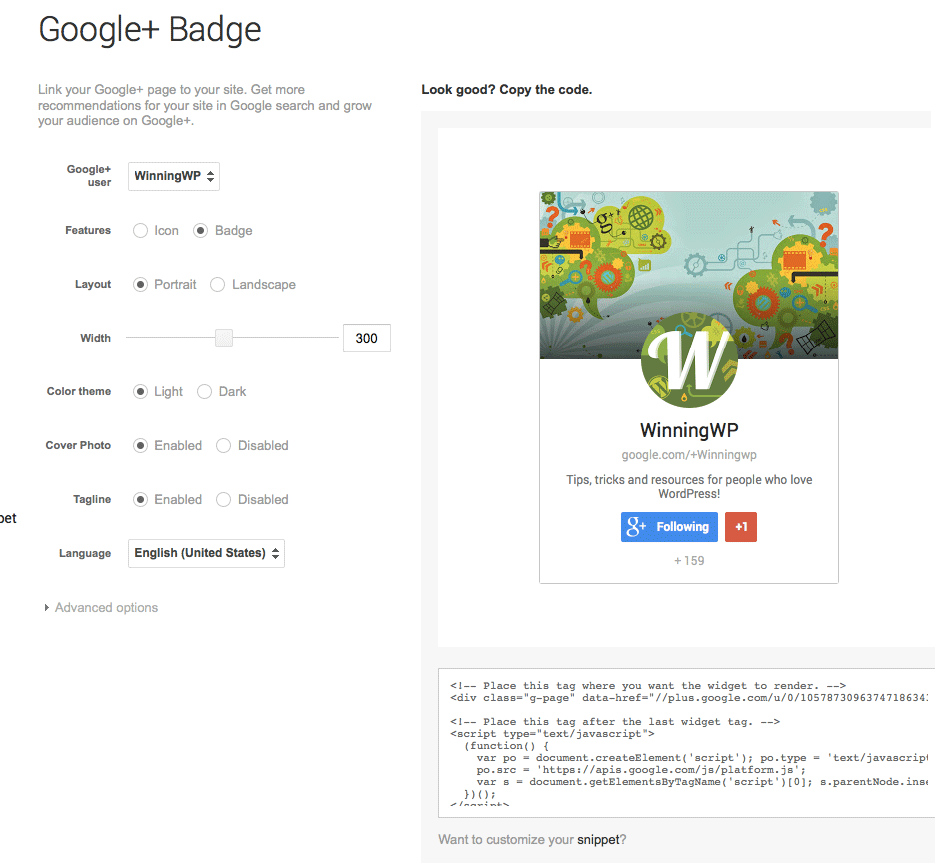 …depending on the settings of course, which we'll take a look at next.
Step 2. Choose your settings
After ensuring you've chosen the correct Google+ User (only really relevant if you have multiple accounts), the next option is the Features setting: which asks you to choose between an 'Icon' (button) or a full-blown 'Badge' (which includes a title, an image, a follow button, a +1 button and a followers count) – note that the 'Badge' comes in orientations: 'Portrait' and 'Landscape'.
Here's what each looks like:

Icon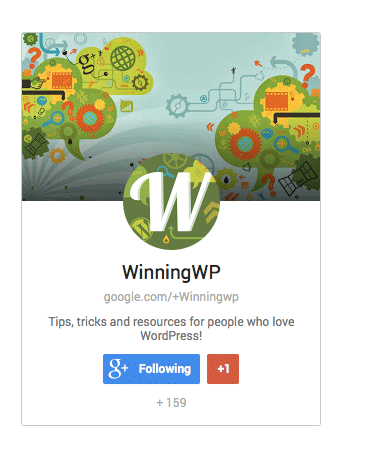 Badge
(portrait)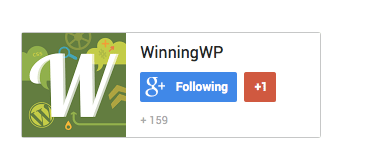 Badge
(landscape)
You'll then need to choose your width (set this to the width of your sidebar – which you can find via measuring it in a graphics program like Photoshop, looking at the code or even by leaving the Google+ badge settings as the default 300px and adjusting it later if it turns out to be either too narrow or too wide via good ol' trial and error), choose either a 'Light' or 'Dark' color scheme and whether or not you want the Cover Photo and/or Tagline shown – and then, finally, the default Language setting.
Once you're happy you've got the icon/badge you want, copy the code generated – which appears in a box towards the bottom right of the window, as indicated in the following screenshot: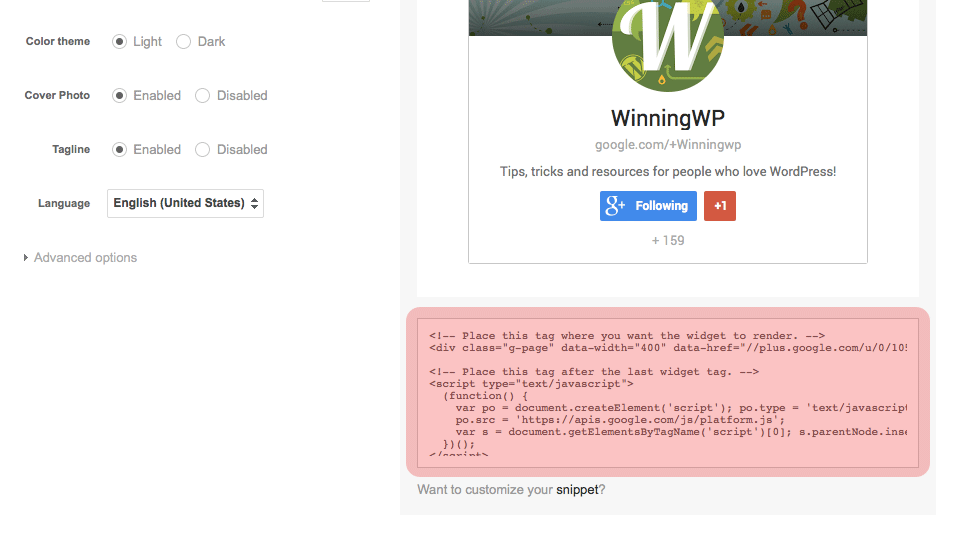 Note: further customizations are possible through another interface (or by editing the code) detailed here.
Getting the badge/icon into WordPress
Log into your WordPress dashboard and navigate to 'Appearance' -> 'Widgets' and add a default WordPress 'Text' widget to the sidebar in which you'd like to display your new Google+ icon/badge. Give the text widget a title (if you wish to), like say 'We're on Google+' for example, and then paste in the code obtained at the end of step 2.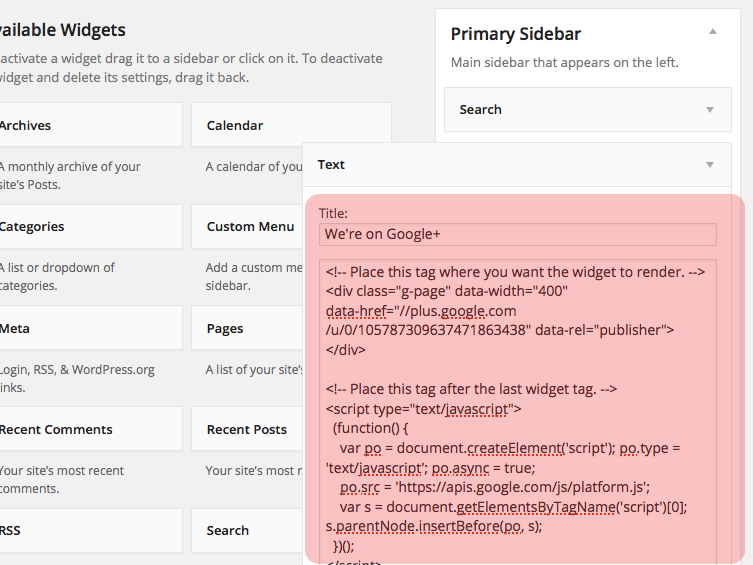 Save and display!
Save the widget with the blue 'Save' button (bottom right of the text widget) and go take a look at the frontend of your website. Your new Google+ button/badge widget should now be displayed wherever you chose (i.e. where you placed the WordPress text widget) to show it!
That's it – done! Easy huh?! Oh, and don't forget to follow/+1 us on Google+!
All comments are held for moderation. We'll only publish comments that are on topic and adhere to our Commenting Policy.