How much difference does managed WordPress hosting make to speed?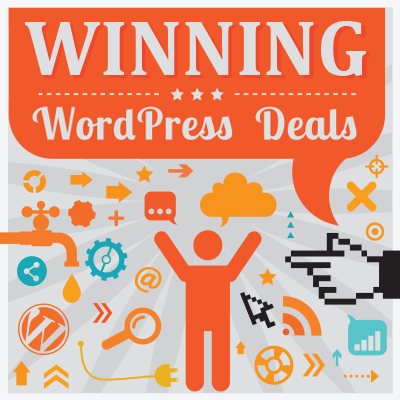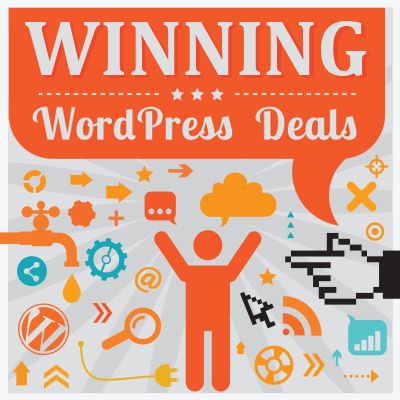 Despite using both a caching plugin and a CDN (Content Delivery Network), ever since this blog began it's been a bit slow; it wasn't until recently however, during a post in which I attempted to compare the speed of WP Engine and Media Temple's new managed WordPress hosting service (during which I also measured the load speed of this very site for reasons of both comparison and curiosity), that I realized quite how slow it was – something I later went on to write about in a further post detailing how much difference the use of a CDN makes to, you guessed it: site speeds. In short, it turns out that WinningWP was loading in at-best an average of between approximately 3.7s and at worst a whopping 5.6s (depending on from where in the world it was measured). Something had to be done…
Choices choices. . .
Luckily, as mention already, I'd already done a few experiments comparing the different load speeds of newly-set-up sites (I called them 'out of the box' sites) hosted by two of the leading managed WordPress hosting providers around (namely WP Engine and Media Temple) and my-then-current-host (DreamHost*) – results that led to the slightly less-than-100%-certain result (in retrospect I think I should have done more tests – perhaps 25 sets of tests instead of just 10 – to really say for sure) that Media Temple's service had the edge. Looking at the two plans in more depth (since speed certainly isn't the only factor worth considering when choosing a web host), I have to say I found it nearly impossible to choose between the two (more on this in a later post) and, after about a month of deliberation (trying to weigh up all the pros and cons of each), ended up basically putting the whole decision on a coin toss – and going with Media Temple.
So is it faster?
Well, happily, yes: by quite a lot in fact! However, I'm never one to simply say something is better (in this case faster) than something else without any proof, which in this case would be, I think, best done by simply extending the graph I put together in an-already-mentioned-several-times previous post in order to show the load times of WinningWP with a) no caching and no CDN, b) caching but no CDN and c) using both caching and a CDN. Note: new test results shown on the right of the following, updated graph.
The new set of data compared to the old: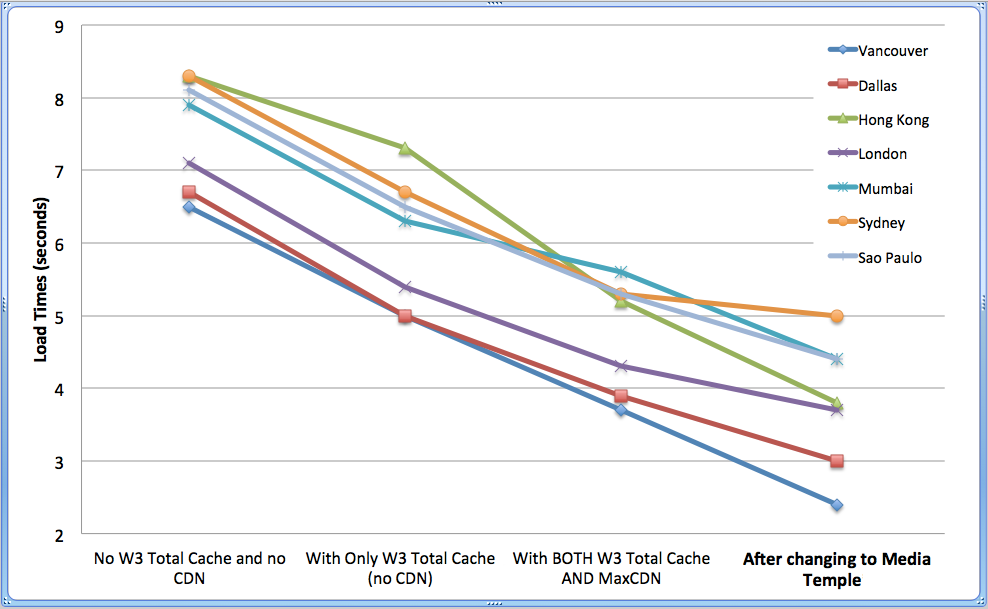 New Detailed test results:
Summary
WinningWP running on Media Temple's new managed WordPress hosting plan shaves between approximately 1 and 1.5 seconds off its load time (compared to running on a DreamHost VPS (Virtual Private Server) with both W3 Total Cache and MaxCDN) when measured from almost all of GTMetrix's test locations (Vancouver, Dallas, Hong Kong, London, Mumbai, Sydney and Sao Paulo).
What's especially interesting, to me at least, is that the new set of averaged data (measured using the same methodology outlined before) is WITHOUT a CDN** – which obviously begs the question: how much faster would WinningWP load with its new Media Temple hosting AND a CDN? – something I'll be researching (and probably writing about – extending the graph again?!) in the next few weeks… stay tuned!
*I've hosted absolutely heaps of sites with DreamHost and never had any major issues or problems, in fact, their support has always been by far-and-away the best I've ever used! What's more, DreamHost will probably always be my favorite place to test out new ideas – partly because I find their setup so very familiar it's hard to adjust to anybody else's, but mainly because I personally think their shared hosting plans are perhaps about the best value of their kind around!
**Although not without caching, since, although it doesn't allow the use of any independent caching plugins (like W3 Total Cache), Media Temple's new managed WordPress plan does include its own proprietary caching functionality.
Update: If you're still using shared hosting and even after reading all of the above, aren't yet convinced of the important of managed hosting, check out this new article of ours on Shared vs Managed WordPress Hosting.
Anybody else switched to Media Temple's new WordPress hosting plan (or to WP Engine for that matter) and noticed a significant difference in speed/performance?
All comments are held for moderation. We'll only publish comments that are on topic and adhere to our Commenting Policy.