EngineThemes Review: Highly-Specialist WordPress Themes for a Range of Different Projects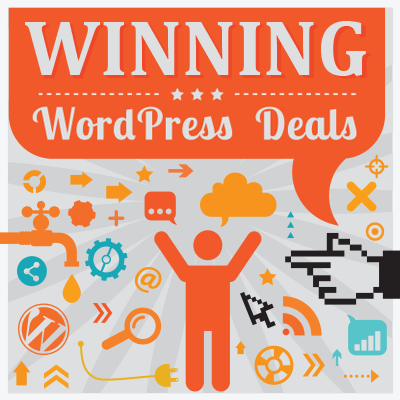 If you're creating a site with a specific function — whether that's a real estate portal, an online directory, or something else altogether — a purpose-built theme (often called an 'app' theme) could be well worth considering.
Sure, multipurpose themes such as Avada and Divi — which can be used to create just about any general type of website — are pretty appealing, but, for more complicated projects, a highly focused theme that's been built to create the exact type of website you're planning could be a better choice.
Typically, these single-purpose themes include most (if not all) of the features and functionality you'll need for your chosen type of website. Plus, lots of these themes come with focused documentation that'll be very relevant to your project, as well as a helpful setup wizard so you can get things up and running with minimal fuss.
In short, choosing a purpose-built theme for a specific type of project may make easier by providing everything you need in one handy package.
In this review, we'll look at the themes and services from one of the leading app theme providers in the market: EngineThemes.
Let's get started…
About EngineThemes
Founded in 2012, in Ho Chi Minh city, Vietnam, EngineThemes now employ nearly 30 people. In total, they've produced 13 WordPress themes to date — the majority of which have been designed and built to create very specific types of website (rather than being all-purpose themes).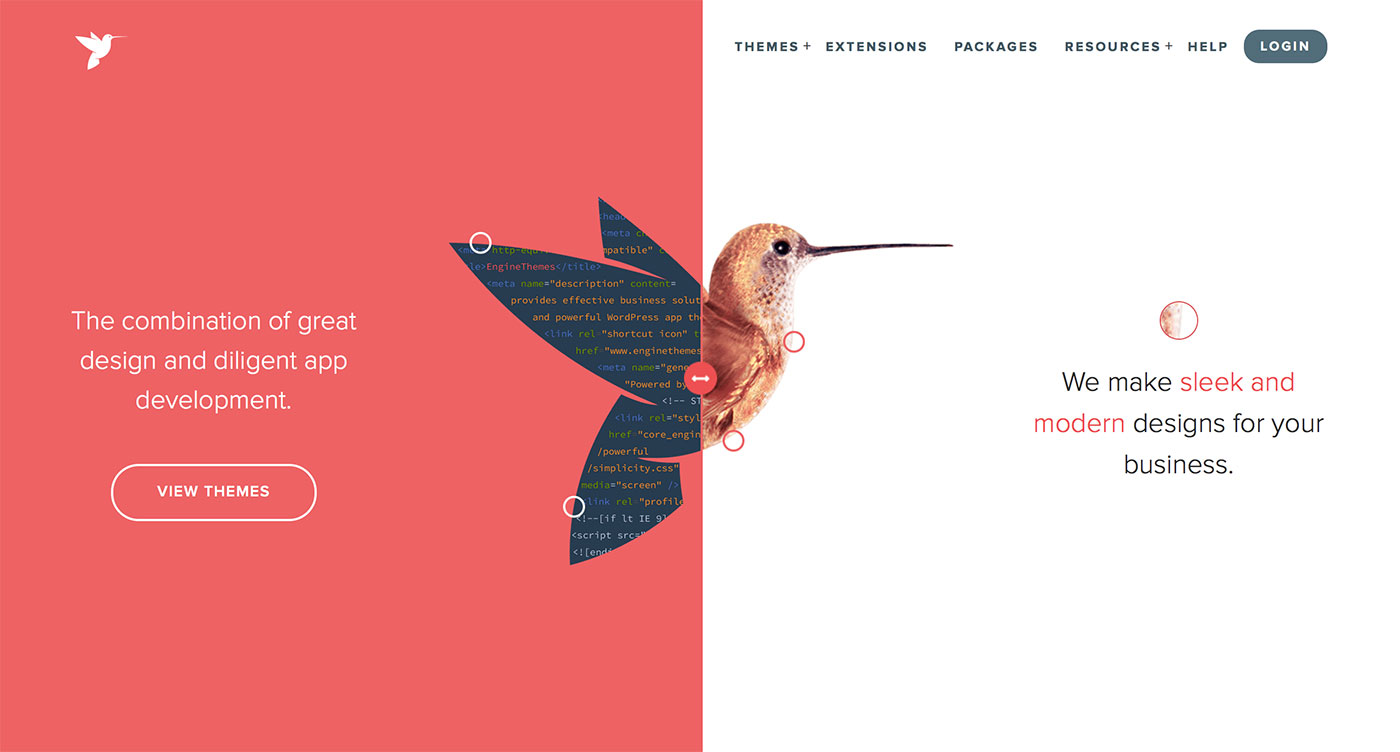 The types of projects these themes have been built to cover include: A range of listings websites, such as real estate, classifieds, and dining directories; themes for building hotels; question-and-answer type sites; discussion forums; a range of employment-related websites, including a traditional jobs site, a freelancer marketplace and a microjobs portal; plus a few others we'll cover a bit later on.
There's also a free — and rather attractive — theme named 'OneEngine'. (More on this below.)
Most Popular Themes
Before moving on to demonstrating what it's like to create a specific type of WordPress website with one of their products, let's take a quick look at a handful of their most popular themes.
MicrojobEngine
MicrojobEngine is their newest theme, and was created to help users build micro job marketplaces with WordPress. So, if you're looking to create your own version of Fiverr or Airtasker, where users can post the jobs they're willing to do and visitors can hire them for those tasks, MicrojobEngine aims to provide you with everything you need.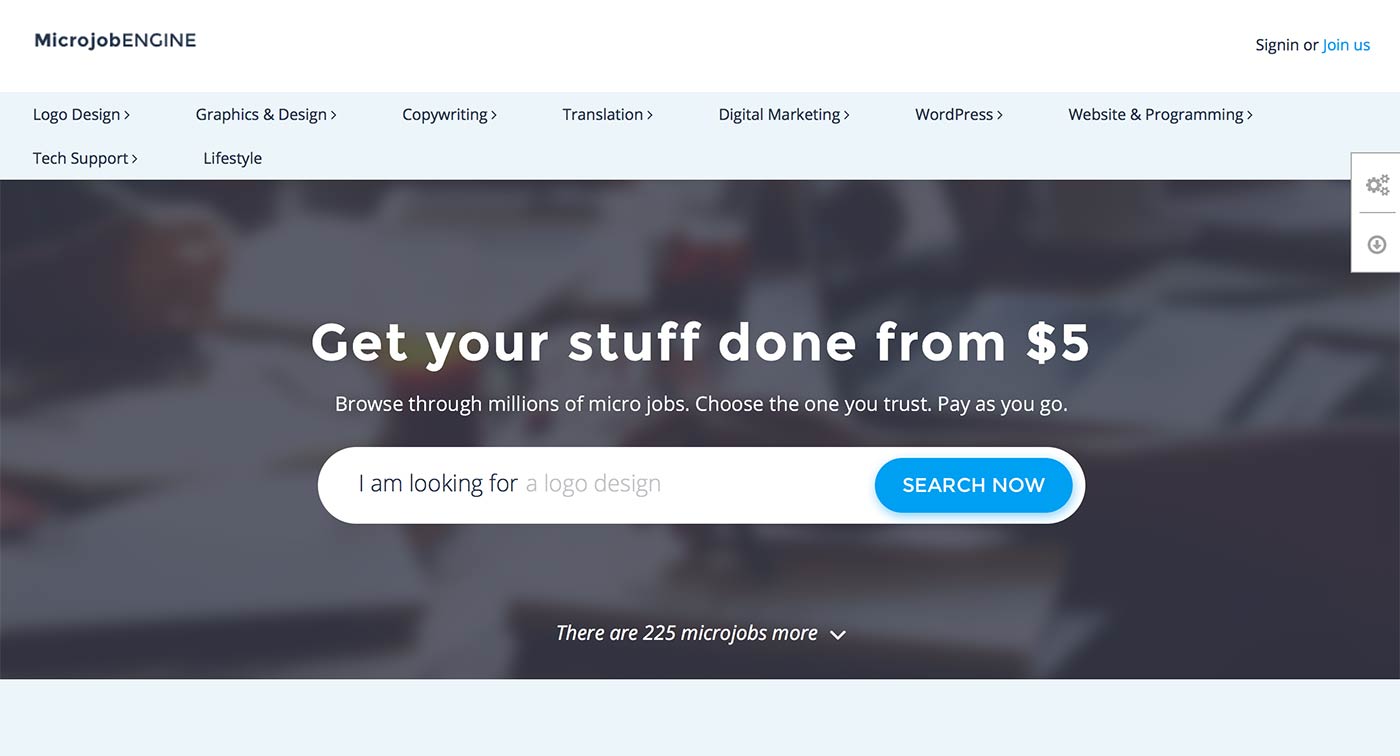 MicrojobEngine has been optimized so your website will offer a simple three-step process for connecting your users. Through this 'browse, buy, done' method, your visitors should be able to reduce the time it takes them to find someone to help them with their project.
Other highlights of MicrojobEngine include:
a fully responsive modern design
front-end submissions forms for creating profiles and posting jobs
an internal instant messaging system
the ability to collect payments and manage orders
a self-service user dashboard with stats
an admin dashboard with site overview, stats, and order tracking
multiple monetization options
a setup wizard and demo content.
If you want to create a website that taps into the growing micro-gig economy, MicrojobEngine is an easy way to get started.
DirectoryEngine
DirectoryEngine is a powerful tool for creating a listings website with WordPress, and has everything you need to get started. Depending on how you configure your directory, both you and your visitors can publish listings and leave reviews on a wide range of businesses and attractions.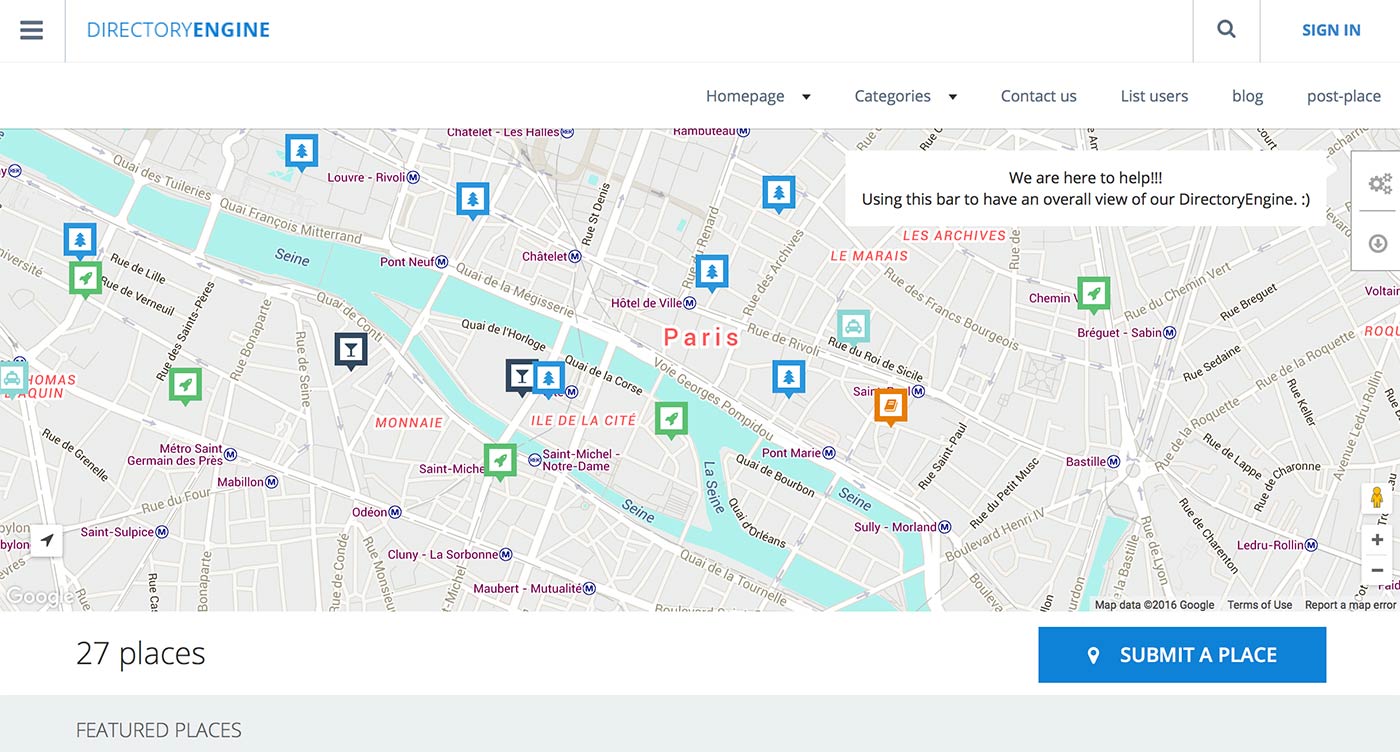 The advanced search tool and interactive Google Maps markers make it easy for your visitors to find what they're looking for, and the front-end forms make adding listings just as easy. There are also plenty of monetization options, should you want to make money from your directory website.
Other highlights of DirectoryEngine include:
the ability to publish events and business listings
the option to create claimable listings for businesses and events
the ability to add custom ratings and feedback criteria
custom widgets that can be used to display useful content
an integrated page builder tool for creating custom layouts
support for multiple payment gateways
multiple homepage layouts
a quick-start setup wizard.
It's a flexible WordPress directory theme that'll likely come in handy for a wide variety of listings — whether you want to publish a directory of events and attractions, or plan to focus on businesses and service providers.
QAEngine
If you need to provide online support for your business, then a question and answer website is a popular solution. By choosing the QAEngine WordPress theme, you and your visitors can post questions and answers about your products or services, helping to build an online resource that grows over time.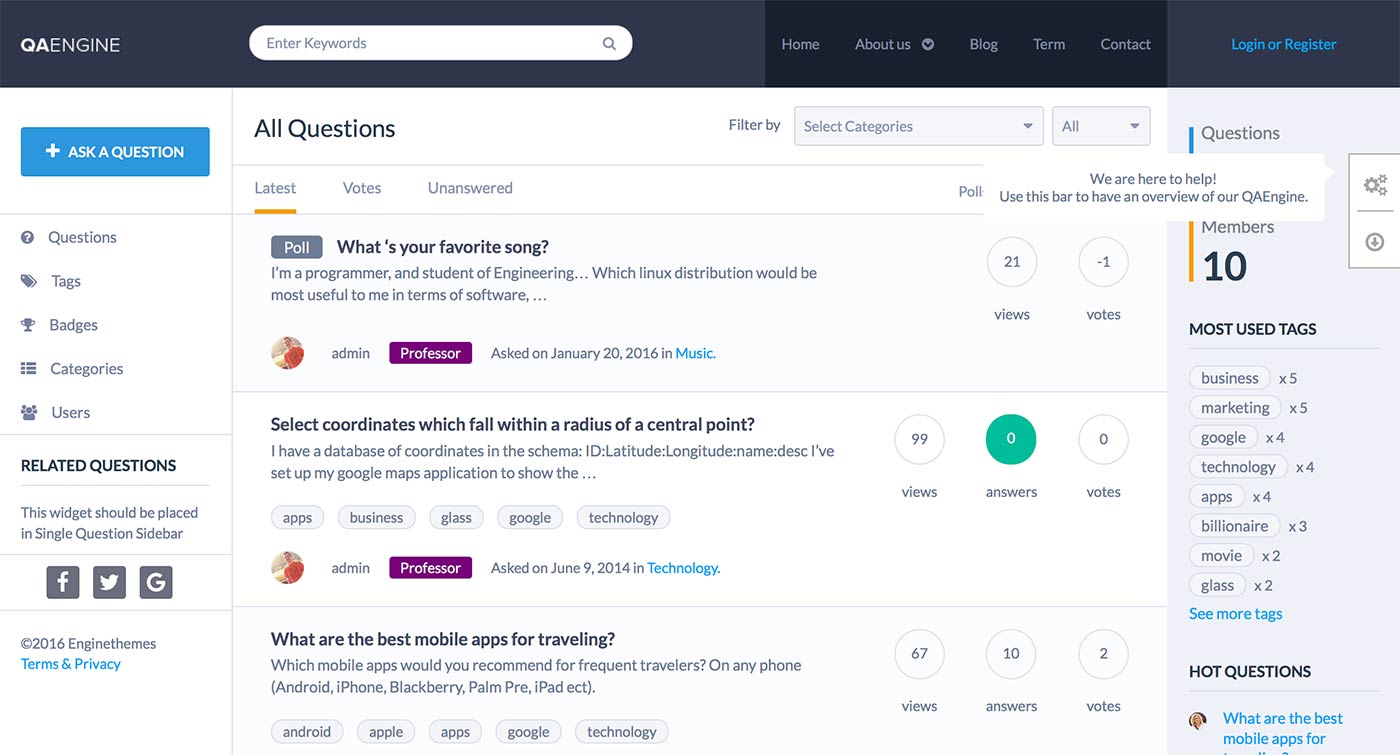 You and your users can then vote on the answers to help future visitors quickly identify the best solution to their problem. QAEngine also features many other tools to help visitors find what they're looking for, including an advanced search tool and custom sidebar widgets.
Other highlights of QAEngine include:
a rewards system to encourage participation
multiple monetization options to help generate an income
front-end forms for seamless question and answer submissions
the ability to create polls to solicit information from your users
a social login to remove potential sign-up friction
a live notifications system.
QAEngine gives you all the tools you need to build a question and answer website with WordPress — whether you want to provide a useful resource for your community or are creating an online support portal for your business.
FreelanceEngine
Want to create a freelance marketplace where workers can advertise their skills and bid on jobs published by employers? Then the FreelanceEngine theme from EngineThemes is a great all-in-one solution that could provide you with everything you need.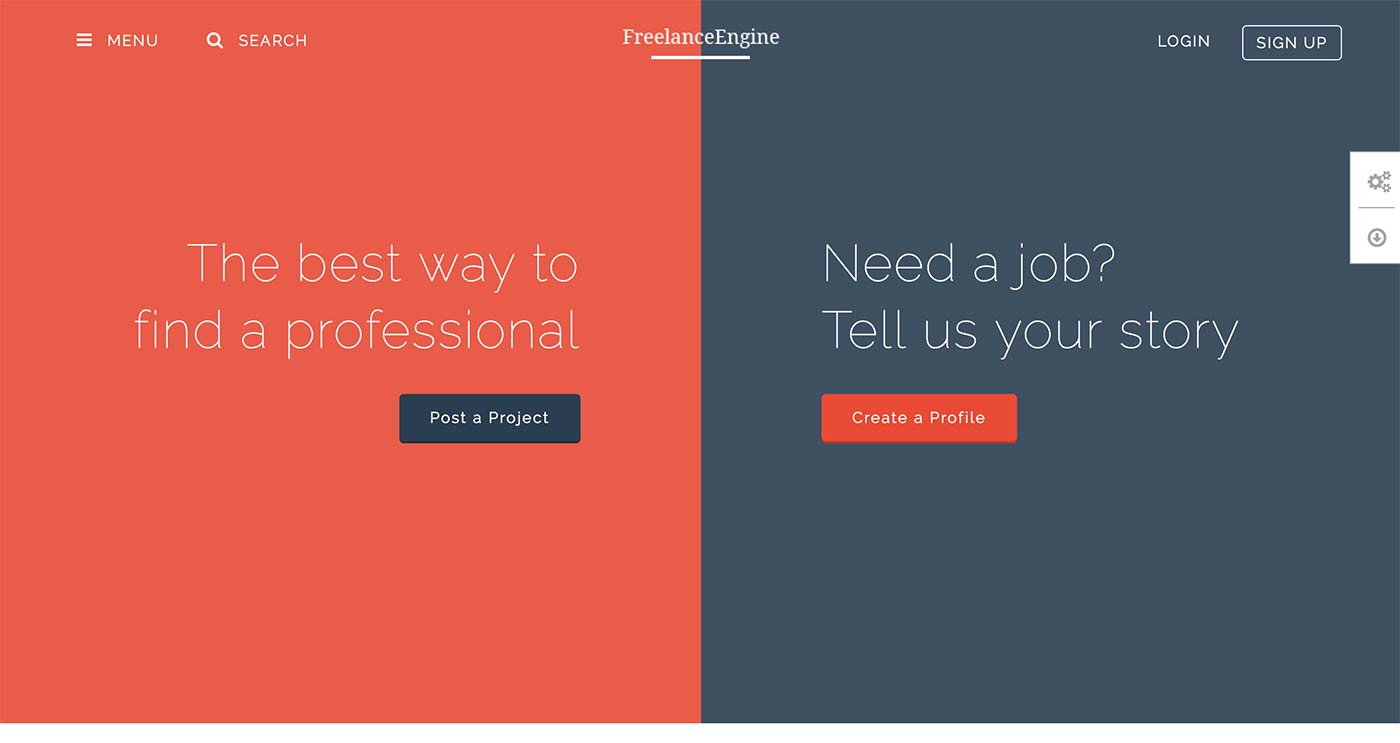 FreelanceEngine lets you build a website that has many of the features of the best freelancer job sites. Through your WordPress website, employers can post jobs, workers can post their portfolios, and both parties can connect with each other by invitation or through bidding on projects.
As the website owner, you'll have plenty of monetization options, including flat fee charging and the ability to collect a commission on each transaction.
Other highlights of FreelanceEngine include:
front-end forms for managing profiles and posting jobs
a live notifications systems
an internal messaging exchange
a review system for employers and freelancers
secure payments with an escrow system
an integrated builder tool for flexible page layouts
detailed analytics and reporting tools.
Its wealth of features means FreelanceEngine is a great option if you want to create a fully functioning freelancer marketplace for a fraction of the price of a bespoke solution.
EstateEngine
The goal of EstateEngine is to make it as easy as possible for visitors to find the property listings they're looking for, so this could be the ideal solution if you need to build a real estate website with WordPress.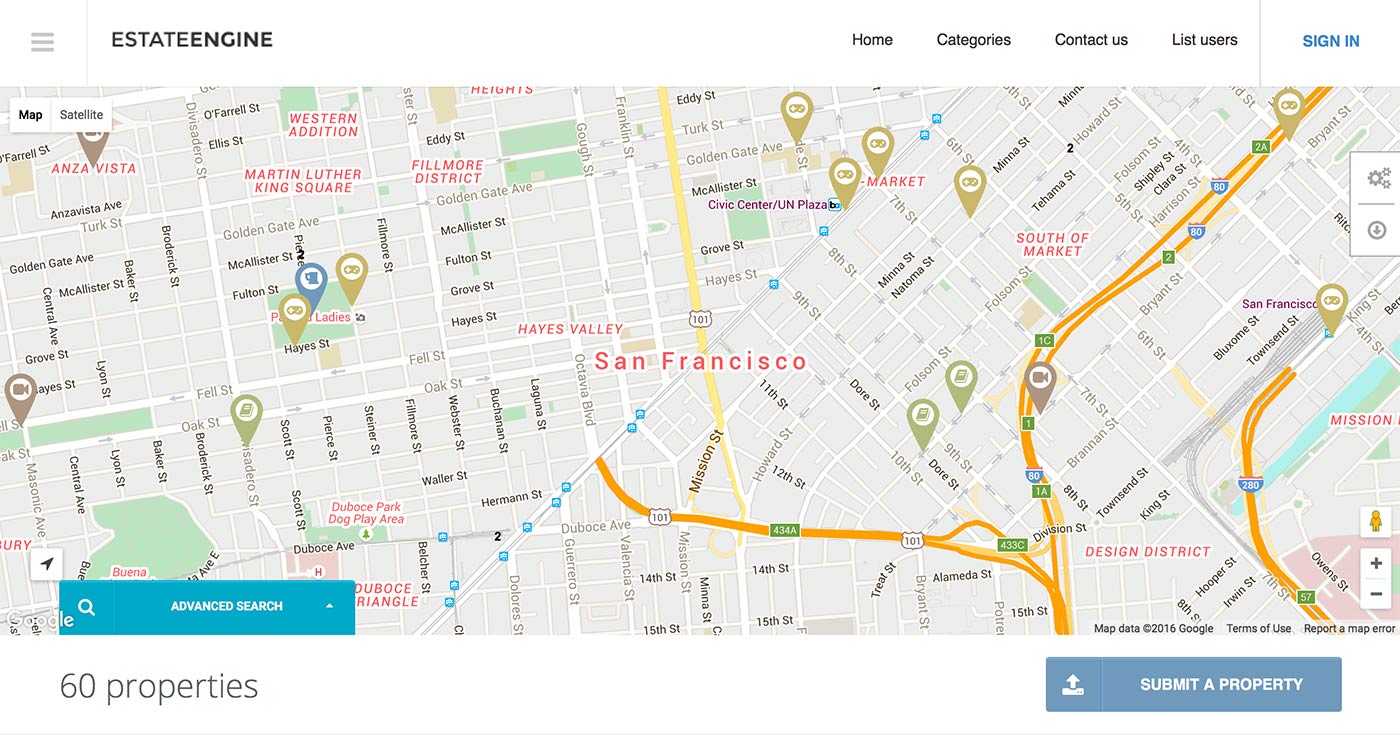 The theme's advanced search tool makes it easy to filter the listings, and it also features an interactive map that helps your visitors quickly find listings in their area of interest (clicking on a map marker brings up more information about each listing).
Other highlights of EstateEngine include:
a quick-start setup wizard to help you get your website online
the option for visitors to create profiles and post their property listings
the ability to create payment plans for accepting listings
the collection of payments with 2Checkout and PayPal
multiple advert publication options
custom widgets and multiple sidebars to display more content
a fully mobile responsive design.
What's more, it has an integrated drag-and-drop page builder tool, which, coupled with the above highlights, will make setting up your real estate website as straightforward as possible.
OneEngine
OneEngine is an attractive one-page WordPress theme that can be yours in exchange for a tweet or other social share. This theme gives you the option of displaying a slider on your homepage, and allows you to publish your core services or features with a set of responsive icons.
Thanks to the flexible homepage modules, you can easily display videos, skill graphs, team member profiles, portfolio items, client logos, and a pricing table on your homepage. It also has a stylish blog template and a contact form that integrates seamlessly with the rest of your site.
Other highlights of OneEngine include:
an easy setup process to help get your website online
multiple homepage components to choose from
a floating navigation menu
a full-width blog post featured images
the fact that it's free to download.
OneEngine is perfectly suited to freelancers and creatives who want a quick and easy way to start promoting their products and services online.
DiningEngine
If you're passionate about food and want to build a site to highlight local restaurants (or dining options in any area, in fact), then DiningEngine is a theme that's well worth exploring. Its purpose is to help you build a website that features the best places to eat in a specific area, and, after you've activated it on your WordPress website, you and your visitors can add restaurants, bistros, and cafes to your online directory.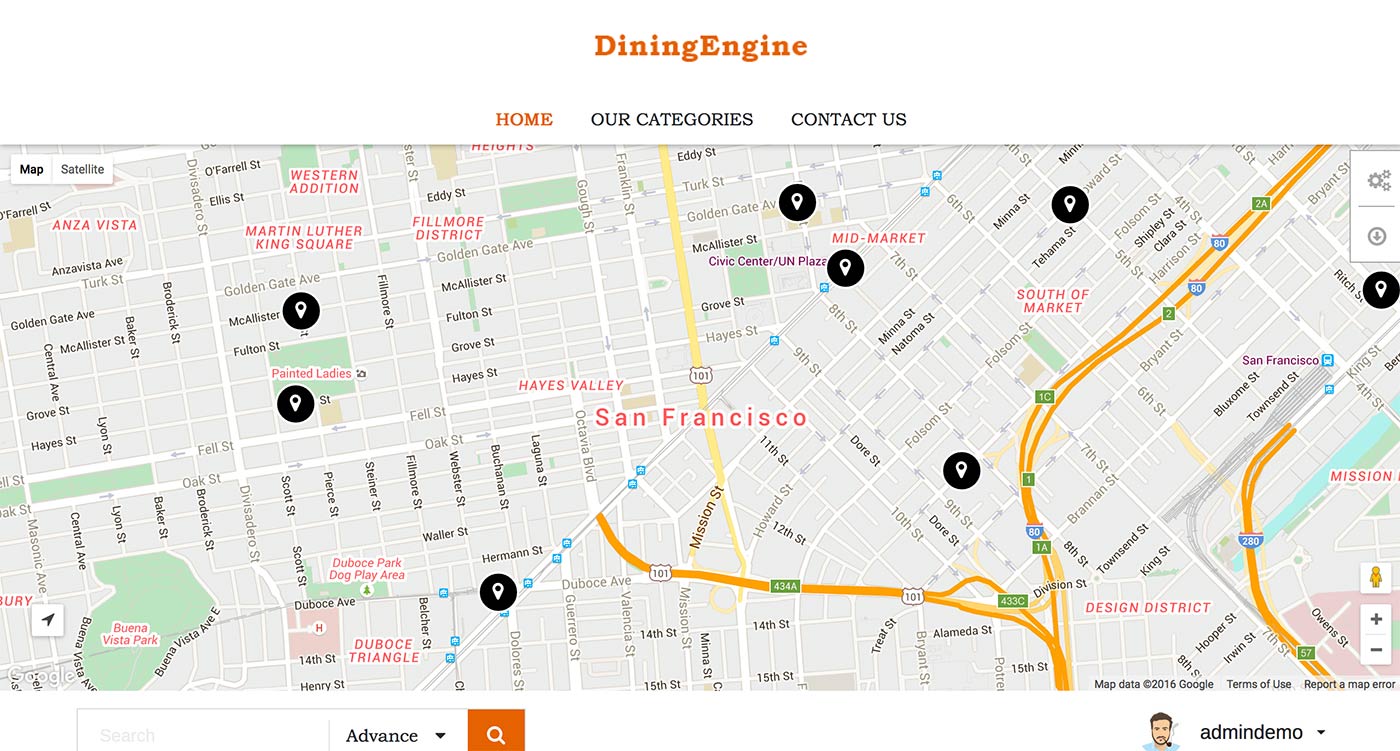 As well as its good looks, DiningEngine makes submitting listings as simple as possible — you can even collect payment from users in exchange for publishing a listing.
Other highlights of DiningEngine include:
a flexible homepage design
an advanced search bar for easy filtering of listings
interactive Google Maps-powered listings
stylish listings pages with galleries and user reviews
the ability to promote upcoming events hosted at listed restaurants
support for popular payment gateways.
Whether you want to manage all the listings yourself or create a resource for restaurant owners to promote their businesses, DiningEngine is a powerful and flexible theme that makes creating an online directory relatively straightforward.
HotelEngine
If you need to give your hospitality website a professional makeover, HotelEngine could be just what you're looking for. This theme comes in two varieties — Classy and Comfy — but, despite their design differences, both share the same features to help you build a website to promote your hotel in style.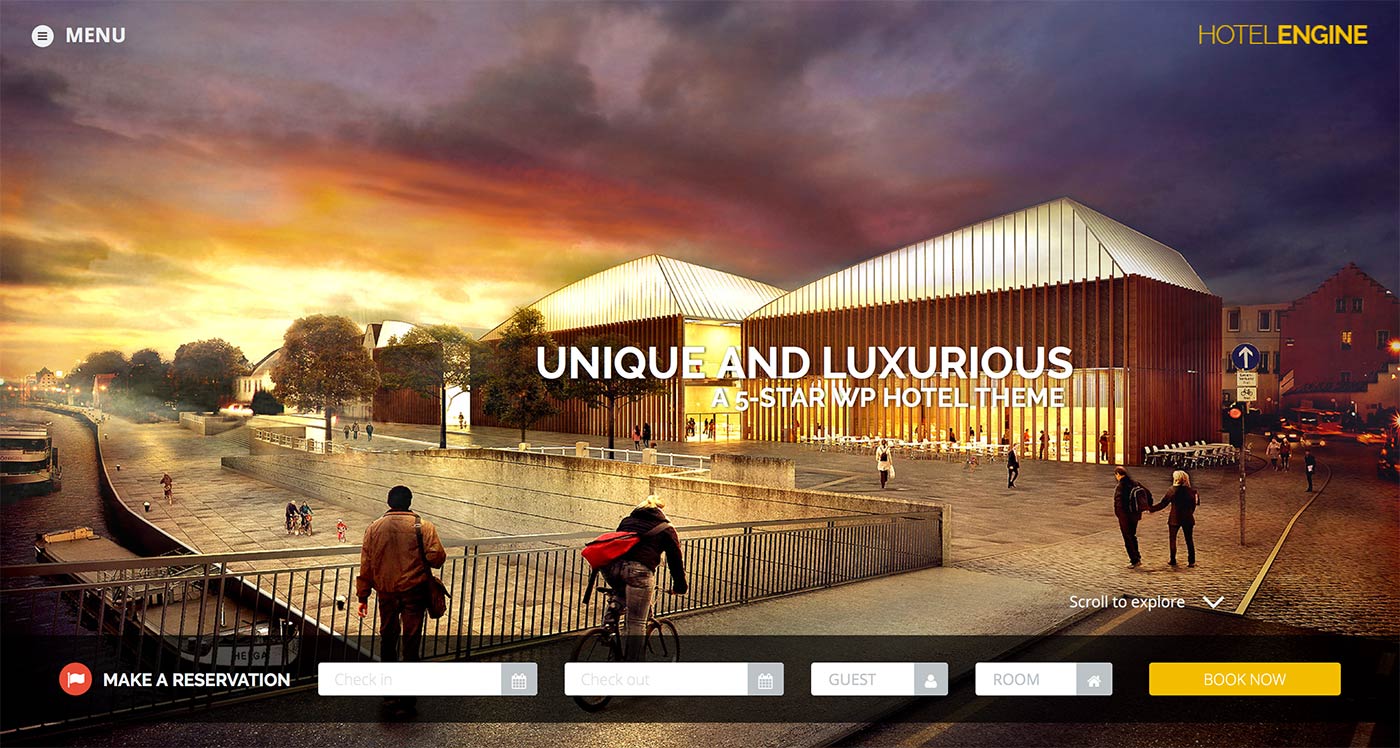 The custom admin panel of HotelEngine makes it easy to add information about your hotel to your website, and your visitors can use the online booking tool to plan their stay. You also get access to a good set of controls for customizing the appearance of your website.
Other highlights of HotelEngine include:
an online booking system powered by the BookingEngine plugin
the ability to collect and publish guest testimonials
detailed settings for website customization
multiple sidebars and widgets for displaying useful information
a homepage slideshow tool for showcasing what your hotel has to offer.
HotelEngine contains everything you need to promote your hotel and take online bookings from your guests.
WeddingEngine
As the name implies, WeddingEngine is for happy couples who want to create a beautiful website to promote their big day. With a real-time countdown timer and an online RSVP form, your wedding website will help build anticipation and also provide your guests with all the event information they may need.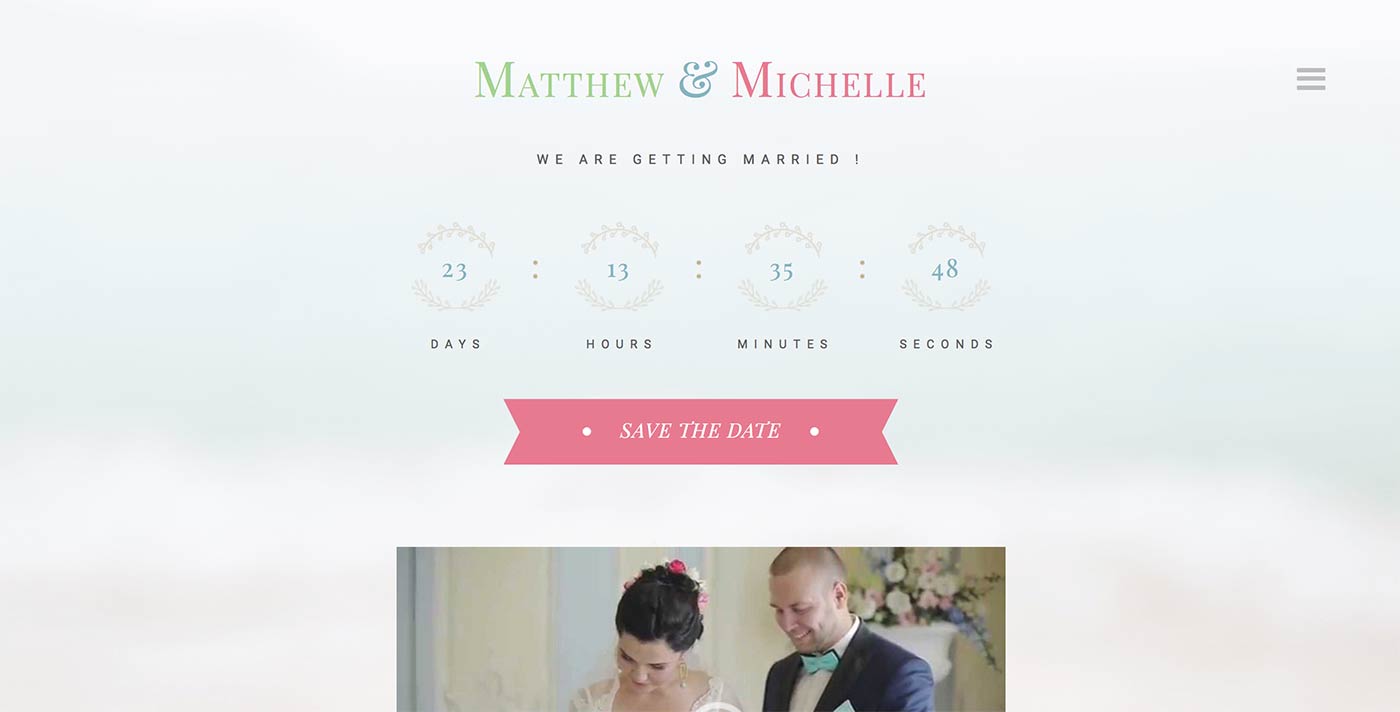 Aside from being able to RSVP online, your guests can also leave wishes and share memories on your wedding website, while you can also publish information about related events, such as the engagement party and other wedding celebrations.
Other highlights of WeddingEngine include:
a customizer tool to personalize your wedding website
automated email notifications for those who RSVP online
real-time monitoring of responses from guests
multiple website color schemes to choose from
wedding photo and video galleries for after the big day.
WeddingEngine makes it easy to create a website to support your wedding — both before and after the big day.
Other EngineThemes WordPress Themes:
Here's a quick round-up of the other WordPress themes from EngineThemes:
ClassifiedEngine — build an online classifieds site where your visitors can list items for sale.
ForumEngine — everything you need to create an online discussion forum website with WordPress.
JobEngine — create a more traditional jobs site where employers and jobseekers can connect with each other.
EngineThemes Extensions
Although most of the EngineThemes options include enough features and functionality to help you create whichever type of site you're after — whether that's a discussion forum, listings directory, or something else — they can also be upgraded (or added to) via a number of EngineThemes extensions.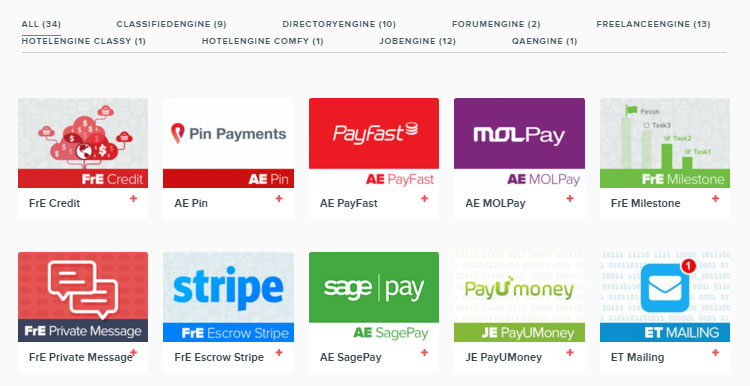 There are 34 extensions to choose from — grouped according to which theme you're using — with features such as better advert display management, support for additional payment processors, improved private messaging capabilities, and better custom field handling. Each extension is installed just like a regular WordPress plugin, making it easy to see which ones have been activated on your site.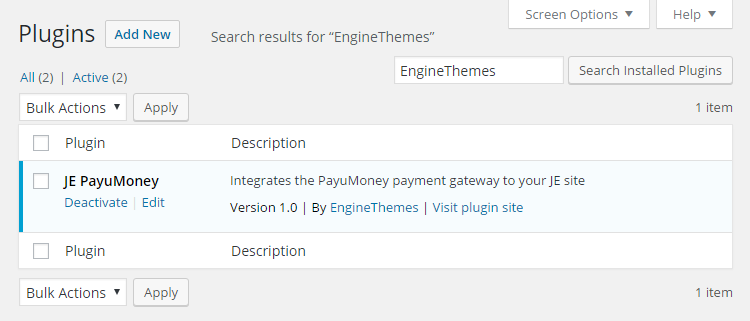 The EngineThemes extensions are available to buy individually or as part of some of the theme packages. You can, of course, also use third-party WordPress plugins on your EngineThemes-powered website — however, for convenience, compatibility, and support purposes, it's nice to have the option of using themes and extensions from a single, trusted source.
Building a WordPress Website with EngineThemes
In this part of our EngineThemes review, we're going to be exploring how easy (or not) it is to use one of these themes to create a website. For this example, we'll be using MicrojobEngine, a theme that was created to help you use WordPress to build a small-job services site (similar to Fiverr).
EngineThemes Setup Wizard
After uploading and activating the theme on your website, you're prompted to use the setup wizard to get started. This is optional, but, as we'll soon see, it's a great way to take a lot of the effort out of setting up your website.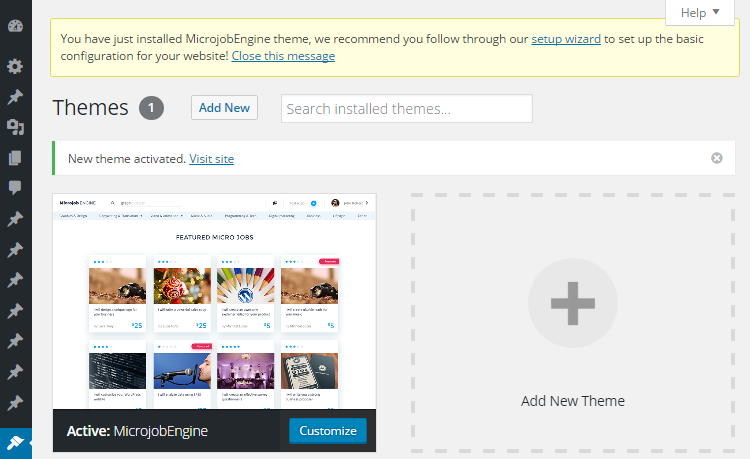 Import Website Sample Data
Through the setup wizard, you can choose to import the sample data, which is a good idea if you'd like to get a better understanding of how the theme and its components work. For your convenience, you can easily delete the sample data once you're ready to start adding your own content to the site.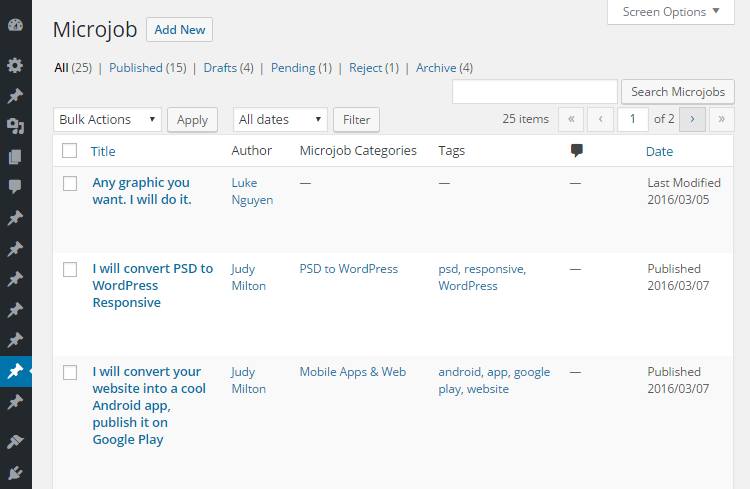 The sample data populates your site with a number of dummy micro jobs. You can then view and edit these micro jobs to get a better idea of how they work, and see how they'll look on the front-end of your website.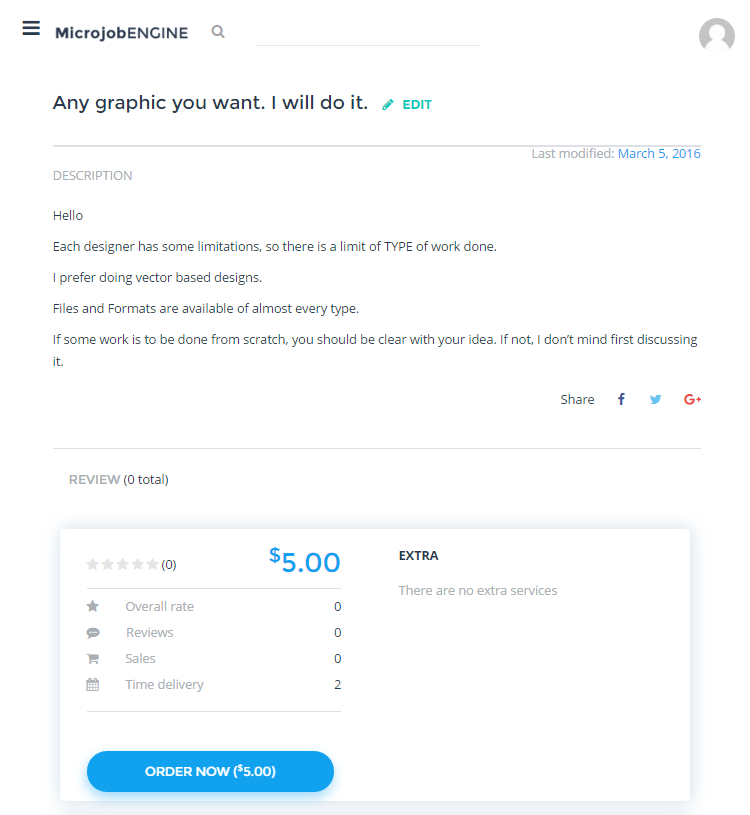 Other sample data includes dummy user profiles, useful pages for your site, and posts for your blog.
Website Admin Panel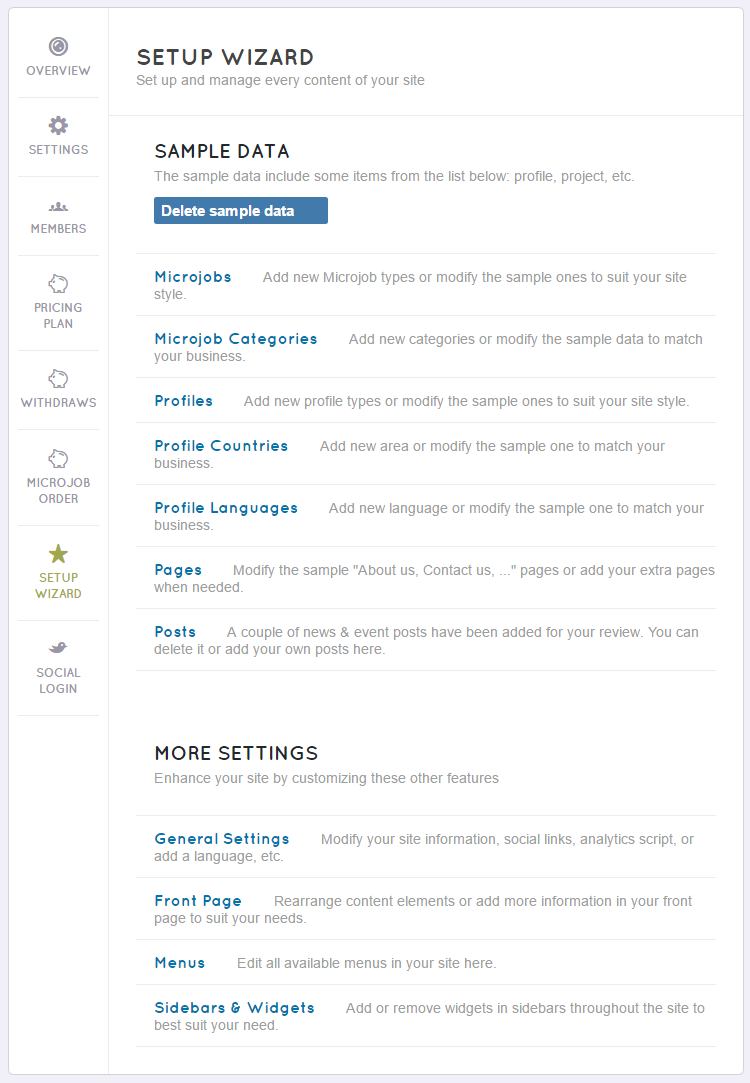 The rest of the admin panel allows you to configure the settings that govern how the job engine functionality of your website will work.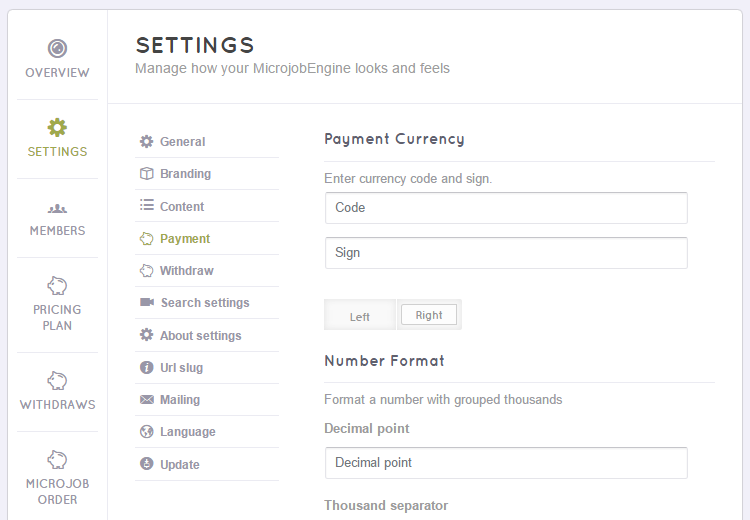 If your website has a membership component, you can manage the members through the appropriate section of the admin panel. You can also manage members through the core WordPress Users admin screen, but, for simplicity, it's nice to have everything associated with the MicrojobEngine aspect of your website in one place.
As the site administrator, you can also configure the payment options, get an overview of payment withdrawals, and view the usage stats for your site.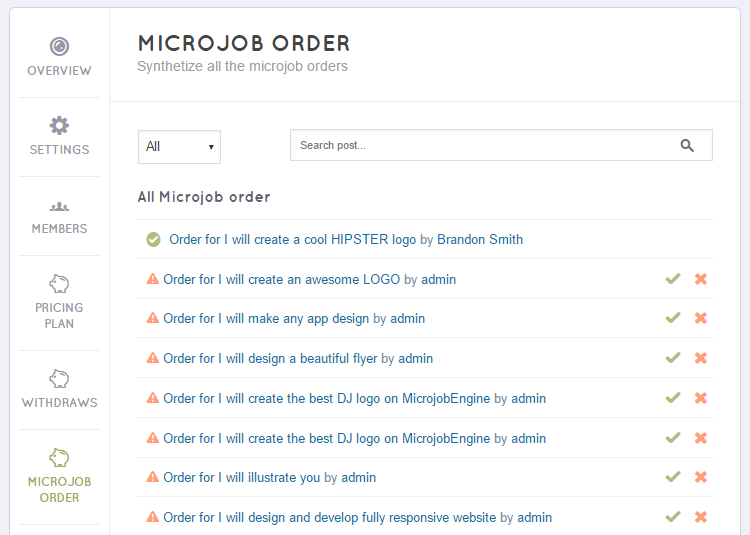 You can also view and manage the orders that have been placed through your site in the theme's admin panel.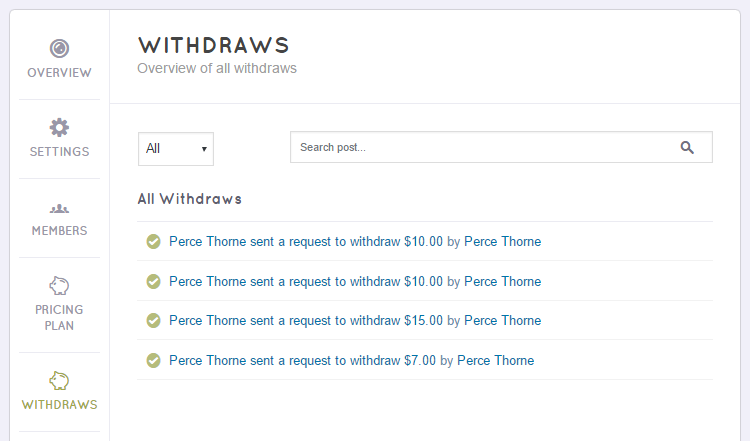 Through the WordPress admin dashboard, you can manage the other aspects of your microjobs website. This includes order deliveries, messages between your users, and the optional microjob extras your vendors can offer as upgrades to their gigs.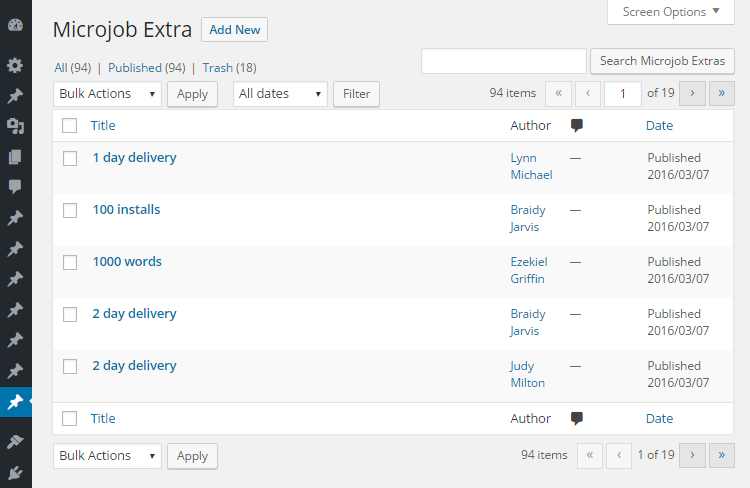 Of course, as each of the themes from EngineThemes has been built with a specific purpose in mind, the setup process and control panels for each will differ. However, these themes do all feature a setup wizard and custom control panel to help you get your website online as quickly as possible.
EngineThemes Support
All purchases include 12 months' access to product updates and the official support channels. Requests for support can be posted to the public forums, and you can also search the forums and knowledge base to see if a solution to your problem has already been published.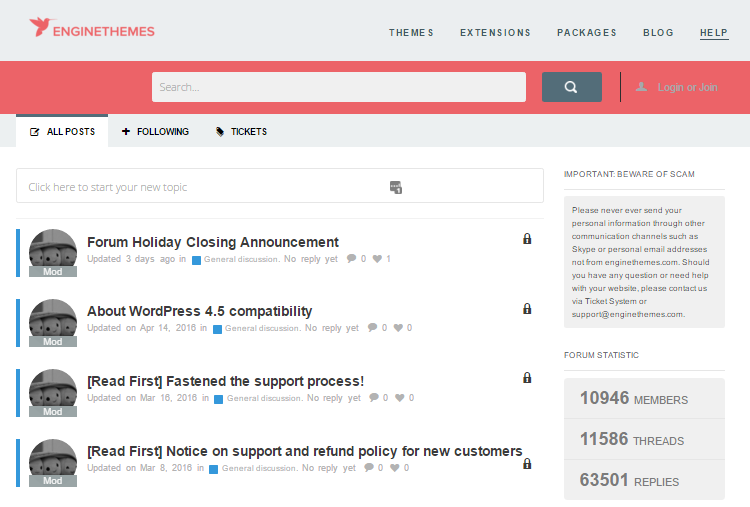 The support team aims to responds to all tickets within 48 hours: Read the support policy here.
Engine Themes Review: Pricing Details
As well as being available individually for between $49 and $89, EngineThemes offers three packages — the main differences between them are the themes and extensions they include.
Power Package: $199 (selection of themes)
All-in-One Package: $299 (all themes and no extensions)
Mega Power Package: $689 (selection of themes and some extensions)
All EngineThemes packages include 12 months' support and updates, and you can use the themes on as many of your own websites as you like.
The details of the packages do vary, and the prices are currently discounted, so it's definitely worth exploring them in more detail to find out how much you'll have to pay to access the tools you need.
Final Thoughts
Most of the websites these themes have been created for are complex projects. Whether you're building a microjobs site, a directory website, or a discussion forum, going it alone and trying to find a suitable theme and selection of plugins to add the necessary functionality won't be easy.
Sure, you may be sacrificing some flexibility by choosing a purpose-built, all-in-one, off-the-shelf solution, but the process of creating exactly the type of site you're after will almost certainly be hugely simplified — thereby potentially saving you no end of time and hassle!
If you're about to start work on a project that's covered by one of the above themes, be sure to compare the feature list with your requirements to see how things match up.
Used/using a theme from EngineThemes? Thoughts?
All comments are held for moderation. We'll only publish comments that are on topic and adhere to our Commenting Policy.
Our commenting form also supports the use of Markdown.