Designmodo's all-new framework for WordPress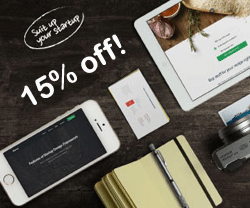 When Designmodo released an innovative new system of creating a website by putting together a selection of pre-designed (and really rather beautiful) HTML blocks — referred to as a 'design framework' — back in February this year, they were inundated with comments asking does it work with WordPress? Which, sadly, at the time, it didn't. However, six months on and Adrian and his team have finally released a version that's not only compatible with WordPress, but positively rocks it! Introducing a brand-new 'framework for WordPress':
What is it?
Well, starting off with what it isn't: it isn't just another basic WordPress theme! In short, it's an interface that lets you assemble your own design from a library of one-hundred brilliantly designed theme-blocks (from contact forms, content areas, sliders, etc, etc) that can be stacked together (think lego bricks) in an innovative new drag-and-drop interface! Further more, once you've chosen which of the Design Framework's blocks you'll use on your site, you can then customize said blocks in order to further personalize things!
For a quick overview and presentation on how to use the different blocks available in the framework, check out the official video released by Designmodo.
How it works:
Once installed, you'll see a new menu item in the WordPress dashboard entitled "SFW Pages", which will take you to an editing area with an unmissable big-blue link to the theme's innovative new visual editor…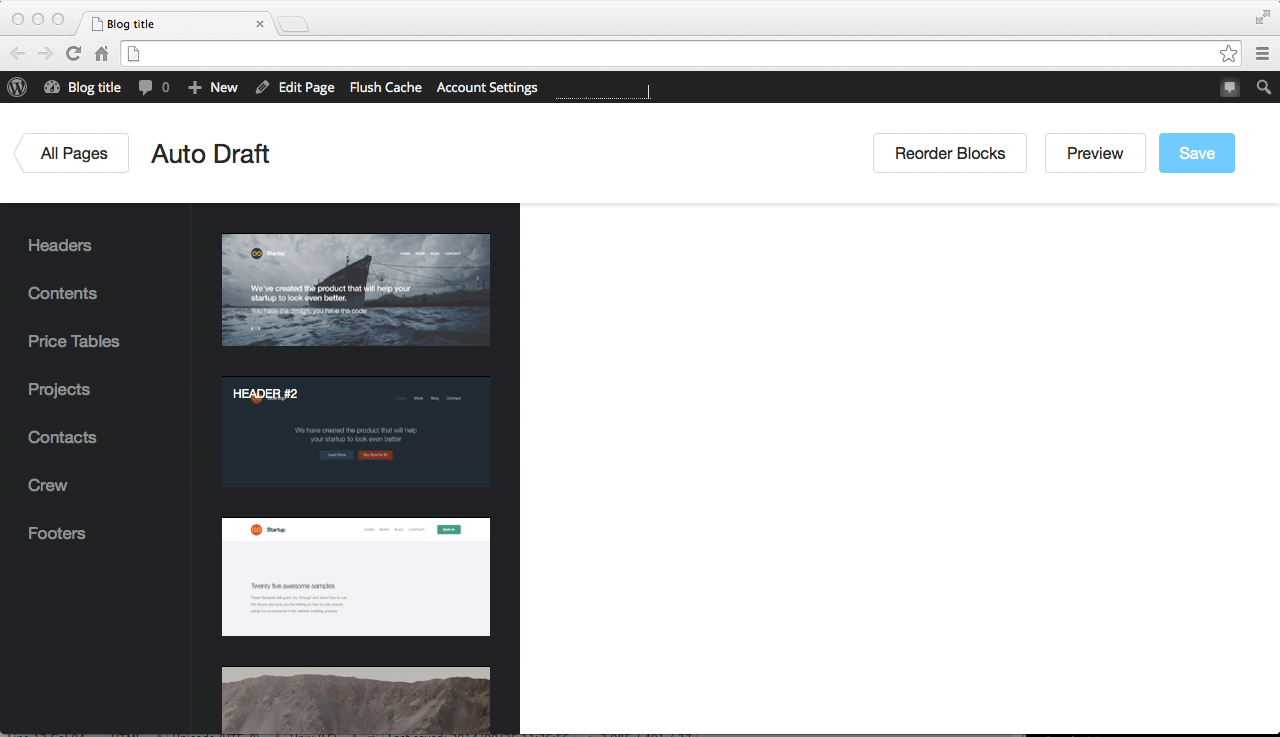 …from which you can begin to both assemble your new page from the various different framework blocks available and easily make all kinds of simple edits to each block as you go along – such as basic text formatting, creating or adjusting links, swapping out images, configuring menus and saving the page. Like so: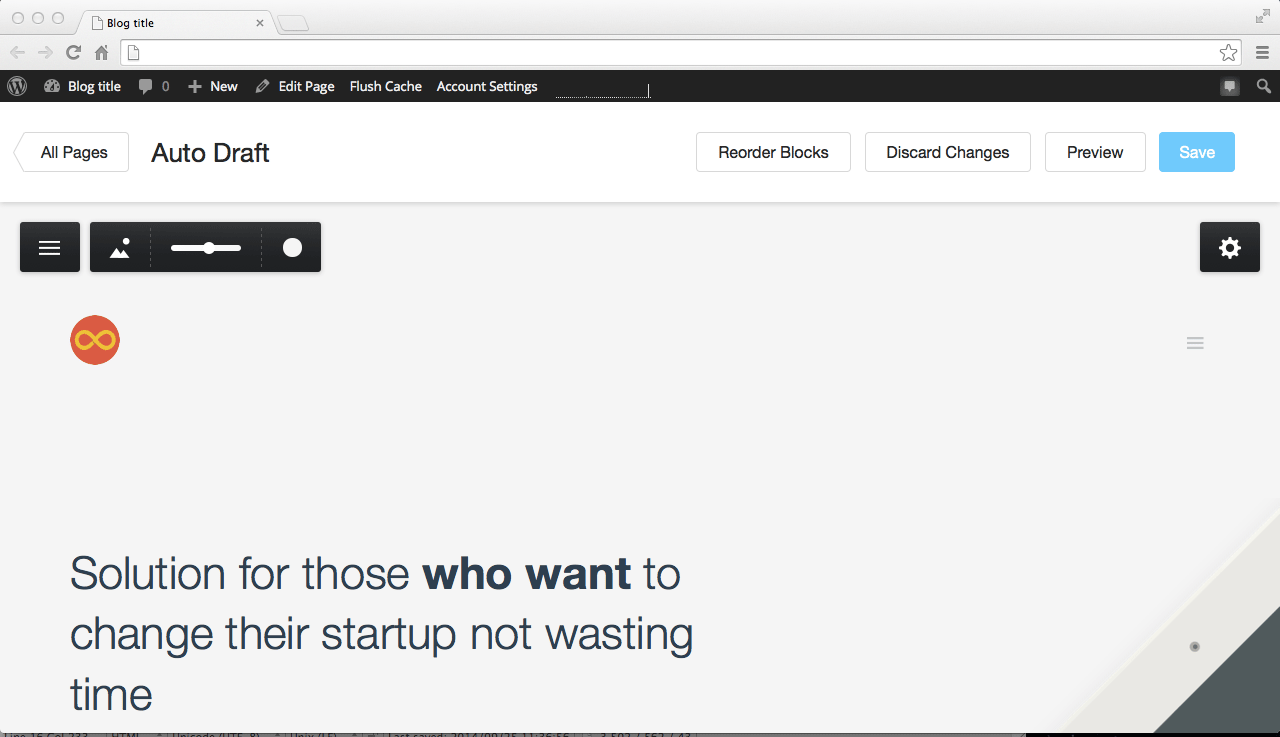 You can then add more blocks (like a main content area and a footer, etc), reorder your blocks, check out a preview of the page or, should you want to make more complex edits, click on the gear icon in the top right of the theme's visual editor to access and edit the HTML – note: you can also add your own CSS (to match any HTML changes you make) under either 'Appearances' → 'Settings' or 'Appearances' → 'Edit CSS'.
For more on editing the framework/theme, head here!
Fully responsive
One of the things about Designmodo's original design framework (released back in February this year) that really shone through was the fact that Designmodo went to a massive amount of trouble to ensure every one of its huge range of mix-and-match HTML block choices all looked great on any screen size (including on those with retina displays)… something they've happily managed to achieve again with this all-new WordPress version!
Summing up:
There's no doubt about it: whether you're creating a landing page, a portfolio or even an application site – Designmodo's new framework for WordPress has something unique to offer (what's more, Designmodo are also offering a pretty generous 20-day money back guarantee – thereby allowing you to effectively try it out for almost three weeks risk free), especially if you're into knocking out a stunning design for your site in a hurry and/or with a visual editor!
– our only quibble: at $149 per license per year (yearly fee required for continual updates) it's perhaps a little pricey for individual/casual users – that said, if you're either a design agency (note: you can bulk-buy five licenses at a time for $349) or planning to make a heap of money from your website, you'll hopefully be able to make this particular expense back in no-time!
Plus, and we hate to say it, but apart from a relatively basic FAQ, there doesn't seem to be quite enough documentation (tutorials/user-manuals etc) released yet: hopefully these will be along shortly…
(update: 1st October – new video tutorial released on how to create a website with Designmodo's new framework for WordPress here).
If you haven't already, visit the official Designmodo website to learn more! – oh, and finally: don't forget to use our exclusive Coupon Code for a handy 15% discount on this (or any other) Designmodo product!
Built any amazing new sites with it yet? – feel free to leave a link to anything you'd like to showcase in the comments!
All comments are held for moderation. We'll only publish comments that are on topic and adhere to our Commenting Policy.
Our commenting form also supports the use of Markdown.