55+ Best WordPress Themes for Groups, Bands and Musicians (2018)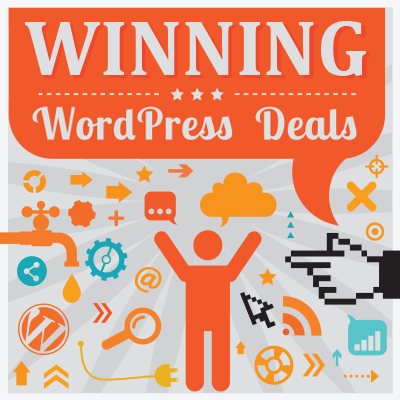 Having an impressive online presence will help music groups, solo artists and bands better connect with their fans — so a fitting website is a must!
What's important to a music-based website? Well, in addition to looking awesome, I'd say the bare minimum requirement is that visitors are easily able to listen to a few keys songs, meaning the ideal theme needs to support audio players that cater to a visitor's needs. Additionally, the likes of a discography, the ability to create playlists, continuous playback in the background while browsing, radio streaming and digital downloads will all encourage fans to spend more time on the site.
Events are bread and butter for most bands, so a theme designed for musicians needs to also showcase future events — and it would be a nice addition if it supported ticket sales as well. Calendars, maps, countdown timers, past event archives and reviews can all make the events section more interactive and interesting.
A fan landing on the site may want to purchase albums or band-related merchandise, meaning shopping cart compatibility (i.e. WooCommerce compatibility) may also be of interest.
To come up with the following collection, I explored a huge range of different theme shops — and, of course, all of these themes are fluid, responsive and retina ready.
Let's get started…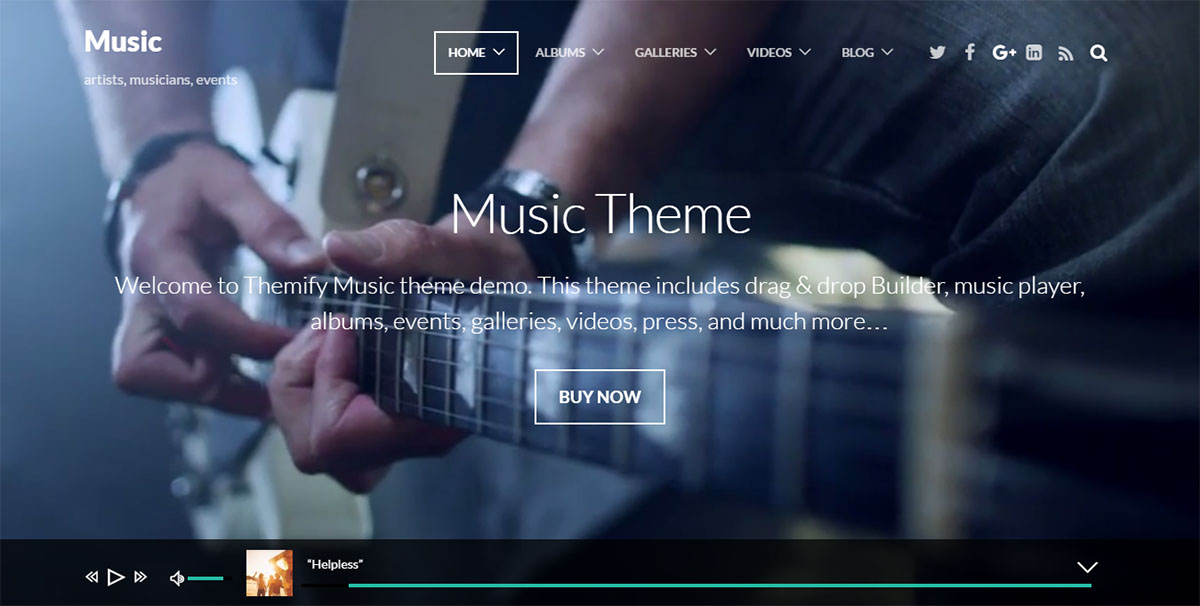 Standout features:
Music player or album playlist can be embedded.
Photo gallery layouts for displaying events or artist photos and a link for buying tickets.
Includes a template designed for music apps.
Music video posts can be displayed on a slider or in a grid.
Footer music player helps browse the site to the accompaniment of music.
Video can be displayed in a lightbox.
Full width video background that auto plays when a visitor lands on the site.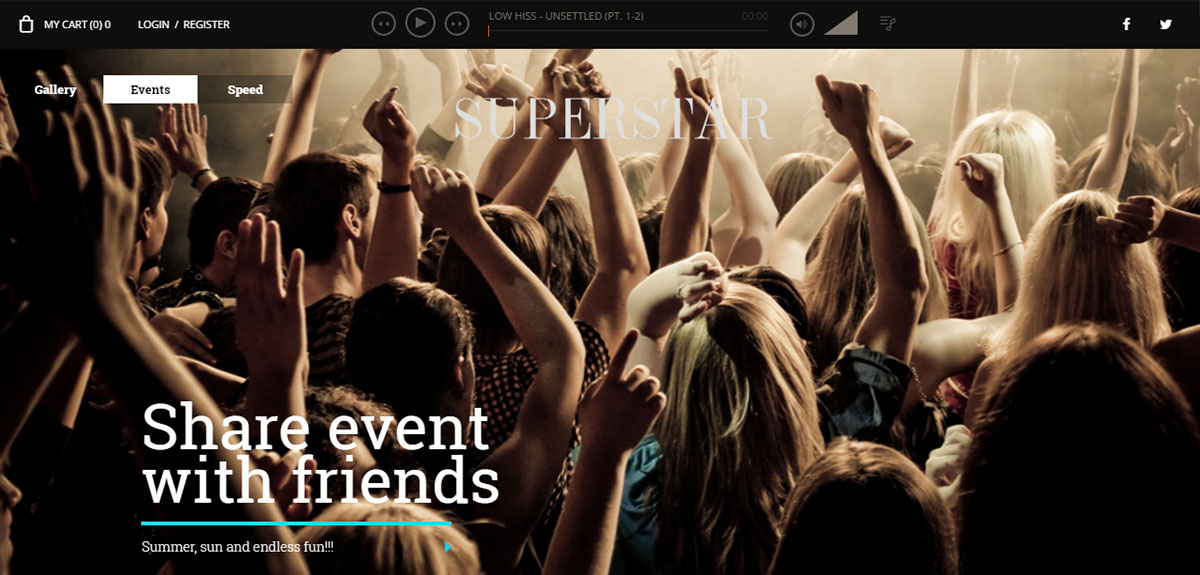 Standout features:
Continuous playback audio player with SoundCloud playlist.
Two blog layouts and two header styles.
Event with ticket system.
WooCommerce ready.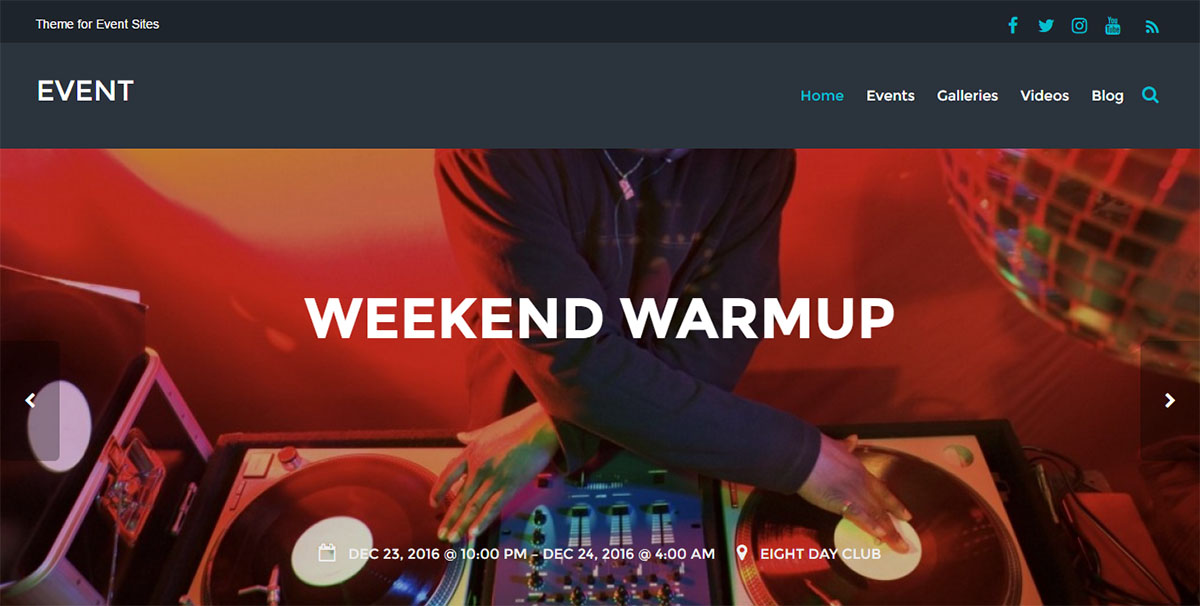 Standout features:
Event post type keeps visitors up to date with past and upcoming events.
Link for purchase of tickets.
All images in the gallery open in a responsive lightbox.
Can paste a video URL in video posts to embed videos from various hosts.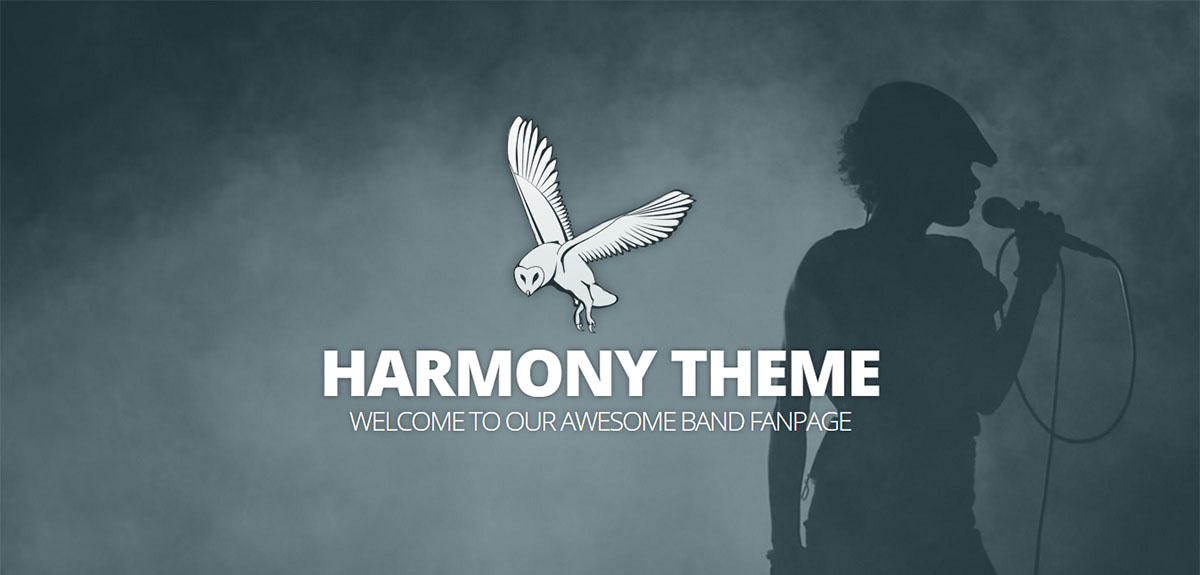 Standout features:
Page templates available for galleries, contact pages, sitemaps and more.
ePanel integrates smoothly with WordPress dashboard.
.po and .mo files included for complete localization.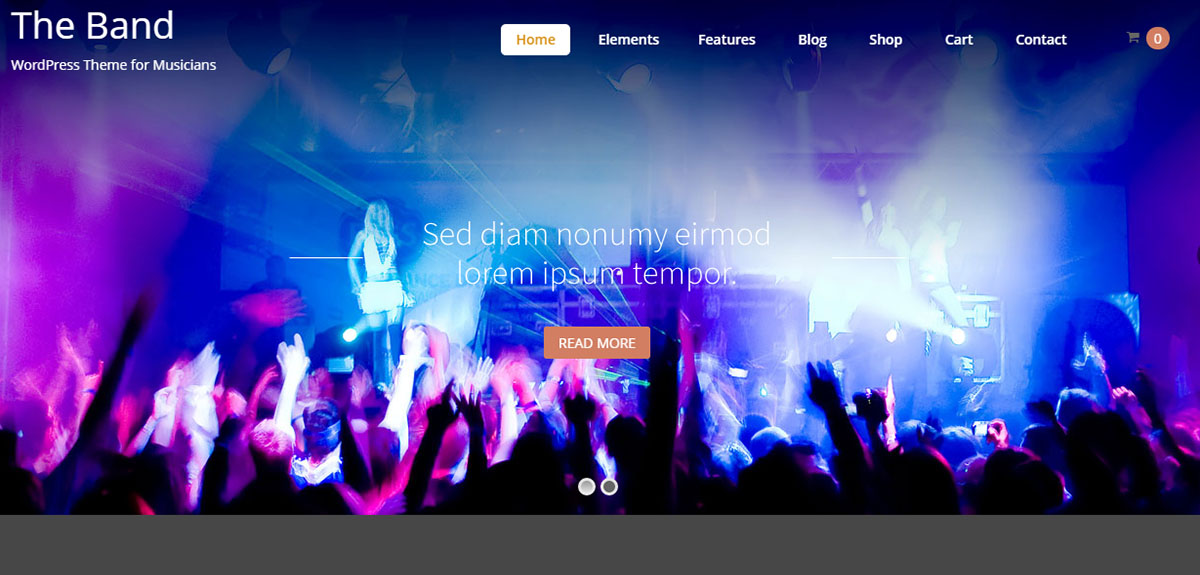 Standout features:
Simple event manager included.
Eye catching parallax effect created using text element.
Fantastic online streaming service that allows you to easily embed music content from various providers.
WooCommerce ready.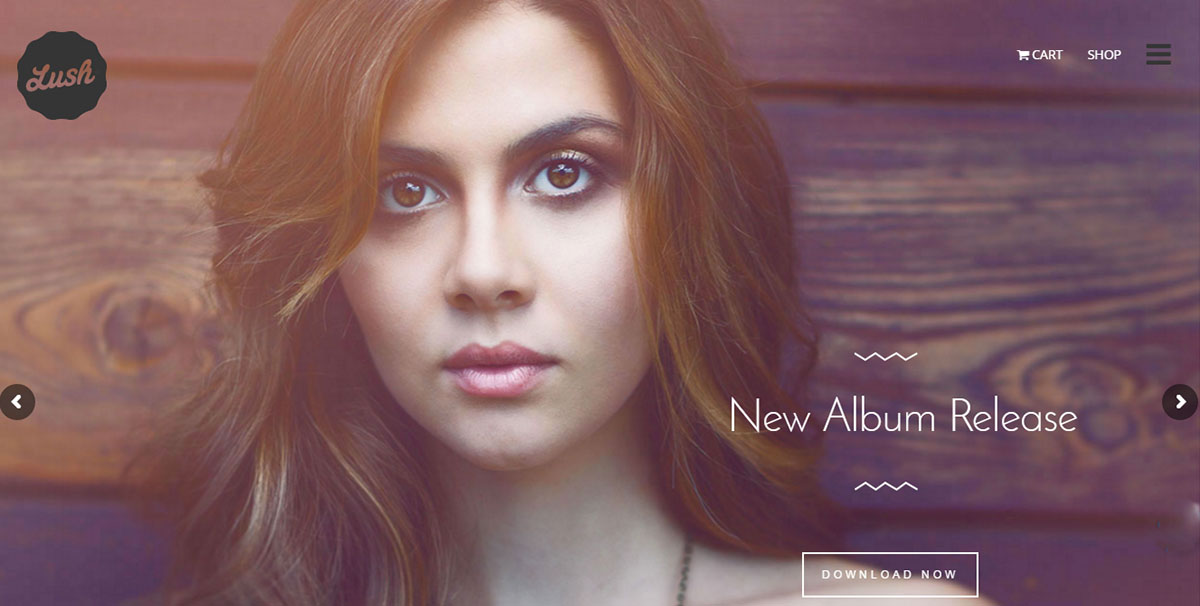 Standout features:
Comprehensive discography with multiple options for each album.
Visual Composer and Slider Revolution included.
Detailed information can be included for each and every gig.
Fully integrated with WooCommerce.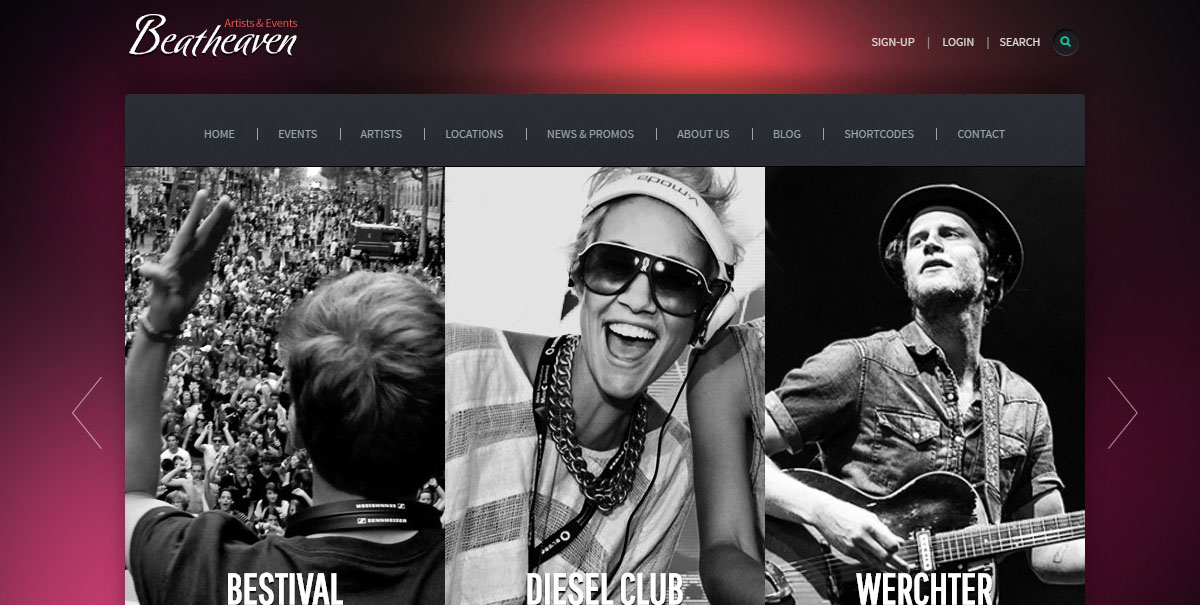 Standout features:
HTML5 for audio player for better compatibility with different browsers and screen sizes.
Built on Fuse framework which gives great options for control of appearance.
Artists, events, about us and locations layout included.
3 different sliders for display, one of them for side-by-side display.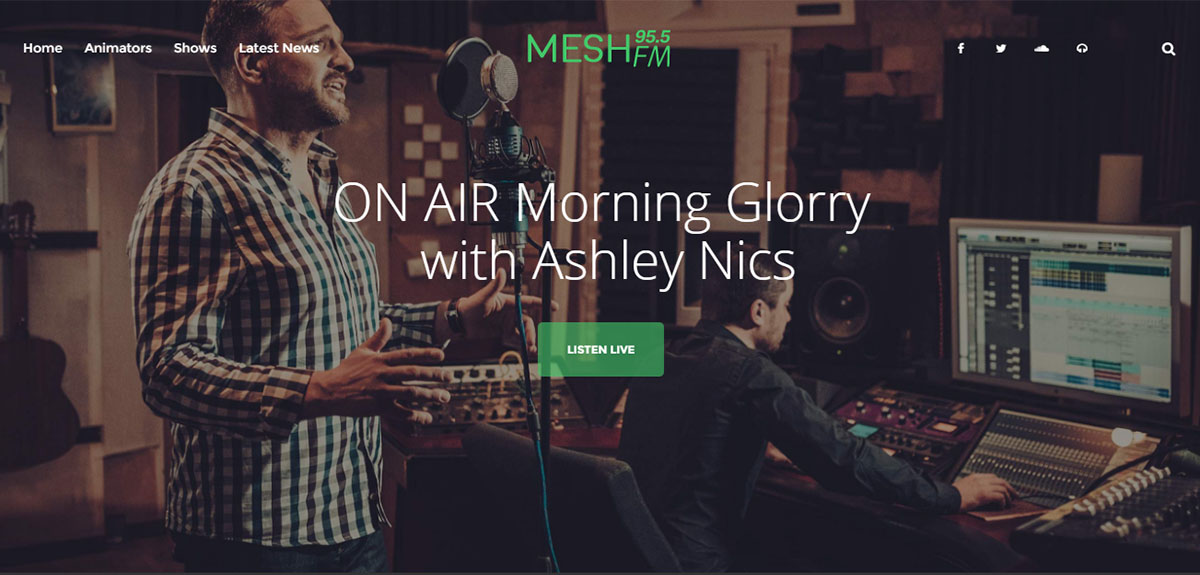 Standout features:
Easy ticket buying feature with no third party involvement (with help from Tickera)- commission free!!
Designed to integrate real time social media updates with the core of your website.
2 players are included, so fans can listen to music as they browse the website.
Booking form can be added to each event page, so users can book a table as well.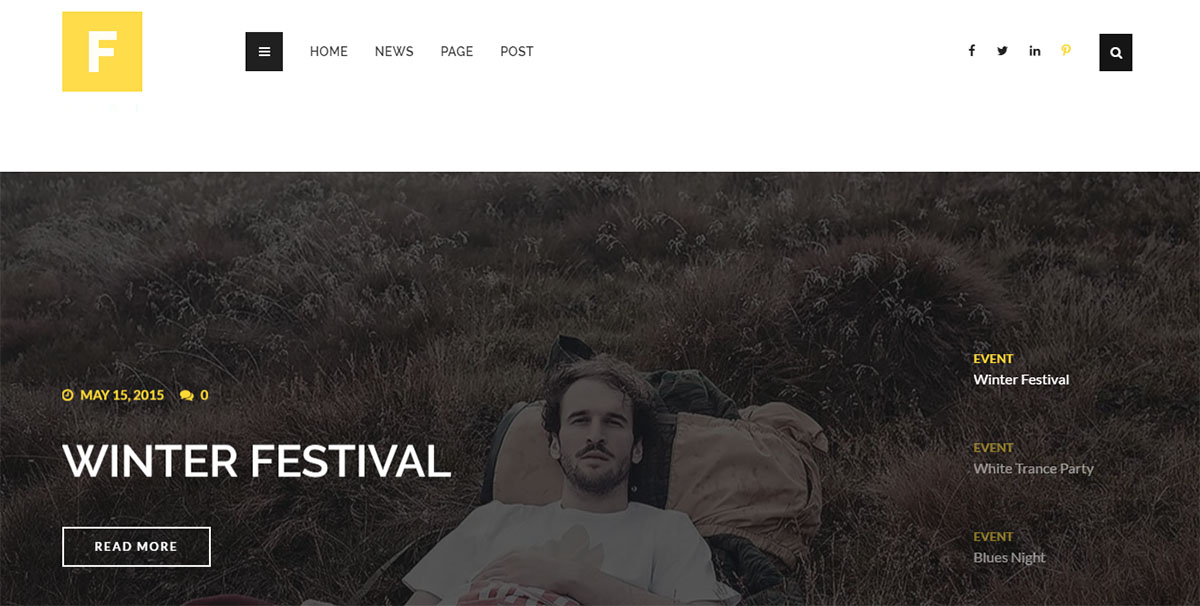 Standout features:
Awesome music player included.
Online radio, mp3 upload and link to mp3 upload included.
WooCommerce supported.
Supports bbPress.
Countdown timer and map included to show off events.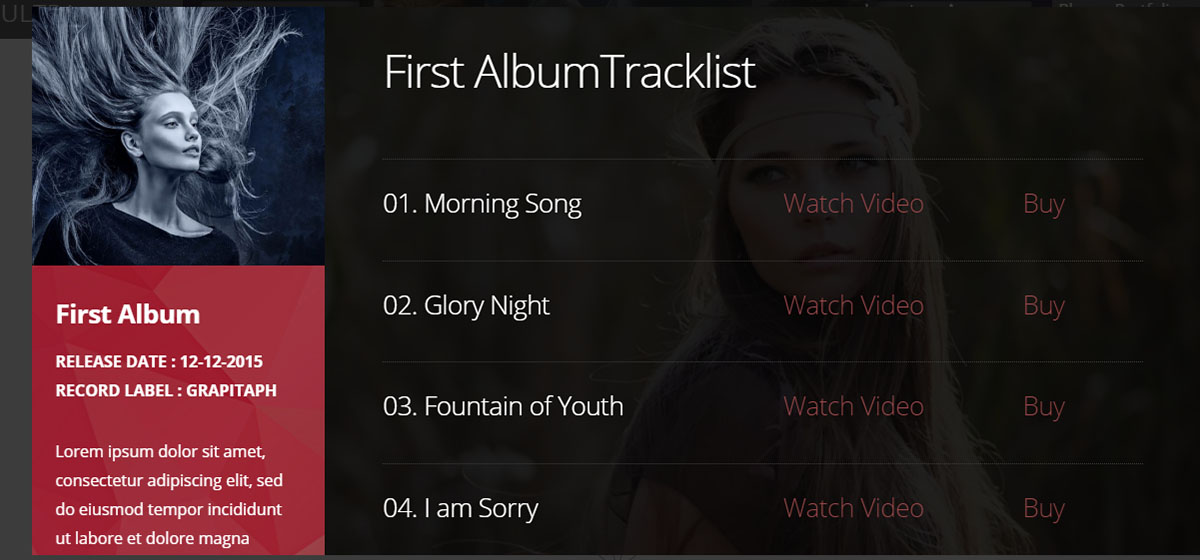 Standout features:
Music template has features for watching videos and sale of albums.
Section scrolling and video backgrounds.
Packed with shortcodes that allow you to add content.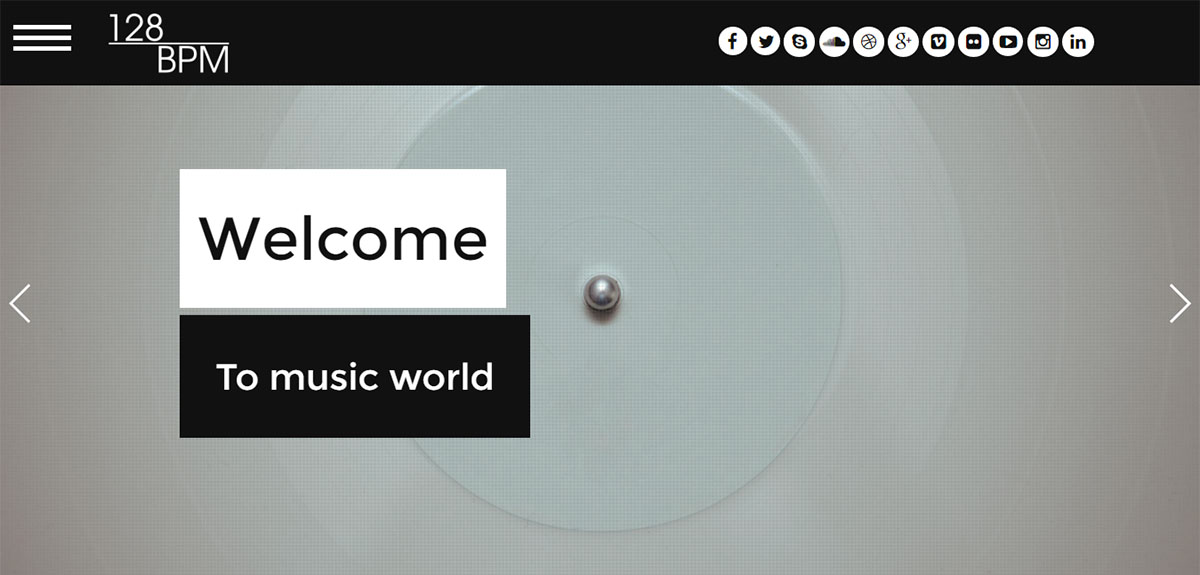 Standout features:
A number of predefined widget areas and Wordfence WordPress security included.
Enhanced with BuddyPress and bbPress WordPress plugins for building social networks.
Supports WooCommerce.
Blog and subscription plugin included.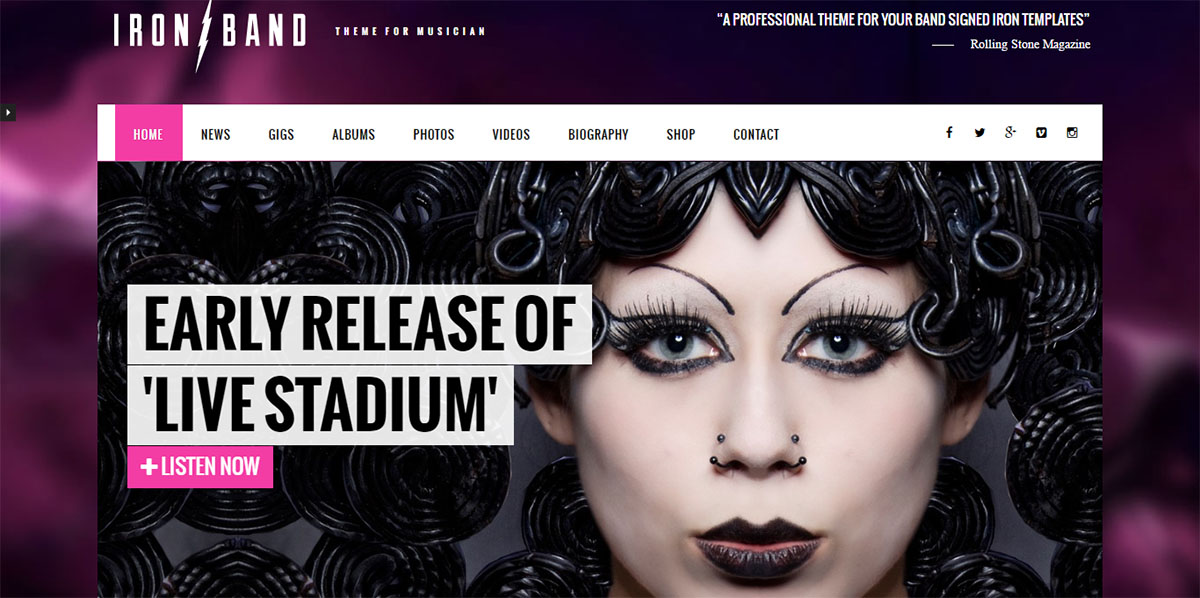 Standout features:
HTML5 audio player.
Fans can follow you on all major social media including SoundCloud, Vimeo, YouTube, Twitter and Facebook.
Link to major online stores like Amazon and iTunes.
Fully working AJAX/PHP/MySQL newsletter form.
Live Twitter feed.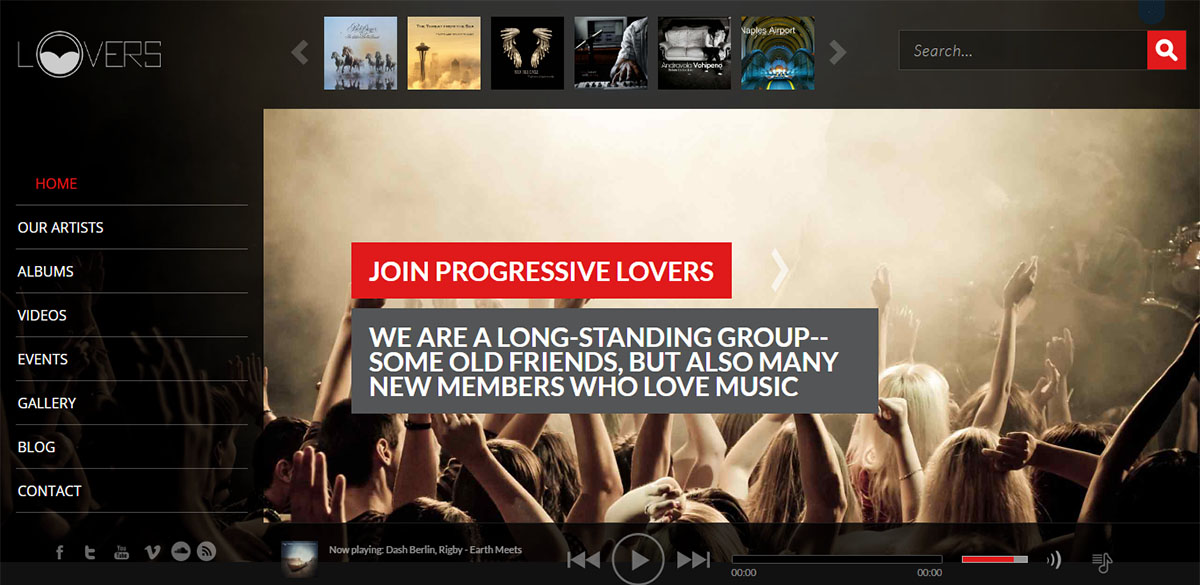 Standout features:
6 custom posts and 8 page templates
Mobile ready music player with HTML and flash support.
Filterable gallery.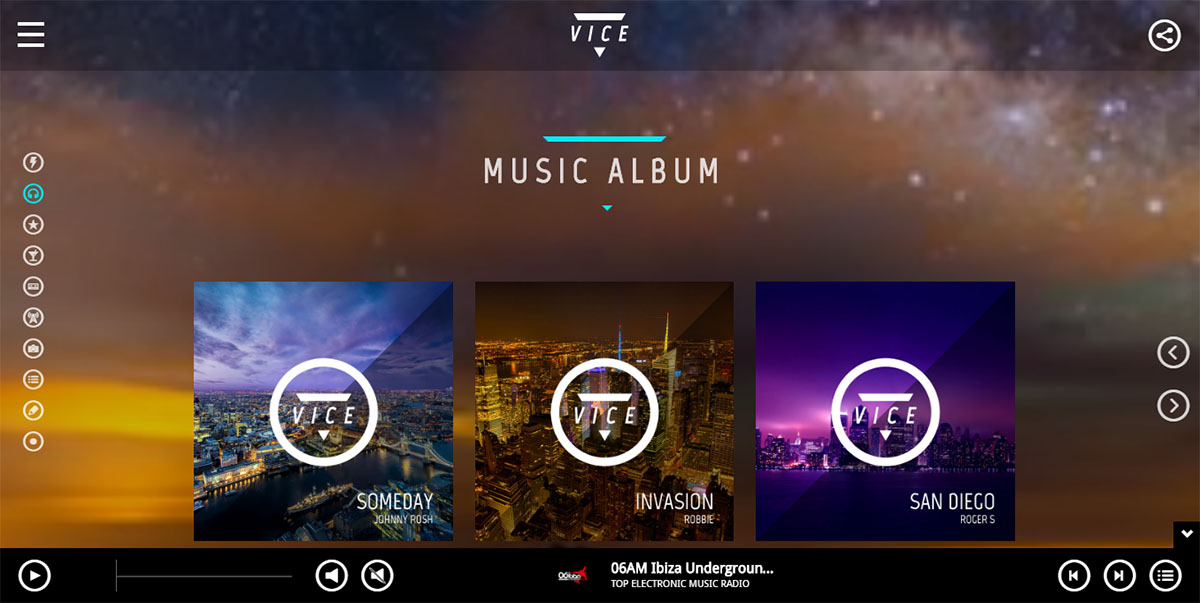 Standout features:
Podcasts and unlimited radio stations are supported.
Multiple sections with parallax background.
Different video for every page. If video has audio, automatically decreases the music player volume.
Control the music and the video volume from the same control bar.
Transparent glass design.
2 levels drop down menu.
25 social icons.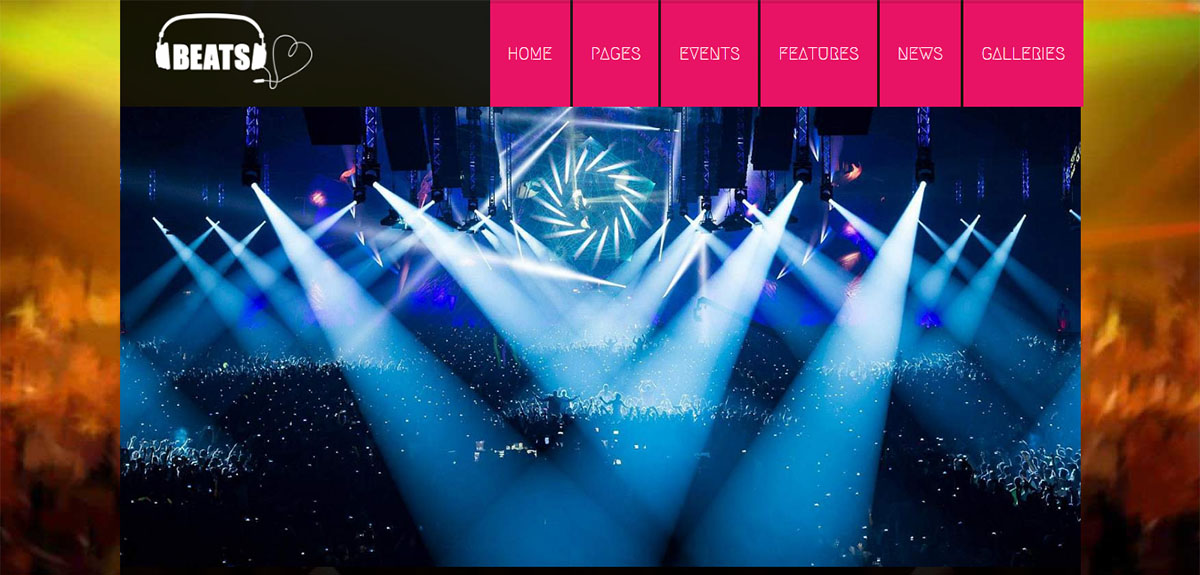 Standout features:
Easy-to-use parallax slideshow that can be set on all pages / post / post types.
Many shortcodes for your events.
7 different galleries ( + Portfolio ).
Events are animated with CSS3.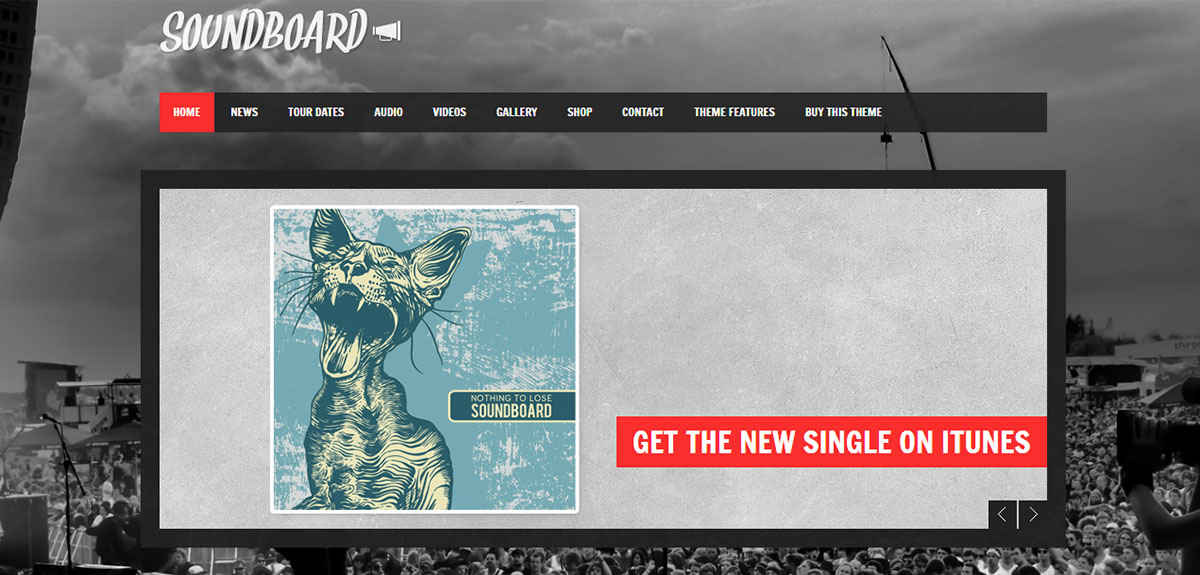 Standout features:
Special features for bands and solo artists.
Built with focus on fans – all important information right on the homepage with 6 custom widgets.
Ready for JW Player, a popular video player on the web. Soundboard comes with shortcodes for JW Player.
When an event is over, it is automatically moved to "Past Dates".
Pretty Photo Lightbox is automatically added to images.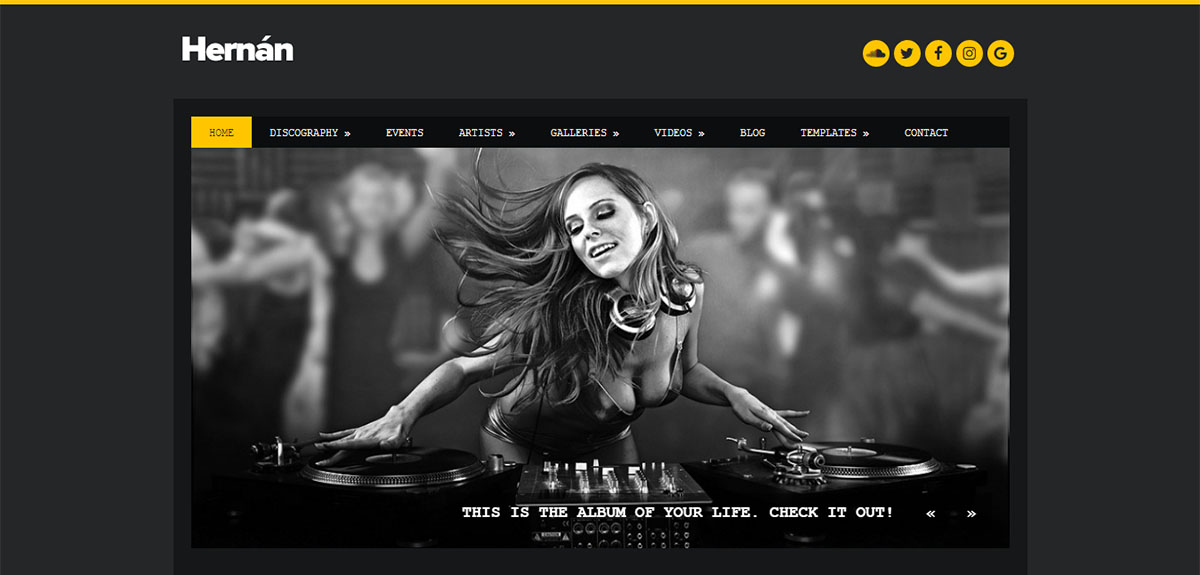 Standout features:
Fanciest audio player around for all your discography showcasing.
Create your events intuitively.
Recurring events are also supported.
Content widgets, social networking, Twitter, Flickr and more.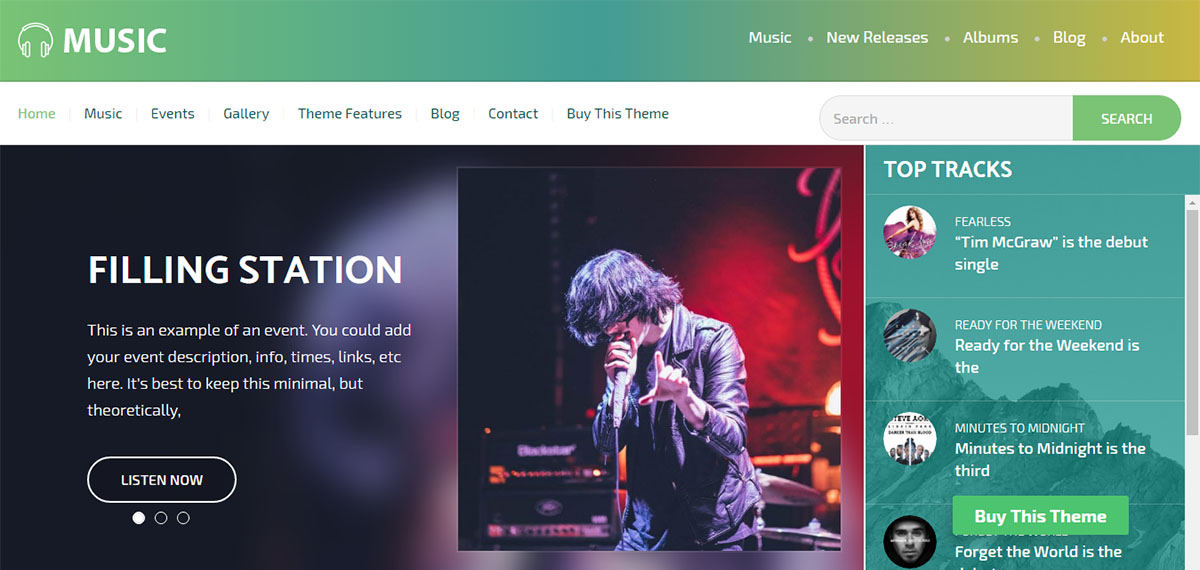 Standout features:
Music listing, music details, music events and many such pages included.
Specially designed popular discography block.
Visitor can search for music on the website.
Widget ready footer.
Trending posts widget and upcoming events widget included.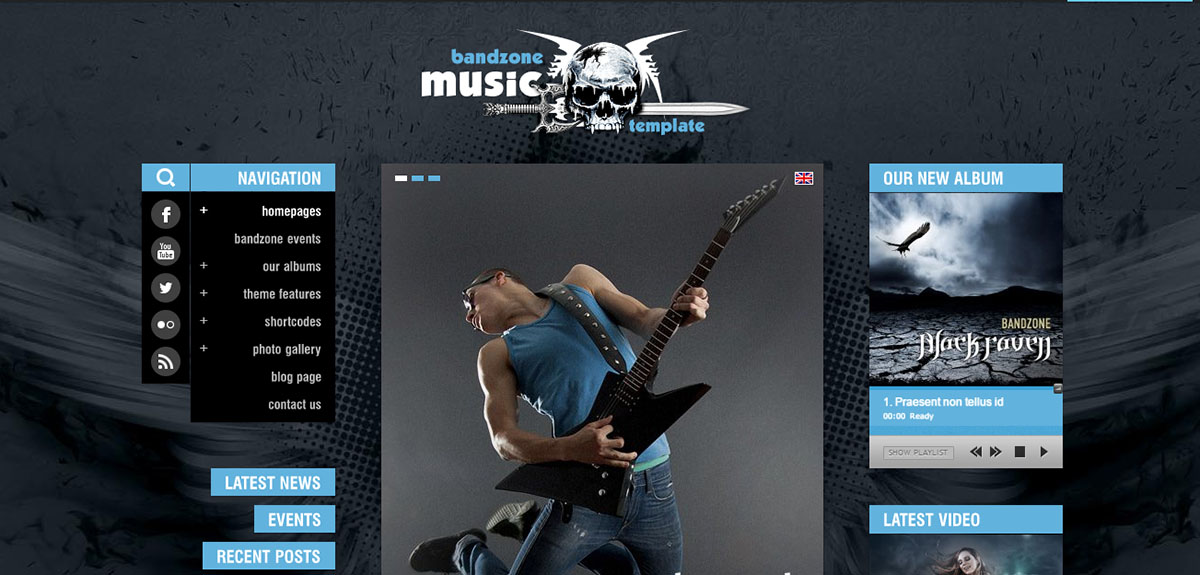 Standout features:
Amazing background slider.
Shortcodes generator can be launched directly from WYSIWYG editor.
Widgets ready sidebar & footer.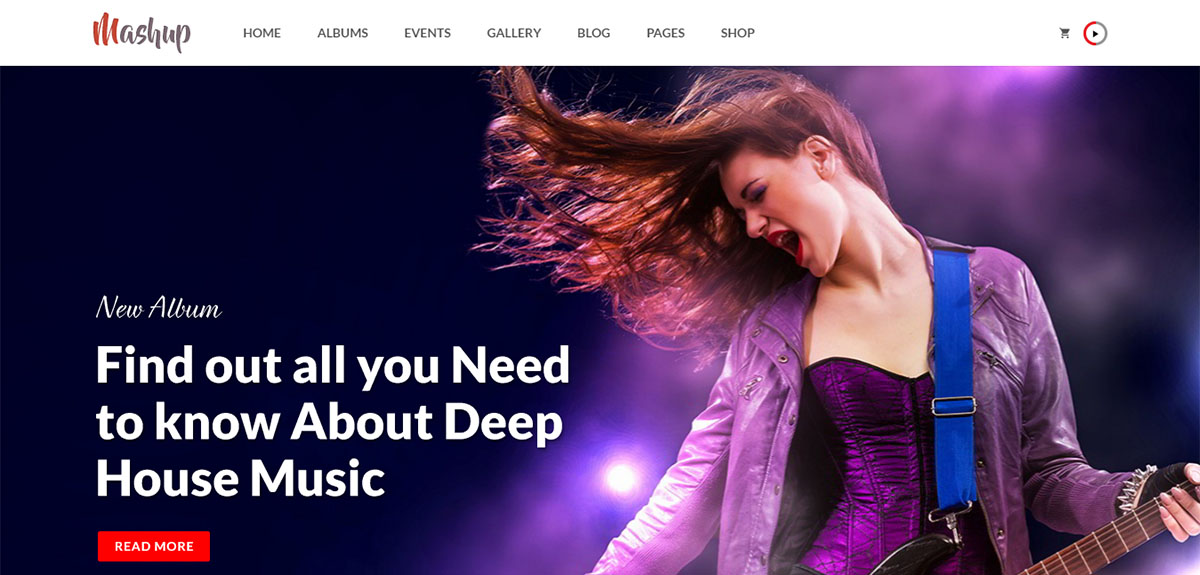 Standout features:
Touchable full screen slideshow for main page with YouTube / Vimeo support.
Can use different background for each page.
Three customizable purchase options.
Template for maintenance page.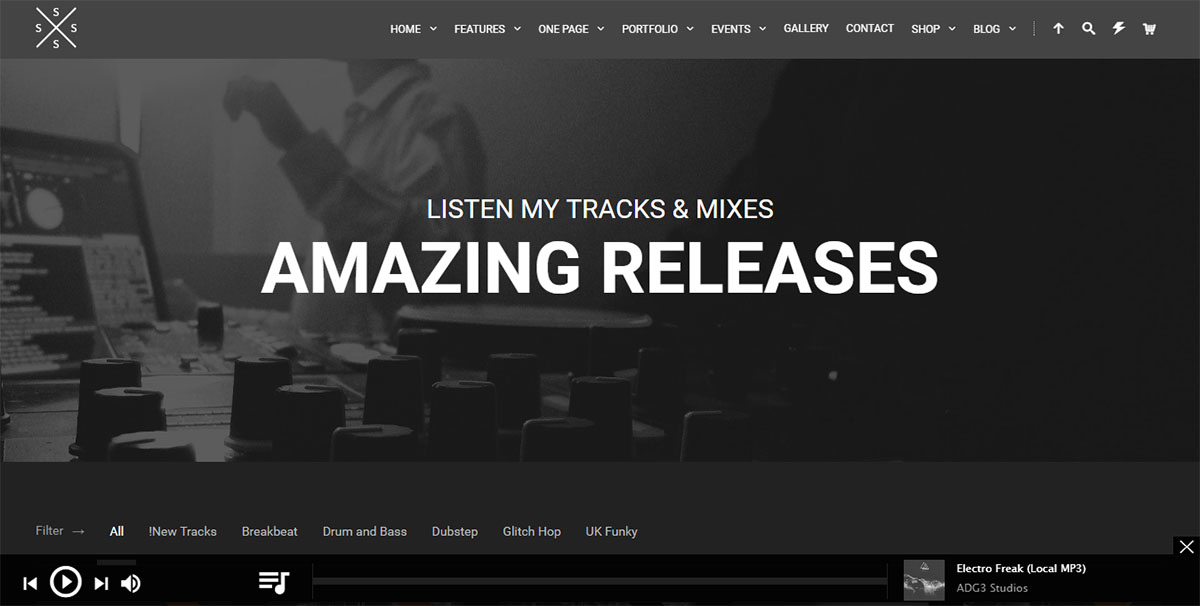 Standout features:
SCAMP music player with SoundCloud API support included.
Dynamic playlist, you can add special links via HTML.
AJAX ensures continuous playback during page browsing.
Titles, images, videos, sliders and maps can be added in header.
Every track in playlist can have its own cover image.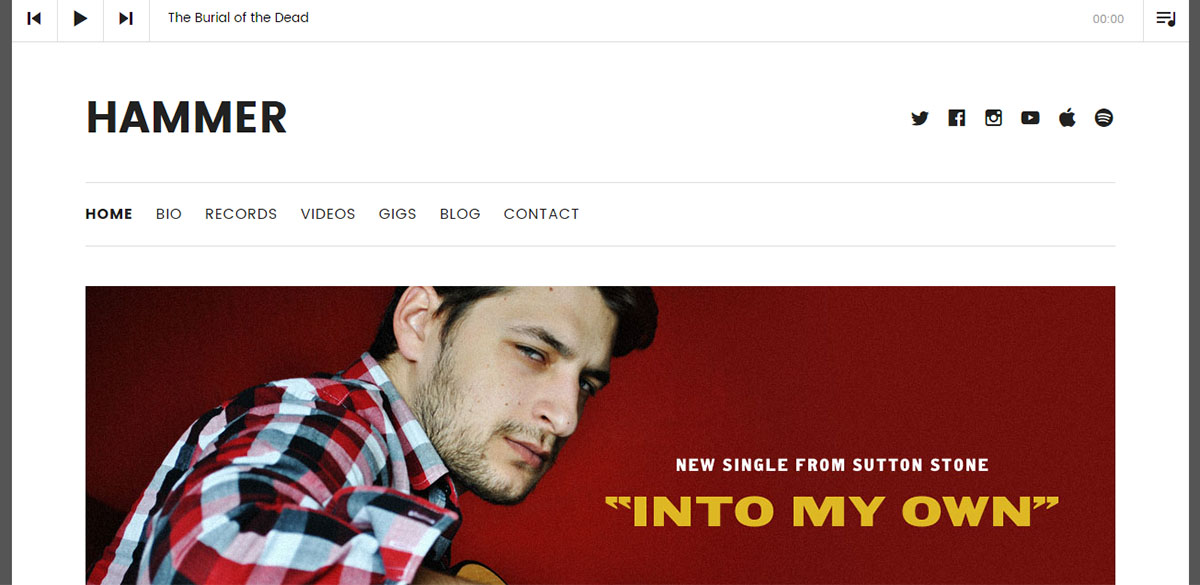 Standout features:
Highlight a custom playlist across the top of your entire site with the built-in audio player.
Individual gig pages display time, date, venue details, ticket information, calendar links, and more.
Each track links to an individual page where you can add lyrics, download options, or additional information about your songs.
Add your latest YouTube, Vimeo, or other supported video service by simply providing a URL.
WooCommerce, Easy Digital Downloads and Breadcrumbs support.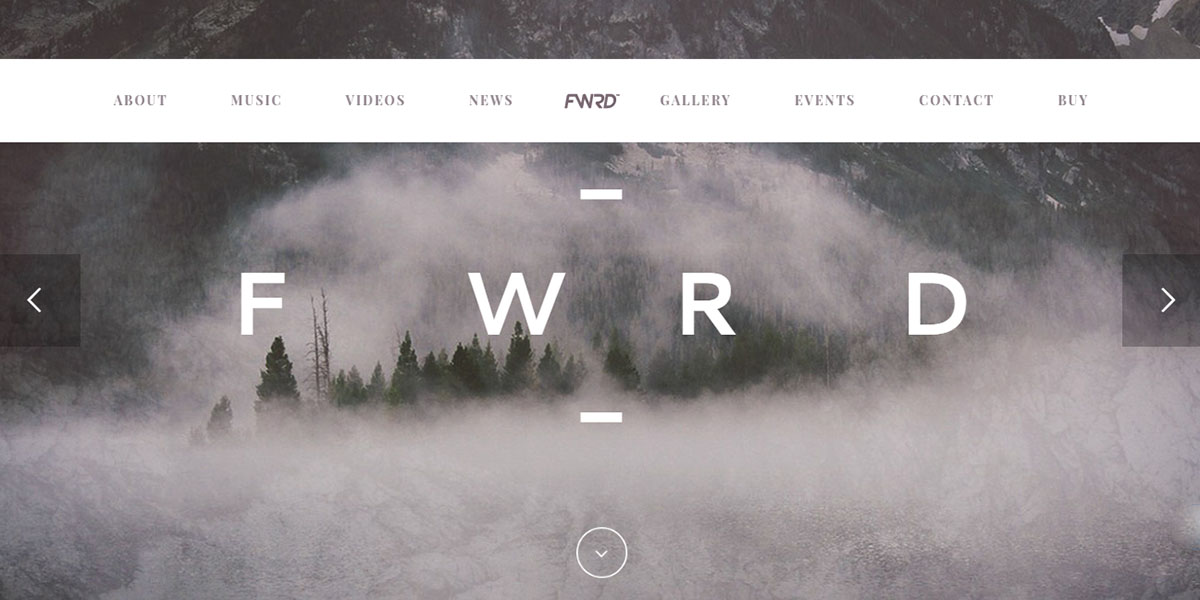 Standout features:
More than 100 header design options, including 3D pusher menu.
Essential Grid plugin included so you can display content in a highly customizable grid.
Hot Links to allow viewers to move between sections easily.
Add mp3 players on any page using custom visual composer widget.
Link each mp3 to internal or external links (useful for downloads).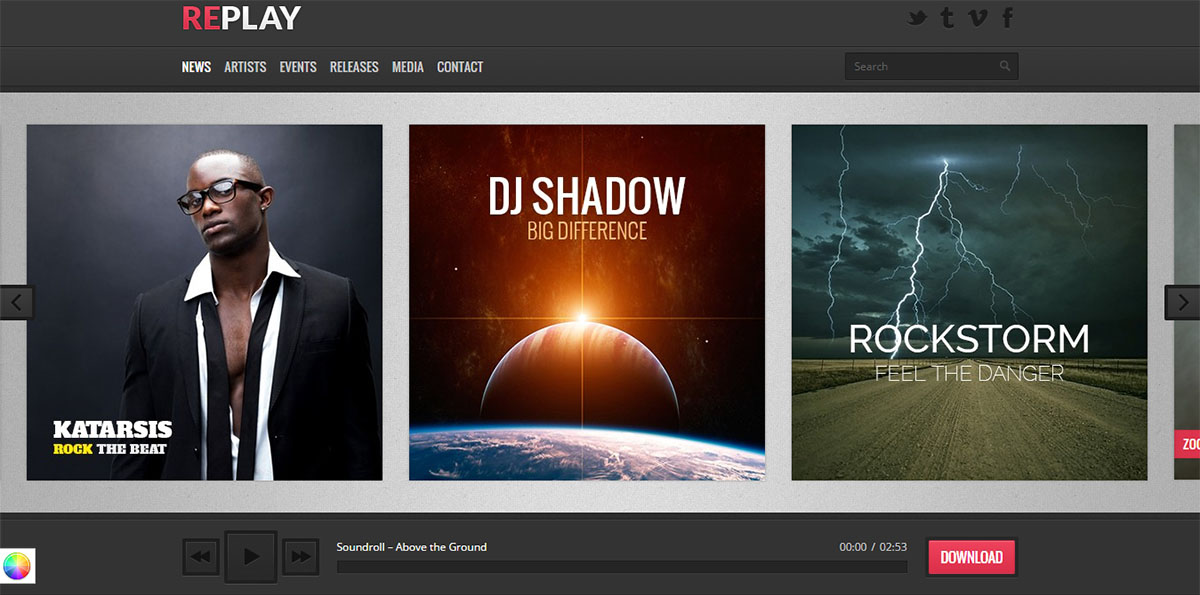 Standout features:
HTML5 audio player that plays self-hosted mp3 files.
Social Media widget that supports Facebook, Twitter, YouTube and SoundCloud.
Share button on every page and social links integration.
Custom fields such as date picker for events and track list editor for releases.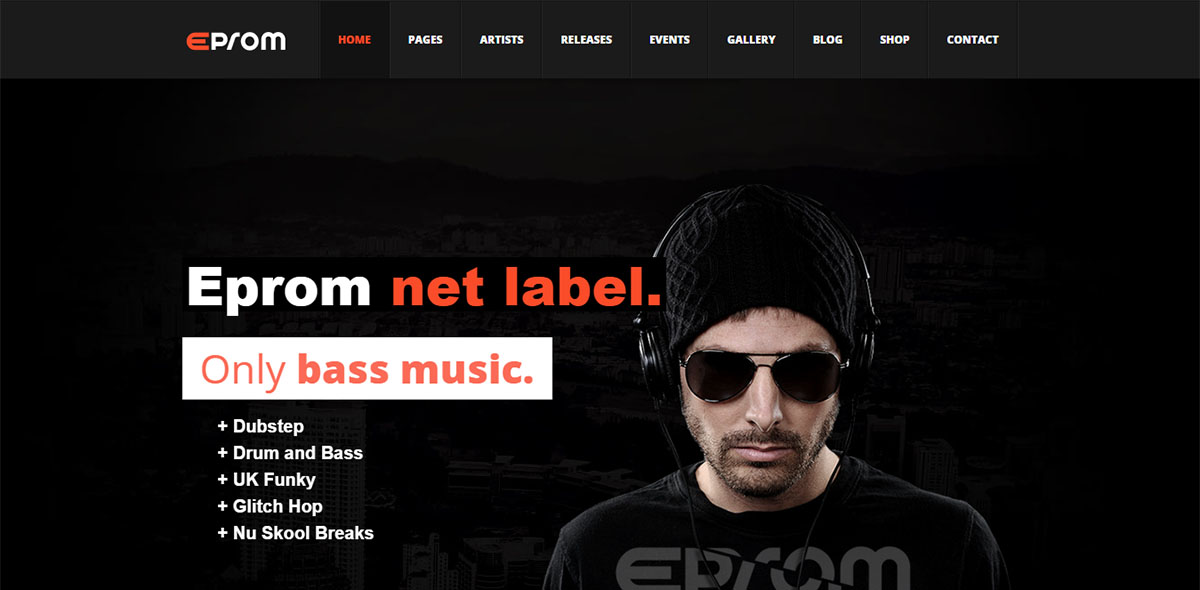 Standout features:
Powerful template management system – R-Panel included.
Pop-up window with a list of available shortcodes in your WordPress Editor.
Event Manager can set repetitive and multi-day events.
2 Sliders – Nivo Slider and Revolution Slider – you can add them to each page.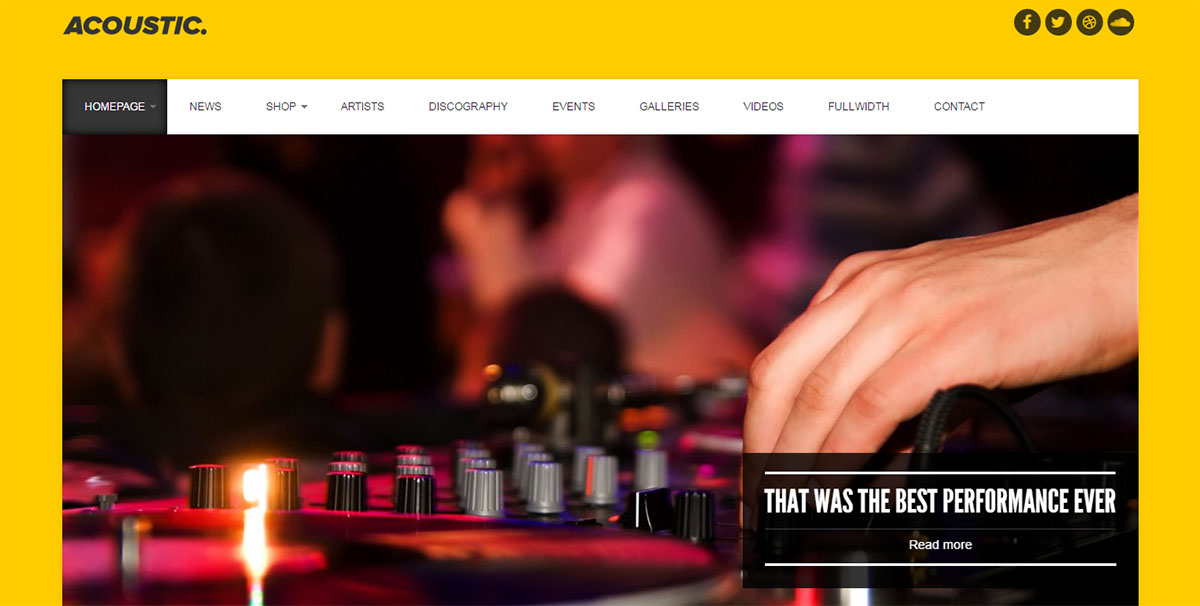 Standout features:
6 custom post types – slider, discography, videos, photo galleries, events, artists.
WooCommerce ready – sell music / tickets with ease.
Sliders are touch swipe compatible.
4 home page layout options.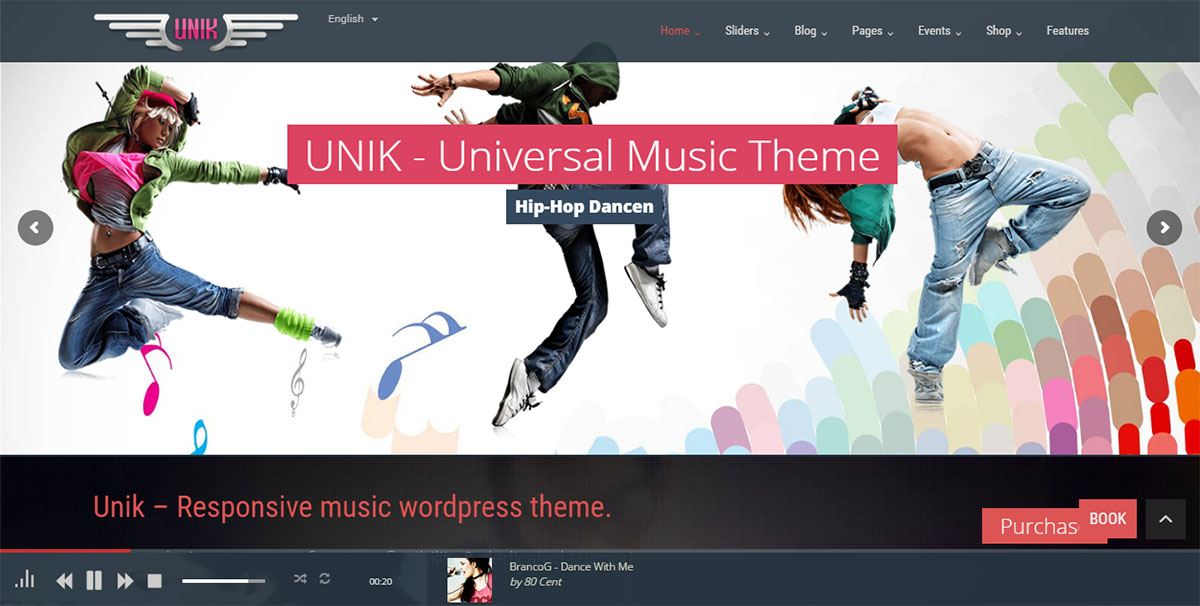 Standout features:
Ajax driven content load so music won't stop on page change.
50+ parallax animations.
Booking form support.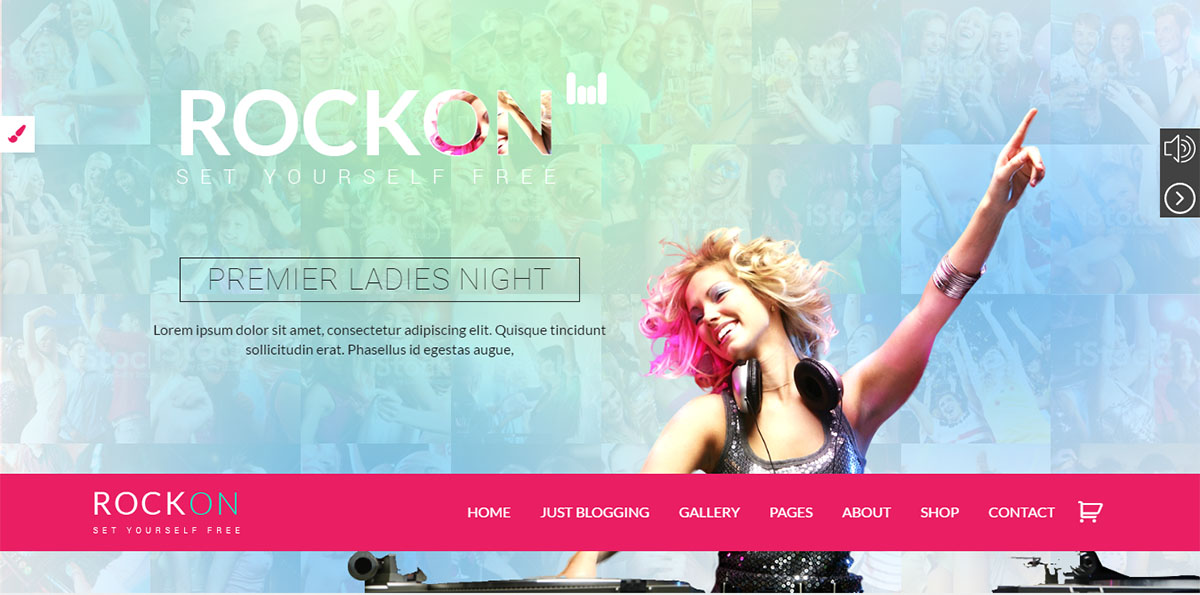 Standout features:
Clean, minimal design.
Animated Revolution Slider option.
Working PHP Ajax Contact Form.
Filterable portfolio (supports images, video & audio).
Active and hover options.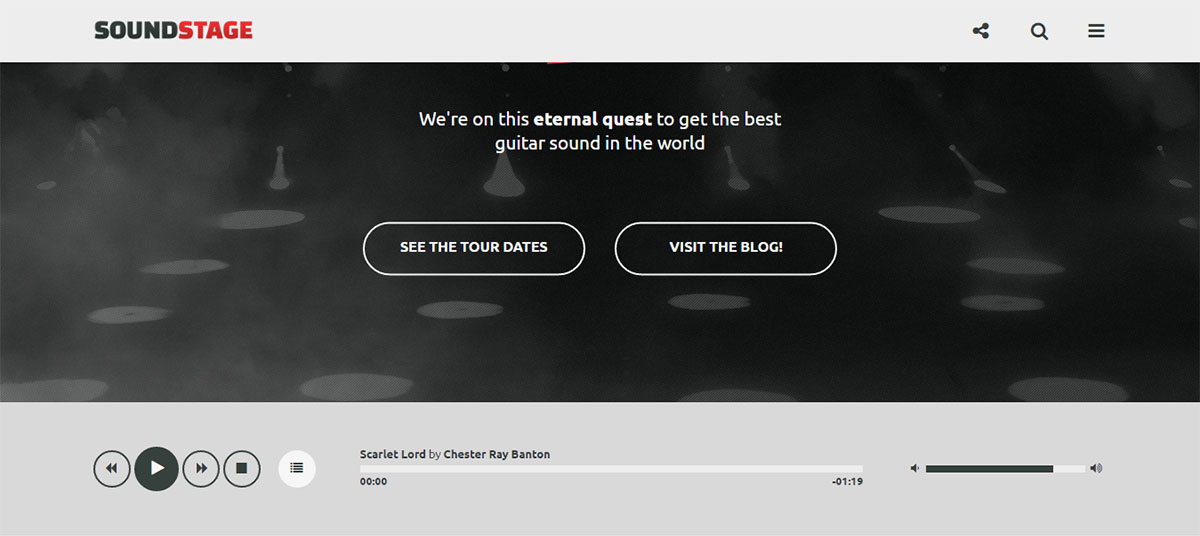 Standout features:
You can have as many players as you like.
Create and display playlists in sections, along with linking to external sites with custom post types.
One-page or multi-page sites.
Custom latest albums widget included.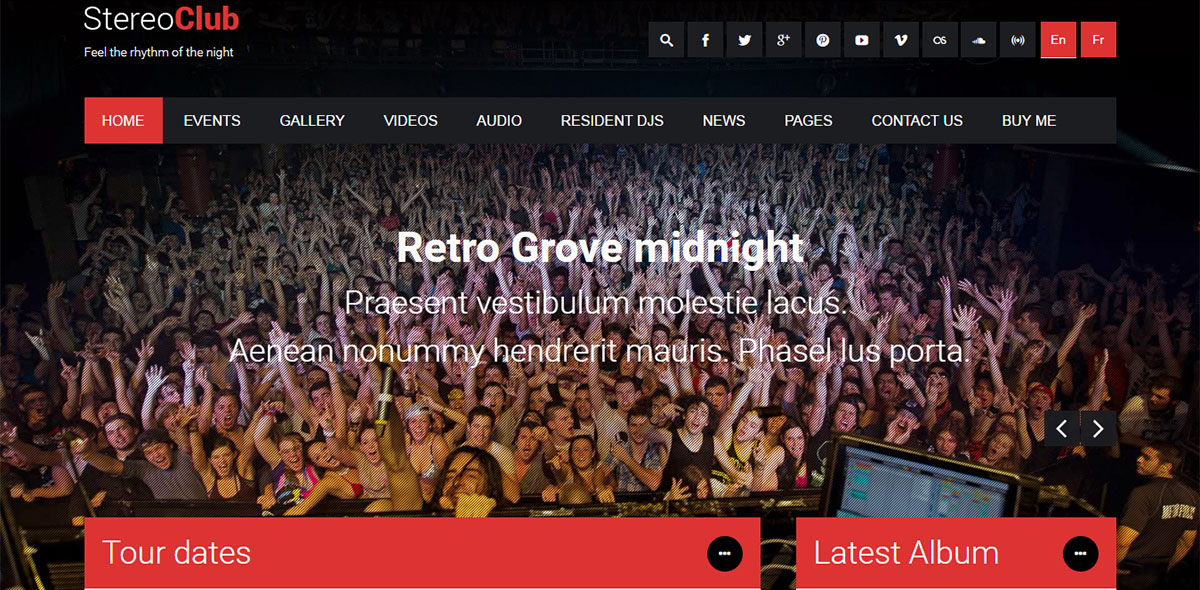 Standout features:
Comes with 5 custom post types and 13 widget areas.
Threaded comments.
Open graph and custom logo.
Custom share buttons.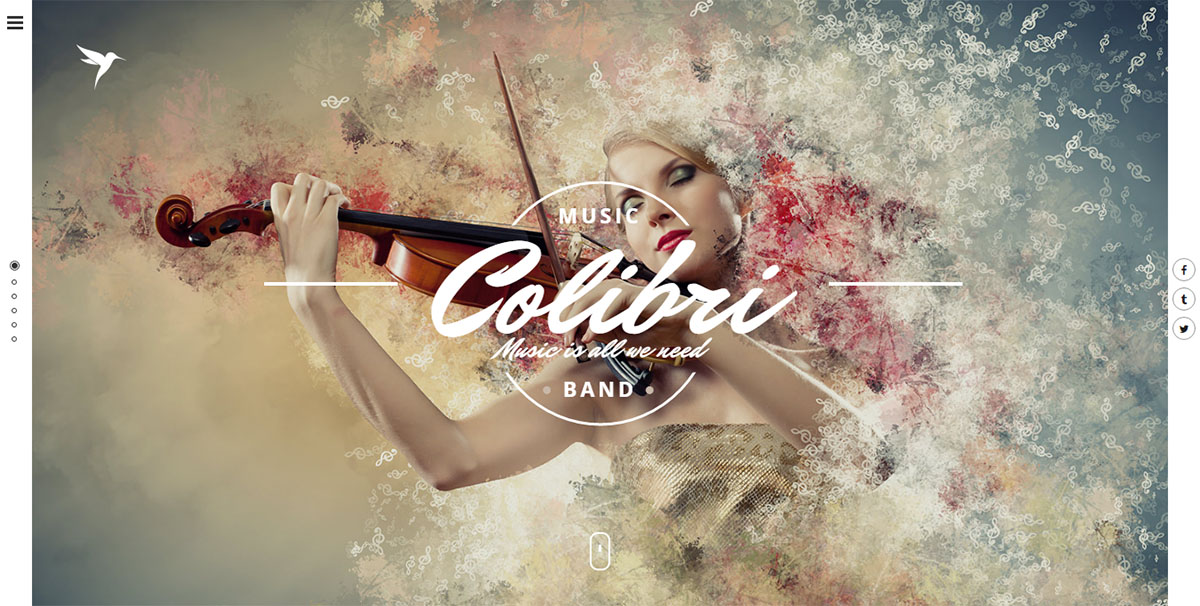 Standout features:
Soundcloud, Twitter, BandsInTown and Instagram integration.
One page feature.
Custom background image for each page.
Powerful Redux Framework admin panel.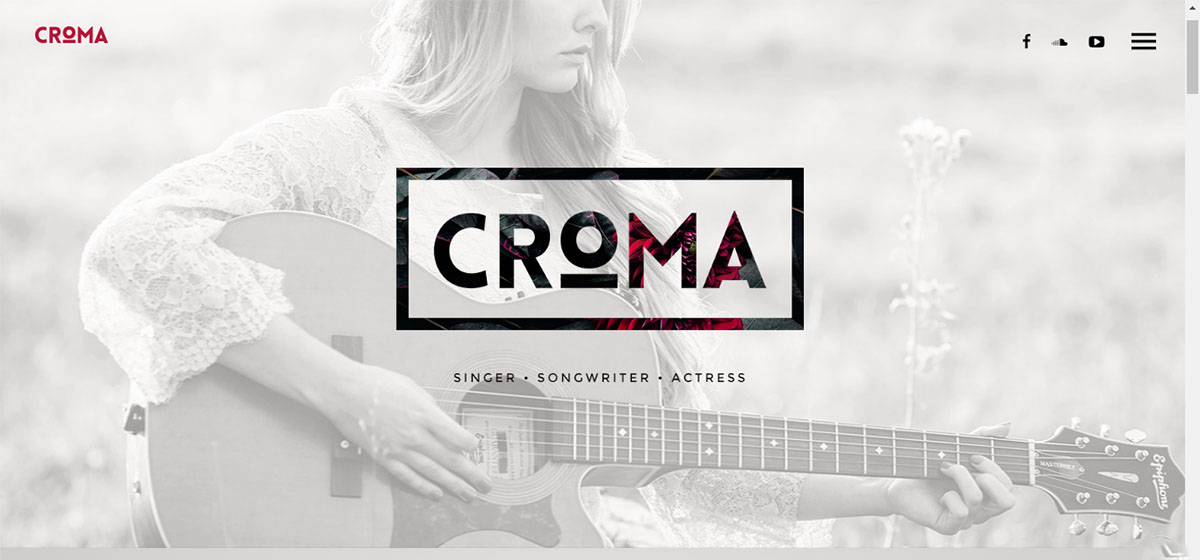 Standout features:
Hot Links to help visitors jump between sections – featured content link can be stuck to the top of the site.
Fully integrated WooCommerce.
AJAX search to help visitors search within your site.
For every album, you can set multiple options – lyrics, mp3, reviews, SoundCloud, MixCloud and BandCamp.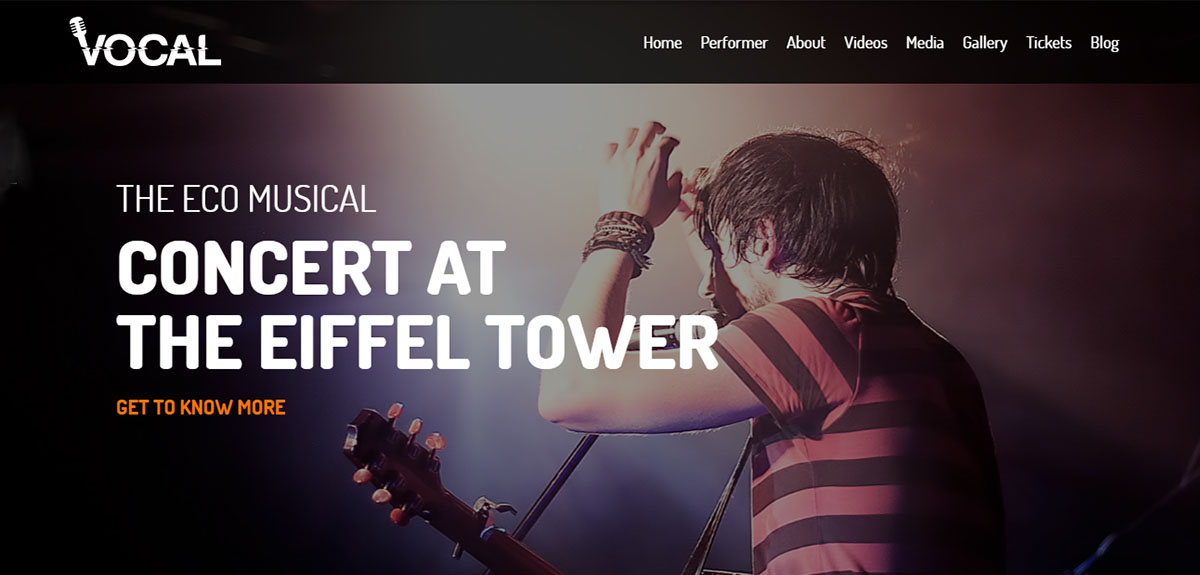 Standout features:
6 pre-defined color presets.
Styled upcoming events with location map and the tickets price option.
MailChimp integration to take care of sign-ups and un-subscribes.
Standout features:
Full event support, including sale of tickets.
8 page templates.
5 custom post types.
Custom footer text.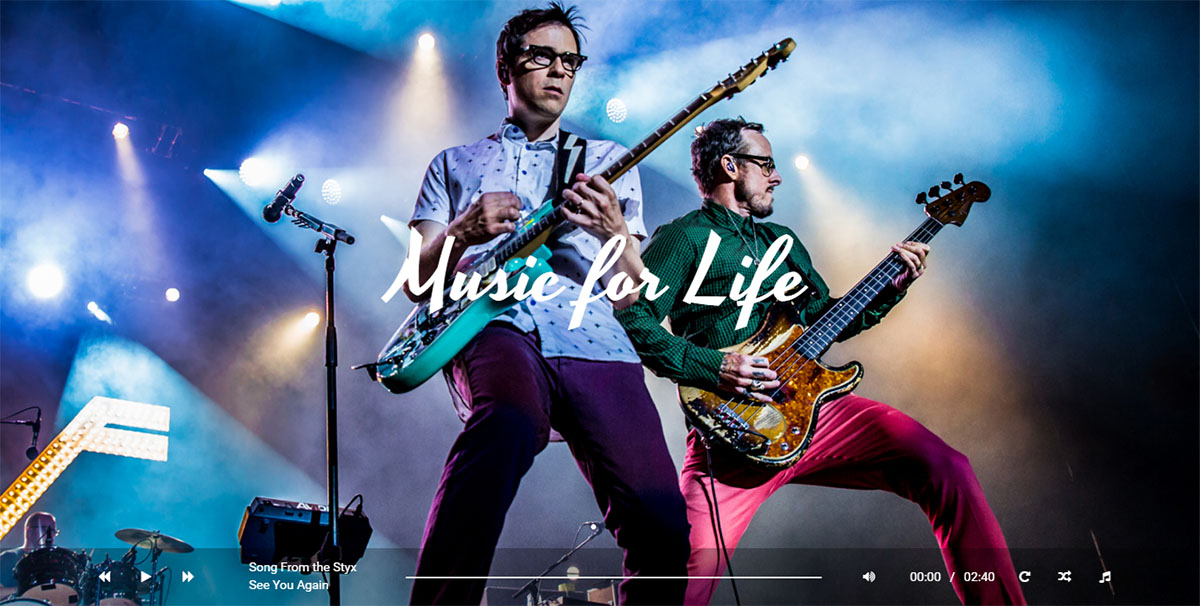 Standout features:
8 theme skins to suit different kinds of music.
Modern, mobile touch slider with hardware accelerated transitions included.
Sell tickets directly on your website.
404 page and countdown page included.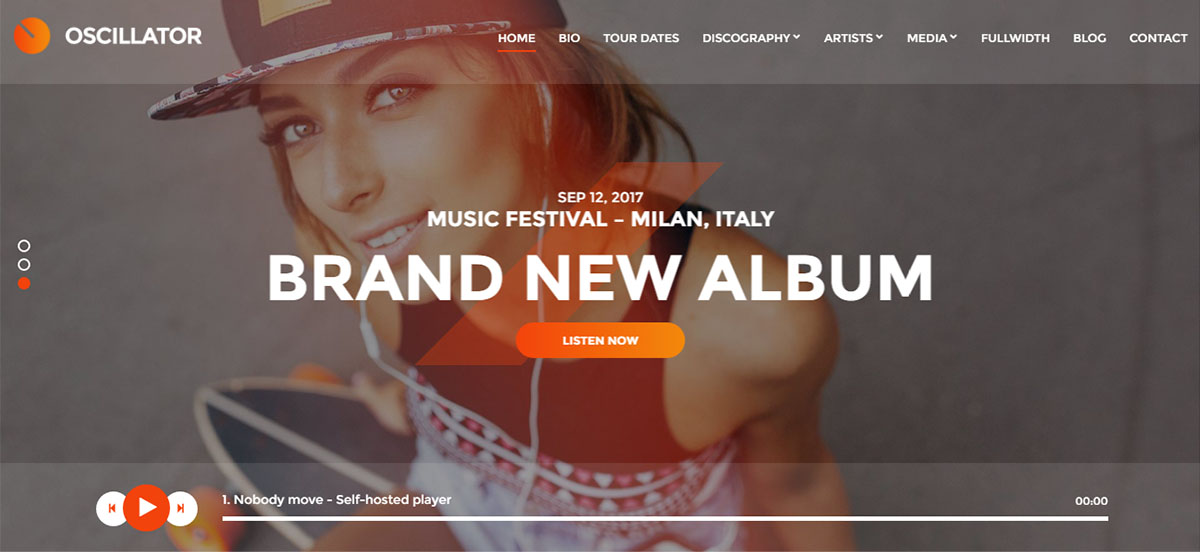 Standout features:
Streaming audio player so viewers can listen to your live station.
Custom widgets for content, social networking, Twitter, Flickr and more.
For each discography item, you can add as many tracks as you want.
Sophisticated events management system to keep track of all your future (and past) gigs.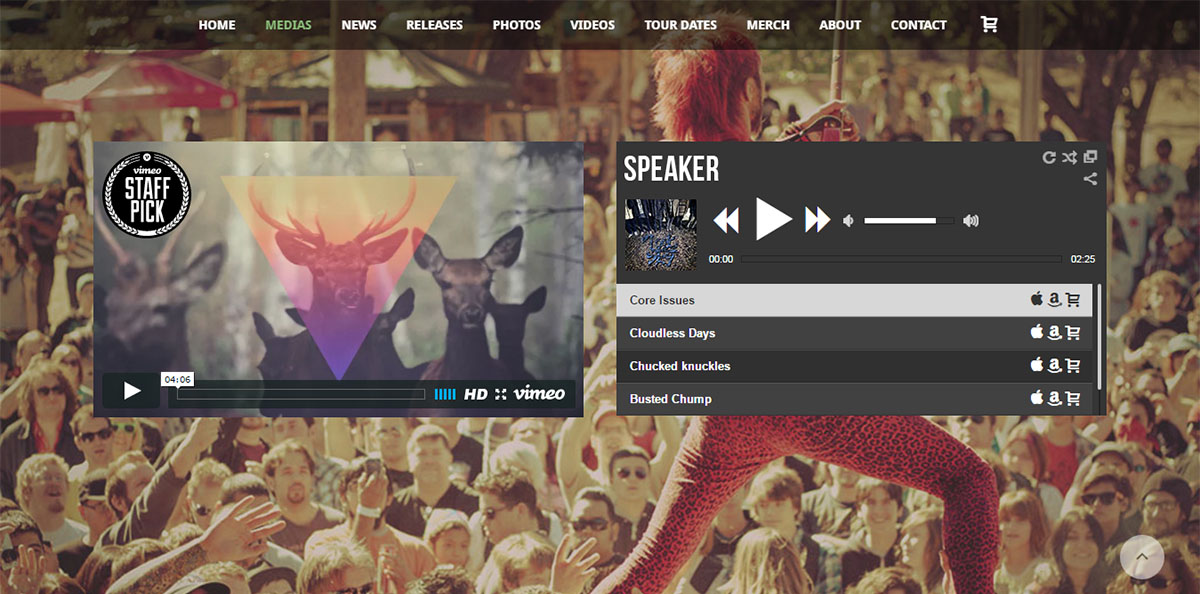 Standout features:
Easy-to-use one page music WordPress Theme, also supports multi pages.
Fully integrated WooCommerce.
Multiple Playlist — advanced mp3 player to spread your music online.
Supports WordPress Video and Audio playlists.
Instagram widget included.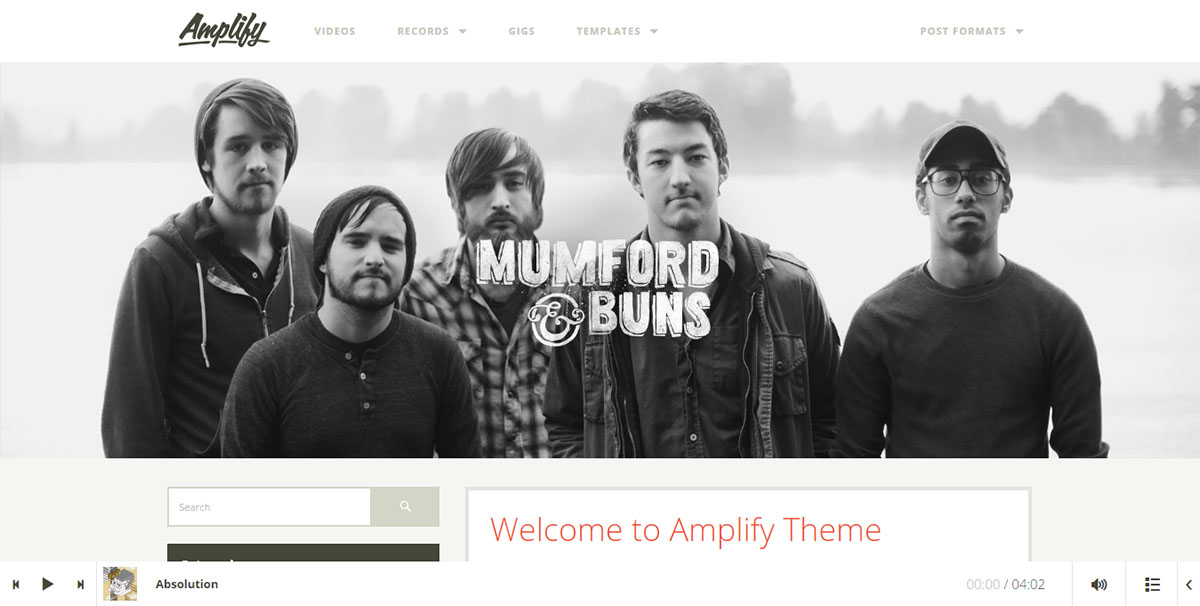 Standout features:
Integrates with the AudioTheme plugin to display albums, gigs, and videos.
Offers integration with Beaver Builder.
Über Customizable.
Developer friendly.
Uploading and presenting audio files is easy and secure.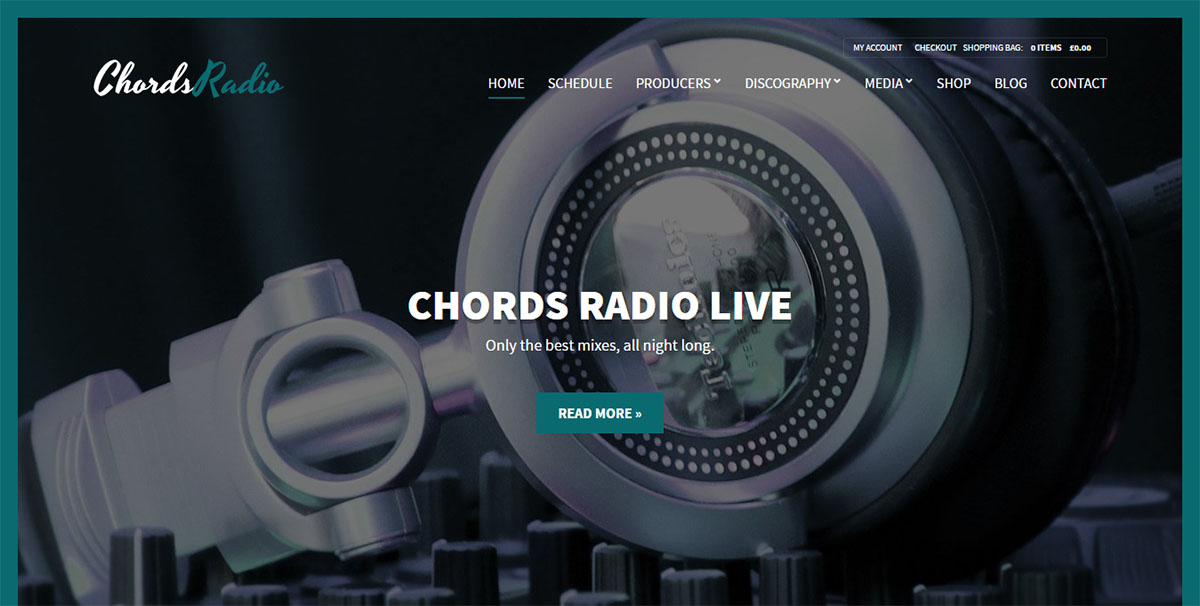 Standout features:
Mp3, Shoutcast & Icecast stream music player (Soundmanager2) included.
Audio player support, streaming audio included.
Over 50 combinations of listing templates.
Multiple level dropdown menus.
Events management can support recurring events also.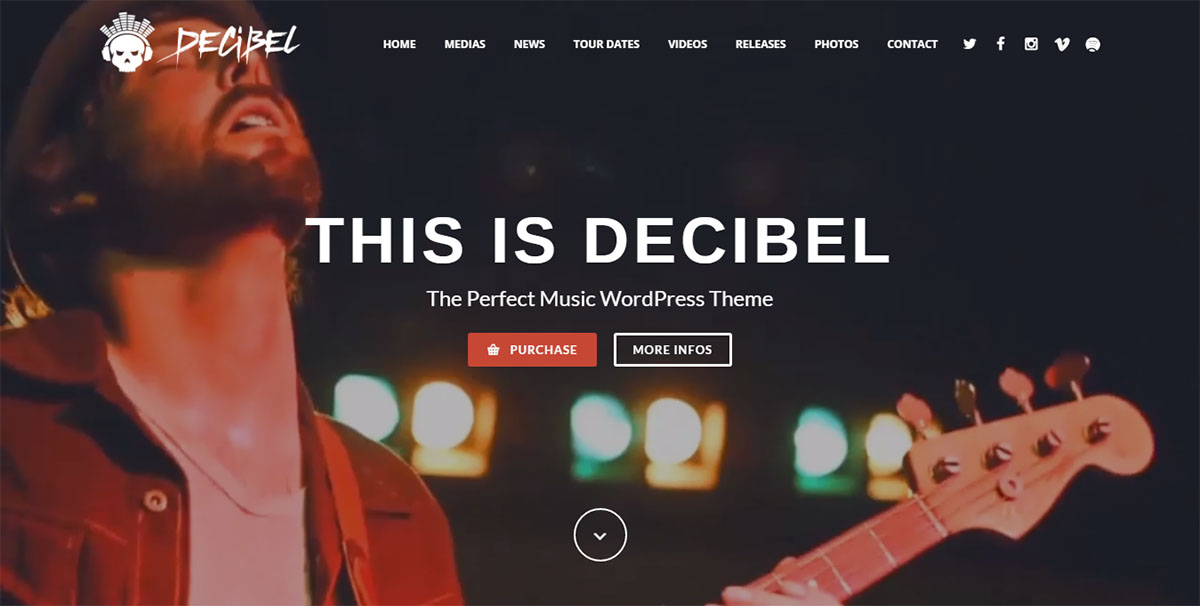 Standout features:
Multiple playlist — advanced mp3 player to spread your music online.
Display all information about stores with the awesome tour dates plugin.
Discography with many layout options.
Premium plugins of value $50 included.
WooCommerce and Mailchimp ready.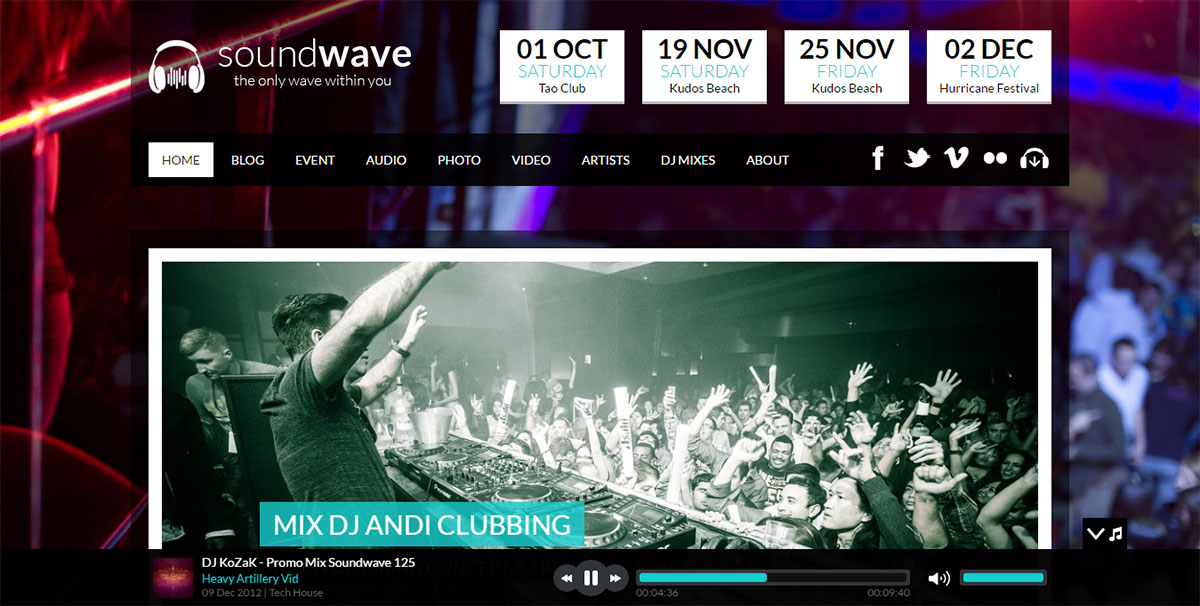 Standout features:
Non-stop music radio stream.
You can choose from more than one display mode.
Each event can be displayed in its own map with location, venue, price and availability of tickets.
Allows you to have how many photo albums you want.
Share any kind of videos from YouTube or Vimeo and also show the location or date of recording.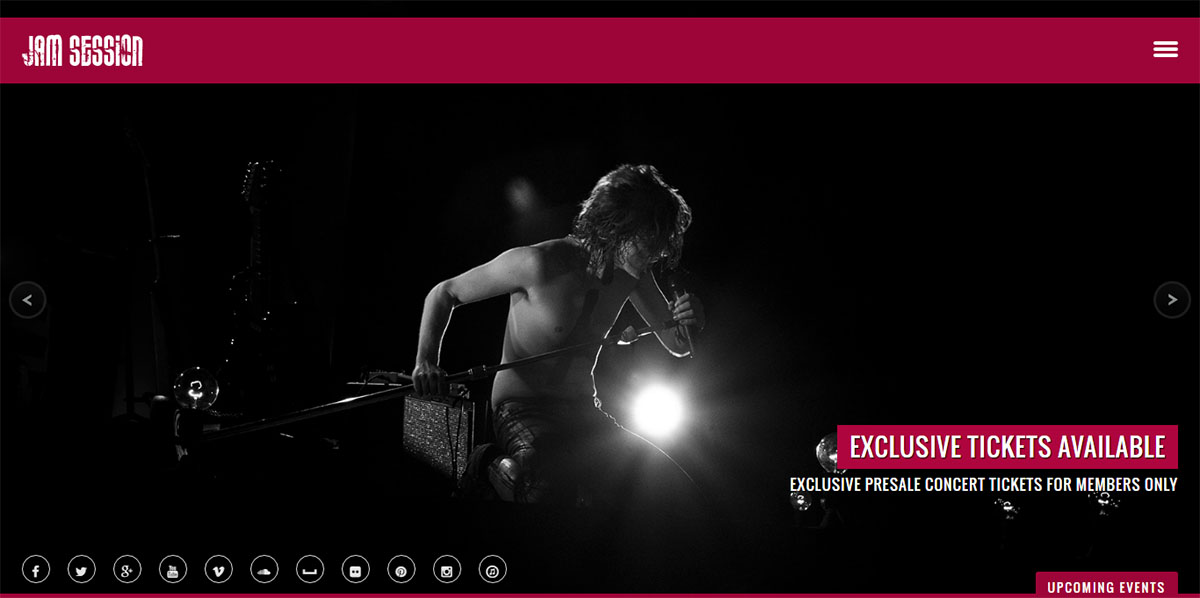 Standout features:
Slider Revolution / built-in slider.
Custom post types for discography, events, photo gallery and videos.
Touchable full screen slideshow for main page with YouTube / Vimeo support.
Full width contact page templates with reCAPTCHA verification.
Template for maintenance page.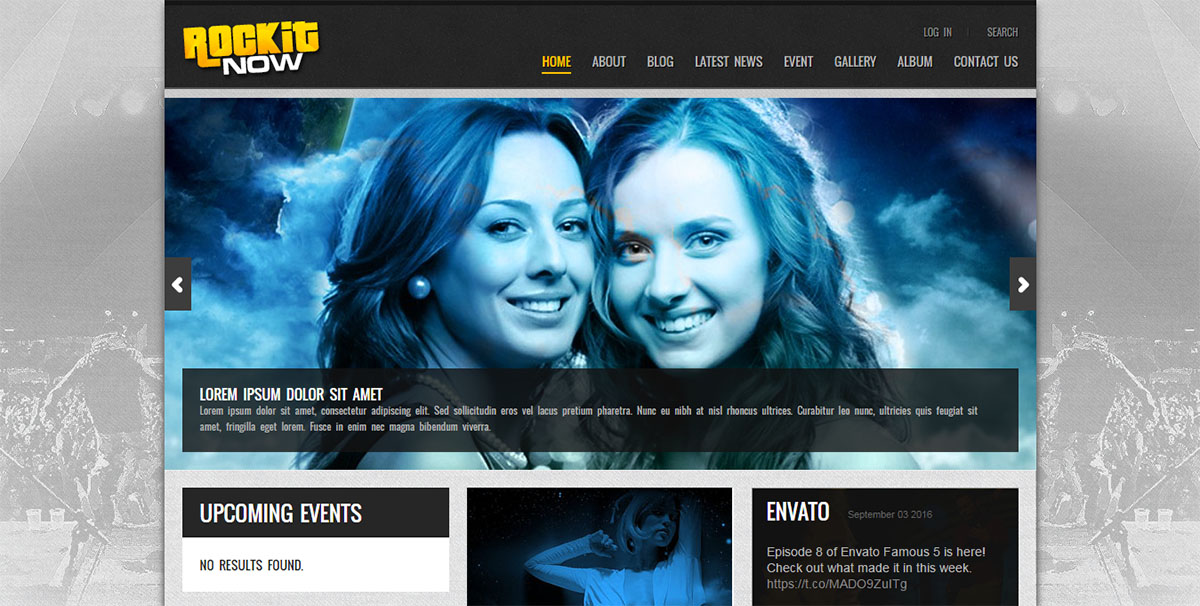 Standout features:
Comes in 8 pre made color variations.
3 sliders – Nivo Slider, Sudo Slider and Any Thing Slider.
Manage Events + Calendar.
Custom widgets included for playlists, events, upcoming events and Twitter.
Standout features:
One-page / multi-page styled music WordPress theme.
Sticky Music Player with SoundCloud.
Includes WP Auto Photo Albums, a multi level image grid worth $17, included.
Built-in Fancybox Lightbox.
Great social media support.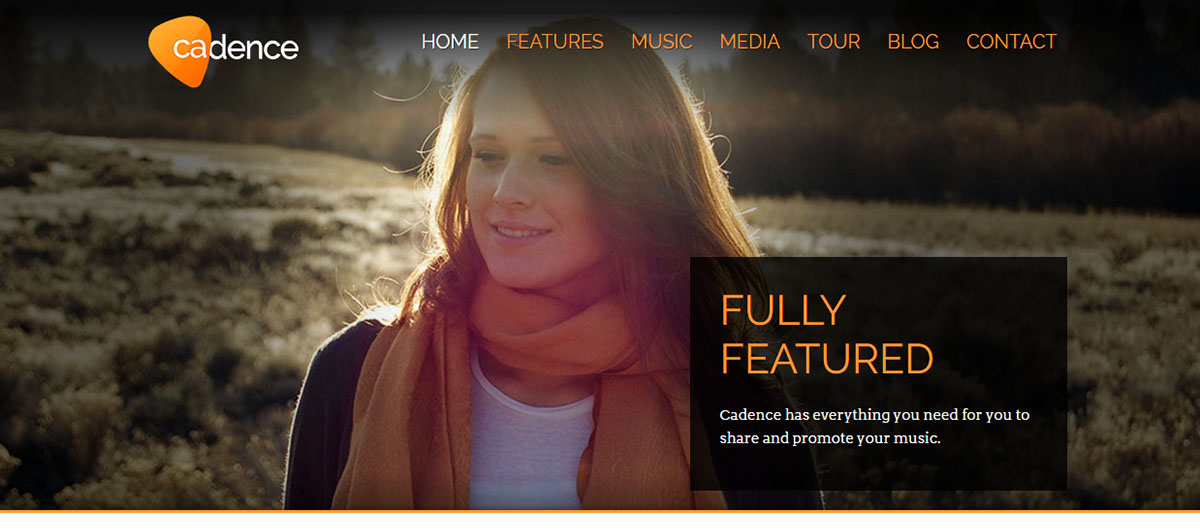 Standout features:
Tour schedule management and music album management.
Several custom page templates and several custom widgets (Twitter, tour, and more).
Social media integration (including Instagram).
Dark and light color schemes with unlimited primary colors.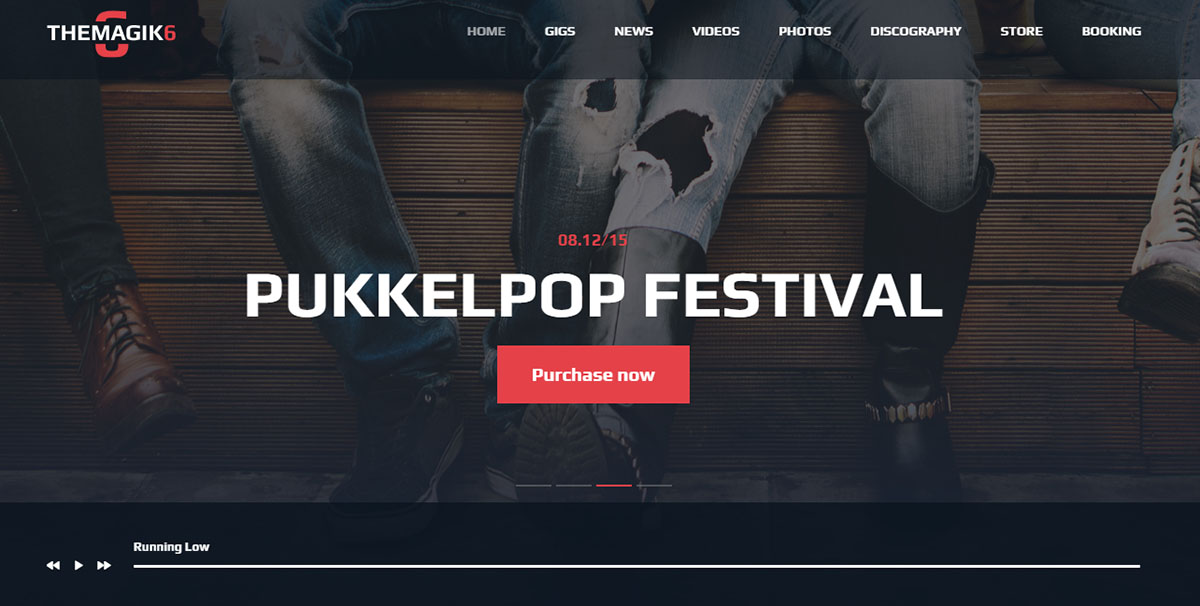 Standout features:
Boxed and wide pages layouts with different header styles.
Many awesome hover effects.
Includes Swiper Slider for posts and galleries and Revolution Slider as home slider.
Interactive Ajax search mechanism.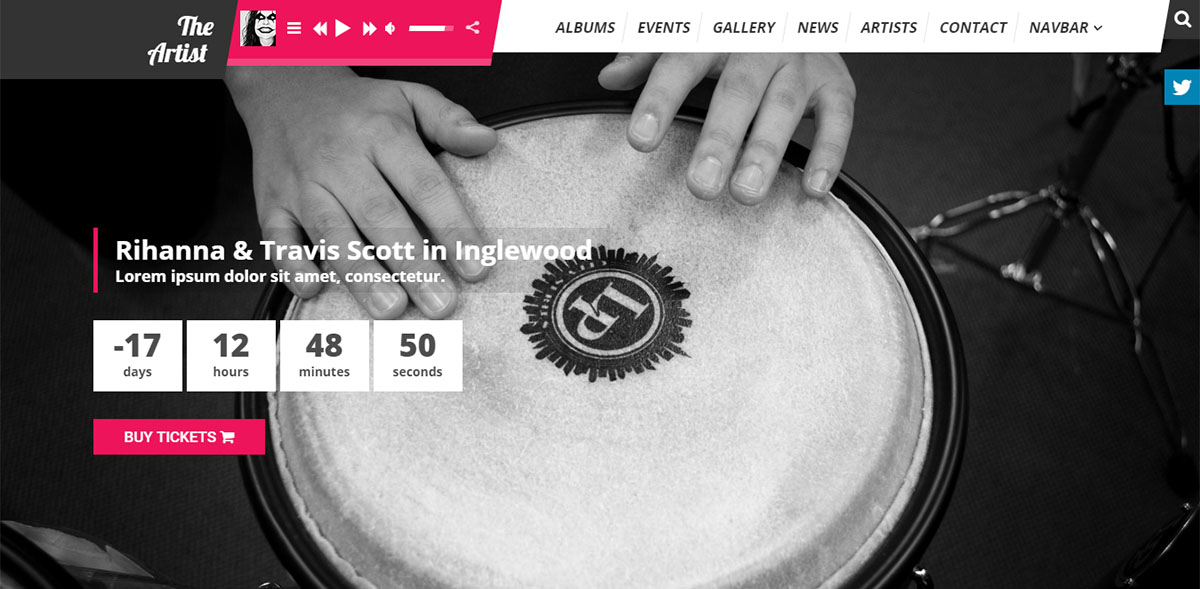 Standout features:
Audio Player and SoundCloud Player.
Instagram widget and Twitter Feeds widget included.
Countdown timer included.
Visual Composer and Revolution Slider included.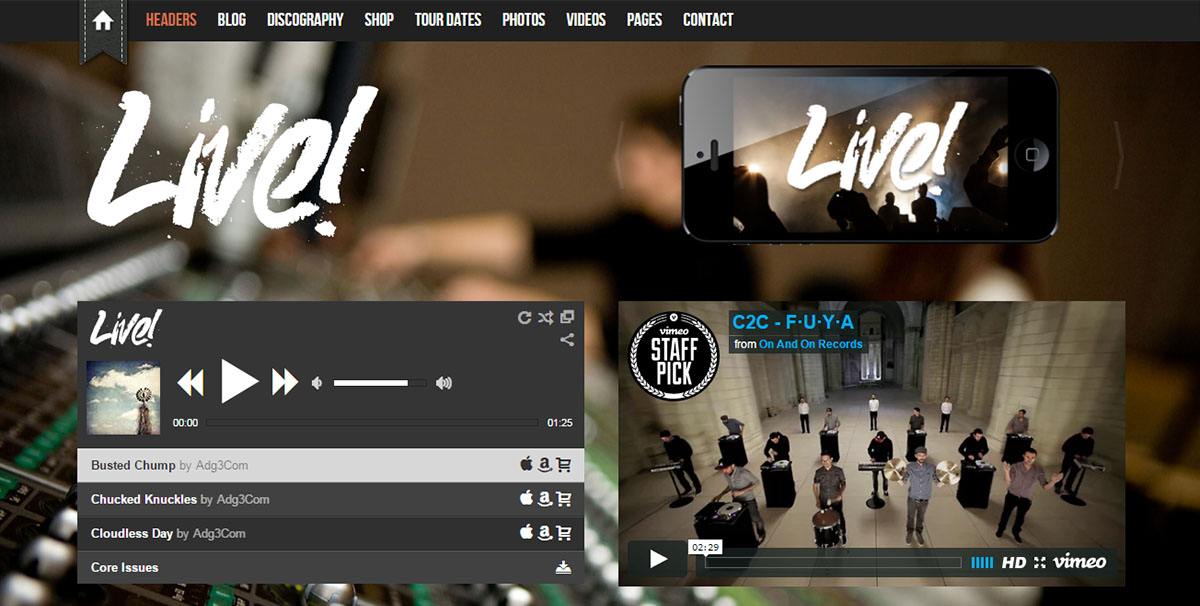 Standout features:
Multiple playlist — advanced mp3 player to spread your music online.
3 preset skins (light, dark, grunge) & 2 layouts (full width, boxed).
Header Slider (flexslider) and Revolution Slider included included.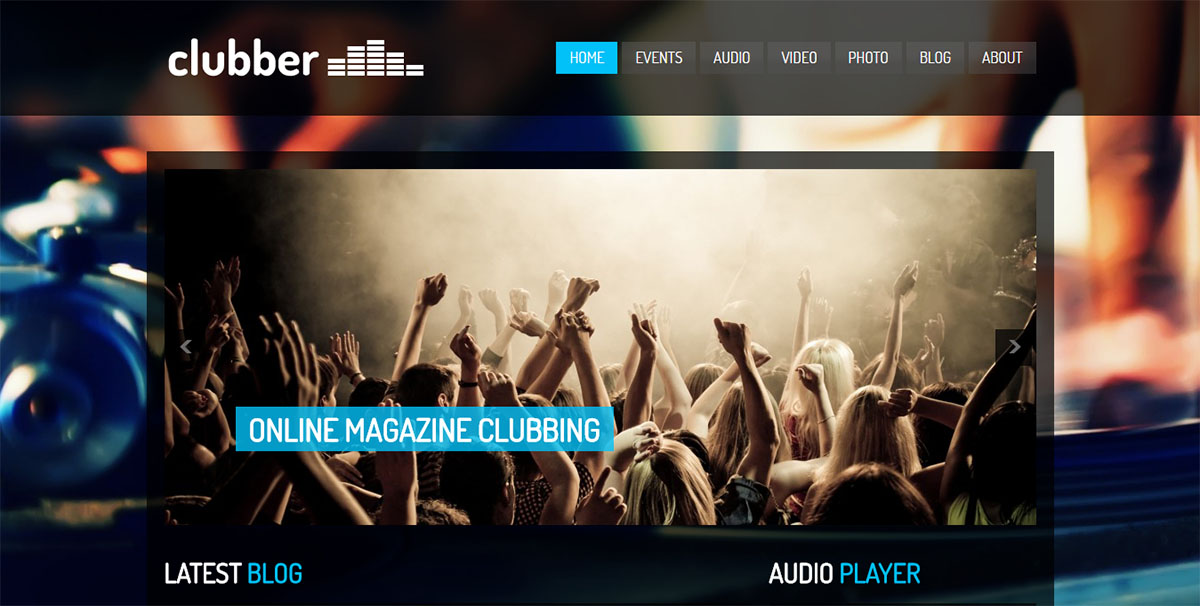 Standout features:
8 customs widgets including audio player and upcoming events.
Events displayed effectively.
Allows you to have as many photo albums as you want.
Share any kind of videos from YouTube or Vimeo.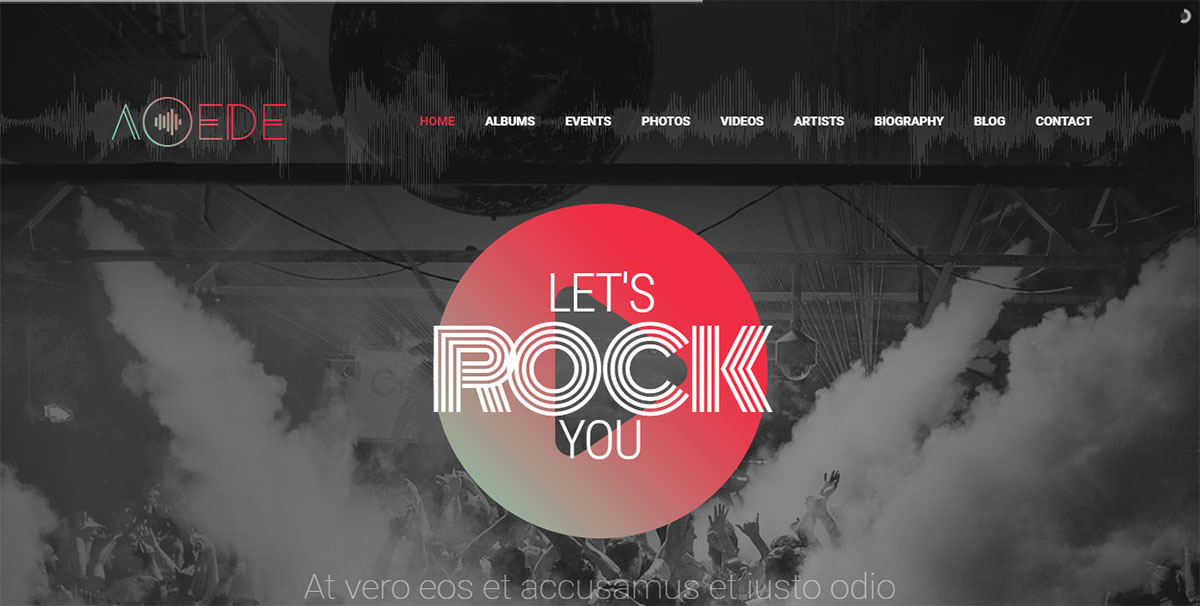 Standout features:
Light, fast and powerful multi purpose theme with template for music websites included.
Multiple navigation and pagination styles.
Powerful Edge slideshow.
Doubles as an online store.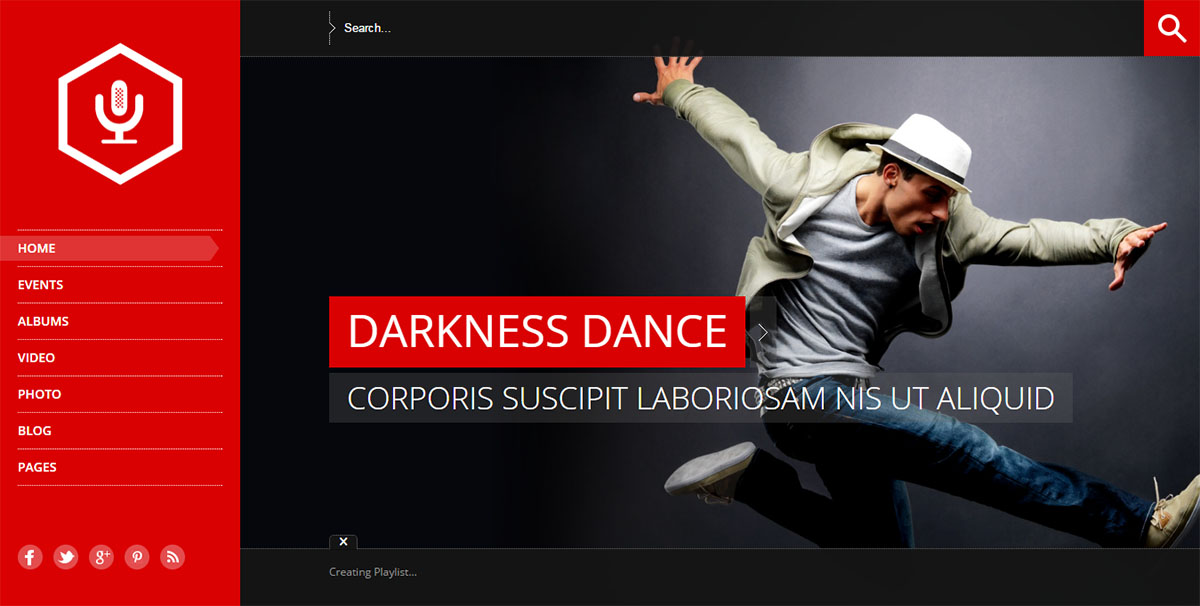 Standout features:
Smart audio player.
Smart events manager.
25 predefined skins.
4 custom widgets.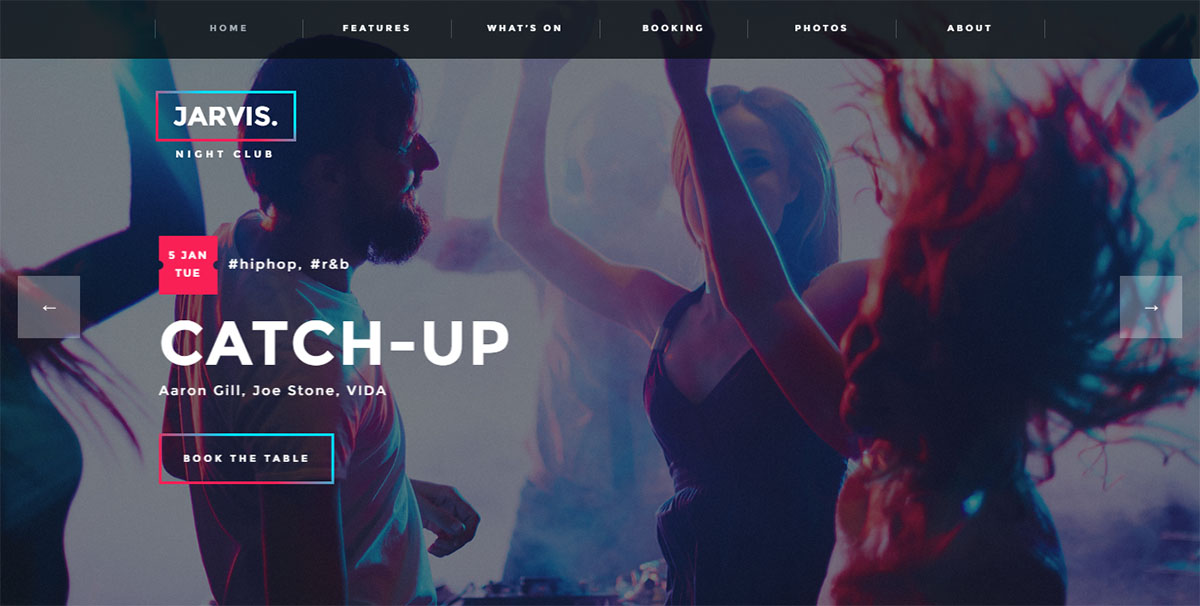 Standout features:
Design developed specifically for any kind of Night Club, Concert or Festival.
Compatible with many awesome plug-ins.
Interactive Ajax Search mechanism.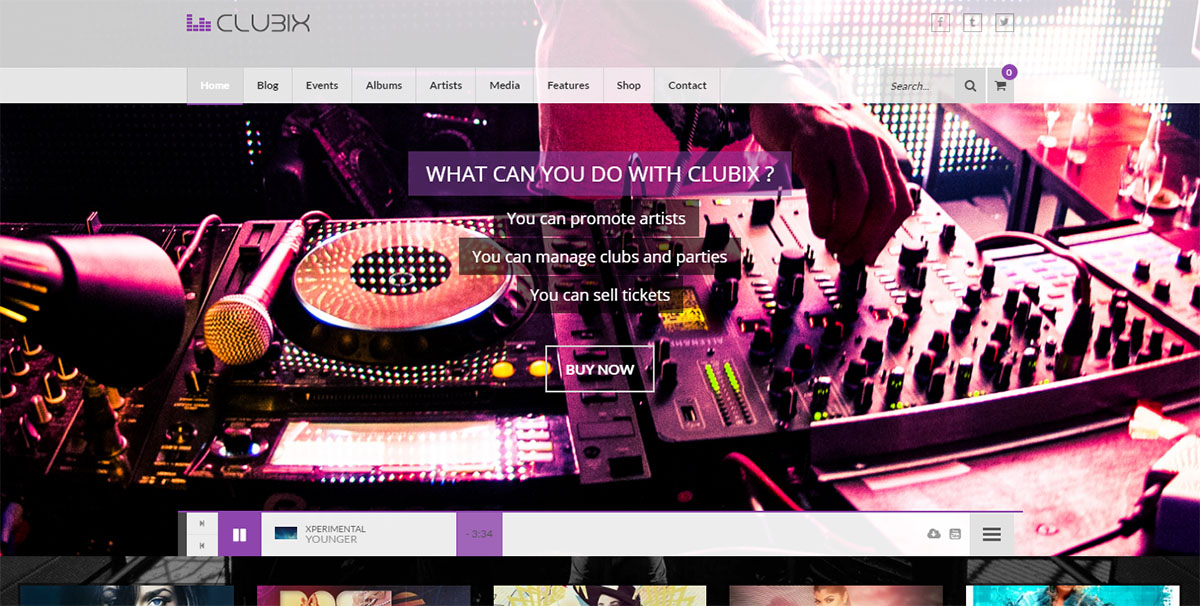 Standout features:
Visual Composer and Slider Revolution.
Recurring events supported.
Mp3 and radio player in 2 versions – normal and large.
WooCommerce support.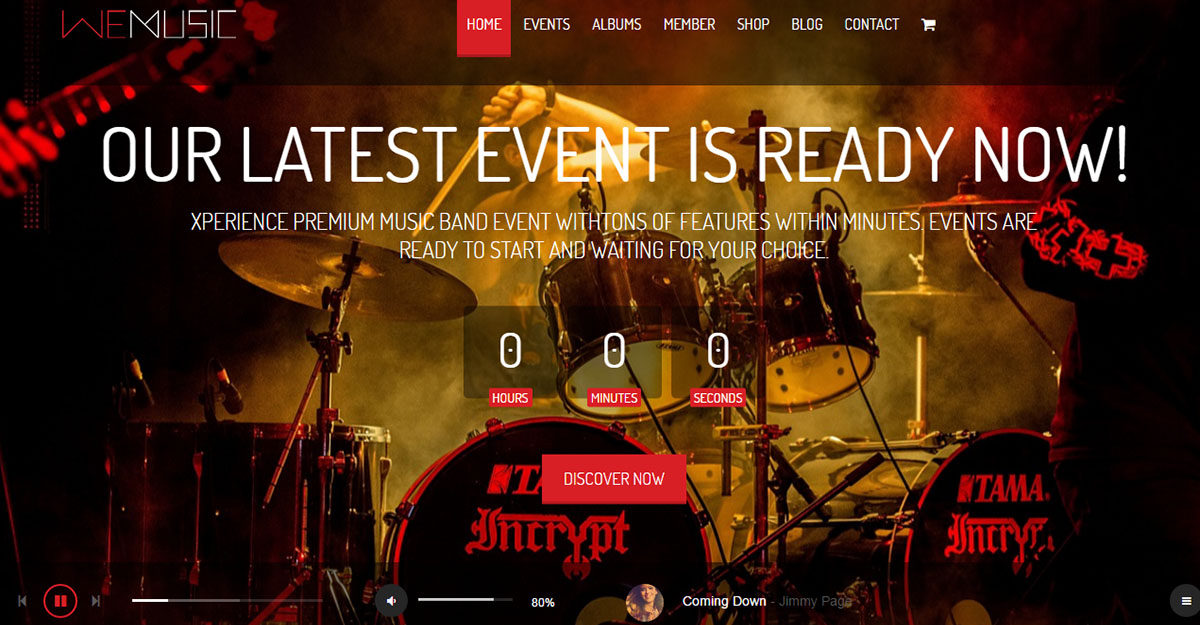 Standout features:
WooCommerce integrated.
5 homepages designed with featured Noo Countdown shortcode.
Event Calendar plugin compatible.
Final Words:
…which rounds off our list of 55 themes. Hopefully you've found one that both does everything you require and portrays your music group/band in its best possible light!
Using any of the above? Know of any other superb WordPress themes for music groups/artists?
All comments are held for moderation. We'll only publish comments that are on topic and adhere to our Commenting Policy.
Our commenting form also supports the use of Markdown.