A Detailed Introduction to the Best WordPress eCommerce Plugins (2019)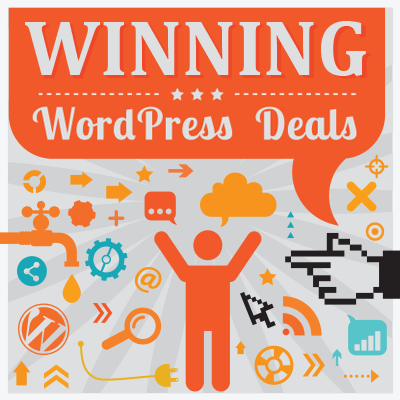 The internet is the perfect vehicle for connecting hungry buyers with passionate sellers. If you can find (or create) the right products, you can make a good living by selling them online — in all kinds of niches.
With impressively low start-up costs, eCommerce is one of the most accessible business models for would-be entrepreneurs. Just think of the money you could save by selling via a website, with no need to rent out brick-and-mortar premises.
If you've found the right product, then you're already halfway there. The next step is to focus on the logistical side of setting up an online store — which is where things can get a little tricky.
There are, of course, plenty of extremely capable eCommerce store building solutions out there (such as Shopify and Magento) — but picking which one to use isn't always a straightforward decision. In my opinion, for the vast majority of people wanting to expand and grow an eCommerce business, WordPress is an almost perfect solution.
'Why WordPress?' I hear you ask. Well, it's essentially a combination of the platform's low set-up costs, an incredibly powerful feature set (that can be easily expanded by using any of a number of plugins), and its overall ease of use (even for beginners).
Now, because WordPress doesn't come with eCommerce functionality baked in by default, to add everything that's required, such as a shopping cart, product showcase pages, and payment processing functionalities, you need to install an eCommerce plugin.
This leaves us with the slightly daunting problem of choosing an eCommerce plugin. Let's take a look at six of the best to help narrow things down:
WooCommerce

Where else were we going to start an examination of the top eCommerce plugins? With more than ten million downloads, WooCommerce is by far the most popular eCommerce plugin around, powering around 30% of all online stores.
Developed by the highly regarded WooThemes team — and originally forked from JigoShop — WooCommerce is available to download free from the WordPress repository, and lets you build and manage all aspects of an online shop from your WordPress dashboard.
For example, WooCommerce makes it super easy to upload all of your products on to a website — including all of your product variations. This also includes digital products, such as PDFs or MP3s, and, with your products added, you're free to upload images, write sales descriptions, and set prices.
After you hit the publish button, visitors will be able to browse your products, add them to a shopping cart, and make a purchase. From the WooCommerce back end, you have full control over inventory levels, plus you can track all orders.
By default, your visitors will be able to pay via a standard PayPal payment gateway. However, if you want to give customers more options, you can integrate all major payment gateways via extensions — including Stripe, PayPal Pro, and Amazon Payments.
This is just the tip of the iceberg when it comes to WooCommerce extensions, though, with hundreds of free and premium add-ons available. These extensions allow visitors to do lots of cool things, such as:
make appointments
sign-up for a recurring weekly/monthly service
pay affordable shipping rates, based on their location and order weight
customise their products
join a loyalty scheme.
These extensions are available from the official WooCommerce store, the WordPress repository, or third-party marketplaces, and are one of WooCommerce's main strengths, allowing you to power-up its already-capable core.
Because of the plugin's popularity, many WordPress theme developers will go to great lengths to ensure WooCommerce compatibility, too.
Oh, and if you're in any doubt about the power (or beauty) of WooCommerce, have a look at one of our earlier posts: a showcase of more than 35 Real-Life Live Examples of Websites Powered by WooCommerce.
iThemes Exchange

If usability is your primary concern, look no further than the iThemes Exchange. Its simple, streamlined interface means you can be up and running in no time — and with minimal technical skills.
The core can be downloaded free, and, as with many eCommerce plugins, is fully extendable.
The out-of-the-box supported payment gateways are PayPal Pro and PayPal Standard. The Stripe payment gateway is also free to use, but must be installed as an extension.
The core is pretty basic, which encourages users to upgrade to the Pro Pack ($199 a year) to unlock all of the advanced features. For the price, you get access to all 22 available extensions. These include:
Table Rate Shipping — variable shipping rates based on a number of factors.
Product Variants — add unlimited variations of a single product on one page.
Purchase Buttons — customise your Buy buttons to drive more conversions.
Memberships — convert your website into a fully functional membership site.
Recurring Payments — collect recurring monthly/weekly/annual payments.
Email Add-on Pack — integrate your website with an email marketing service.
Many of these features are indispensable, so any serious eCommerce store owner will want to buy the Pro Pack.
This 'modular approach' is a good one, however, as store owners need only install the functionality their store needs. This eliminates much of the bloat caused by carrying unneeded features (as seen in many of the other eCommerce plugins), and so ensures your website is always lightning quick.
MarketPress eCommerce

Next up, we have WPMU Dev's take on the eCommerce plugin: MarketPress eCommerce.
A free Lite version of the plugin is available, but we're going to focus on the premium version. It's available as part of a WPMU Dev membership, with subscriptions available from just $24.50 a month. Membership gives you access to the premium version of MarketPress eCommerce, plus 134 other premium plugins and their high-quality Upfront theme and child themes.
Back to MarketPress eCommerce, which WPMU Dev claims to be the "complete eCommerce solution". You won't need to spend a small fortune on extensions and add-ons — all the eCommerce functionalities you could possibly need are included in one plugin.
The plugin is easy to use, and you can use it to sell just about anything — from physical goods to digital products. This includes the ability to add unlimited variations to any product and showcase them in stylish galleries.
It was developed to drive as many conversions as possible, and so the checkout process is super simple for visitors to navigate. For a start, this includes a one-page checkout process, plus you can enable/disable guest checkouts.
You can also give your customers a variety of options to pay, with 16 processors built in — including Stripe, PayPal, BitPay, and Authorize.net.
Want more features? MarketPress eCommerce supports coupons, related products, table rate shipping, and social sharing buttons. To avoid customer disappointment, the plugin can also hide out-of-stock products.
WP eCommerce

Launched in 2006, WP eCommerce has historically been one of the most popular eCommerce plugins. Unfortunately, it has lost ground recently, especially when compared with WooCommerce's exploding popularity.
The plugin will be compared invariably with WooCommerce, and so I will take the same approach, highlighting their similarities and differences.
Let's start with the similarities.
Like WooCommerce, WP eCommerce adds shopping cart functionality to a WordPress website. It's easy to use, the core is free to download, and the plugin is extendable. Out of the box, the plugin supports product uploads, a dashboard for managing orders and inventory, and tax management.
WP eCommerce offers two free payment gateways — like WooCommerce, PayPal Standard; unlike WooCommerce, PayPal Pro. Other Payment gateways are available courtesy of extensions.
The main advantage of WP eCommerce is that table rate shipping functionality is incorporated into the core, rather than an extension. You'll also find bulk discounts and cross-selling/up-selling functionality in the core.
However, and rather surprisingly, WP eCommerce only supports a list view of products, plus one image per product. If you want to display your products in the industry-standard grid view, and add more than one image per product, you'll need to buy the $99 Gold Cart extension.
There are 27 official extensions in total — not a bad number, but it pales in comparison with WooCommerce's offering.
If you want to see what a great WP eCommerce-powered store looks like, look no further than the developer's list of recommended websites. You can also directly hire a WP eCommerce-approved expert to help with your website.
Cart66 Cloud

Next up, we have something a little different: Cart66 Cloud, available for $95 a year.
Why would you go premium when we've just covered two free plugins? Well, because most eCommerce stores will require premium extensions anyway. With Cart66 Cloud, you pay $95 a year for all functionalities — and Cart66 boasts an impressive list.
The 'Cloud' part of the name refers to the fact that the plugin connects your website to the Cart66 Cloud, and, by connecting to this, you don't have to worry about anything. All of the SSL certificates, security scans, data encryption, and payment gateways are taken care of — making your store instantly PCI compliant.
As you may have guessed, Cart66 Cloud works slightly differently from other eCommerce plugins — you still need your own hosting, and customers will still visit your website.
Products are added as standard WordPress posts/pages, and then converted into product pages using shortcodes.
So far, so good, but Cart66 Cloud really excels when you take a look at the features. For a start, users will receive free storage courtesy of Amazon Web Services, a MailChimp subscription, and access to 98 different payment gateways.
The plugin also supports digital sales, membership website functionality and recurring billing. To reduce barriers to sales, customers can pay via a guest checkout or by signing up (a proven conversion booster), plus the plugin supports variable shipping rates. You can even schedule follow-up emails for your customers, which is a good tactic for encouraging repeat purchases.
You can try Cart66 Cloud free for 14 days, and a stripped-down Lite version of the plugin is available for free.
Easy Digital Downloads

You may have noticed some overlap in the features of the plugins we've looked at so far — unsurprising when you have a list of excellent eCommerce plugins. However, the final one on this list — Easy Digital Downloads, part of the Pippin's Plugins family — is a little bit different.
As the name implies, it's a specialist solution for selling digital products, such as MP3s, videos, and eBooks.
Because of this specialisation, EDD does without a lot of the unnecessary features that add bloat to the other plugins. What you get is a beautifully coded, lightweight plugin that won't slow your website down. The core plugin is free, too.
For customers, this really is the best solution for digital products. They can add as many digital products as they want to their cart, then download them all from one screen. Should they lose their files, they can log in to a customer area where they're able to re-download their files — a great way to avoid hassle and keep customers happy.
If you're a site owner, you'll love the simplicity of this plugin, plus the extensive back-end reporting that allows you to track sales. You can also integrate plenty of different payment gateways with your store, giving you lots of options for accepting payments. Most of these payment gateways are available as affordable add-ons.
Because of the quality and popularity of the EDD core, a wide variety of extensions are available — split between free and premium.
For more on this superb plugin, see our in-depth Easy Digital Downloads Review.
Final Thoughts
Now that you've seen a detailed overview of six of the best WordPress eCommerce plugins, it's over to you to make a decision.
I'd also recommend that you don't let price sway you too much, because, although some of the plugins featured in this list have a free core, in reality, serious store owners will probably need to invest in several premium extensions — bringing many of the free versus premium prices very much in line with each other.
My advice is to take your time, and look at each platform's main features and the cost of each of the premium extensions you'll require. After which, you'll hopefully have a much better idea of which of these eCommerce plugins is best suited to your online store. Then simply take the plunge!
Already using an eCommerce plugin? Opinions? Thoughts?
All comments are held for moderation. We'll only publish comments that are on topic and adhere to our Commenting Policy.
Our commenting form also supports the use of Markdown.