A Collection of the Best WordPress Photography Themes for 2017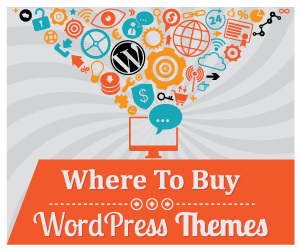 If you're looking to create an online photography portfolio to show off your skills and promote your services, there's a number of things you'll clearly need to consider, such as ensuring your photographs are presented in the best light possible. However, when it comes to choosing the perfect WordPress theme for your site, there's also a number of not-quite-so-obvious things to keep in mind, such as code quality, online documentation and support, and, of course, additional features.
To help you out, we've put together a list of 15 themes (each with a full-depth screenshot linking to a live theme demo) from some of our favorite providers — many of which boast a range of appealing functionality, including multiple gallery layouts, full-screen slideshow tools, eCommerce, and heaps of customization options.
If you're looking for a new theme to show of your skills — or even if you're just after a little design inspiration to improve an already existing site — take a look through the following stunners.
Inspiro
Inspiro from WPZoom is a professional photography theme that gives you the opportunity to make a big impact on your visitors by greeting them with a full-screen version of one of your best photos or videos.

When using this theme, your homepage can make use of the popular one-page layout. In this mode, as your visitors scroll down the page, you have the option of displaying your portfolio gallery, information about your services, blog content, and even products from your optional online store.
Other features of Inspiro include:
Custom homepage layout builder
Photo and video slideshow tool
Multiple photo gallery layouts
Fully mobile responsive layout
Selection of custom widgets for displaying photos
Full WooCommerce support for adding an online store
Support for personalization through the Customizer tool
Inspiro is available for purchase either on its own for $69 or as part of WPZoom's the 'All Themes' package for $199.
Infinite
If words and pictures are your thing, then the storytelling capabilities of Infinite, by master WordPress-theme-creators Themify, will definitely appeal. This theme includes a powerful page builder tool that makes it easy to create flexible page layouts. By using this tool to combine your photography and text, you'll be able to publish articles that really tell a story. The demo fashion page is a great example of what this theme has to offer.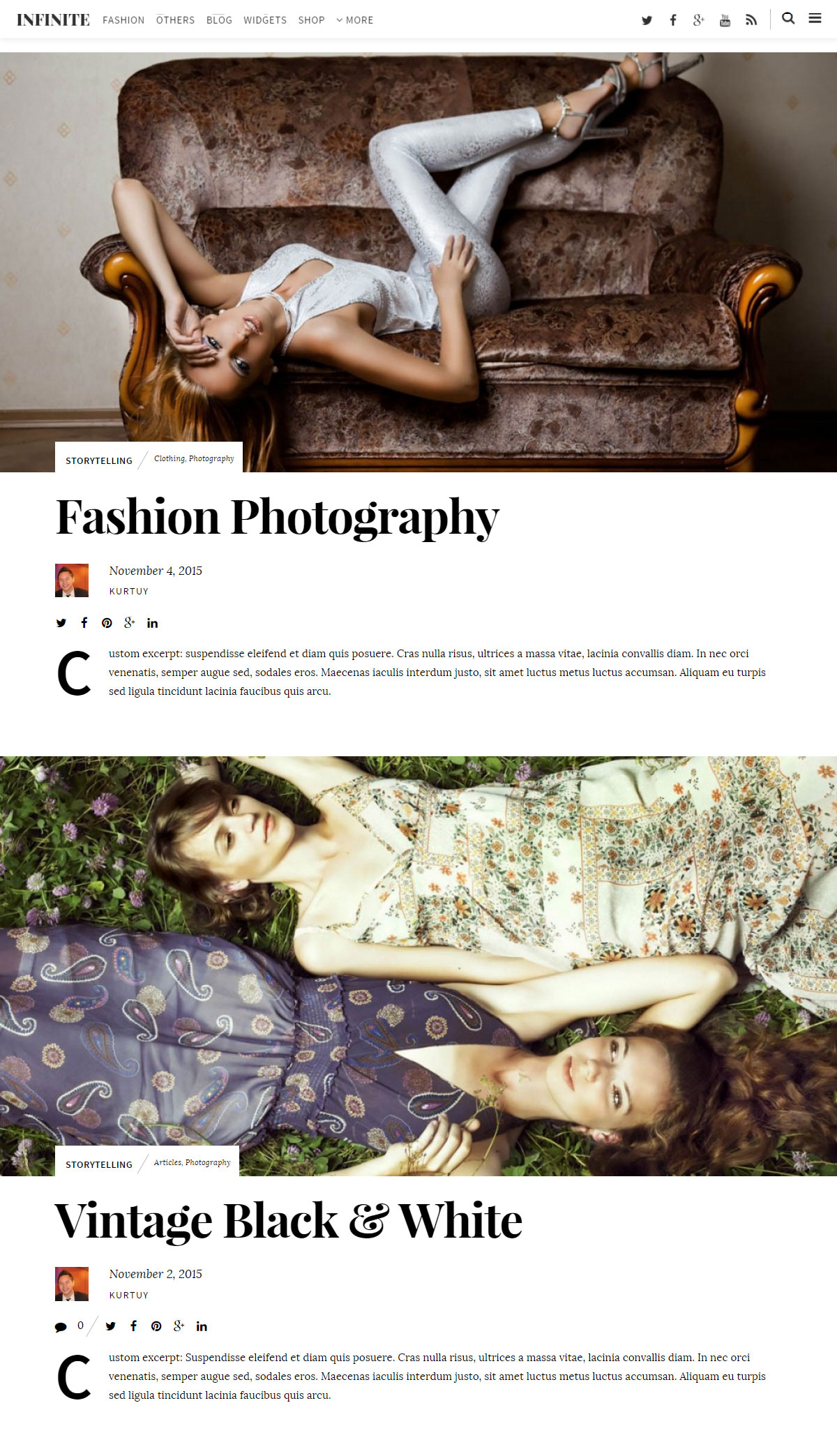 Other features of Infinite include:
Video backgrounds
Infinite scroll for images galleries and posts
Themify drag and drop page builder tool
Selection of home and landing page layouts
Slide out sidebar areas
Easy demo content import
Full WooCommerce support for selling products online
Infinite is available for purchase either on its own for $49 or as part of Themify's the 'Theme Club' package (which grants access to all themes) for $79.
Exposure
Exposure has been built with a specific purpose in mind: to help you promote your online photography business. From the portfolio sections, through to the pricing page, you get plenty of opportunities to promote your best work, while also taking care of the business side of things. Exposure lets you publish a booking calendar to share your availability with potential clients, while also including a booking form for arranging shoots.

Exposure lets you publish a booking calendar to share your availability with potential clients, while also including a booking form for arranging shoots.
Other features of Exposure include:
Support for optional homepage video backgrounds
Text and image slider tool
Selection of prebuilt contact forms
Testimonial management and publishing tool
Library of shortcodes for inserting useful elements into your content
Fully mobile responsive layout for portfolio browsing on smartphones and tablets
E-commerce support for selling your projects and services through your website
Exposure, by ThemeFuse, is available as a single theme for $45, or by joining as a ThemeFuse Club member for $195.
Eclecticon
The highlight of the Eclecticon theme, by CSSIgniter is its approach to working with projects. This allows you to create multiple projects, with each project containing all of the photos from a particular shoot. Descriptive text can be added to each image to support the projects and galleries.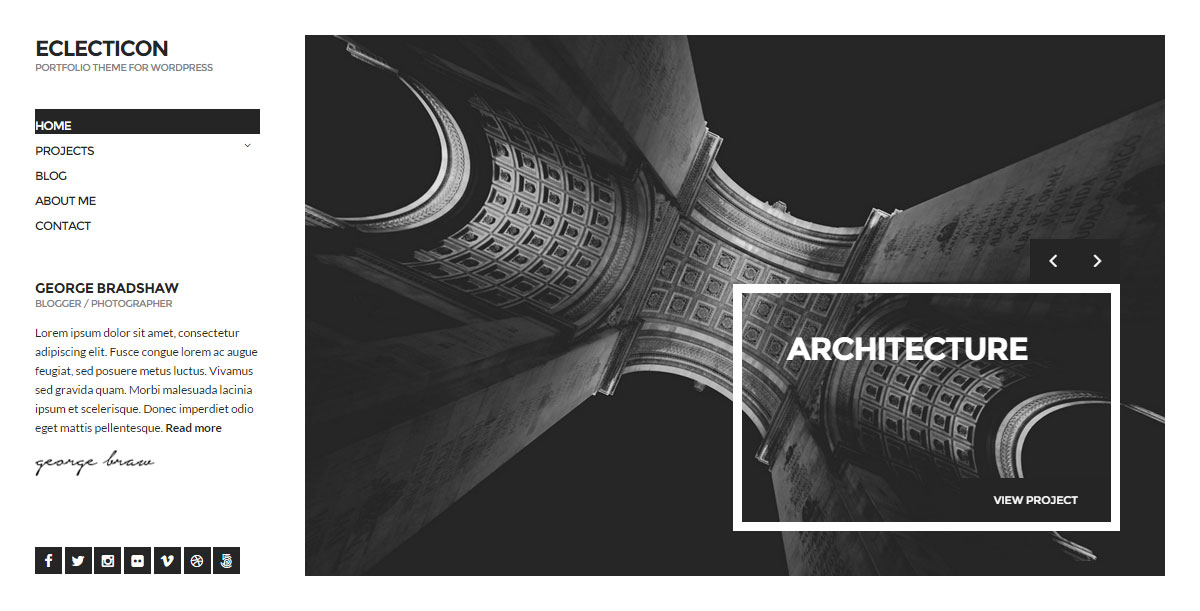 The default homepage layout of Eclecticon makes it easy for your visitors to browse the projects, before diving in to view the individual photographs and their accompanying descriptions.
Other features of Eclecticon include:
Homepage project slideshow tool
Minimal design to let your work take center stage
Easy personalization through the Customizer tool
Fixed sidebar navigation bar
Fully mobile responsive to cater to all users
CSSIgniter is currently offering this theme for $39 — with an extremely tempting optional $10 upgrade for access to all of their 65 WordPress themes.
Photogenic
Photogenic, by Obox Themes gives your photos plenty of room to breathe on the page, thanks to its clean and minimal layout. However, by clicking on the tooltip icon, your visitors can view additional information about any of the images that catch their eye.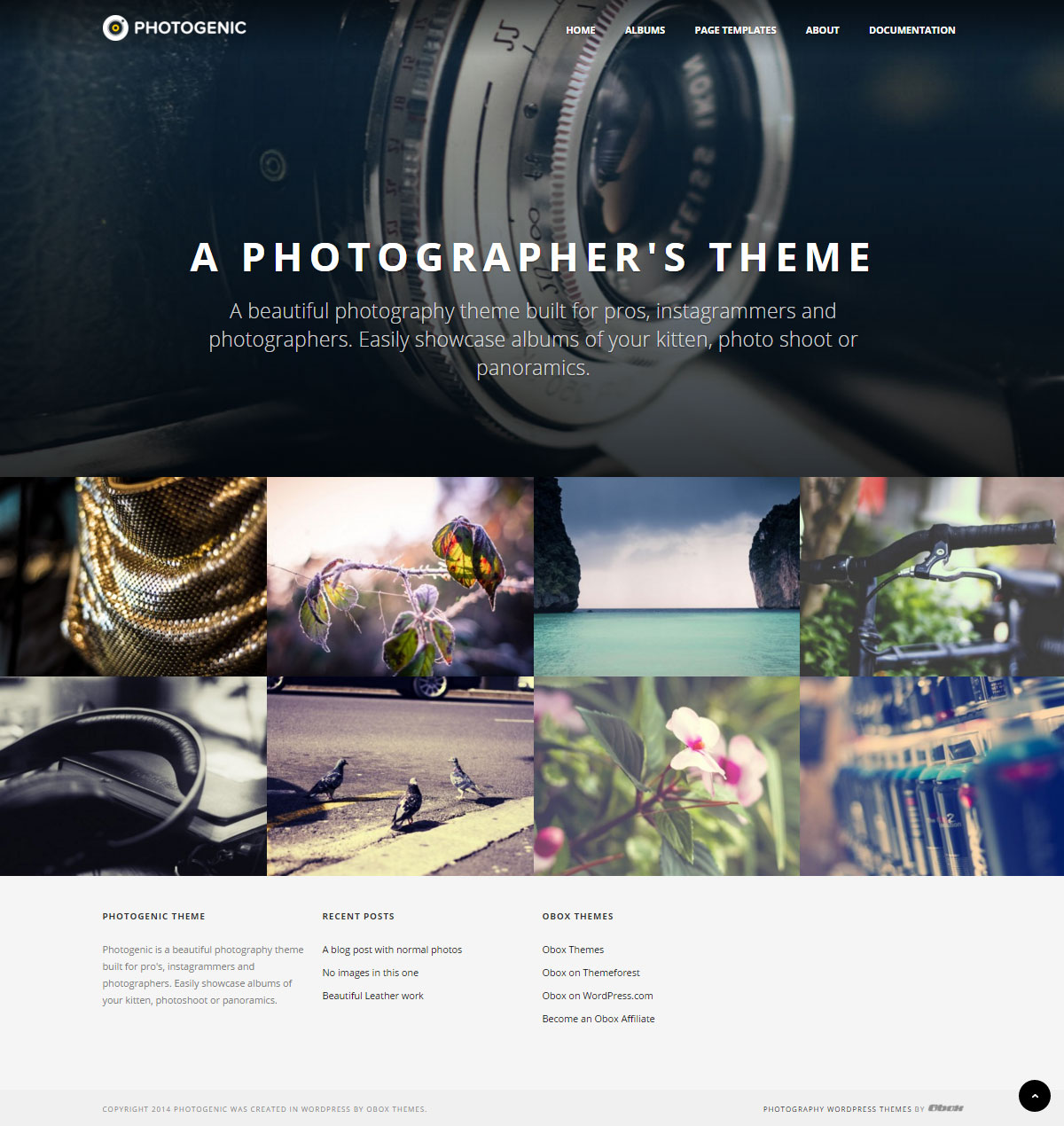 This photography theme also includes full Instagram support, allowing you to display photos from your feed in blog posts and galleries.
Other features of Photogenic include:
Multiple photo gallery layouts
Widgetized page builder tool
An EXIF data viewer
Individual photo links for easy sharing
Lots of personalization options through the Customizer
Fully responsive for access on all screen sizes
Photogenic is available as a single theme from Obox, while also being available as part of their all themes and plugins package.
Lookbook
Lookbook is a great choice for photographers who want to make their work immediately available to their visitors, as soon as they land at their site. Thanks to the homepage design and use of infinite scroll, visitors can explore the images in a seamless masonry grid layout.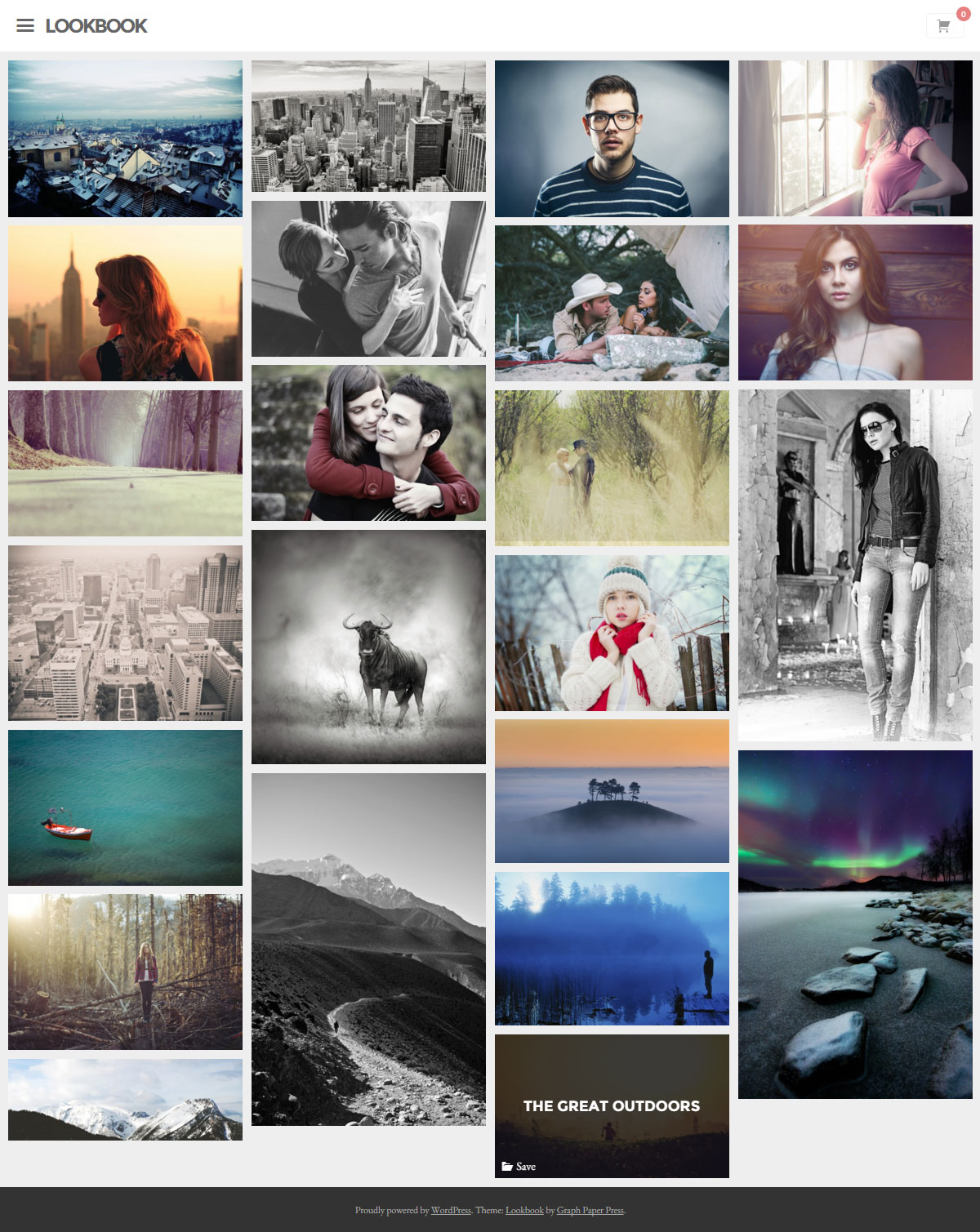 Other features of Lookbook include:
Minimal design with slide out sidebar area
Drag and drop photo slideshow tool
Post format templates for video, images, galleries, and more
Full Customizer support for adjusting the appearance of your site
Infinite scroll for displaying all your work on one page
Integrates with the Sell Media plugin for selling and licensing images
Fluid mobile responsive layout for large and small screen devices
Any purchase from Graph Paper Press includes access to all 56 of their WordPress themes, with the option of upgrading to gain access to all of their plugins.
Pretty Creative
If you want more than simply an online photography portfolio, then Pretty Creative, by StudioPress, and its many page layouts and templates could be what you are looking for. As well as giving you plenty of options as to how your photographs are displayed, this theme includes a stylish blog post template and an attractive portfolio layout for displaying your work.

Pretty Creative has been built to run on the Genesis Framework, giving you a solid code base for your website.
Other features of Pretty Creative include:
Multiple post and page layouts including a recipe template
A landing page template for promoting your services
Integrated newsletter sign-up forms
Social media feed sidebar widgets
Client testimonial slider tool
Full e-commerce support for selling your products and services online
Responsive mobile friendly layout for small screen devices
As Pretty Creative is a child theme for the Genesis Framework, you will need to purchase the framework in order to use this theme. However, you can pick them both up together for a discounted price of $129.95.
Coastline
Coastline uses a seamless grid layout to display your best photos on the homepage of your site. Clicking on an image takes the visitor through to the gallery page, where they can find out more about that particular photo.
With the Coastline photography theme, you also have the option of displaying your work in either of the two slideshow formats. There's also support for the Jetpack plugin image gallery tool, giving you multiple options for how your images are displayed.
Other features of Coastline include:
Portfolio custom post type for better content organization
Multiple layout options
Two slideshow layouts for displaying your photographs
Custom sidebar widgets for displaying s

ocial media feeds

Three Jetpack plugin image gallery layouts

Library of shortcodes for adding useful elements to your pages
Fully responsive design to cater to mobile and tablet users
The Coastline theme has been created by CSSIgniter and as well as being available on its own for $39, can be purchased along with all of their themes for just $49.
Memories
Whether you want your website to display the photographs you've taken or photos of you and your projects, the Memories theme and its approach to gallery organization could be a good option. As well as displaying full-screen images on your homepage, your visitors can view the gallery cover images, before clicking through to find out more.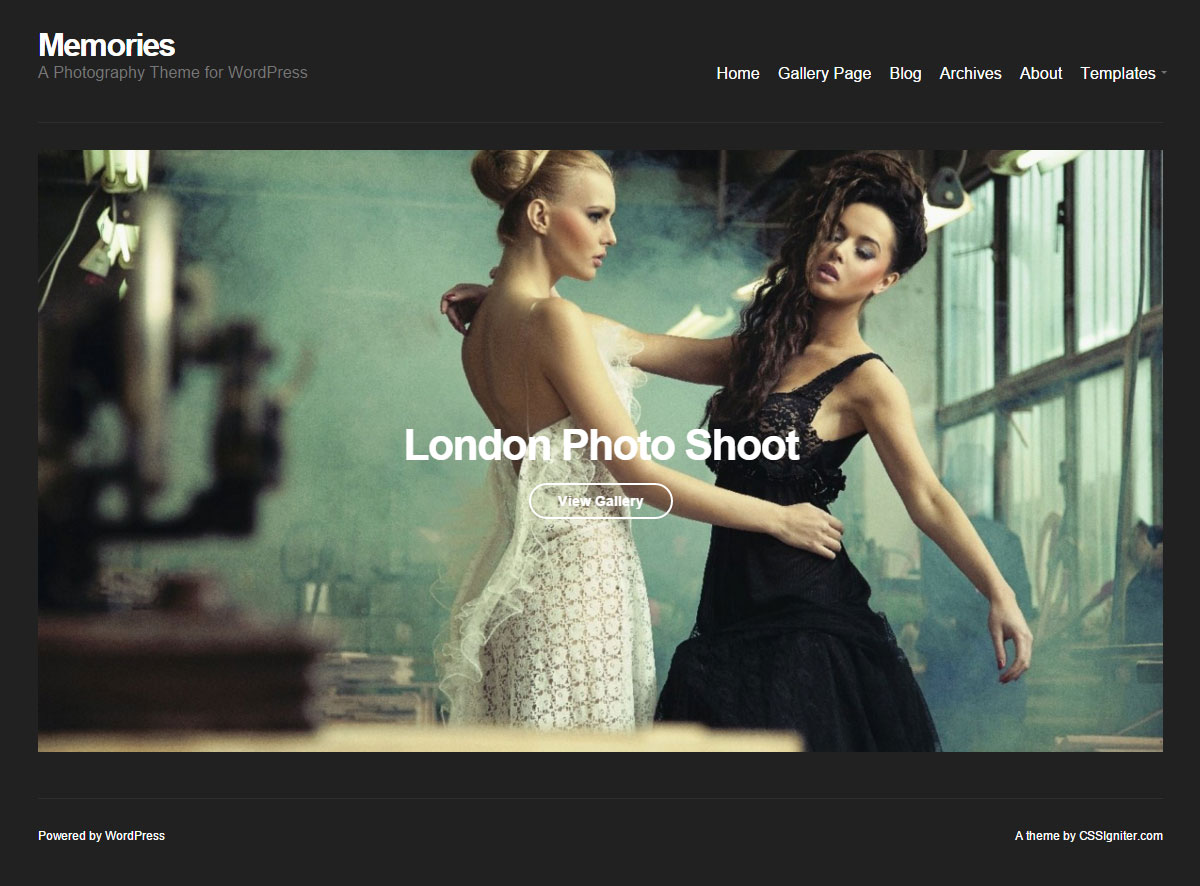 Other features of Memories include:
Flexible layout options for displaying your photographs
Custom widgets for displaying social media feeds
Multiple color schemes to choose from
Support for Jetpack galleries
Mobile responsive layout for smartphone and tablet users
Memories is another CSSIgniter theme and by joining their club, you get access to all of their WordPress templates.
Zoomy
With a large homepage image slider and an optional skills grid, Zoomy, by Tesla Themes, has been created especially for those promoting their photography services online. To display your work, you can choose from one of the portfolio layouts, with the option of adding a set of notes to each photo.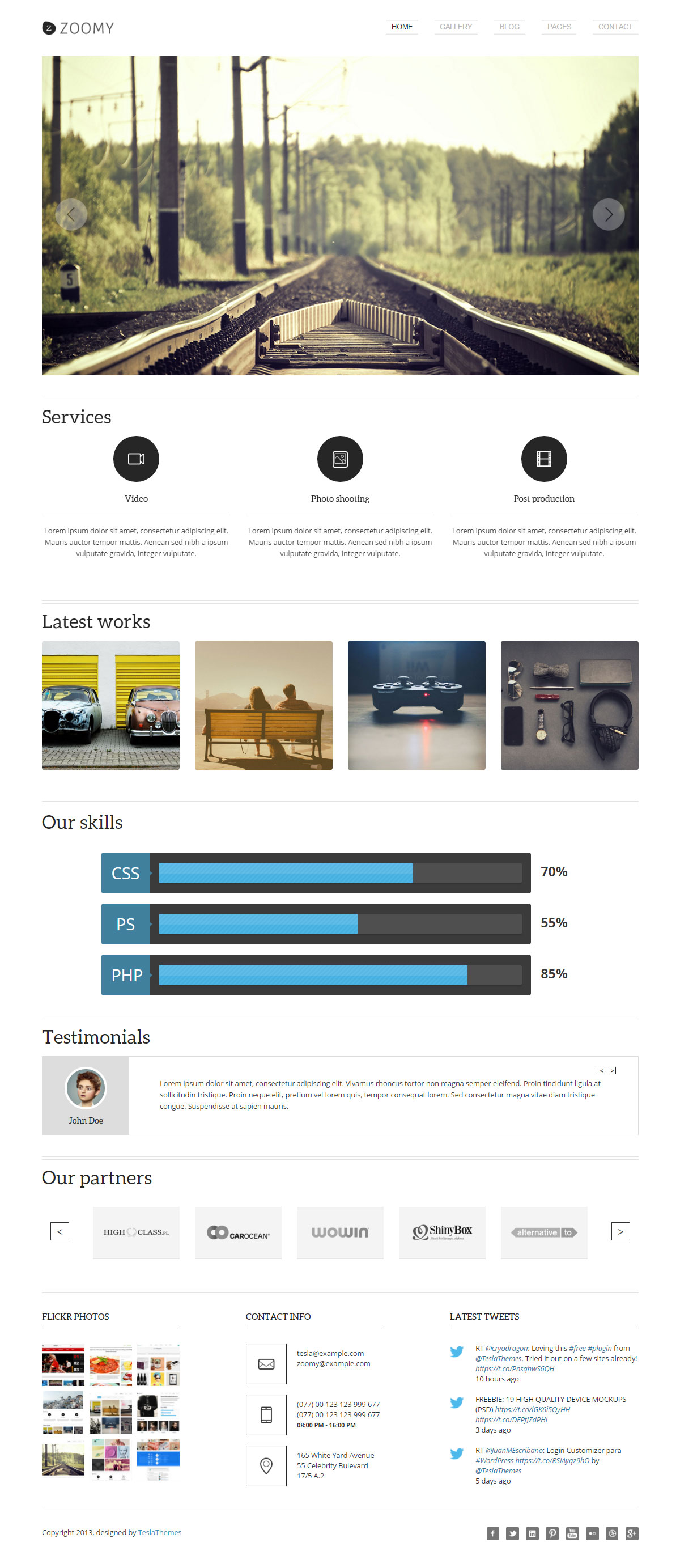 Other features of Zoomy include:
Flexible slideshow builder tool
Multiple gallery and portfolio layouts and options
Library of shortcodes for inserting elements into your content
Fully responsive layout with retina support for displaying high-resolution images
Use the Tesla Framework to customize the appearance of the theme
Available on its own for $48, Zoomy can also be purchased along with the 50 other themes from Tesla Themes for $59 per year.
Elite
Elite allows you to display your photos in full-screen mode, either as static images or as part of a slideshow. Each of the individual galleries on your site can also display their images in a slideshow, or simply list them as a series of thumbnails.

Optional captions for each full-screen image
Customizable fonts and colors
Template for displaying full-screen video
Multiple layouts for posts and pages
Built-in lightbox popup galleries
Tool for managing and publishing client testimonials
E-commerce support for selling products and services online
Elite can be purchased as part of the Organized Themes all themes package, which starts at $59.
Divi
Divi is an extremely flexible multipurpose WordPress theme from Elegant Themes. However, while it can be used to build almost any type of website, it does include some prebuilt layouts that are ideal for creating photography sites. These layouts can be applied to the home and inner pages of your site, helping you create a custom photography portfolio.

Other features of Divi include:
Drag and drop page builder tool
Image and video slideshow builder
Multiple prebuilt page layouts and templates
Customizable image gallery and portfolio layouts
Library of content modules for enhancing your pages
Full WooCommerce support for adding an online store
Fully mobile responsive layout and design
Divi is available by joining the Elegant Themes club for $69, or $89 for access to all themes and plugins.
Photocrati
Photocrati is a WordPress photography theme that includes over 60 starting design as well as the ability to share your own custom designs. Switching designs only takes one click and you're free to customize any of the included layouts.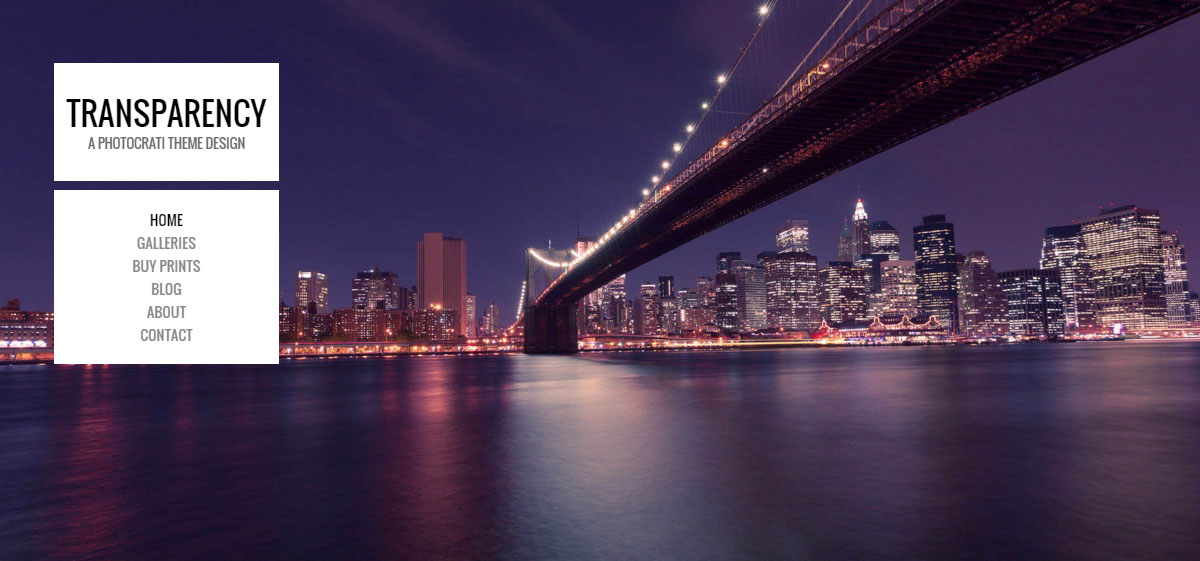 Other features of Photocrati include:
Full-screen photo slideshows
Built-in gallery management tool
Multiple gallery layouts and designs
Use widget areas to build custom layouts
E-commerce support for selling your work online
Fully responsive design for mobile users
Photocrati is available for lifetime use at $79, including one year of access to updates and email support.
Photo Artist
When using Photo Artist, your website homepage can feature a full screen photo slideshow, with optional captions for each image. The header area on any page can easily be hidden by your visitors, allowing them to view each image without any distractions.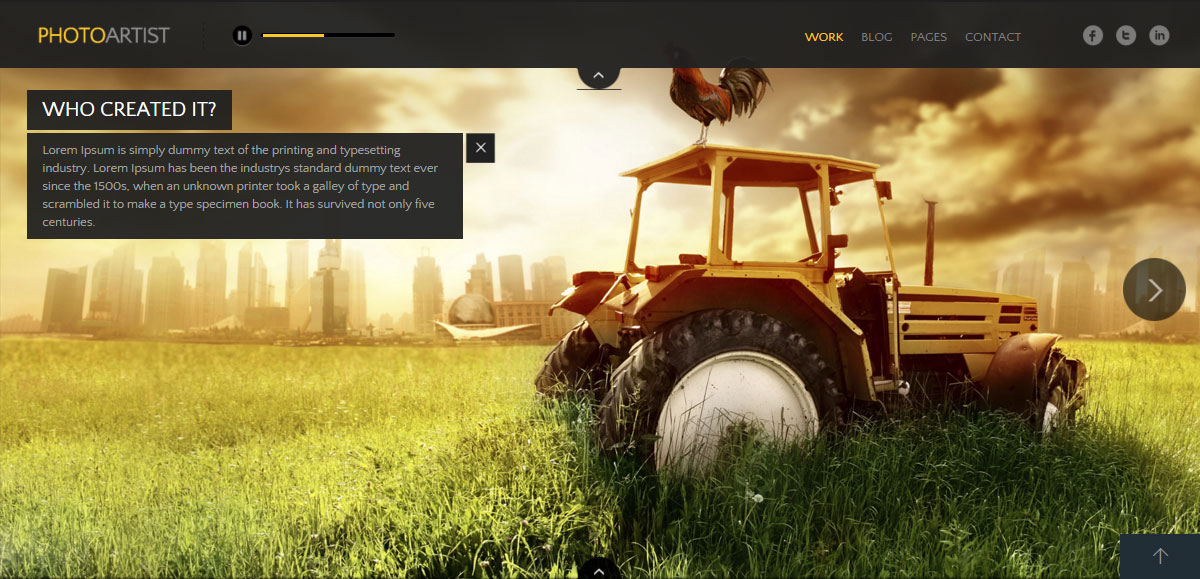 Other features of Photo Article include:
Animated loading icons
Full-width photo slider tool
Multiple prebuilt page templates and layouts
Shortcode library for inserting page elements into your content
Mobile responsive layout for smartphone and tablet users
Photo Artist is available on its own for $55 or for $195 with access to all themes from ThemeFuse.
King Size
King Size includes a full-screen homepage slideshow, with optional user controls. Each photo in the slideshow can include a caption, which provides more details about the shoot. There are multiple gallery styles to choose from, each with their own layout options. Each photograph on your website can be opened up in a lightbox window for distraction-free viewing.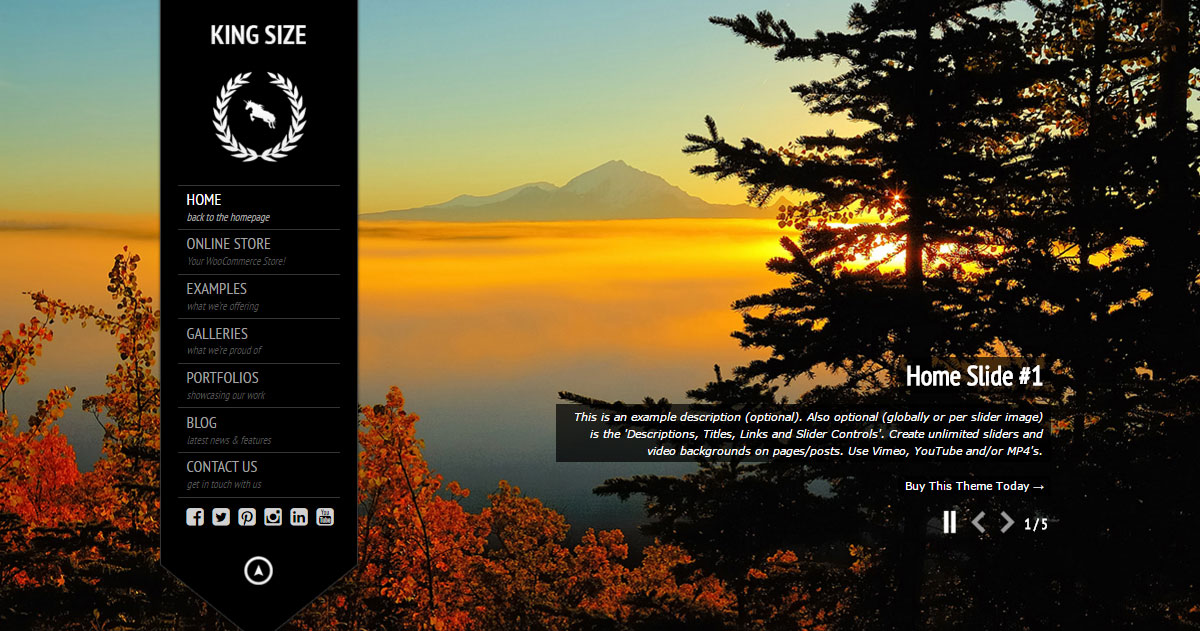 Other features of King Size include:
Multiple gallery types and layouts
Support for video, single image, and slideshow backgrounds
A range of portfolio layouts and modes
Custom widgets for the sidebar and footer areas
Visual Composer page builder tool for creating custom layouts
WooCommerce support for adding an online store
Mobile friendly responsive layout
King Size is available from the ThemeForest for $54, with six months of support.
Final Thoughts on the Best WordPress Photography Themes
There you have it, 15 of the best WordPress photography themes to help you create the perfect website for your online portfolio or photography business.
As you might have noticed, many theme developers offer great value packages that allow you to gain access to all of their products for one low price — if you're creating more than one website, or you want plenty of options for your current site, be sure to check out the different pricing plans on offer.
Which WordPress photography theme would you say is the best? Any favorites? What features are important to you when evaluating a suitable theme?
All comments are held for moderation. We'll only publish comments that are on topic and adhere to our Commenting Policy.
Our commenting form also supports the use of Markdown.