WinningWP content is free to all. If you make a purchase through referral links on our site, we earn a commission (
learn more
).
Top 5 Best HostGator Alternatives for WordPress – Compared
HostGator are one of the most well-known names in the website hosting industry, but they're no longer one of the best. Sharp upticks in their renewal prices and an equally sharp decline in the quality of their customer service have many customers searching for the best HostGator alternatives.
In this guide, I'll explore why people are moving away from HostGator and what to look for in a new host. I'll then examine the best HostGator alternatives for cost-effective hosting, as well as a couple of premium options for managed WordPress hosting.
What to Look for in the Best HostGator Alternatives
Switching from one website host to another can be a major hassle, so you want to make sure your new host is one you're going to stick with. To ensure a long, successful relationship with your next web host, look for the following features:
Free Domain
Your domain is what allows the internet to recognize your website — without a domain, your website is unable to function in the public eye. In other words, it's essential to running a website — and this means it should be included in your hosting package.
SSL Certification
An SSL certificate makes it possible for your website to create an encrypted connection with a visitor's browser. This keeps the data safe from third parties, functioning in much the same way as a sealed envelope. For several years, Google rankings have prioritized sites with SSL certification, making it an essential part of owning a website, and something that should be included with your hosting plan.
Security
The best website hosts use a variety of protocols to keep your website safe. File Transfer Protocol (FTP) protects data being uploaded from your computer or server, secured File Transfer Protocol (SFTP) protects your website from hackers, and secured Shell Host (SSH) protects data sent between computers that are connected via the internet. Look for a host that offers all of these features, and also provides protection from hotlinking, which effectively steals a portion of your bandwidth.
The final security feature you want a web host to offer is anti-DDOS software, which prevents attacks on your operating system.
Speed
An overwhelming 79% of users will leave a site and never return if they experience slow load times. Furthermore, 47% of users expect a load time of less than two seconds, with a further 40% of users expecting your website to load in less than three seconds. The best HostGator alternatives offer load times of less than one second.
Ease of Use/Quality of the cPanel
Transferring your website to a new host is enough of a disruption without adding a complex cPanel to the deal. The cPanel should be visually organized so you can find things quickly — you want to be able to set up the basics of your website with a few clicks.
Ease of Transferring from Another Host
The process of transferring your site from HostGator should be as simple as possible. The host should provide clear instructions on how to do this, and it shouldn't take you more than a few clicks. They should also give you access to everything you need to transfer to a new host if it becomes necessary.
Pre-Installed WordPress
Many of the best website hosts offer plans with pre-installed WordPress, allowing you to start work on your website right away, rather than having to wait for WordPress to be set up. Some of these plans also come with plugins for things such as spam protection or ecommerce pre-installed.
Customer Service
Last, but certainly not least, you want to choose a web host with excellent customer service. You should be able to contact them quickly and in a variety of ways, and connect with a customer service professional who can solve your problems quickly.
Of course, every website will advertise themselves as offering quality customer service. For the real answers, though, it's important to look at reviews from customers. All of the HostGator alternatives I've chosen have received praise from real customers on their customer service.
The Best HostGator Alternatives for Cost-Effective Hosting
Now, I'm going to take a closer look at the best HostGator alternatives, with a focus on affordability. Please note that all features lists are based on the features associated with the host's most inexpensive WordPress-optimized plan. Take a look at each host's website to learn more about the features associated with higher-tier plans.
1. Bluehost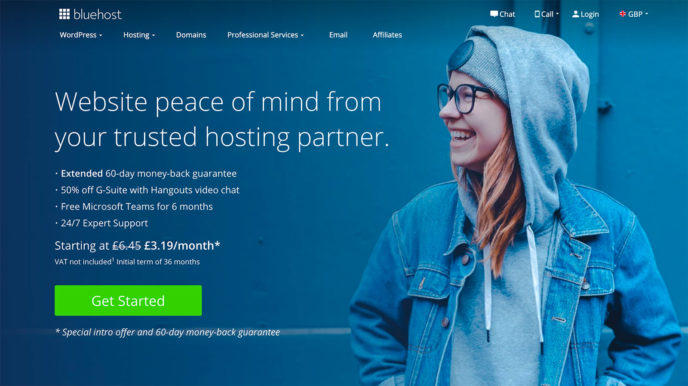 Features
Free domain.
Free SSL certification.
Account security features such as two-step authentication.
Three layers of spam protection.
Ability to enable SFTP and SSH protocols.
Streamlined, visually organized cPanel.
50GB storage.
Unmetered bandwidth.
Pre-installed WordPress.
Automated WordPress updates for one year.
Access to 24/7 quality customer support with a variety of contact methods (phone, email, live chat).
One-click integration with CloudFlares for additional security, including DDOS prevention.
Overview
Bluehost are one of the oldest and most respected names in the website hosting industry. They offer a huge variety of plans, including three basic WordPress hosting plans and their managed WordPress hosting option, WordPress Pro. Their rates are excellent, with pricing available in several different currencies.
Last but certainly not least, Bluehost offer excellent customer service. As a long-term Bluehost user myself, I can confirm that the customer support staff are always friendly, helpful and fast.
Pricing
Bluehost's basic WordPress plans are available for $3.95 a month, $5.95 a month, or $6.95 a month when a three-year plan is purchased. After this, prices go up to $7.99 a month, $10.99 a month or $14.99 a month for another three-year term. WordPress Pro starts at $19.95 a month.
Who Bluehost Are Best For
Bluehost are one of the best HostGator alternatives for business owners who want both affordability and quality service. In particular, Bluehost are a great option if one of your primary concerns is the availability and helpfulness of customer support.
2. DreamHost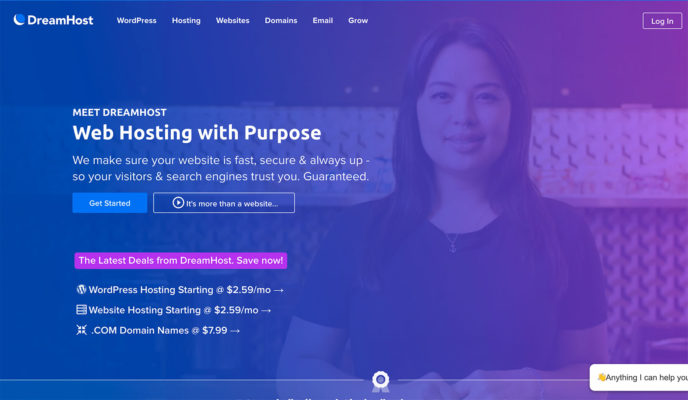 Features
Free domain.
Free SSL certification.
Pre-installed WordPress.
Free privacy protection.
Automated backups.
Easy-to-use control panel.
Custom WP builder that allows for simple, code-free website setup.
DreamShield malware scanner (must be manually enabled).
cPanel security features, such as two-factor authentication.
Dedicated FTP client, webFTP.
Extra security modules to protect against malicious HTTP requests.
Unlimited traffic.
50GB storage.
24/7 customer support available through live chat and online ticketing.
Access to unique website templates designed for a variety of industries.
Overview
DreamHost offer a wide range of features designed to appeal to both website-building newbies and developers with years of experience. Their control panel isn't quite as intuitive as the Bluehost cPanel, but it'll allow you to do everything you need — including toggling an impressive array of security features. There are also extensive customization options, with support for a variety of programming languages.
If you're looking for something more advanced, DreamHost do offer managed hosting plans as well. However, if you are looking for managed WordPress hosting options, I'd suggest you look at either WP Engine or Kinsta.
Pricing
DreamHost's basic WordPress plans are available for $2.59 a month or $4.95 a month when you sign up for three years. The managed WordPress plans start at $16.95 a month.
Who DreamHost Are Ideal For
DreamHost are an excellent web host for anyone whose primary concern is security. Business owners who aren't experienced with, or interested in learning about, code should also consider DreamHost. If you're leaving HostGator because of poor customer service, though, this may not be the best alternative for you.
3. SiteGround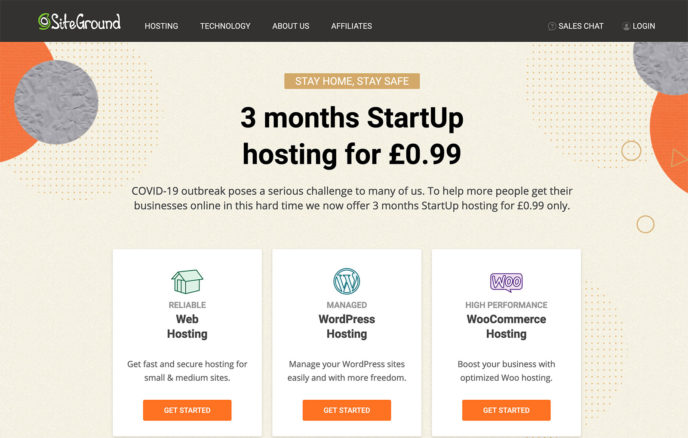 Features
Free SSL certification.
Free email.
Pre-installed WordPress.
Automated WordPress updates.
Daily backups.
10GB of storage.
Unmetered bandwidth.
Free CDN.
Free email.
Advanced developer toolkit.
Access to 24/7 customer support through live chat, phone and online ticket.
ModSecurity to prevent malicious HTTP requests.
SFTP support.
Intrusion Prevention System that detects when someone has attempted to bruteforce any of your passwords and disables the attacker's IP address in real time.
Overview
SiteGround have spent the past 16 years helping people to build all kinds of websites. Their WordPress-specific plans are relatively new, but they're still jam-packed with excellent features. They also offer some of the best customer service in the industry, boasting a 99.7% customer satisfaction rate.
However, SiteGround do come with some limitations. Their WordPress hosting plans don't include a free domain, and storage on the basic WordPress hosting plan is also limited to 10GB — a notable drop from the 50GB provided by DreamHost and BlueHost. Their pricing also increases significantly from one plan to the next, which could be damaging if your traffic increases without also increasing your revenue.
Pricing
SiteGround's WordPress hosting plans are available for $3.95 a month, $5.95 a month, or $11.95 a month for the first term (up to three years). After the initial term, renewal costs $11.95 a month, $19.95 a month or $34.95 a month.
Who SiteGround Are Best For
SiteGround are an excellent choice for websites that require minimal data storage. If you don't expect to exceed 10GB in the next few years, or potentially ever, choose this option. For larger sites, however, Bluehost and DreamHost are both more cost effective.
The Best HostGator Alternatives for Managed WordPress Hosting
Managed WordPress hosting costs more than regular hosting, but it also has several distinct advantages. For starters, Managed WordPress hosting offers both automated backups and easy-restore options, which reduces the amount of time your website is down during a crisis.
Managed WordPress hosts also come with higher quality customer support — these people aren't just friendly and helpful, they're actual WordPress experts, with the in-depth knowledge required to fix all of your WordPress-specific problems.
Please note that the features listed in this section are based on the most basic plan offered by each host.
1. WP Engine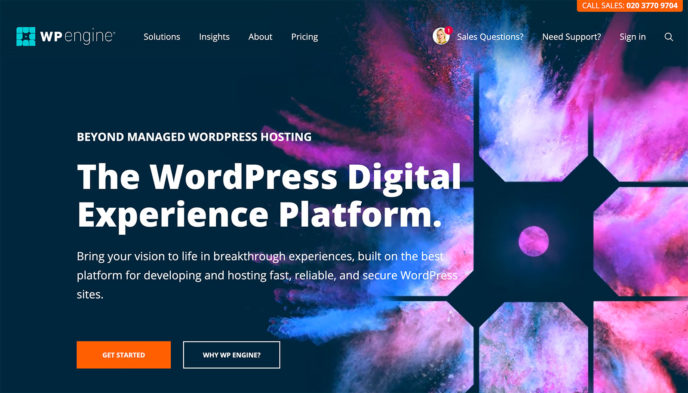 Features
Automated SSL certification.
Automated SSH gateway.
Global CDN.
Easily transferable sites.
Evercache automated caching for enhanced speed and security.
Proprietary firewall.
Automated, encrypted backups.
AI-based threat detection and prevention.
Disaster recovery.
Dedicated SFTP client.
Access to more than 35 StudioPress themes.
WordPress-optimized dashboard.
Separate environments for development, staging and production.
Dedicated team of security engineers reviewing and updating protocols on a constant basis.
24/7 live chat support from WordPress experts.
10GB storage.
50GB bandwidth.
Up to 25,000 monthly site visitors.
Overview
WP Engine have made a name for themselves as one of the top providers of managed WordPress hosting. Their use of a WordPress-specific dashboard, rather than a traditional cPanel, creates a seamless work experience, and they also offer numerous features to keep your data safe from hackers and accessible to you — even in a crisis.
However, WP Engine do come with some limitations. Phone support is only available for higher-tier plans, and there's no domain hosting or email hosting whatsoever. There are also hard limits on how many visitors you can have before being moved to a higher plan. These limitations are pretty standard in the world of managed WordPress hosting, but they're still important to consider.
Pricing
When purchased annually, the WP Engine plans are $25 a month, $95.83 a month and $241.67 a month. Custom pricing is also available for large businesses with more complex needs.
Who WP Engine Are Best For
WP Engine are ideal for large businesses with complex needs and flexible budgets. If you're looking for managed WordPress hosting that doesn't scale in cost quite so fast, consider Kinsta instead.
2. Kinsta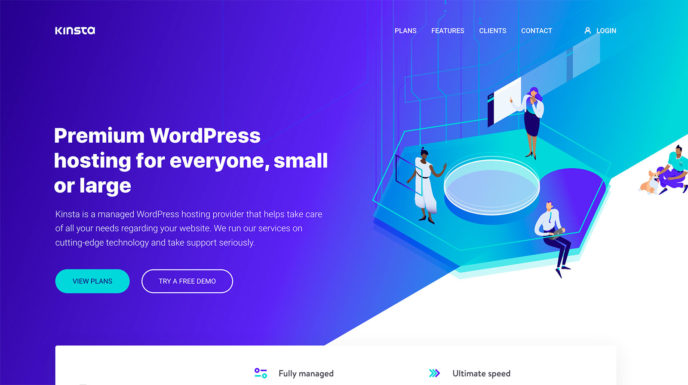 Features
Unlimited, simple website migrations from other hosts.
Automated PHP restoration.
Automatic daily backups with 14-day backup retention.
Manual backup options.
Free hack and malware removal.
Staging area for testing site updates.
SFTP and SSH enabled.
Support for two-factor authentication and IP blocking.
Automated blocking of any IPs that attempt to bruteforce your passwords (defined as any user that makes six login attempts within one minute).
Access to 24/7 online support from true WordPress experts.
Unique WordPress-optimized dashboard.
10GB storage.
20,000 maximum views.
Overview
Kinsta offer a simple dashboard with powerful tools for both web design newbies and experienced developers. They also offer some of the most advanced security protocols in the website hosting industry, with full encryption of all of your data, all of the time. Combined with 99.9% uptime and excellent speed, this makes them one of the most reliable managed WordPress hosting options.
There's really only one drawback to Kinsta, and that is the complete lack of phone support. Their customer service is entirely hosted through a messaging system built in to the Kinsta website. This system is fast and reliable, but may not be ideal for people who prefer phone support.
Pricing
Kinsta offers more flexible pricing than WP Engine, with plans available at numerous price points:
$40 a month
$60 a month
$100 a month
$200 a month
$300 a month
$400 a month
$600 a month
$900 a month
$1,200 a month
$1,500 a month
This wide variety of plans ensures Kinsta will be able to accommodate your needs as your business grows and changes.
Who Kinsta Are Best For
Kinsta are ideal for customers who like to conduct all of their business online, and who are deeply concerned about the security of their site. If you're considering Kinsta, make sure you check out our in-depth Kinsta review.
Final Thoughts
Feeling overwhelmed by all of this information? Still not sure what the best website host is for your needs? Here's a quick overview of what each host has to offer:
If you're still struggling to decide, ask other entrepreneurs in your industry what web hosts they use. What works for them will likely work for you.
Related Reading:
Used/using any of the above? Thoughts
All comments are held for moderation. We'll only publish comments that are on topic and adhere to our Commenting Policy.