The Seven Best Drag-&-Drop WordPress Page Builder Plugins – Compared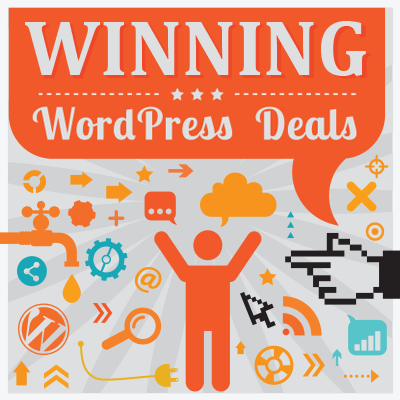 To be honest, I was never that convinced of the idea of using a drag-and-drop WordPress page builder plugin on my site. Although not because I didn't see the value in it: clearly, with a drag-and-drop plugin you can create nice-looking, complex pages relatively easily — and certainly much quicker compared to working with raw source code.
What I was actually worried about was the output quality of using one. I can still remember the early days of Microsoft FrontPage and the HTML mess it was constantly creating. That source code was truly unbearable…
Then something got me thinking: all of the top three best-selling WordPress themes at ThemeForest feature some form of drag-and-drop page building functionality.
Clearly, people want some of that drag-and-drop magic!
So, the question is this: has drag-and-drop technology for the web matured enough? And more importantly: can drag-and-drop page building plugins actually be useful on a real website — rather than being just a novelty you read about on some blog or other?
To find out, I've taken a detailed look at 8 of the most popular drag-and-drop page builder plugins for WordPress, reviewed each of them, and given them all an out-of-ten rating.
Here's what I found:
Themify Builder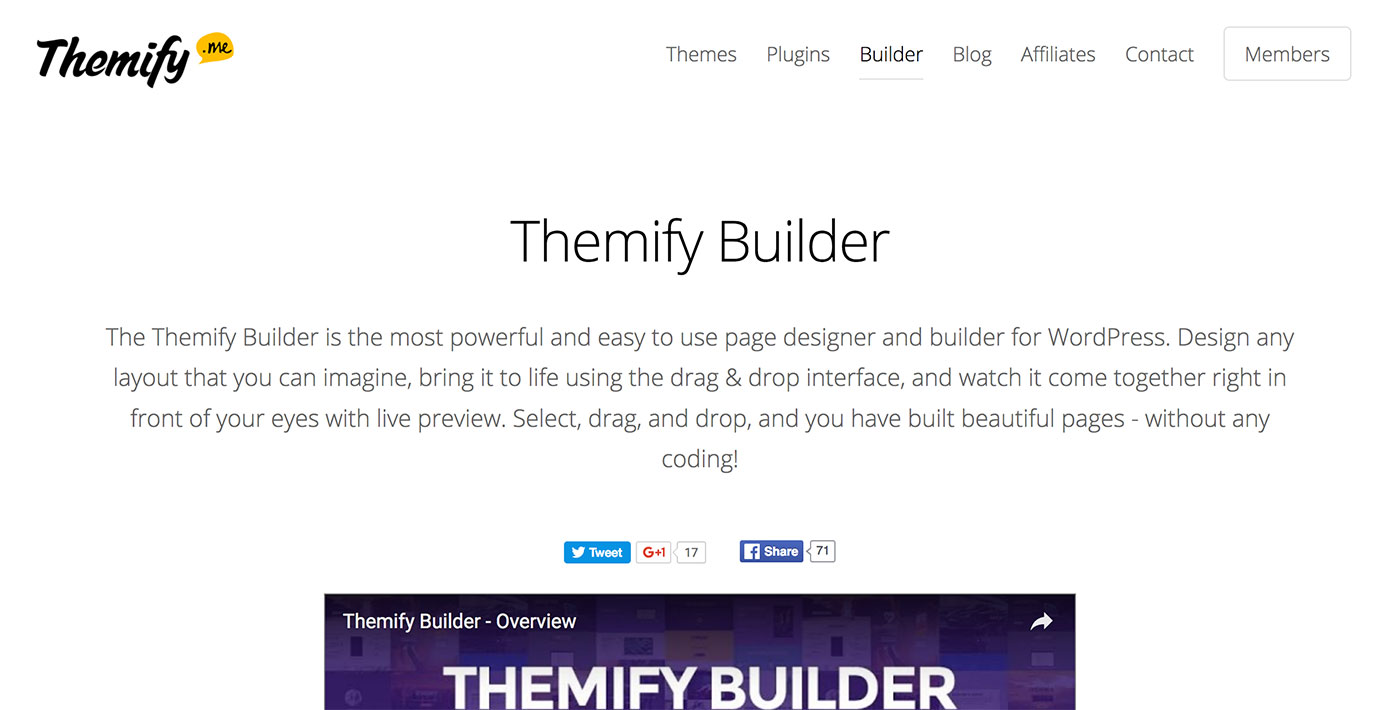 Price: $39 | Official Website
The Themify Builder plugin is a flagship plugin by the people over at Themify (among their other products). It's a feature-rich tool that allows you to do your work both on the back-end (the Builder functionality is available for any page or post in the wp-admin), as well as the front-end (you can enable Builder via the WordPress admin bar).
Both editing interfaces (front- and back-end) are based on having a range of modules to choose from and then dragging and dropping them onto the canvas. The canvas is divided into rows, and each row can be further divided into columns.
Features
Front-end and back-end editing
Full drag-and-drop support (front-end and back-end)
Works with third-party themes
Pre-defined content modules for things like accordions, boxes, dividers, galleries, images, maps, portfolio blocks, blog posts, sliders, testimonials, text, videos, and more
Styling options for all modules (backgrounds with parallax scrolling, video backgrounds, additional CSS classes and styles, etc.)
Complete pre-designed layouts for various kinds of pages, like blogs, magazines, portfolio pages, product pages, etc. (you can still adjust everything after selecting the layout)
Import and export your layouts
The output is responsive, SEO friendly, and translation-ready
Pros
It's a really versatile solution. Based on your requirements, you can use it for a whole spectrum of things, starting from building simple pages, to creating whole websites on top of minimal WordPress themes.
It has a great getting-started tutorial that takes you by the hand through all of the basic features of the plugin.
Every module is adjustable. You can set every aspect of how the module appears on the screen (even including column gutters).
Cons
Relatively fewer types of content modules compared to the other solutions here. That said, all of the most commonly used stuff is there, so it's probably not such a big deal.
The front-end editing feature doesn't look exactly like the final output due to all the borders, editing buttons, and so on. This forces you to save your changes and switch to preview to see the actual page.
Final Score: 10/10
Elegant Themes Divi Builder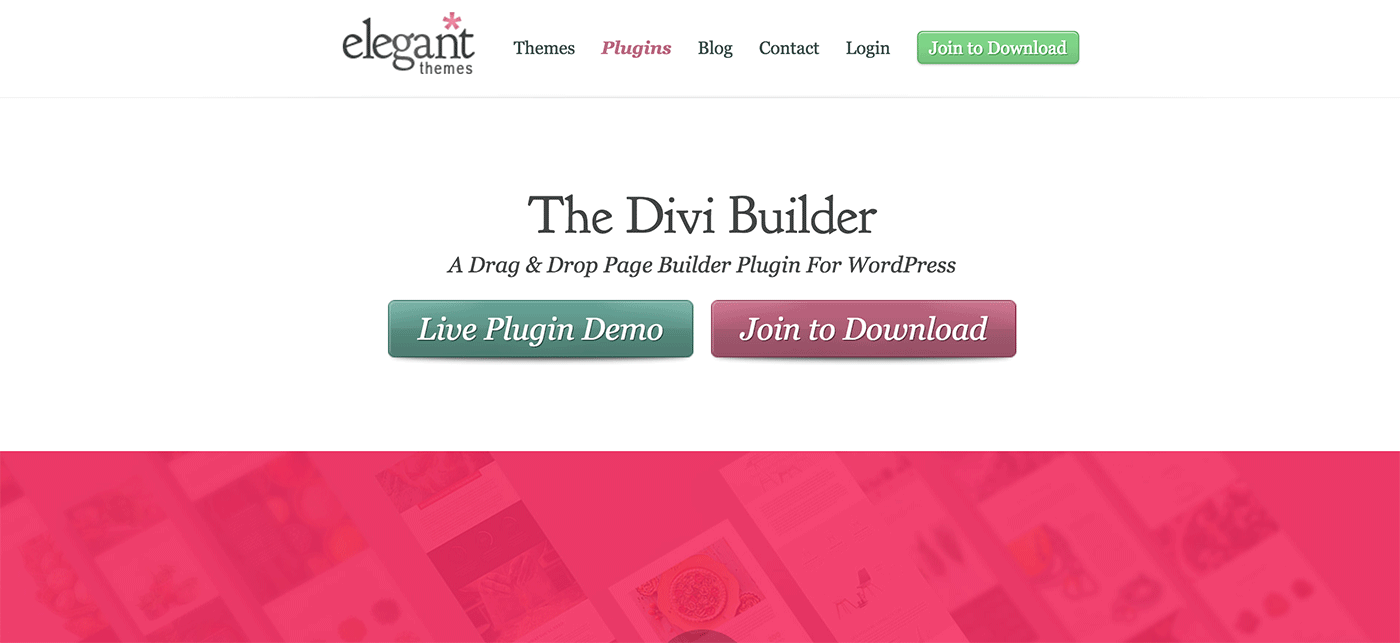 Price: $89 (full access pass to Elegant Themes) | Official Website
Elegant Themes' Divi Builder Plugin is a slightly different solution compared to the other plugins on this list. The main difference here is that instead of a front-end editing panel, you get a new canvas that's displayed on the standard post/page editing screen.
You then select individual content elements and put them on the canvas, with the possibility to adjust each element to your liking. This creates another level of abstraction, which can be useful if you want to take a more high-view look at your page.
Features
Drag-and-drop support when editing your content
Pre-designed content blocks, including those for text, lightbox images, quotes, testimonials, image sliders, videos, tabs, boxes, columns, and more
Custom styles for various page elements (buttons, lists, boxes)
Integrates with every page or post on your WordPress site
Pros
It allows you to turn any post or page into a custom-built landing page.
There's a big selection of blocks and styles.
The canvas provides a good overview of the page and individual blocks on it.
Cons
The design looks a bit dated in the current age of flat interfaces and minimalism.
The plugin forces you to go back and forth between the editor screen and the preview of your page.
Final Score: 8/10
Beaver Builder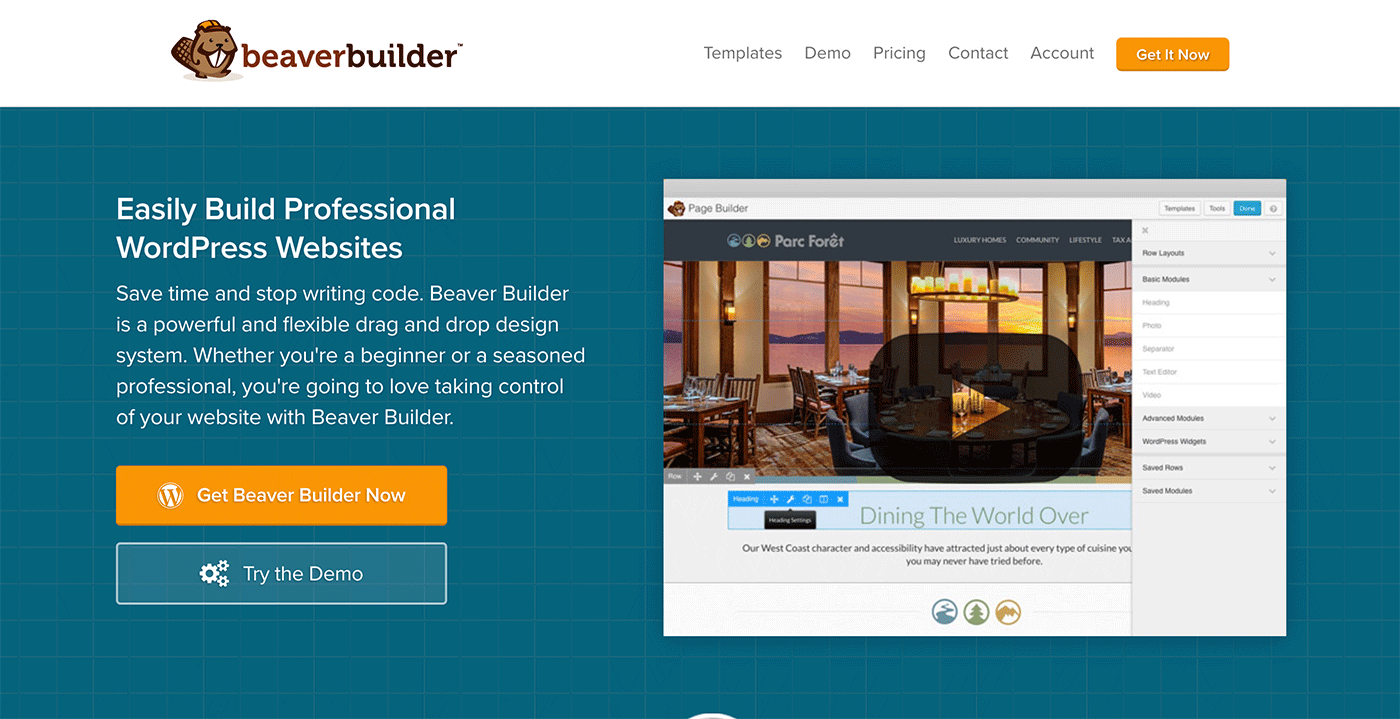 Price: $99+ | Official Website
Beaver Builder is a solution mainly marketed towards agencies and designers working on client projects. This definitely doesn't mean that bloggers won't find it useful, though.
The plugin delivers a great drag-and-drop page editing functionality that comes inside a completely custom interface (not through the WordPress customizer). It also helps you jumpstart your work by delivering a set of pre-made templates.
Working with the plugin is really straightforward. You just proceed step-by-step… start by adding rows, then adding content to each row, customizing, styling, and so on, until you have a finished product.
Features
Full front-end editing — edit what you see
Full drag-and-drop support
Mobile responsive and SEO optimized output
Comes with pre-made templates
Works with any theme
Extensive docs and video tutorials
Import/export feature
Supports posts, pages, and custom post types
Tons of content blocks available (tabs, slideshows, buttons, pages, forms, testimonials, pricing tables, and more)
Pros
No coding skills required.
Great interface that takes you by the hand through the whole process.
True what-you-see-is-what-you-get front-end editing.
Works with standard WordPress widgets.
Cons
Final Score: 10/10
MotoPress Content Editor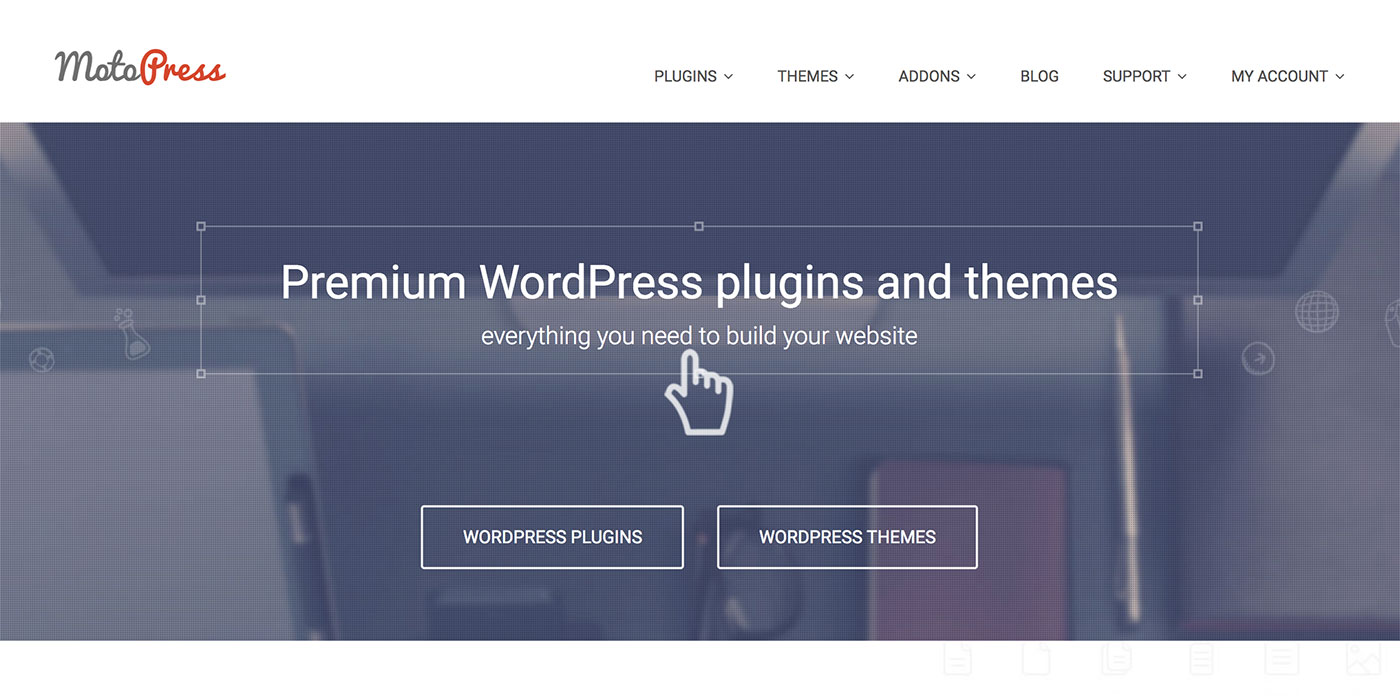 Price: $29+ | Official Website
While most plugins on this list enable their functionality through the default WordPress customizer interface, MotoPress Content Editor delivers its own custom interface.
Under the hood, the plugin enables you to adjust the layout and content on any page within the wp-admin. There's full drag-and-drop support and no programming skills required to make your work look great.
Features
Can be enabled on any post or page
Full drag-and-drop support when editing content
Custom front-end editing interface — not placed within the WordPress customizer
Compatible with all WordPress themes
Responsive and mobile-ready layouts
Custom post types support
Multiple content blocks available (for text, images, videos, buttons, and a lot more). You can also lock certain blocks so they can only be viewed by registered users
Pros
No programming skills required.
The customization interface itself is one of the easiest to use on this list.
It's got a clever mechanism for customizing styles, based on tags. Just like you would add a tag to a blog post, you can add the tag "red" to a button element, and the button becomes red. You can make elements big or small, rounded or square, and more in a similar manner.
The cheapest premium drag-and-drop plugin on this list.
Cons
To use it, you have to go to the wp-admin, select a given post or page, and only then click the MotoPress Content Editor button. When viewing the page normally (in the standard wp-admin interface) all you can see is a bunch of shortcodes.
Final Score: 9/10
SiteOrigin Page Builder

Price: $0 | Official Website
This is a great plugin by the SiteOrigin team. I've spent quite a while looking for the catch on this one, trying to finally get to the part where some feature is locked and requires me to buy the premium version. But it's not there. This is simply a free plugin that's on par with the paid solutions out there.
That being said, it does introduce some abstraction in terms of editing your pages. You don't get an entirely usable front-end editing feature. Instead, you get to work with a canvas and a range of individual content blocks. Each content block has its title and settings — where you adjust the actual contents of that block.
Features
Full drag-and-drop support on the editing canvas
Can be enabled for any post or page
The content blocks available are based on the widgets you have installed on your site. It also integrates with the SiteOrigin Widget Bundle plugin, so you can get whatever block you need
Works with any theme
Version control
Responsive, grid-based output
Multiple customization possibilities (change spacings, borders, colors, styles, classes, add custom CSS, etc.)
Pros
It works with widgets from other plugins (like Shortcodes Ultimate).
There's version control, which isn't a feature I found with any other plugin on this list.
Cons
You can't nest columns within other columns.
Final Score: 9/10
Conductor Plugin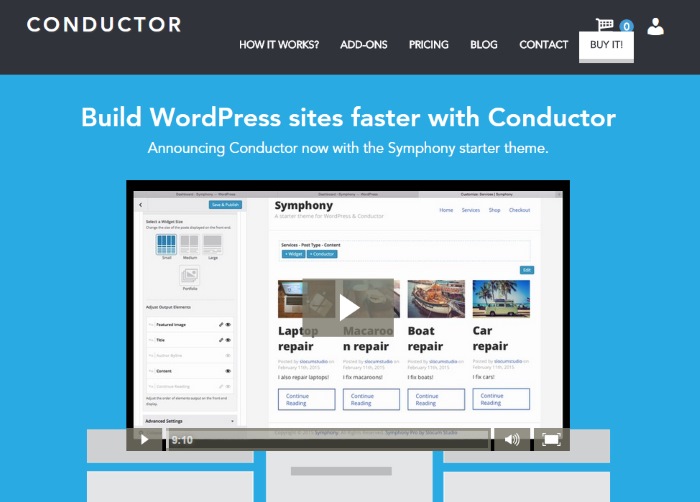 Price: $49+ | Official Website
Conductor is an interesting plugin for bloggers, designers, and developers who want to speed up their content creation processes when it comes to custom pages in WordPress.
The current version of the plugin has been optimized to work with the Symphony framework (and with some licenses, you even get Symphony included in the package), but it also performs well with other themes.
You can enable the plugin's functionality for any page within WordPress, and then change the layout, content, and the overall appearance through the WordPress customizer.
Features
Works in any WordPress theme, and lets you customize the layout on any page
Drag-and-drop support — you can drag content elements around the page you're currently editing
Works with custom post types and custom fields
Built to work with other plugins, like Jetpack
Add-ons available that integrate Conductor with other plugins and themes (Genesis, WooCommerce), plus there are also exclusive Conductor add-ons
Pros
No coding skills required.
You can see your changes in real-time through the customizer.
There are many styling options when it comes to fonts, alignments, sizes of elements, etc. You can also choose to exclude some elements such as author links, "read more" links and so on. This lets you fine-tune your creation until it's 100 percent what you need.
Cons
Seems that the people over at Conductor focus on supporting the Symphony framework first, and only then work with all the other themes. There's nothing bad about this in itself, but it might cause some compatibility issues along the line for those of us using other themes.
Add-ons seem to only be available with the Power User license ($199).
Final Score: 9/10
Elementor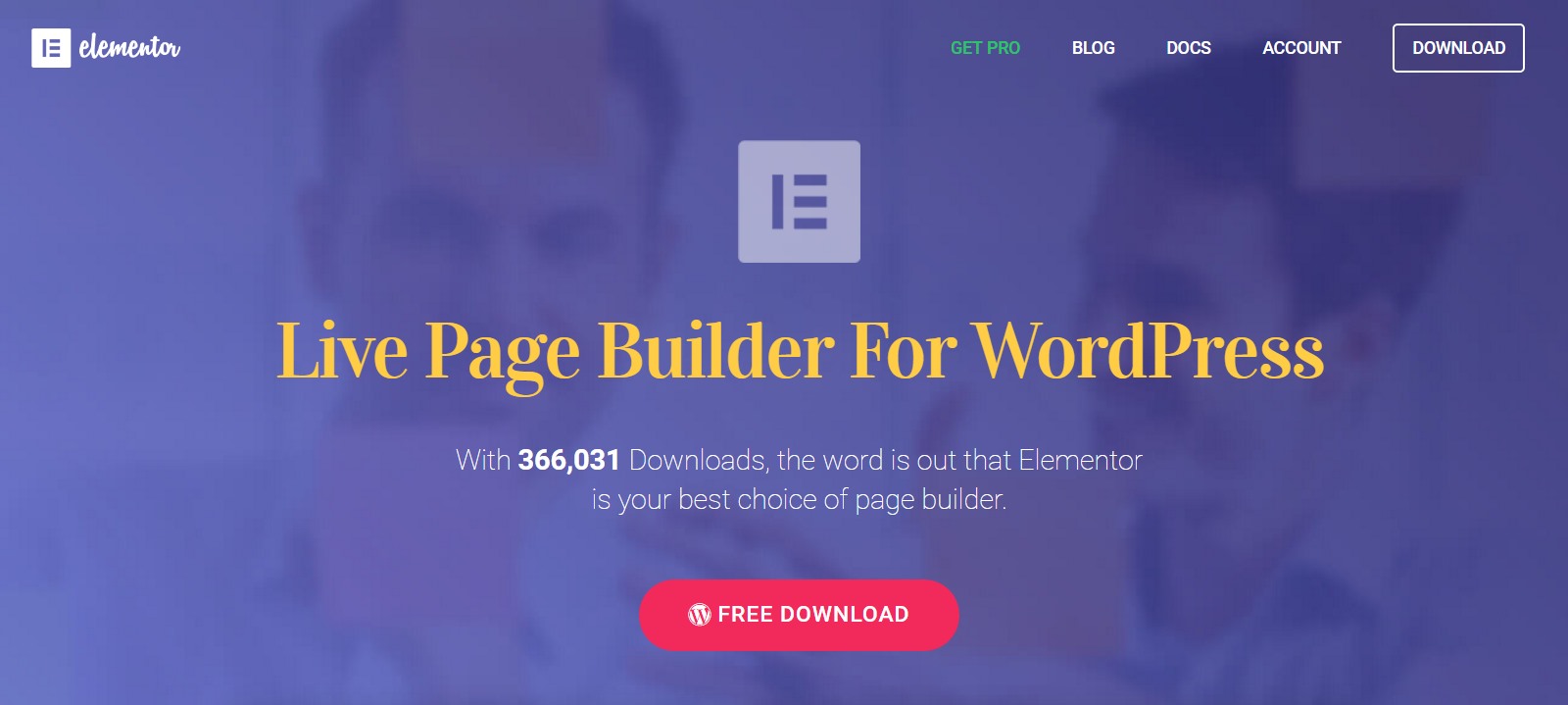 Price: $0 | Official Website
The secret to developing a quality drag-and-drop builder plugin these days seems to be all about delivering a reliable front-end editing experience that's fast and snappy. Plus, above all else, a good builder needs to be predictable and make the live pages look exactly like the previews shown to the user.
Elementor seems to understand this, and I have to say that I'm impressed with the overall interface of the plugin.
Everything is very easy to grasp, even if it's your first interaction with a builder plugin like that. Basically, there's just a main container options panel to the left and a live preview window in the center. You can drag and drop things freely from one to another and realign all blocks however you wish.
Last but not least, Elementor is available for free. Well, okay, there is a pro version too, but in, I assume, 95% of the cases you're going to be just fine with the free one.
Features
Ready-made page templates available.
100% drag-and-drop capable. You can realign everything you see on the screen.
Works with posts and pages.
A nice set of custom content elements available + you get to use all the widgets you have installed on your site already.
Works with any theme.
Mobile editing controls + everything you create with Elementor is mobile-viewable and responsive.
Resizable columns, resizable widths and heights of everything, adjustable content positions, adjustable column gaps, backgrounds, colors, margins, and much more. In short, customization is strong with this one.
You can import / export your custom-built pages.
Custom CSS support.
Pros
The ready-made page templates make working with the plugin much faster, not to mention giving you an already great-looking page designs to choose from. And of course, you can customize those templates freely.
The mobile editing controls are really cool. They let you choose exactly what your creation is going to look like when viewed on mobile (or tablets). Basically, you get to choose the breakpoints, adjust font sizes, padding values, and everything else that matters for a well-built layout.
You can nest columns. Not a feature that's often offered in other builders.
Great live previews.
Perhaps the best free plugin on the market.
Cons
Even though it technically works with any theme, the results you get will still depend on the theme's structure to some extent. For instance, with some themes, the plugin can have difficulties embedding the builder's UI elements in the theme's HTML structure (in order to make the live previews / main canvas appear properly).
Final Score: 10/10
Conclusion
This part sums up my take on the top drag-and-drop page building plugins for WordPress. In short … boy was I wrong to worry that those fancy drag-and-drop plugins were only a toy or novelty. At the end of it, I'm really excited about what's available these days in terms of solutions that make WordPress even more usable than it already is.
Who knows, maybe drag-and-drop plugins are indeed all you need to build yourself a quality website on top of just a very minimal WordPress theme.
Lastly, if you're interested in using a drag-&-drop page builder plugin specifically to create a landing page for your site, take a look at this earlier post of ours detailing a number of WordPress plugins aimed at helping you do exactly that.
Which would you say is the best – and why? Thoughts?
All comments are held for moderation. We'll only publish comments that are on topic and adhere to our Commenting Policy.
Our commenting form also supports the use of Markdown.