A Collection of the Best Bootstrap Themes for WordPress (2017)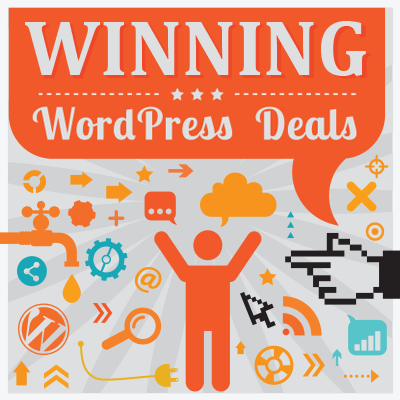 The following is a collection of some of the very best WordPress themes (both free and premium), based on Twitter's incredibly popular Bootstrap Framework.
Whether you're looking for a theme for your blog, portfolio or business website, or even if you're in the process of creating a WordPress-powered online shop, you'll likely find a suitable Bootstrap theme listed.
One of the benefits of choosing a Bootstrap-based theme is that, because the underlying framework takes advantage of mobile-first principles (i.e. developed with primarily mobile devices in mind), any theme you go for will almost certainly be completely responsive — so everything should, in theory, look great and work perfectly on any device.
Note: Each theme listed includes a full-page screenshot (some of which require quite a bit of scrolling to get the bottom of) that links to the corresponding theme's official, fully fleshed-out demo page — simply click on an image to be taken to a live preview of whichever theme you're interested in.
Let's get started…
Alpine
The Alpine one-page theme, by MilkshakeThemes, gives you four main modes to choose from when setting up your website, including a full-screen video background option and a combination of image and text slider configurations.

As you build your website with this Bootstrap-based WordPress theme, you can add a wide range of elements to the one-page layout of the homepage. You can also create your own fully customized color skins, as well as generate your own time-saving shortcodes through the integrated tool.
Other features of Alpine include:
Animated pricing table builder
Parallax scrolling effect
Filterable portfolio
Sideshow galleries
Easy import demo content
The multipurpose Alpine theme is available from ThemeForest for $44, with six months of support.
Angle
Angle, by Oxygenna, is a popular Bootstrap-based WordPress theme that continues to be updated since its initial release in 2014. This theme could be a good choice for anyone building a portfolio website or seeking a way to promote agency or freelance services online.

To help you get your website up and running as quickly as possible, Angle includes a one-click installer, with ten homepage layouts to choose from. After you've imported the demo content, there are plenty of customization options on offer to help you personalize your website.
Other features of Angle include:
Flat, fast loading design
Selection of page templates and prebuilt layouts
Drag and drop page builder tool
Slideshow builder tool
E-commerce support
Eye-catching animation effects
Angle is available from ThemeForest for $59 and includes the commercial Visual Composer and Revolutions Slider plugins at no extra cost.
Apex
Apex, by Meta4Creations, has been created to help you promote your business and services online. Through the multi-featured homepage layout, you can provide your visitors with all the information they need to understand fully what you have to offer.

The Apex WordPress theme gives you six color schemes to choose from when setting up your website. However, each color palette can be customized to help you get the right match for your brand. You can also easily insert a range of icons and elements into your content to illustrate your content.
Other features of Apex include:
Optional one-page layout
Four blog post templates
Portfolio gallery templates
Eye-catching animated effects
Team member profiles
For $44, you get access to the Apex theme and six months of support via the ThemeForest marketplace.
Arcade
The Arcade theme, by Themes by Bavotasan, makes it easy to setup a website to promote your business or services with WordPress. The default homepage layout includes space for a large welcome image as well as the opportunity to highlight your key skills and display the latest content from your blog.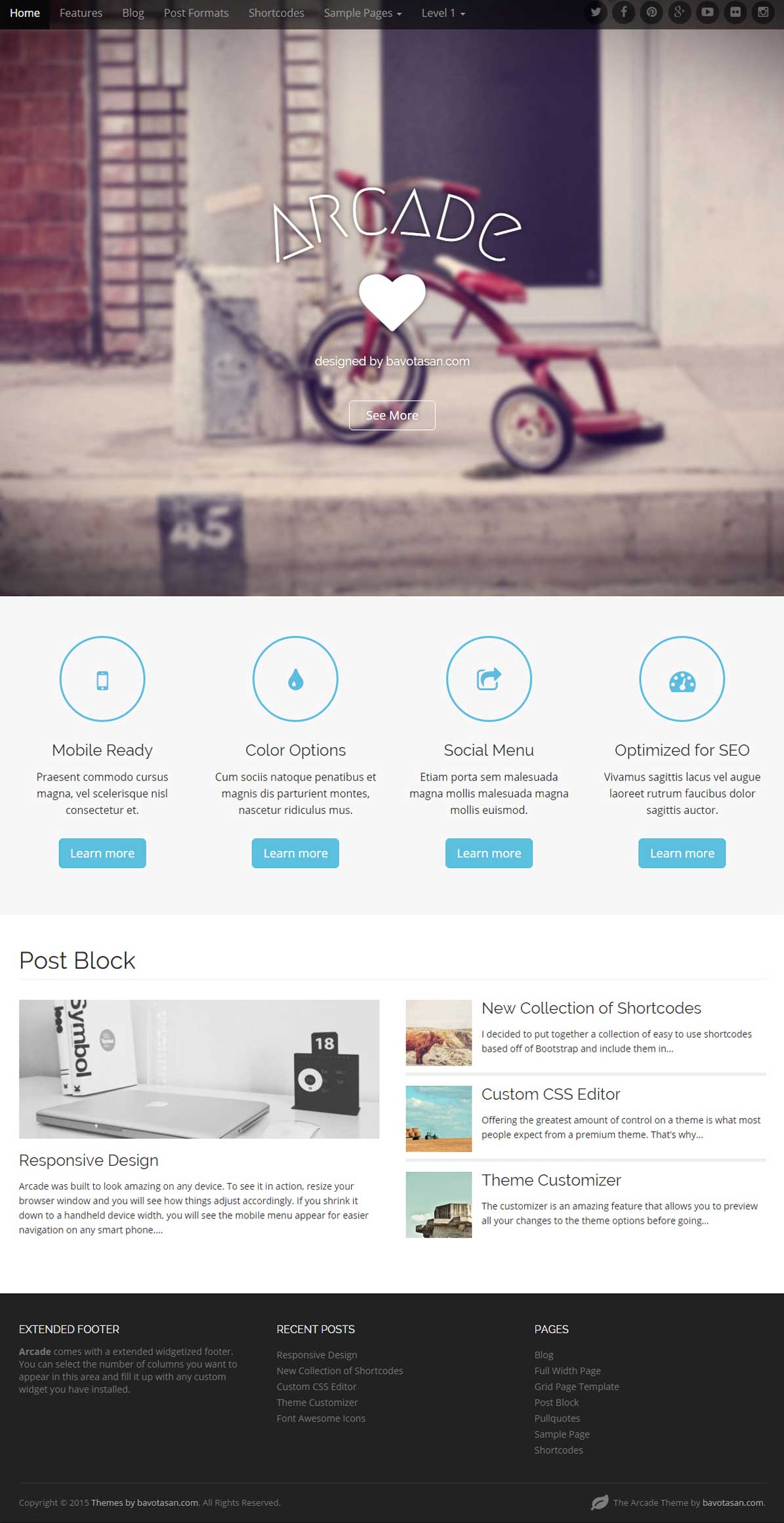 With a good level of support for the WordPress Customizer tool, this Bootstrap WordPress theme makes the process of personalizing the colors, fonts, and background images of your site very straightforward.
Other features of Arcade include:
WooCommerce support for creating an online shop
Eight different post format templates
Full-width layout mode
Library of useful shortcodes
Integrated custom CSS editor
Google Fonts integration
The full version of Arcade is on sale for $69 and is available as part of the Bavotasan theme shop two for one promotion. There's also a basic version with fewer customization options that you can download for free.
Artic
Artic, by UmbrellaStudios, is a minimal WordPress theme that has been built for architects and other creatives. When installing the theme, you get a few different prebuilt configurations to choose from, including an interesting option where the menu is fixed to the bottom of the screen.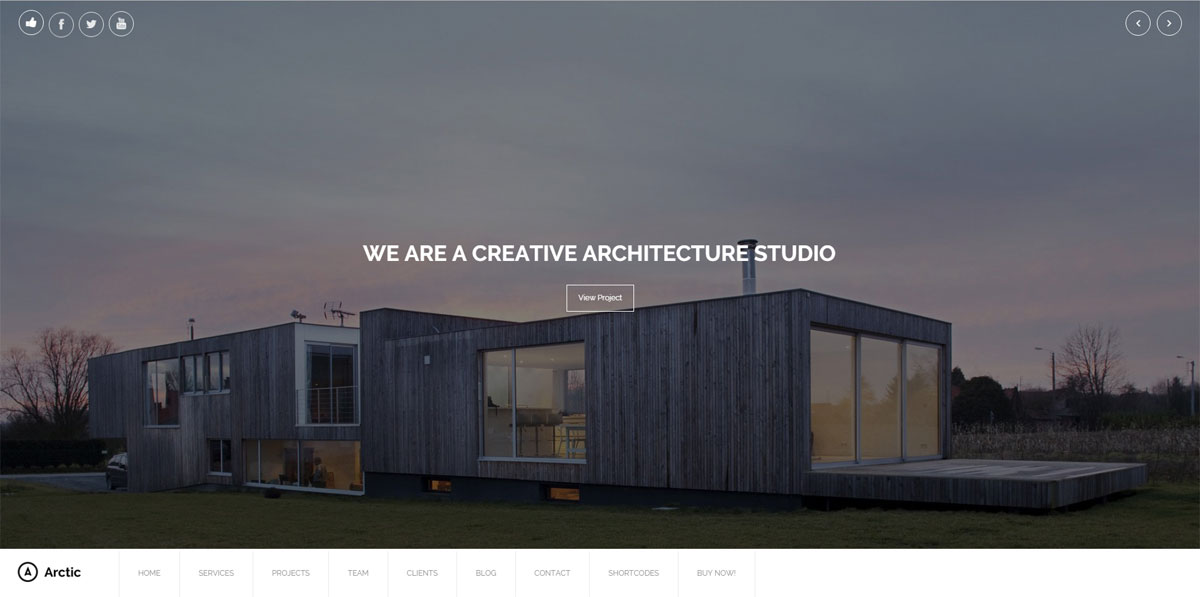 Artic is focused on helping you present your work in the best possible way. To help you display your projects, you'll find a full-screen slideshow tool, a range of page templates, and an easy to navigate portfolio section.
Other features of Artic include:
Seamless AJAX-powered page loading
Eight page templates
Full-screen video or image background display
Animated menus
Choice of navigation bar locations
Easy import dummy content and one click demo installation
The Bootstrap-powered Artic WordPress theme is available from ThemeForest for $59.
Breeze
Proving that not all bootstrap themes have to be business-focused, Breeze, by BluThemes, is a blogger friendly WordPress theme. When setting up your blog, you get four main layout options to choose from, including a five column, Pinterest-style layout. You can also choose how and where your sidebars are displayed.

If you are using your blog to help you land more clients or customers, then the portfolio section of Breeze will help you show off what you have to offer. There's also a number of advert locations to choose from, helping you monetize your content in different ways.
Other features of Breeze include:
14 custom sidebar widgets
Library of shortcodes
Detailed theme options control panel
7 post format templates
The Breeze bootstrapped-based blogging theme is available from ThemeForest for $44.
Finch
Finch, by TommusRhodus, is a magazine and photography theme that includes plenty of prebuilt homepage layouts to help you get the right look and feel for your website. Whether you're building a photography portfolio website or an online magazine, the different layouts of Finch will help your photographic content take center stage.

As well as the different layouts on offer, you can also create your own. Thanks to the included page builder tool, you don't need to have any coding experience to start creating your own custom layout designs. There's also a powerful slideshow builder tool included with the Finch theme, giving you another way to display your photos.
Other features of Finch include:
One-click demo installer
Multiple color schemes
Selection of portfolio and blog layouts
Testimonial publishing tool
WooCommerce online shop plugin support
The Finch photography and magazine WordPress theme can be purchased from the ThemeForest marketplace place for $59.
Fortis7
Fortis7, by MouTheme, is another popular Bootstrap-powered multipurpose theme, this time with more a corporate focus than some of the other themes of this type. Thanks to the included two commercial slider tools, the prebuilt layouts feature a range of animated full-screen image and video slideshows.

In the Fortis7 theme package, you'll also find a large number of prebuilt page templates that cover all of the most important pages your site will need. There's also a useful selection of portfolio layouts for displaying your work, as well as a drag and drop page builder tool for customizing any of these templates.
Other features of Fortis7 include:
Over 40 different prebuilt slider configurations
Support for video backgrounds
Ten different header layouts
One-click demo data import
Full WooCommerce and bbPress support
For $64, you get access to the Fortis7 theme, as well as the commercial plugins included in the theme package.
Ibuki
Ibuki, by Bluxart, is a multipurpose WordPress theme that aims to cover almost any type of project. Whether you want to create an agency website, an online portfolio, or an e-commerce store, the prebuilt layouts included with Ibuki can help give you a head start.

For those with more creative aspirations, the integrated page builder tool makes designing custom layouts a relatively straightforward and code-free experience. Thanks to the library of shortcodes, there are a number of useful elements you can add to your content, including buttons, maps, pricing tables, and testimonials.
Other features of Ibuki include:
Page loading animations
Varied typography options
Infinite scroll
Slideshow builder tool
Number of blog layouts
Ibuki is available from ThemeForest for $59, with six months of support and lifetime access to updates.
KLEO
KLEO, by SeventhQueen, is one of the most popular WordPress themes to have been built on the Bootstrap framework. It's a true multipurpose theme with a number of prebuilt demos to choose from.

No matter what type of website you plan to build, from membership sites and community projects, through to corporate homepages and online agencies, KLEO should have a prebuilt option that is ready to use.
Other features of KELO include:
Display live notifications to your visitors
AJAX-powered live search tool
Integration with popular e-learning, directory, and community plugins
Support for the live Customizer tool
Prebuilt Google Material Design color schemes
Pricing table builder tool
KLEO includes a number of premium plugins, and the whole package is available for $64 from ThemeForest.
Kubb
Kubb, by TommusRhodus, is another photography and magazine WordPress theme based on the Bootstrap framework. However, Kubb is best suited to those with a large number of photographs they'd like to display online.

Thanks to some of the features of this theme, such as the pricing table builder and the services page template, Kubb could be a good choice for photography professionals looking to get more clients from their website.
Other features of Kubb include:
Five different homepage layouts
Testimonial publishing tool
Client logo widget
WooCommerce support for collecting payments online
Selection of portfolio layouts
Kubb is available from ThemeForest for $59, with six months of support.
Lambda
Thanks to the 29 different prebuilt demos that are part of Lambda(by Oxygenna ), no matter what type of website you are building, you should be able to get your project off to a great start. Each of the different demo versions can be installed in just a few clicks, leaving you to add your content.

The theme control panel of Lambda includes over 100 different settings and options that allow you to customize almost every aspect of your website. There's also a commercial page builder plugin included in the package for even more creative possibilities.
Other features of Lambda include:
Revolution Slider slideshow builder tool
Six different header layouts
Support for the WordPress live Customizer tool
Selection of prebuilt page templates
Library of useful page elements
Multiple portfolio and blog layouts
The Bootstrap-based Lambda theme costs $59 at the ThemeForest marketplace.
Mana
Mana, by Themeton, and its full-screen homepage image and video slider give you a great opportunity to wow your visitors with your best content, as soon as they arrive at your site.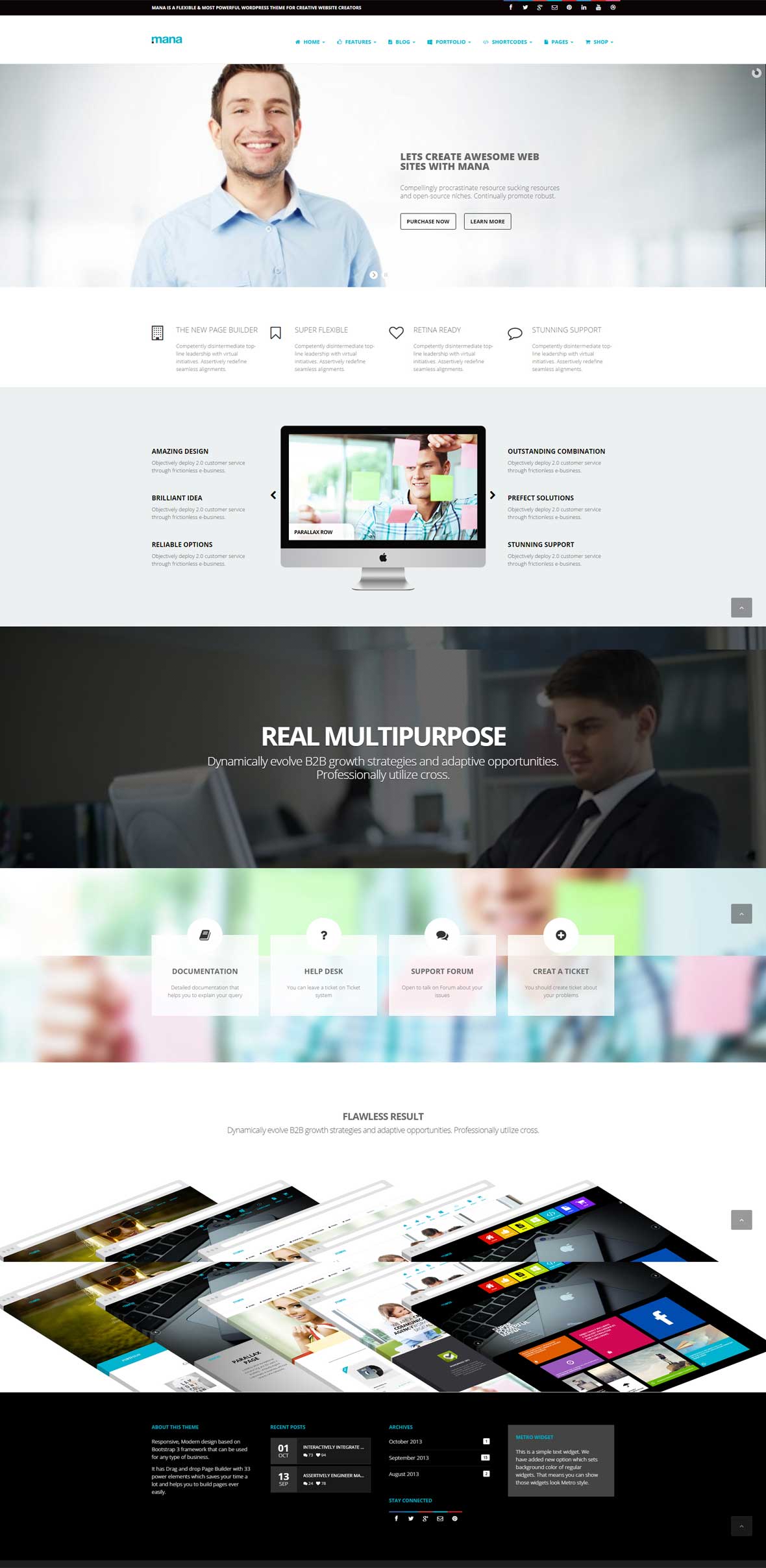 As they scroll down the page, your visitors can find out more about all that you have to offer. This information can be presented in the form of icon lists, testimonials, and content from your blog or portfolio.
Other features of Mana include:
Multiple prebuilt skins and layouts
Custom skin and layout builder
Display content from multiple pages in a single location
Custom menu builder
Page builder and customizer tool
Mana is available from the ThemeForest marketplace for $59, with six months of support.
ME
ME, by MetroThemes, is a resume and portfolio theme, powered by the Bootstrap framework. The main purpose of this theme is to help you promote yourself as a freelancer or job seeker. Depending on how you choose to set up this WordPress theme, your website can either take the single page format or be divided up into individual pages.

When creating your website with the ME theme, you have the option of displaying your career history in a timeline format, publishing your skills and abilities on your online resume, displaying testimonials and references, and presenting your portfolio of work.
Other features of ME include:
Selection of blog post templates
Pricing table creator
Social media feed integration
Ten color skins
Custom sidebar widgets
The ME resume WordPress theme is available for purchase through the ThemeForest marketplace for $44.
Zerif Pro
Zerif Pro, by ThemeIsle, is a one-page WordPress theme built on the Bootstrap framework. Due to its professional design and features, it could be a good choice for building your online portfolio or agency website. In fact, it's a theme we've reviewed in more detail in the past.

Through the homepage builder of Zerif, you can drag and drop any of the available modules into place, then personalize them through the WordPress Customizer tool. Each of the homepage modules or widgets can be customized in a number of ways, including changing their colors, images, and content. This all adds up to help you build the right type of website for your project.
Other features of Zerif Pro include:
Large selection of homepage modules
Full-width image slider
Drag and drop homepage module organizer
Parallax scrolling
E-commerce compatibility through the WooCommerce plugin
Zerif is available in a free lite version, as well as the more feature-rich Pro version for $99, or as part of the ThemeIsle all themes package.
Final Thoughts on the Best WordPress Bootstrap Themes
As is obvious from the above collection, WordPress themes based on the Bootstrap framework cover a wide range of purposes and styles.
From simple one-page portfolio themes, through to true multipurpose themes that include a selection of the most popular commercial plugins, no matter what type of website you're building, there's likely fitting fully-responsive template out there.
Any others? Any favorites?
All comments are held for moderation. We'll only publish comments that are on topic and adhere to our Commenting Policy.
Our commenting form also supports the use of Markdown.