The Importance of Backing Up a WordPress Website: A Guide to Using VaultPress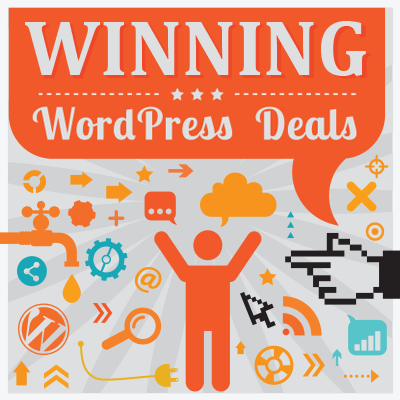 Imagine a scenario where your entire website simply… disappears. The beautiful custom-built design, the hundreds of posts you've laboured over, and all those comments you've worked tirelessly to generate — gone! It's not a nice thought, is it?
You may think you've got WordPress all worked out, and that there's no need to worry that anything will go wrong — but, the truth is, there will always be things outside your control that are impossible to predict, such as a determined hacker, a severe hosting outage, broken updates, human error and/or compatibility issues (to name a few).
These are all very real risks that can take even the most prepared webmasters by surprise, but enough with the scaremongering — let's turn our attention to how you can protect your website from the unthinkable: being lost.
The solution is easy: make regular backups.
You must make a backup of your website — failing to do so is one of the biggest mistakes you can make.
Think of a backup a little like taking a snapshot of your website at a specific point in time — a snapshot that you can use to restore it to a former state.
So, should something go wrong with your website today, you can simply restore yesterday's backup, when everything was running like clockwork. Easy and logical, right?
Pros and Cons of Backing up Your Website
Before undertaking any online activity, it's a good idea to look at the pros and cons.
It should be no different for backing up your website, so let's start by looking at some of the positives.
Better safe than sorry — you might think you're being super careful, but things go wrong. If the worst should happen, you'll be more than a little thankful you backed up your website.
Protect against security threats — if a virus takes hold of your website (or a hacker gains access), you can at least restore it to its state before the compromise.
Updates/compatibility issues — not all WordPress plugins and themes are compatible with the latest version of WordPress. You may do everything right, but if there's a compatibility issue you're unaware of, it can lead to the white screen of death. In this scenario, again, you'll be grateful for those backups.
Easy migration — if you want to move your website over to a new URL or hosting account, you can simply upload a backed-up version of your website. Easy peasy.
Peace of mind — if you aren't clued up on WordPress security (or even if you are) you might have lingering doubts as to whether your website is really safe, a complete site backup will give you one last line of defence, and, if something goes wrong, you will still be able to salvage a working version of it. Don't underestimate the value of peace of mind — after all, we'd all like to sleep a little easier, right?
Now for the cons, and I'm speaking genuinely here when I say there aren't any.
None. Nada. Zilch.
There isn't a single reasonable reason I can think of for not backing up your website — yup, it's that important.
So, with the why taken care of, let's look at how to backup a WordPress website — and introduce arguably the best WordPress backup service there is: VaultPress!
Introducing VaultPress
If you're looking for an affordable and reliable backup service, I — and a heap of other professionals — strongly recommend you use VaultPress.
"Why VaultPress?" I hear you ask.
Because it's about the simplest, most reliable and hassle-free service available — backed up by the fact that it's extremely well managed and supported* by the people behind WordPress.com (Automattic).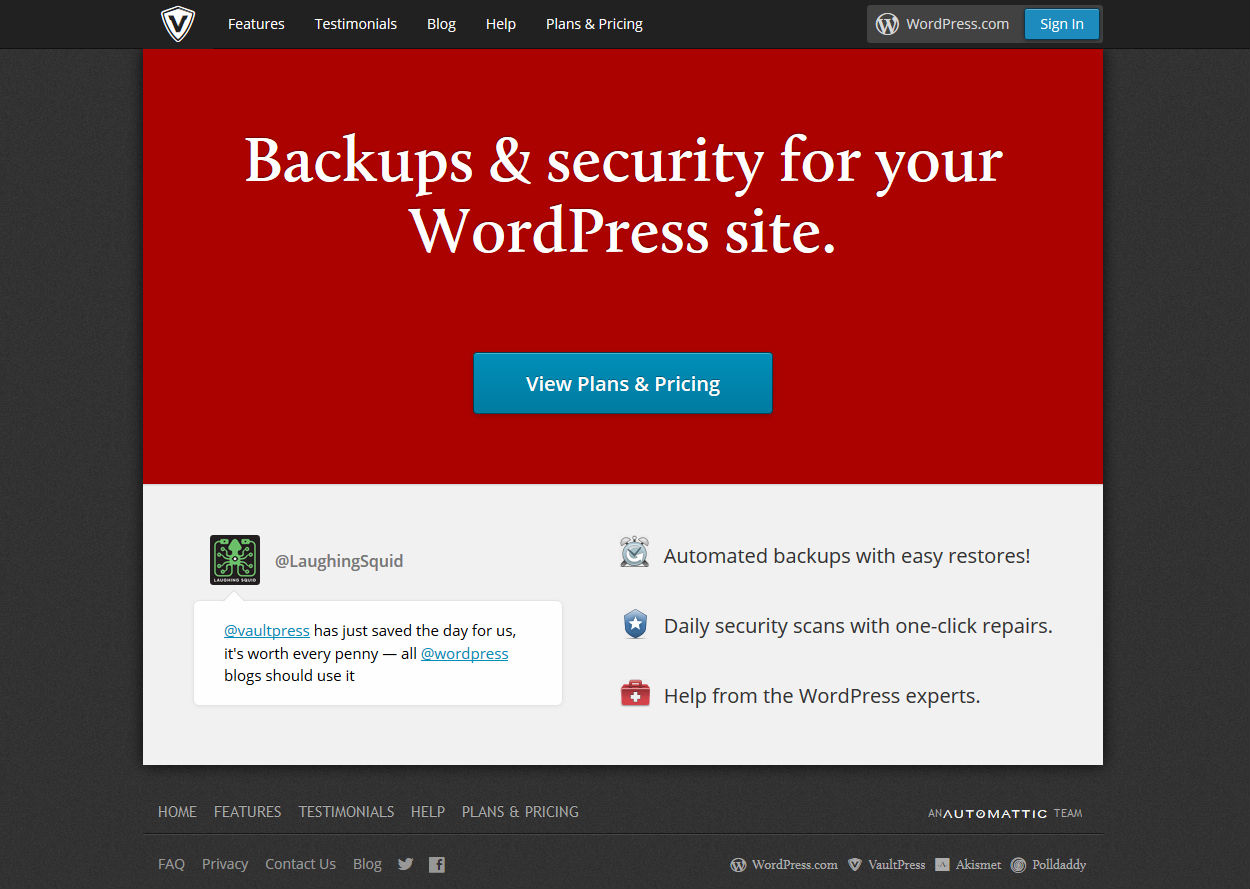 To get started, install the official VaultPress plugin on your WordPress-powered website, sign up for a subscription and enter the necessary details (more on this below). The plugin will automatically sync your site with the VaultPress servers, and, should things go wrong, you'll be able to completely restore your entire website and all of its content with the click of a button.
That's great peace of mind — and all from just $5 a month (or $55 a year) for a Lite licence, which gives you daily backups and automated website restores (should you need them) from a 30-day backup archive.
If you want more thorough protection, though, you may want to consider upgrading to the Basic plan. This licence will set you back $15 a month, or $165 a year if paid upfront.
What does this extra money get you? Well, real-time backups for a start — every time you make a change to your website, VaultPress will automatically create a back-up. It will then also take hourly 'snapshots' of your website and allow you to choose to restore it from an entire history of backups (rather than just the past 30 days).
If you want to cut down on spam, consider getting a VaultPress Bundle plan, which also grants access to the Automattic-owned Akismet Plus.
If you're an inexperienced WordPress user, you may think VaultPress will be difficult to configure. In this section, I want to show you how easy it is by walking you through a complete website backup and restoration.
Getting Started with VaultPress
To start, sign up for a subscription on the VaultPress website by logging in with your WordPress.com account.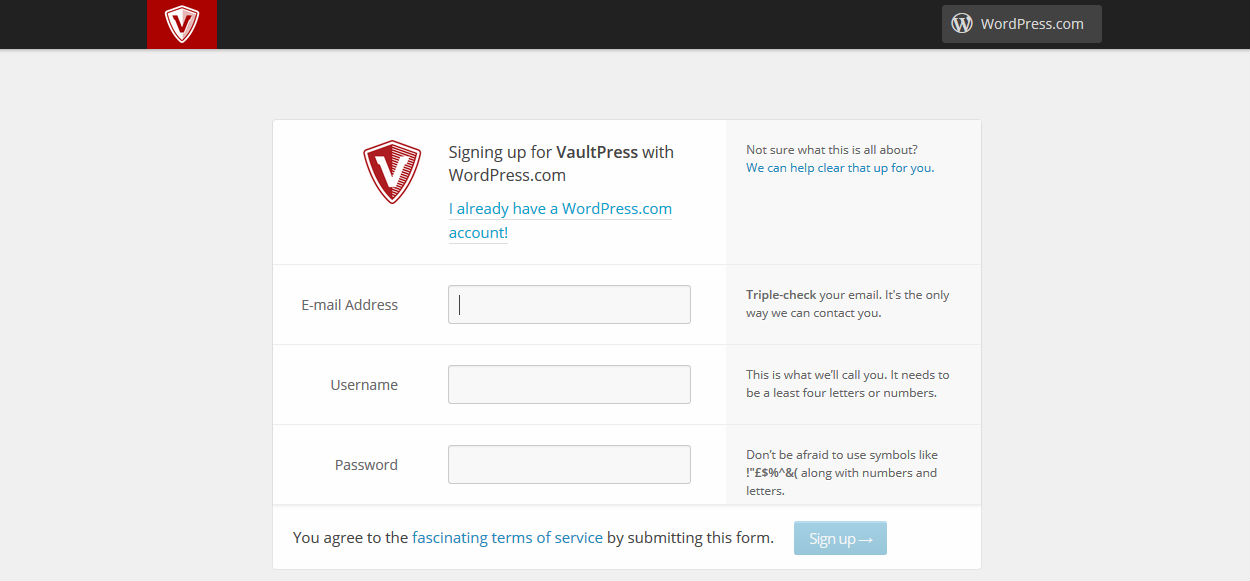 Next, you'll be asked to fill in your details and your website URL, and make a payment using a credit card (sorry, PayPal isn't accepted).
After you've paid, the next step is to configure your VaultPress account. You'll be asked for server details (specifically for validating FTP and/or SSH connections) and login credentials for your WordPress website. These steps are critical for enabling one-click website restoration, so if you're unsure about the technical server details contact your web host.
With the details entered, click the blue button to test your connection. You'll get a confirmation if the test is successful, and then it's time to install the VaultPress WordPress plugin.
To simplify the installation process, VaultPress will automatically install the plugin at the click of a button, or you can do it manually by going to Plugins > Add New > VaultPress > Install Now > Activate the Plugin.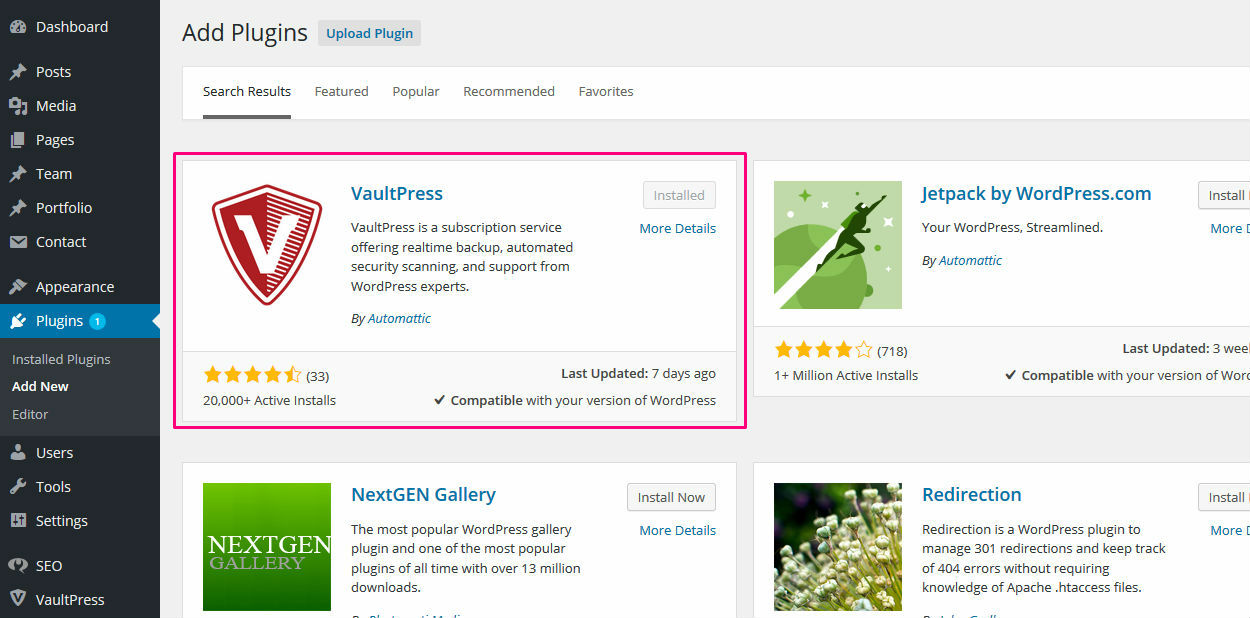 The next step is to register your VaultPress account. Go to the new VaultPress option in your dashboard sidebar, then paste in the registration key that will have been sent to your email address. Finish by hitting the 'register' button.
Backing Up Your Website
VaultPress will automatically start creating a backup of your website — this can take a while, possibly hours, depending on the size of your website, but this process happens in the background, so you're free to close your browser or continue working on your website.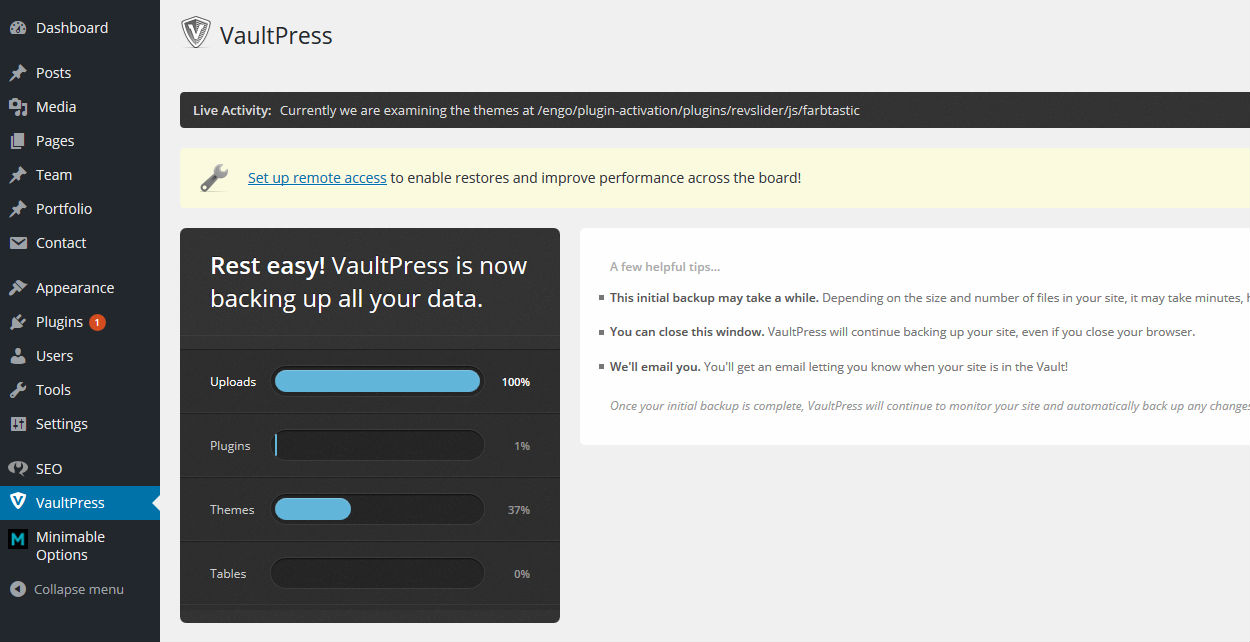 And that's all there is to creating your first backup — quick and painless. Going forward, everything happens in the background and is fully automated, so your work will never be disrupted while you wait for VaultPress. Your backups are stored on the trusted Automattic servers, too, where you know they'll be safe.
At this point, it's worth clarifying the differences between the two licences.
If you've opted for the $5 Lite licence, VaultPress will repeat this process every 24 hours, creating a daily backup of your website.
If, however, you've upgraded to the $15 Basic licence, VaultPress will be far more active. In addition to the thorough daily scan, it will also take hourly snapshots of your website. Best of all, VaultPress receives real-time alerts from your website, so the moment something changes it will begin generating a backup — for example, if you've published a new post or installed a plugin.
While in most cases a daily backup is sufficient, the Basic licence gives you that little bit more peace of mind that, should something go wrong, you can restore your website without losing anything — even your most recent work.
To view details of your website's backups, you need to access the VaultPress dashboard, which is separate from the WordPress back end. Head to VaultPress.com and log in using your WordPress account, or jump straight to the VaultPress dashboard from the WordPress dashboard (having a separate VaultPress dashboard is useful, because if your website crashes and you can't access the WordPress dashboard you can still access your backups and restore your site).
The dashboard front-page will look something like this: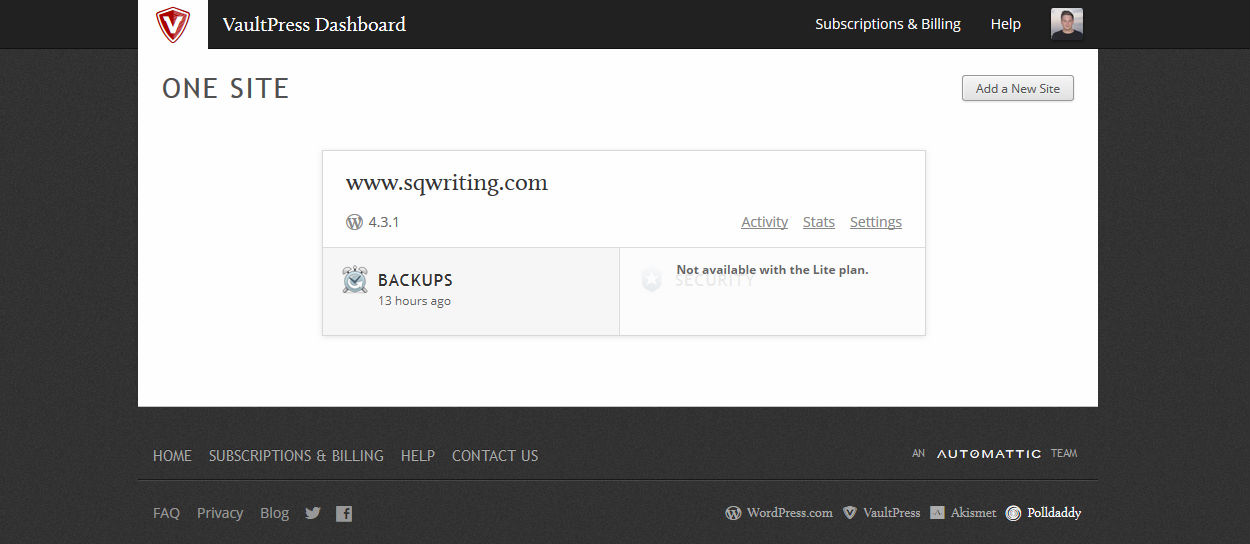 To view your backups, simply click on the backup button for the website you want. Here, you will see a calendar view of all your backups, plus a list of your latest backups.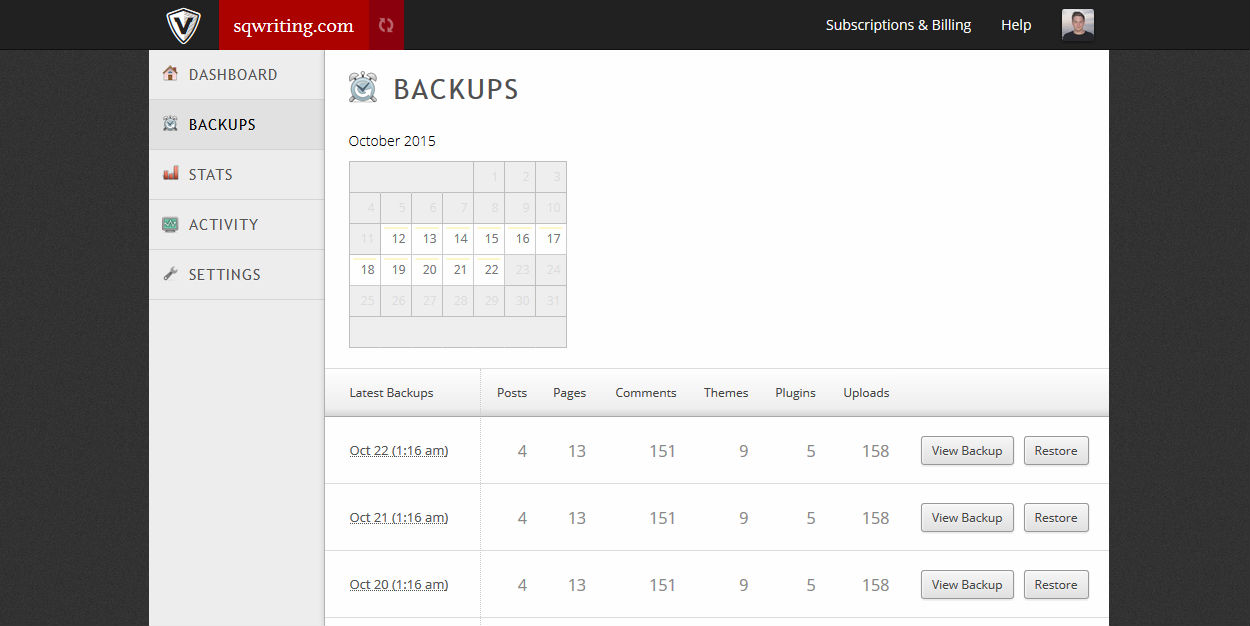 Restoring Your Website
Of course, one of the advantages of a VaultPress subscription is the ability to easily restore your website to its fully working state should something go amiss. Hopefully, you'll never need to use this feature, but, should things go wrong, it will prove invaluable.
If problems hit, VaultPress makes it super easy to restore your website to its former glory — thanks to its one-click website restore feature. Let's take a look:
From the VaultPress dashboard, navigate to backups. If you have a Lite licence, you'll be able to use any restoration point from the past 30 days. If, however, you opted for the Basic licence, you can use any backup from the lifespan of your VaultPress subscription.
Choose a restoration point when you know your website was in full working order, and then click the restore button. A pop-up will appear, asking you what to restore — database, plugins, themes, uploads, and contents. If something's gone wrong, my recommendation is to backup your entire website by selecting all five options. When you're happy with your selections, click the prepare backup button.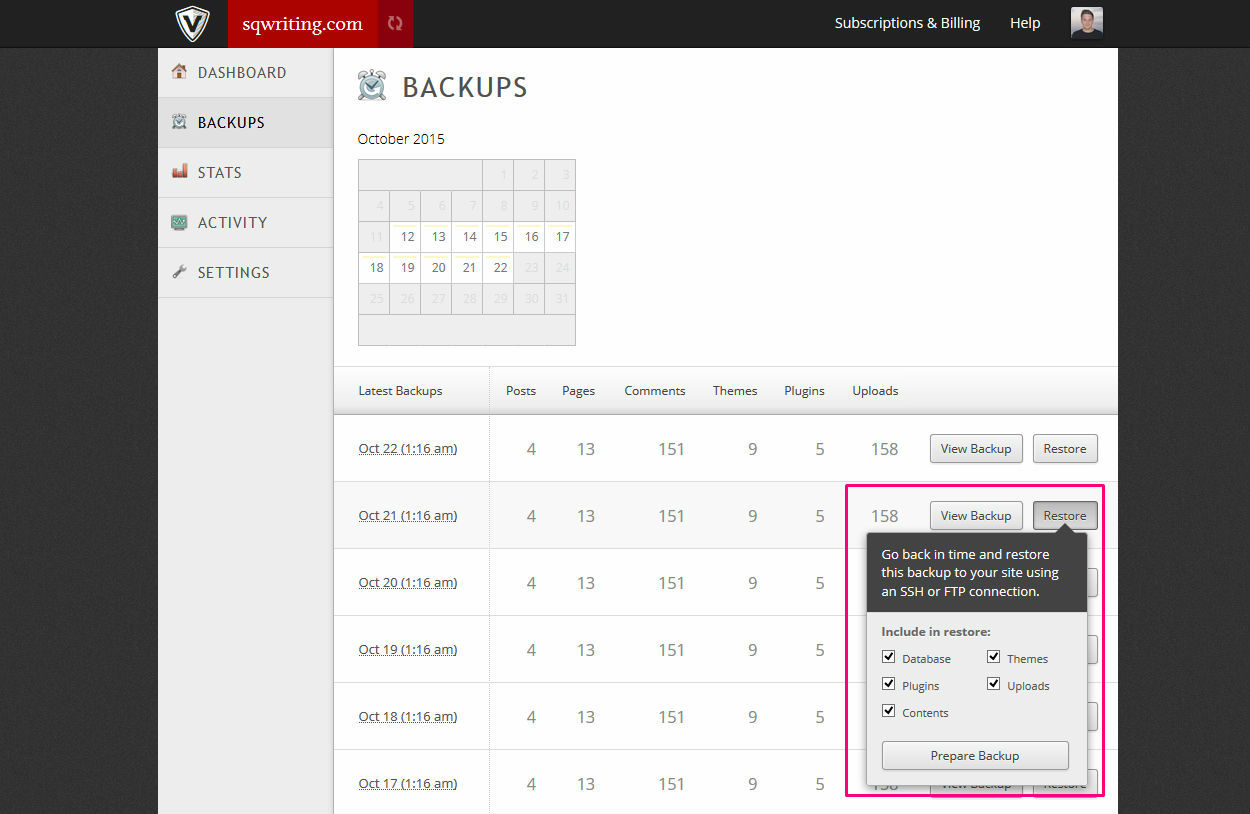 Remember at the start of this tutorial when I asked you to set up an FTP or SSH connection? Well, that was because you need this connection to restore your website. If you've already set up your connection, no problem — you'll see a screen like the one below that shows you're ready to go. All you need to do is click the blue restore now button.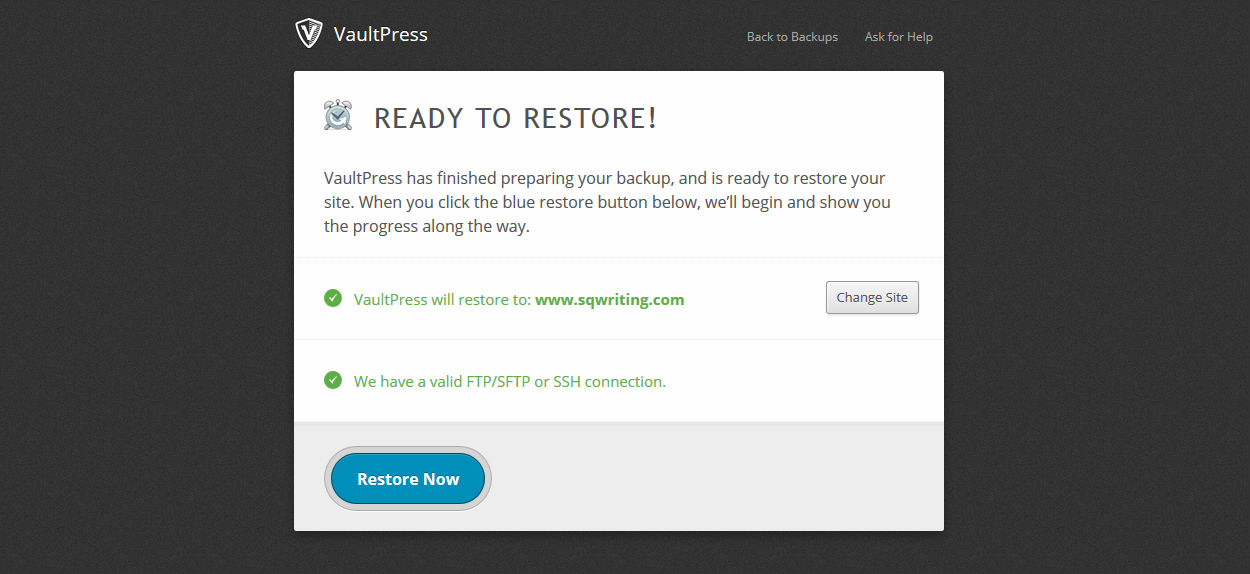 This will set the website restore in motion, which, depending on the size of your site, may take some time to complete. You can track the restoration process by following the progress bar.
And with that, your website is restored! A website restore should take considerably less time than a backup, and should be completed in a matter of minutes (although this does depend on the size of your website, of course). You'll receive an email when the restoration is complete.

Final Thoughts
Using VaultPress is an absolute breeze. The entire process — from configuration to backups to restoration — is incredibly intuitive, and even the most inexperienced WordPress user shouldn't encounter any problems.
You might convince yourself that, because nothing has ever gone wrong with your site, you don't really need a backup service. Ironically, the only time you need a backup service is when things do go wrong — by which point, it's already too late.
So do yourself a favour and make backing up your website an absolute priority. There are plenty of great backup solutions out there for WordPress users, but most experts consider VaultPress to be the absolute best of the bunch — the Automattic-backed service is effective, reliable, affordable, and, perhaps most importantly, extremely well supported.
Just consider how much time, effort, and money you've invested in building your website. Now imagine the feeling of losing all of that in one fell swoop!
It doesn't bear thinking about, right?
*Note: Few other backup services will help you get your website up and running again with the same degree of enthusiasm as the VaultPress support team (indeed, many WordPress backup services/plugins offer no support at all).
Using VaultPress (or perhaps something else)? Thoughts?
All comments are held for moderation. We'll only publish comments that are on topic and adhere to our Commenting Policy.
Our commenting form also supports the use of Markdown.