The Best WordPress Theme Detecting Tools
When it comes to online tools for discovering which themes websites use, there's a number of services available (for those who either don't have time to or don't know how to check the code themselves). One of the most comprehensive of these tools is, of course, WPThemeDetector: a tool we've already covered in a previous article — but what of the others? Let's take a brief look at the main contenders:
What WordPress Theme Is That?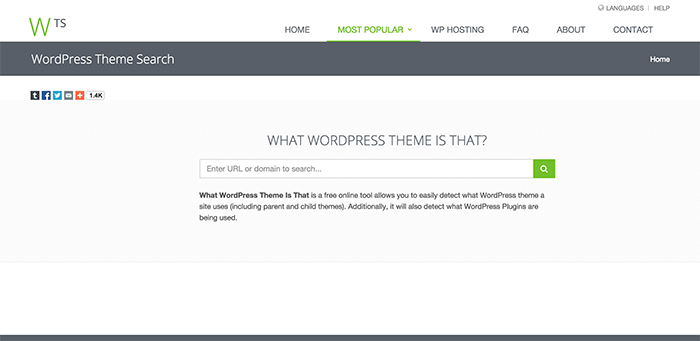 Founded in 2011, What WordPress Theme Is That is one of the longest-running and most-popular tools for discovering WordPress themes. Capable of detecting both themes AND plugins (although, like any of these tools: the number of plugins it can detect is severely limited), the service is incredibly quick and easy to use, but will often give a little less info than some of its rivals (particularly in terms of theme specifics).
What Theme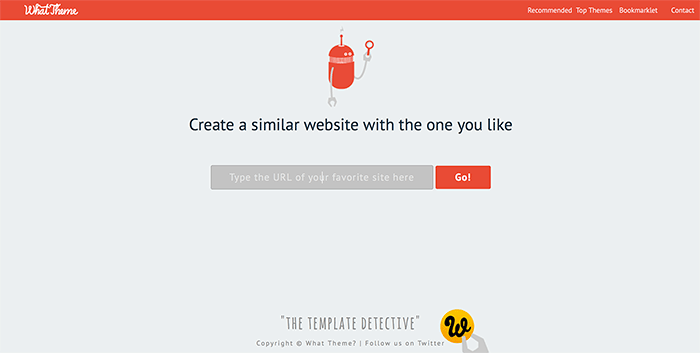 What Theme, created by Catalin Zorzini (the man behind the popular web-design mag called Inspired Magazine), is a relative new theme-detecting tool that has the advantage of being able to detect not only WordPress themes, but also Drupal, Joomla and Ghost themes (plus a handful of others) to boot.
Unfortunately, despite being beautifully designed and showing great promise, the tool doesn't seem to have flourished to quite the extent of the others in this list — despite being covered by a handful of leading WordPress news sites when it was first released a year or so back… Probably due to the fact that apart from the name of the theme being used it gives very little additional information and doesn't appear to be able to detect the use of child themes…
Great for utter simplicity perhaps, but if you're looking for more than the most obvious details about which particular theme a site is using, I'd recommend comparing the results from this particular tool with those of another.
WPSniffer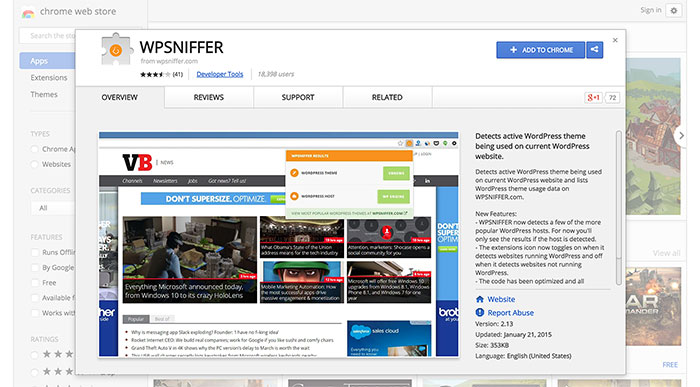 Those who use Chrome may like to give this one a try: WPSniffer (what a great name!). In addition to working directly within Chrome (it's a Chrome extension that, once installed, places a handy sniffing icon in the top right of the browser toolbar for easy access), this particular tool also collates the results of its sniffs into a website to allow visitors to see the number of times it has detected a particular theme. At the time of writing, for example, the site displays info saying that it's been used 76,581 times and detected over 22,000 WordPress themes — the most popular of which being Avada.
…Bonus Tool:
Although not a tool for detecting WordPress themes, there's also another handy Chrome extension worth checking out (for those who might be interested): Appspector, which can detect more than 100 popular CMS and JavaScript libraries — including, of course, WordPress — for that extra little bit of techy info on a particular site you're interested in!
A Quick Word of Caution:
It's worth noting that no tool is perfect and if you're serious about finding out specifics of the theme being used on a particular site it's almost always worth also taking a quick look at the code manually to see if the theme author (or site owner) has written anything in there that can't be detected by these types of automated tools (which is actually quite likely!) — and if all else fails, remember there's always the altogether-more-human approach of simply emailing the site in question to ask if they'd be happy/willing to tell you a little more about the theme being used and/or the overall design of their site (heck, they may even be pleased you're so interested)!
Did we miss any? Any others?
All comments are held for moderation. We'll only publish comments that are on topic and adhere to our Commenting Policy.
Our commenting form also supports the use of Markdown.