AppThemes Anniversary Deal – Save 30% On Any Purchase!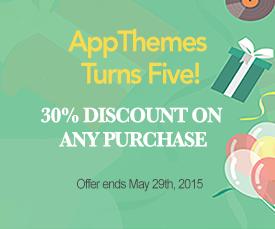 AppThemes — one of the best-known WordPress theme shops to specialize in (as the name suggests) application themes* — turns five this month, and in celebratory fashion, they're currently offering a whopping 30% discount on any purchase!
What's more, something I personally didn't know until today (when I was looking through their site for the purposes of writing this very blog post), in addition to selling their own themes, they've also now branched out to include their very own marketplace for people to buy and sell WordPress products — in which they're currently listing nearly 200 items and showing almost 17,000 sales!
…and before you ask: yes, the above 30% discount coupon will also apply to all items listed in this new marketplace too!
Interested? Check out their site for more info and be sure to make your purchase/s using the following coupon code:
…before May 29th 2015.
*What are application themes? In short, they're themes designed to drastically extend the features and functionality of WordPress in order to create very specific types of website, such as a directory sites, job boards, forums or customer support centers, etc.
***note: offer runs from now until 29th May 2015***
See more Winning WordPress Deals
Enjoy!
All comments are held for moderation. We'll only publish comments that are on topic and adhere to our Commenting Policy.